Harley artist and photo realist painter Scott Jacobs unveils the 2008 official Sturgis Rally and Races print, which he painted. He chose to feature a woman rider as the subject of this piece entitled "In Your Dreams." This painting is particularly special to Scott because the model is his daughter Olivia.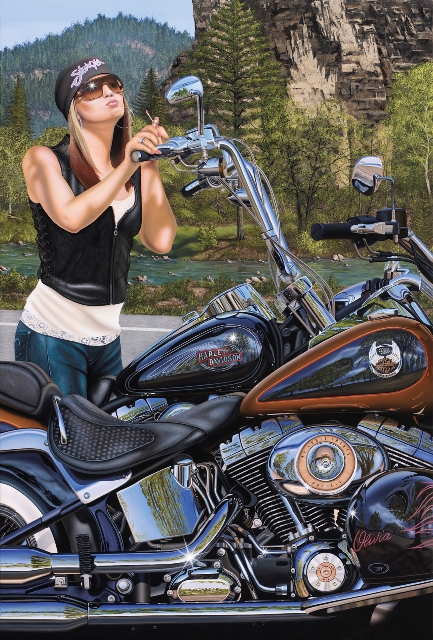 The original painting measures almost 6 feet by more than 4 feet and it took Scott more than six months to complete. Scott draws his subjects freehand and then paints with a brush that is smaller than a blade of grass to capture the acute detail. As one of Harleys official artists for the last 15 years Scotts artworks are found in many collectors homes and in more than 20 museums, as well as prominent art collections of enthusiasts around the world.
Olivia is helping her dad promote the release by co-signing the prints and official Sturgis Rally Guides. These co-signed prints will be available to buyers in two limited edition sizes and options, 18×26 inch litho on canvas at $595 and 40×27 inch giclee on canvas for $1,850.
For more information or to place an order call Ron Copple at Scott Jacobs Studio, 303.431.4453 or visit ScottJacobsStudio.com.
You can see other pieces by Scott Jacobs featured within previous WRN stories. Scotts print "Pushing the Limit" and a painting featuring Motorcycle Hall of Famer, Jay Springsteen.