Read to the end for a funny photo and the opportunity for you to submit a caption!

Updated on September 23, 2014 with event results at end of this story.

Four women are participating in this year's Motorcycle Cannonball Endurance Run, taking place September 5 – 21, 2014, the largest number of female participants since the coast-to-coast vintage motorcycle endurance event began in 2010. They women are all riding pre-1936 motorcycles, which makes the journey all the more challenging.
Cris Sommer Simmons is returning for her second time, and newcomers from the U.S. are Sharon Jacobs and Dottie Mattern. Hailing from Italy is Claudia Ganzaroli. Three of the women will be making this tedious cross country journey alongside their husbands and/or male partners, all riding pre-1936 motorcycles.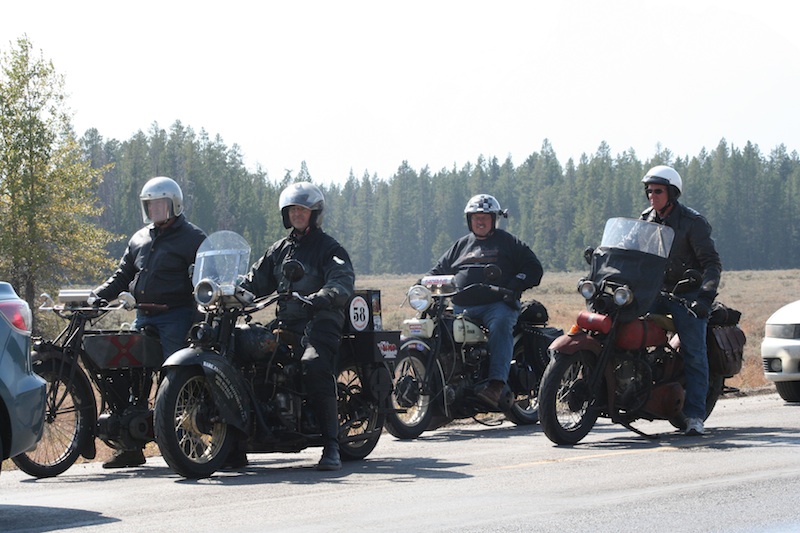 The women, along with the 101 male riders signed up as of this date, will journey 3,938 miles from Daytona Beach, Florida, to Tacoma, Washington, on their pre-1936 motorcycles with stops in Georgia, Tennessee, Missouri, Kansas, Colorado, Utah, Nevada, Idaho and Washington.
The Cannonball Endurance Run began in 2010 as a ride to showcase the restoration and power of antique motorcycles built before 1915. It has since evolved into a cross-country endurance run held every other year with motorcycles that now includes those built before 1936.
Cris Sommer Simmons
Cris, an author and pioneer in women and motorcycling for launching the first national women's motorcycle magazine back in 1985, will ride alongside her husband, Patrick Simmons, founding member of The Doobie Brothers and longtime motorcycle enthusiast.
| | |
| --- | --- |
| Cris Sommer Simmons explains, "My bike, 'Buddy,' is a 1934 Harley-Davidson, named after its previous owner, well-known Hollywood stunt man Bud Ekins. Pat bought the bike from Bud many years ago and I 'stole' it from Pat in 1993, vowing to ride it someday." | Patrick Simmons, here with Cris, explains, "Cris and I are excited, and so ready to head out on the 2014 Motorcycle Cannonball Endurance Run. We have been working on our bikes for more than a year now." Patrick will be riding a 1929 Harley-Davidson JD, nicknamed "Norge," because of its similar blue color to Norge refrigerators once popular in the 1950s. |
Cris and Patrick are riding to raise money for Stand Up To Cancer, an initiative created to accelerate innovative cancer research that aims to get new therapies to patients quickly and save lives now. Cris says, "In September of 2013 our 22-year-old son, Patrick, was diagnosed with testicular cancer. We were in shock, as any parents would be. Our son leads a very healthy lifestyle and hes one of the last people we thought would ever get cancer. But, we learned cancer can strike anyone, even an organic eating, healthy and active 22-year-old."
Click here to donate to Cris and Patrick's ride.
Dottie Mattern
We first met Dottie Mattern in 2007 when we featured her in Way To Go, Girl! on Women Riders Now for her record-setting land speed record on a 1936 Indian Scout, at the age of 62.
Dottie, who turns 70 in October, was inspired to participate in this year's two-week cross-country ride after reading Cris Sommer Simmons account of her 2010 Cannonball Run in her book, The American Motorcycle Girls Cannonball Diary. "The personal challenge certainly appeals to me," Dottie tells WRN. "I was always the kid that others double-dared to do something, as I grab on to a challenge."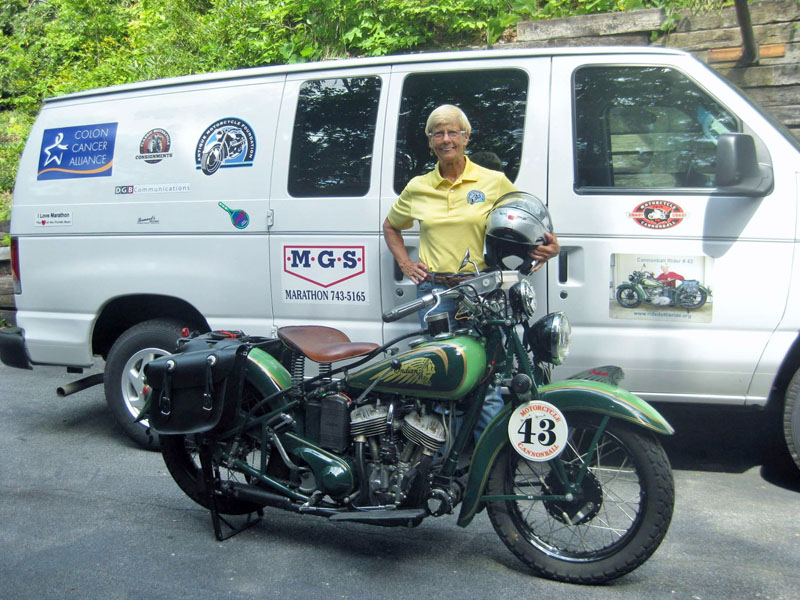 Dottie is a colon cancer survivor so she is riding to raise money for Colon Cancer Alliance and the Antique Motorcycle Foundation, two organizations near and dear to her heart. To donate, visit her website, RideDottieRide.org. You can also follow her on Facebook.
Sharon Jacobs
A mother of two daughters, and wife of renowned Harley-Davidson artist, Scott Jacobs, Sharon Jacobs will be riding alongside her husband on a 1936 Harley-Davidson VLH she bought just for this adventure.
She was inspired to participate after accompanying her husband on his 2012 Cannonball Endurance Run, riding alongside him on her 2010 Harley-Davidson Sportster Forty-Eight. Sharon tells WRN, "I had so much fun in 2012, that I couldnt wait to do it as an actual entrant. Now when I get that perfect score, it will count!"
| | |
| --- | --- |
| Sharon Jacobs on her 1936 Harley-Davidson VLH that she's riding in the 2014 Cannonball Run. She says one of the reasons the ride is exciting to her, "I love the alone time! Its nice to have time to think undisturbed, to pray undistracted—and frankly, just to enjoy this gorgeous country of ours." | Scott Jacobs, shown here participating in 2012 Cannonball, photographed by WRN Editor Genevieve Schmitt, at a rest stop in Wyoming. He's riding the same 1926 Harley-Davidson JD in this year's Cannonball. |
Claudia Ganzaroli
Hailing from the seaside town of Rimini, Italy, Claudia Ganzaroli, is riding a 1928 Moto Frera, a leading Italian brand of motorcycles in the 1920s. She will be riding alongside her partner, Sante Mazza, on his Moto Frera.
| | |
| --- | --- |
| Claudia Ganzaroli has been riding since she was in her 20s. She's excited to be coming to the U.S. do the Cannonball on a vintage Italian motorcycle. | Sante Mazza is Claudia's partner, also from Italy, who will be riding the Cannonball on his own Moto Frera motorcycle. |
To learn more about the Cannonball and to check out this year's route and stops, visit MotorcycleCannonball.com. If you have the chance to visit the riders anywhere along the way at their stops, it's worth doing so to meet these die-hard enthusiasts, and to check out these amazing vintage motorcycles that have been meticulously cared for in preparation of this event.
Cannonball 2012
Some more photos and video from the 2012 event:
| | |
| --- | --- |
| Since these vintage motorcycles can't go much faster than 55 mph or so, some of the riders stay in groups to keep each other company along the long stretches of highway. | It's not uncommon to see this scenario along the route, a rider's motorcycle being hauled into a trailer for repairs. |
| | |
| --- | --- |
| Some riders pilot their restored vintage motorcycles while others, like Sean Duggan here with his 1928 Harley-Davidson, ride their motorcycle in its original condition. Notice the oil drips on the pavement in the few minutes it took to shoot this photo! Sean came in 13th place in the 2012 Cannonball Run. | Yoshimasa Nimi, from California, on his 1915 Indian Twin, dresses the part in a vintage Indian Motorcycles sweater. |
Short video clip of our friend and Cannonball participant Buzz Kanter, vintage motorcycle enthusiast and publisher of American Iron, Motorcycle, and American Iron Bagger magazines, from the 2012 Cannonball.

Caption this!
Put your suggested caption in the comments below.
You have to get innovative when resources are limited out on the road. We're guessing this maxi-pad helped cushion the rider's foot on the 2012 Cannonball? What do you think? Tell us below with your creative caption in the comments below.
Updated September 23, 2014: How Did the Women Do in the Event?
Out of 101 riders, Dottie Mattern finished 47th; Sharon Jacobs finished 60th; and Cris Sommer Simmons finished 61st. Claudia Ganzaroli did not finish due to a broken down motorcycle. Hans Coertse, a South African rider, came in first on his 1924
Indian Scout
.
To learn more on how the Cannonball scoring is tabulated, and to see pictures and video from the end of the event, visit
MotorcycleCannonball.com
.
Related Articles
Women Riders Wins Her Cannonball Class
Cris Sommer Simmons Cannonball
Way to Go Girl!
Book Review: American Girl's Cannonball Diary