Do you have a story to share? Please send it to us, but read these submission guidelines first.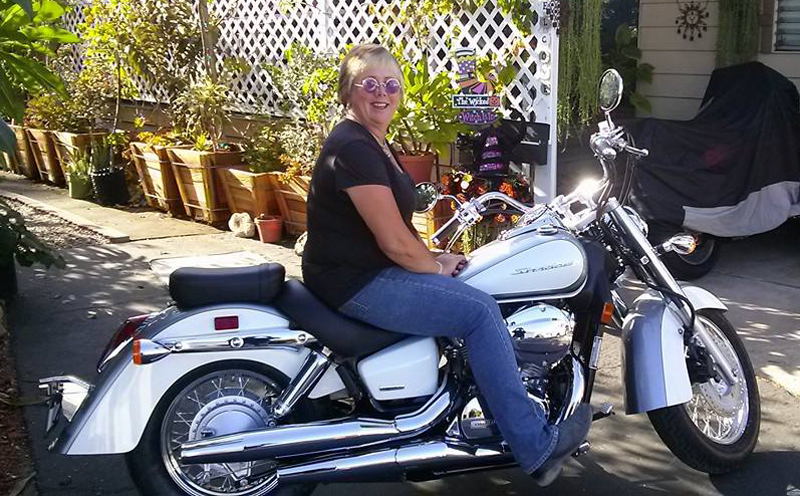 Back in the mid-1980s, I was in my early 20s, a new wife, a new apartment, and on a macaroni-and-cheese budget. We needed reliable transportation, but my then-husband, Randy, and I were anti-car people. We discussed how two scooters would cost less than half the price of a car, and were in our budget. So we financed two Yamaha Riva 180s. But being as popular as they were at the time, mine was stolen… twice!
"… I was determined to show those SOBs I could ride… "
The second time it was recovered, it had been totaled and I was done with scooters. Two motorized wheels was great, but not at the cost of guessing whether or not it would be in the parking stall of my apartment every morning.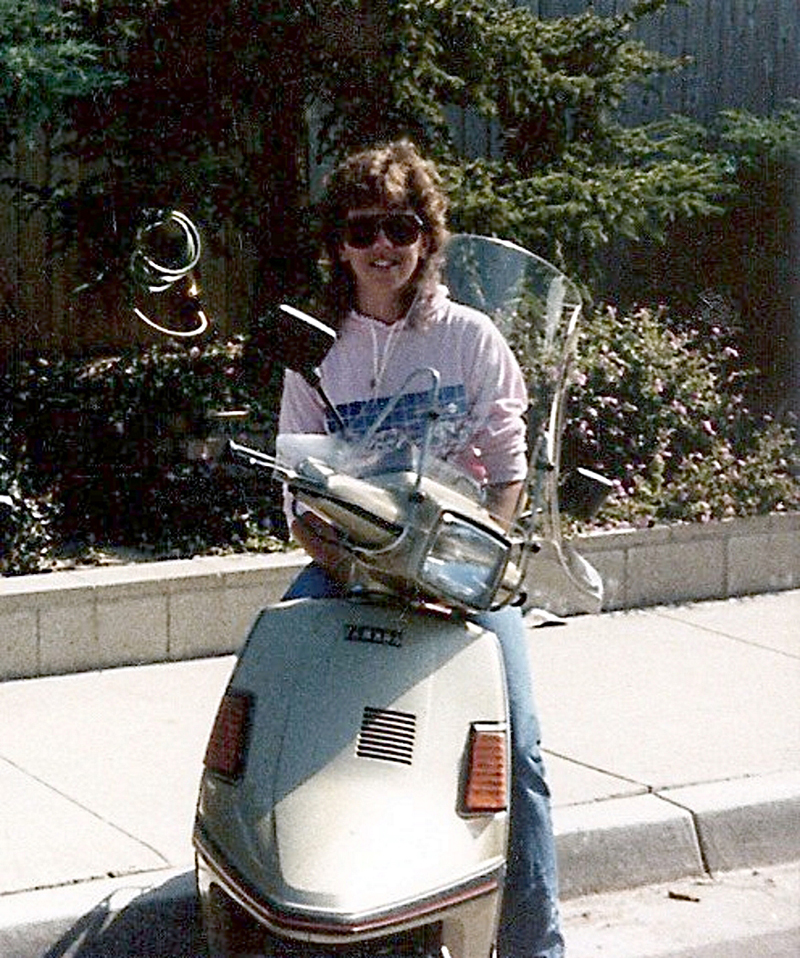 With $800 from the insurance company, I bought a Honda Rebel 250 that a guy had won in a contest that was too small for him, and that his girlfriend wouldn't touch. Randy, who thought it was a great buy, rode it home with me on the back asking questions about the bike.
The scooter had been equipped with an automatic transmission, so I had to learn how to use the Rebel's clutch in the alley of my apartment complex that night. My first ride to work the following morning was a little sketchy. I stalled out twice at a left turn light at a busy intersection, with not-so-kind guys honking and yelling things like, "If you can't ride it, leave it in the garage!"
By the time I got to work, I was completely frazzled and considered having Randy come get the motorcycle and me. But by my lunch break with those words ringing in my ears, I was determined to show those SOBs I could ride — and as good as any of them!
"I knew my prayer for someone who understood me was answered."
I spent my lunch break behind the store practicing. After work, I threw my leg over the seat, took a deep breath, and hit the starter. That ride home was one I will never forget. I hit all the gears spot on, and sat at that same light while holding the brake, then slid into first, then second, like a real rider. I even added a couple of laps around the block because that feeling of conquering my fear and frustration and saying to myself, "Yes I can!" was the best thing ever, and I was hooked for life!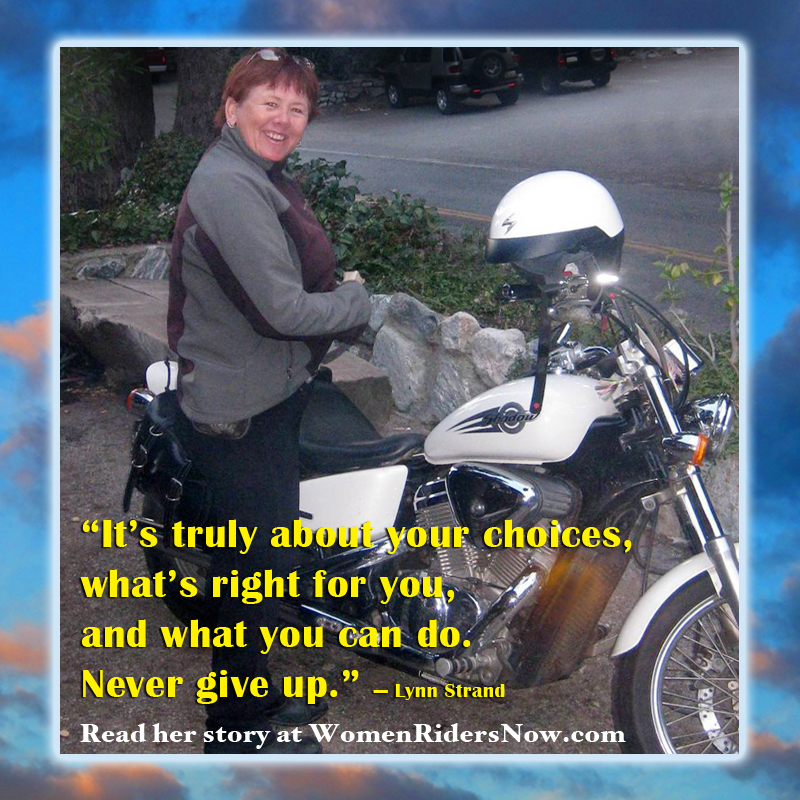 That amazing li'l Rebel 250 took me 45,000-plus miles and got me an $800 trade-in at Orange County (OC) Honda. Steve LaSalva (now the service manager) had done all my maintenance and knew the bike was still in great shape. I moved up to a used Rebel 450 with low miles. Like the 250, she "took a licking, and kept on ticking." Sixty-thousand-plus miles and she never missed a beat.
In 2005 I decided I wanted a brand new bike. I walked into the OC Honda showroom and there she was — a new Honda VLX 600 Deluxe — shiny white, with amazing chrome, more horsepower, and 0 miles. I said to the sales guy, "I want that one." He asked if I wanted to test ride it, and I replied, "Why? She's a Honda right?"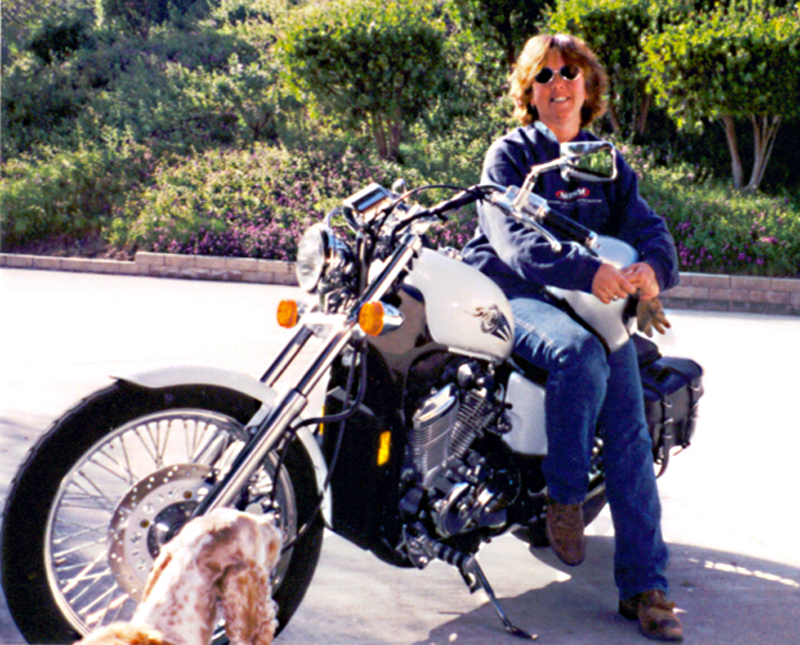 The rides came and went — Julian, and Fallbrook, Ortega Highway, Hell's Kitchen, and Perris. After work I'd take short runs to Cooks Corners in Silverado and to the beaches — Dana Point, Newport, and Huntington. I was completely hooked and happier than I'd been in years!
In 2010, I was living with my step-dad because he was sick and my mom and older brother had passed away within months of each other, just a year earlier. When my step-dad passed away quite suddenly, the family home was to be sold through the estate, so I had to move into my own place. I kept the day runs going just to keep my sanity, being the executor of the estate. It's amazing how much easier it is to ask for help from the divine spirit when the only sound in your ears is the wind and the engine of your bike.
That's when it happened; a kindred spirit on a Harley-Davidson. Yes, a Harley came into my world, and this Harley man wasn't looking down his nose at the li'l Honda lady like a few who-shall-remain-nameless had done before him.
This H-D guy had started on a Honda 750; his dad taught him how to ride it, and more importantly, that we are all in the same place — we all share the same passion, we ride! His Harley was white and our bikes looked great together.
The day I saw him he had one of my personal totems — a green dragon — tattooed on his arm; I knew my prayer for someone who understood me was answered. I was blessed and so grateful!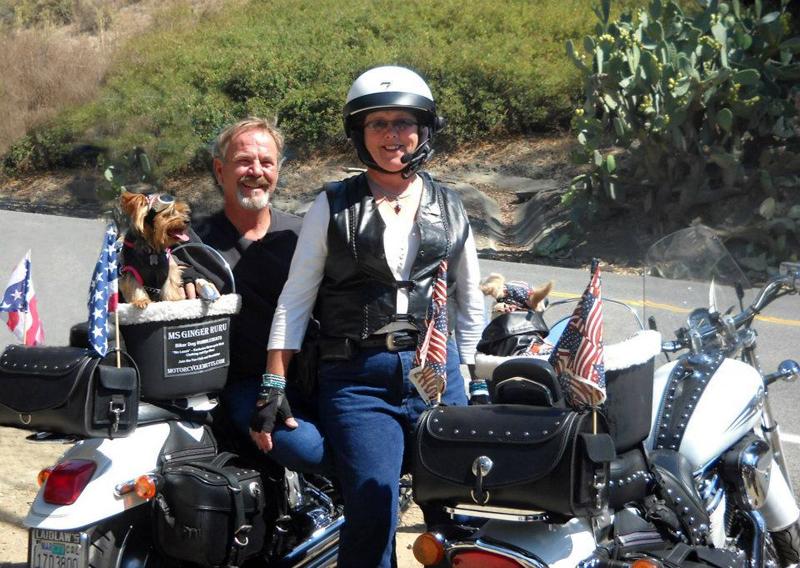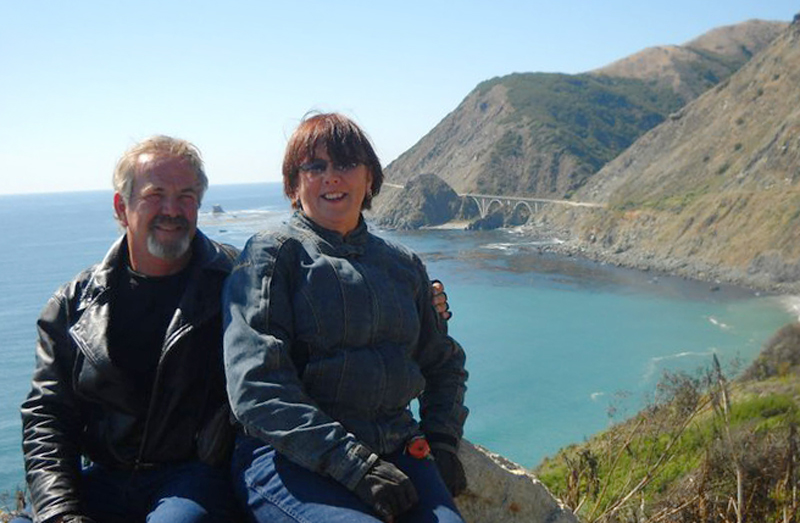 Fast-forward to September 2014. With more than 95,000 miles on the VLX, I was ready for my next adventure. I walked into OC Honda again and this time Larry the salesman walked me straight into his office. Armed with $1,000, a 700-plus credit score, and a printout of the lowest price I could find locally, he put in the order for a new, white, Shadow Aero 750 at a lower price than I had found. Again I heard the words, "What about a test ride?" My reply? Yep, you guessed it: "Why? It's a Honda, right?"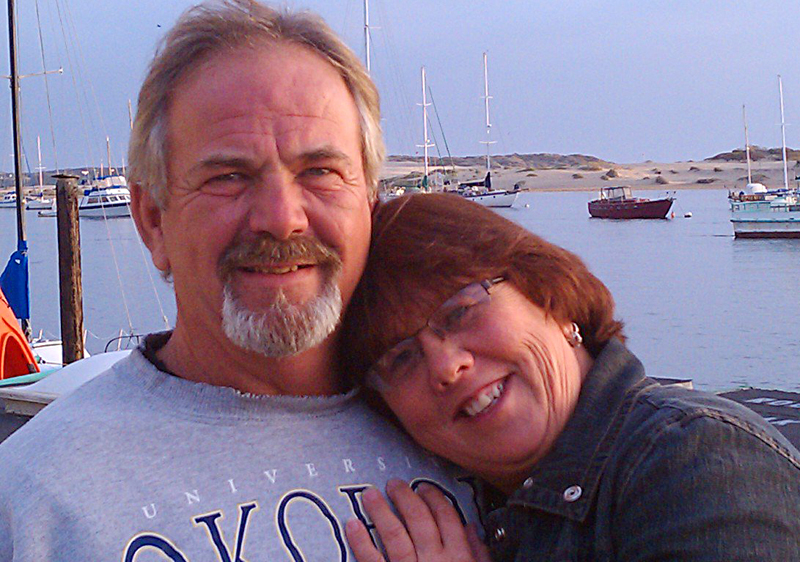 Do you have a story to share? Please send it to us, but read these submission guidelines first.

Related Articles
Reader Story: Pushing Through Negative Motorcycling Comments
Beginner's Guide: Motorcycles to Get Started on
More Reader Stories