Coordinated Jacket amp; Chaps
| | |
| --- | --- |
| The Cascade leather jacket. | The back of the Cascade jacket. |
With more women's styles becoming available, riders want a jacket that matches chaps. The Cascade Leather Jacket and Cascade Leather Chaps are functional and classy with a subtle design. The jacket features midweight goatskin with a below-the-waist silhouette creating a slimming look. There's tons of comfort thanks to the removable fleece vest lining and fixed poly-twill lining. Underarm grommets, zippered cuffs, adjustable snap tabs at the waist and zippered side gussets make this jacket stylish and functional. The left sleeve embroidery, and the turquoise blue, gray and white Cascade embroidered graphic with leather appliqué and studs on the back let people know it's a woman riding that bike, if there was ever a question.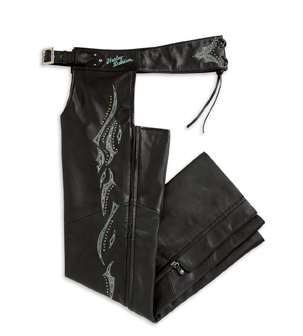 The chaps feature midweight goatskin, the contrast poly-twill lining offers stretch at the inner thigh and the belted closure ensures plenty of comfort for long rides. Completing the look is Cascade embroidered graphics on both legs. Sizes for both: XS-3W. Jacket price starts at $375, part #97007-08VW. Chaps price starts at $255; part #: 97015-08VW.
2-in-1 Leather Jacket for Men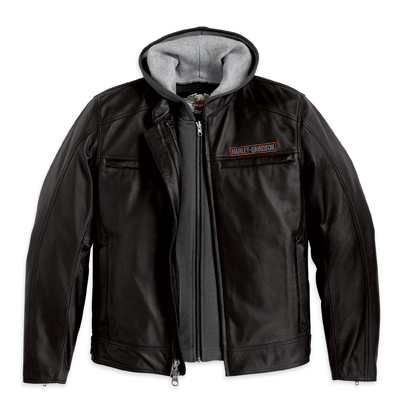 We love the look of a hooded sweatshirt worn under a jacket. Now, Harley-Davidson creates that style in its 2-in-1 Leather Jacket. It allows riders to control their body temperature by adding or removing the internal hooded fleece vest. With features like midweight cowhide, mandarin collar, wind flap and fixed poly-twill lining, this jacket works great in cooler fall and winter temperatures. Sizes: S-3XL; price starts at $375. Part #: 97002-08VM.
Waterproof and Stylish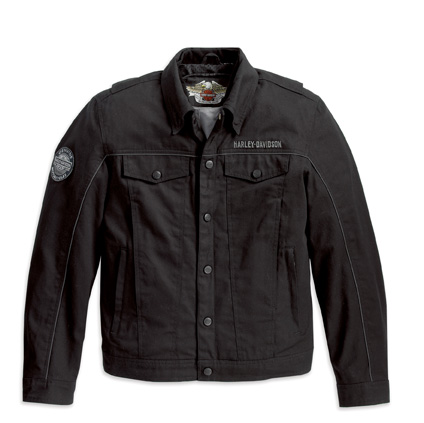 The Black Timber Jacket from Harley is a must-have for any male rider. This versatile jacket is 100 percent waterproof cotton canvas (that's right, waterproof cotton!) and features a zippered and snap front closure. Body armor at the shoulders and elbows provides added protection. The jacket also features two hand-warmer pockets and two chest pockets. There is reflective piping throughout, and Harley-Davidson graphics on the left chest, right sleeve and back. Sizes: S-3XL; price starts at $175; Part #: 97287-08VM.
Ideal for Weather Extremes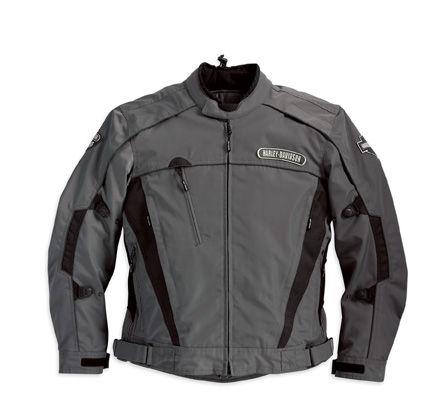 We like this jacket because it looks so non-Harley for a change. It's a men's jacket that works well in both weather extremes – cold and hot. Fall temperatures can vary drastically depending on the day and where you live. A Saturday ride can start out in the low 40s, but by afternoon the temperature has risen to 70 degrees or higher! The Excursion Jacket feature 100 percent waterproof nylon with a removable aluminum warmth liner that will keep a rider warm on those cold fall days. Removable body armor at the shoulders and elbows adds some protection. Zippered vents on shoulders, chest and back will keep you cool and comfortable when the temperature rises. Harley-Davidson graphics and a reflective appliqué are on the left chest, sleeves and back. Sizes: S-3XL; price starts at $250. Part #: 97286-08VM.
For more information about all these products, visit your local Harley-Davidson dealer or Harley-Davidson.com.