Miki Keller is this years recipient of The Womens International Motorcycle Association-United States Division (WIMA USA) 2007 Image Award. Miki is the founder and president of the Womens Motocross Association (WMA).
The WIMA USA Image Award is presented to women dedicated to the sport of motorcycling, and who pave the way for future generations with their positive attitudes. The 2007 award was presented in Las Vegas, Nevada, at the banquet dinner for Femmoto, an annual all women demo track day.
"Miki Keller was chosen to receive the 2007 WIMA USA Image Award for her tireless efforts and significant success in promoting womens motocross events," said Alice Sexton, President of WIMA USA. "No other woman rider has shown the ongoing commitment and dedication to womens motocross as has Miki. She has broken new ground by creating opportunities in every area of the sport for women and girl riders and racers of all ages, from 4 to 60 years old."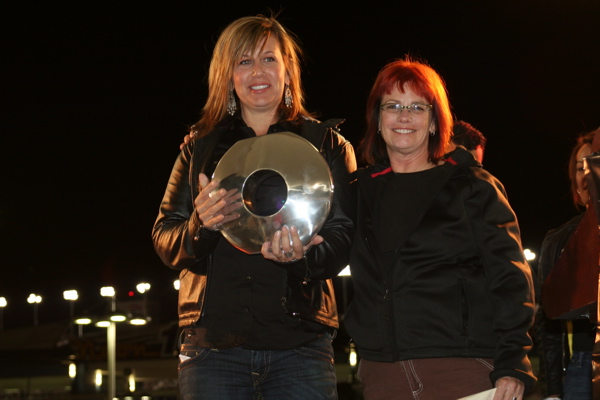 When asked how it felt to receive such an honor, Miki replied, "It is so gratifying to be honored by a great organization like WIMA who has a similar mission to the Womens Motocross Association and shares the same passion for motorcycling that I do. I feel fortunate to work with such dedicated athletes and to have the support of some visionary sponsors and event promoters. It is my hope that the exposure that the WMA generates for the women pro racers inspires women from all walks of life to pursue activities they love and strive to be the best they can be."
Mikis major accomplishments while at the helm of the Womens Motocross Association include: securing womens pro racing highlights on ESPN2 and Speed Channel; making womens racing a part of the program at the AMA mens championship events in front of 20,000 fans per event; increasing the number of women racing each year; securing unprecedented womens motocross coverage in both motorcycle and mainstream media; created the WMA Cup event with the highest womens pro purse and participation in history; and developed a partnership with Girls Learn to Ride and Honda Rider Education Centers to introduce females to the sport of motorcycling.
Not only is she a positive role model for women and girls in motorcycling, Miki continues to increase awareness and encourage women that they, too, can not only ride a motorcycle, but can make a living racing motocross. For the first time in motorcycling history, some of Mikis WMA Pro women riders currently make their living through racing motocross.