Want to share your story? Click here to find out how.
I hadnt given much thought to motorcycles. My dad owned a couple when I was small and my mother was terrified of them so I wasnt allowed on them. My dad died a few years back and my travels led me to see more and more iron horses on the roadways. The sound of one approaching would remind me of my dad and I begin to notice how beautiful each one was and how those straddling them seemed to know some joy I didnt.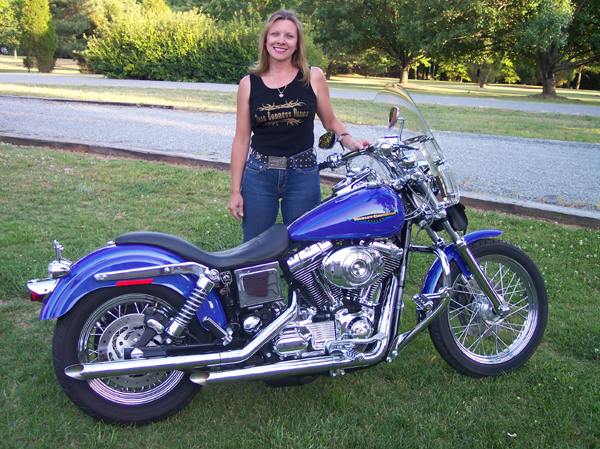 I realized that a motorcycle represented everything I believe a woman should be: powerful, unique, and timeless. Its amazing how hitting middle age and losing a parent can make you look at your life differently.
I began to stop at Harley-Davidson dealers across my sales territory, only talking at first, then sitting on a few. I broke the news of my newfound obsession to my husband of 22 years. He immediately thought I had lost my mind, but was happy I had.
I studied for a motorcycle learners permit and read every article about new riders. We took a trip to our local Harley-Davidson dealer where I picked out a beautiful purple Dyna Low Rider. I had them dress her up in some added chrome and lower her just a bit more to fit my short legs. Then I asked them to deliver her to me since I had no clue how to ride, not even as a passenger. I signed up for the Riders Edge Class, but the class was still weeks away so early the following Sunday morning, my husband rode my "Purple Pig," as I call it, to a parking lot and tried to give me instructions to get me riding. My first experience was a catastrophe!
The art of making my machine move in a sequence of hand and foot motions wascompletely alien to me. I squeezed the throttle too much and pounced forward. I stopped, but lost my balance and ended up tilting my 600-pound machine. I stayed on her all the way down, my left leg cushioning her from the pavement. Thanks to my forethought of having a crash bar (sorry, engine guard) added and my good Harley boots, neither of us was hurt not even scratched. I was, however, devastated and my confidence destroyed. My husband rode her home and I cried.
Feeling my pain, my husband went the very next day and bought me a small trail bike to practice on. He signed up for the Riders Edge class as well, so we could do this together (my very willing partner). For the weeks leading up to the class, I spent countless hours running laps around my yard on the trail bike. I learned how to change gears and start and stop, but nothing compared to all I learned in the Riders Edge Class. In no time at all I was swerving, cornering, and commanding the small Buell acing the final test.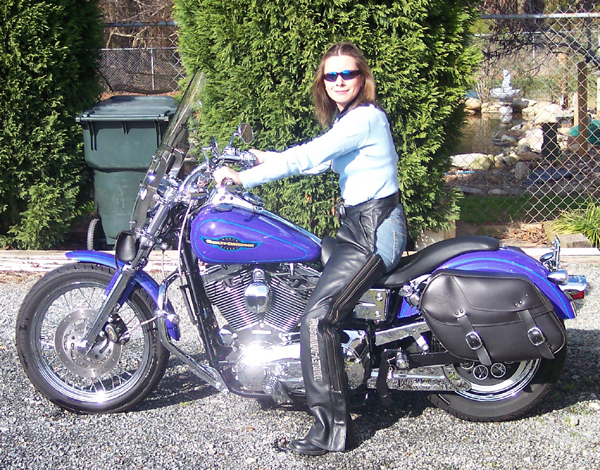 My confidence regained and ready to try once more, we made the trek to the parking lot again. I mounted my Purple Pig and replayed the exercises of my class and within 30 minutes I power-walked right into a start and set my feet on her pedals for the first time. This experience equaled those of my wedding and college graduation. I still get teary eyed when I think of that first autumn ride. I wish I hadnt waited so long to become a rider. I wish, more than anything, my dad were alive to see me ride and to ride along side me. I know he would be proud, but I know hes with me in every turn and in every breeze that passes my cheeks.
My husband was quick to buy his own bike and he will gladly take a road position behind me so he can watch me as we tool down the road. I have all the proper leathers and t-shirts that are required. The popular saying, "If I have to explain, you wouldnt understand," is exactly right.
Over the last year and a half and 5,000 miles, Ive met some of the most wonderful and spirited people from all backgrounds, races, and religions, each one a character and a remarkable person who may only have one thing in common with me, but thats enough. Riding a motorcycle is more than riding, its a family and a new look at life. It suddenly defines who you are. And I am powerful, unique, and timeless!
Want to share your story? Click here to find out how.