We found more goodies at the Dealer Expo in February, the trade show where manufacturers show off their products to the dealers. The owners of these six companies all saw a nitch not being filled and decided to plunk their savings into building a brand. Kudos to them! Take the time to read through their brief stories and visit their Web sites.
Colorful Goods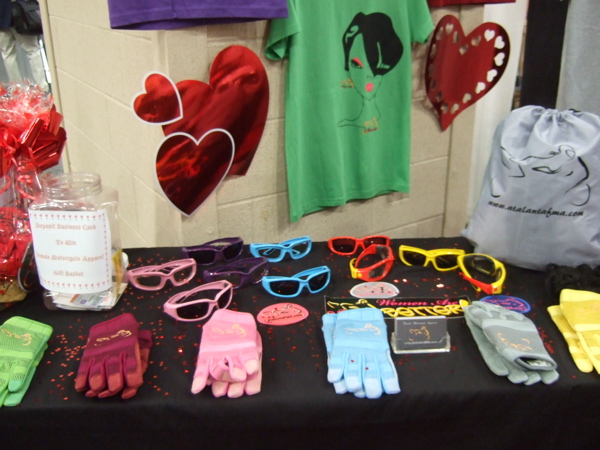 This colorful table caught my attention. Lachelle Almonte of Atalanta FMA Corporation (forgot to ask her about the odd the company name) is a rider who saw an opportunity to create colorful stylish riding accessories. She offers an assortment of sunglasses, T-shirts, wrist gussets (colorful mesh wrist gussets that can hold lipstick, credit card, etc.) and a few other odds and ends on her Web site, AtalantaFMA.com. I really liked the mesh suede gloves. They were very comfortable when I tried them on, and are a break from the usual black. Check out her site where you can order online.
Update 4/14/09: We heard from Lachelle regarding the name of her company. Its very interesting so we thought wed post her response: "For those of you who dont know what ATALANTA means, let me explain. When working on my business plan I Googled fast, strong, beautiful woman and Atalanta came up. She was a beautiful greek woman who raced every man in her town by foot and won! The business plan conclusion states: The motorcycle world is known as a mans world. More and more women are entering this world with no support. Statistics state women do not ride due to the lack of products for women. Let Atalanta be the woman everyone needs."
Casual Wear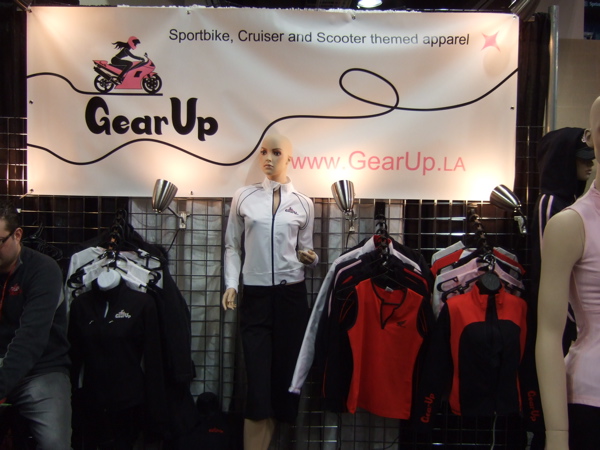 This booth caught our eye selling a line of casual wear zip-up jackets, hoodies, spaghetti-strap tees and more, with spandex and nylon woven in. General Manager Brenda Kennedy saw an opportunity to create clothing that is soft and comfy to wear. Can be worn underneath riding gear, or after a ride. Visit GearUp.la to check out the line of clothing and to order online.
Comfy Denin Jeans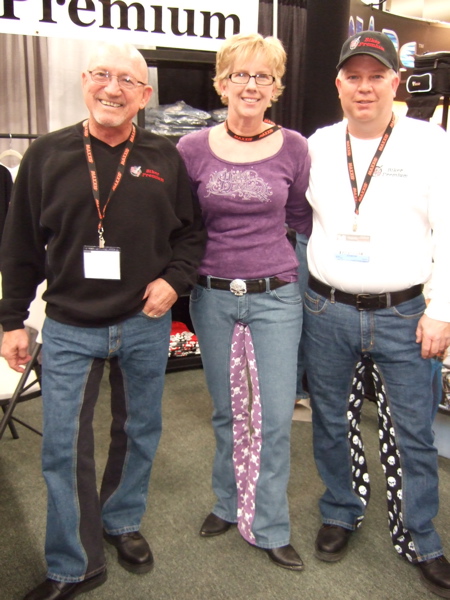 Weve featured these jeans before in this section on WRN when Margaret Meyer first sent us a press release about the launch of her company, Biker Premium. Here she is at the Dealer Expo showing off the jeans. They have a stretchy denim material inside the leg you can choose color and design among their offerings designed to move with you on a bike, and not be restricting.
I received a pair to test and to my delight, they fit the first time meaning theyre true to size. Way to go Margaret and Bruce! The jeans are manufactured in the U.S. which I like. The quality is amazing, what youd expect in a high priced jean. My full test will come in a few months after Ive had a chance to wear them. In the meantime, visit BikerPremium.com to see the different designs and order online. A couple of side notes: Biker Premium will do custom orders if you dont see your size; and currently the jeans are offered in a low-rise only. A high-rise jean is in the works and available in a few weeks. Be sure to ask about that if interested.
More from VaVaVroom
Regular readers of WRN are familiar with VaVaVroom and Denise Maple. We caught Denise showing off her new T-shirt styles at the trade show.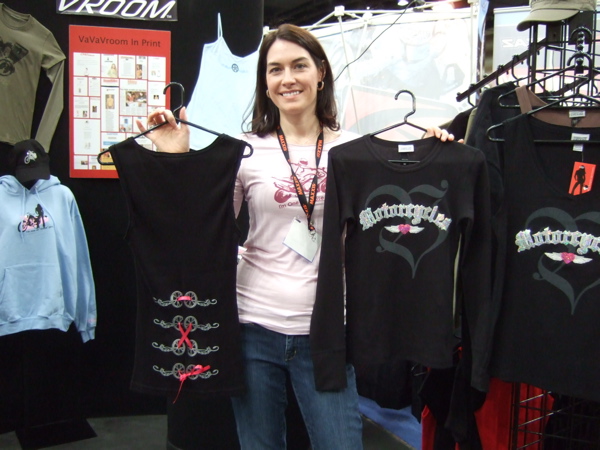 In her right hand is the Viva Lacet Fitted Raw Edge Tank that comes in black or brown. The back has this sexy lacing; in her left hand is the I "HEART" Motorcycles Fitted Thermal. Both are available to order directly off her Web site, VaVaVroomOnline.com. She sells more than tees, too. Denise is a former banker who traded it all in to start VaVaVroom.
Fun Textile Riding Gear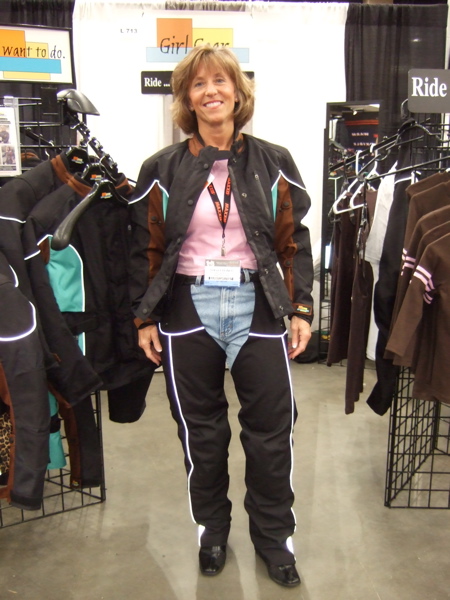 Weve also featured Shelly Reiner and her Girl Gear products before on WRN. But its always nice to put a face with the product. Heres Shelly at the trade show wearing her textile riding chaps and jacket that she created. Both waterproof and fairly priced, I might add. Visit GirlGearApparel.com for more info and to order online.
Shelly is a certified hand therapist with her own therapy practice. As a rider she saw a need for comfortable and protective riding gear so decided to create and manufacture he own line of riding apparel. Way to go, Shelly, for taking the initiative!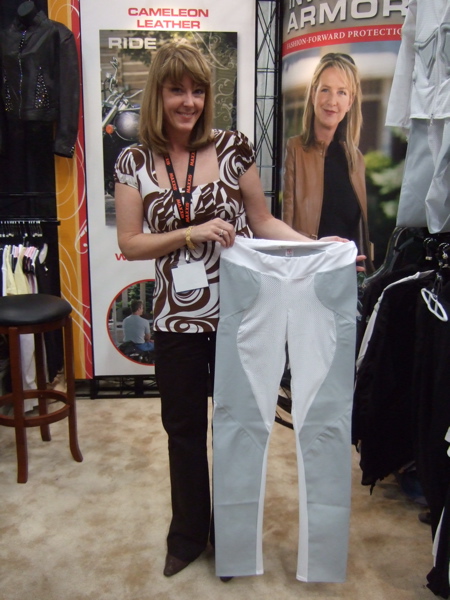 Based on feedback from riders, Kristina created the Invisible Armor Slide Pant to go with the Invisible jacket and now in this lighter silver color. The pant is to be worn under your jeans or riding pants to add an extra layer of protection. They were so soft to the touch, these could be also be worn as an extra layer on cold riding days.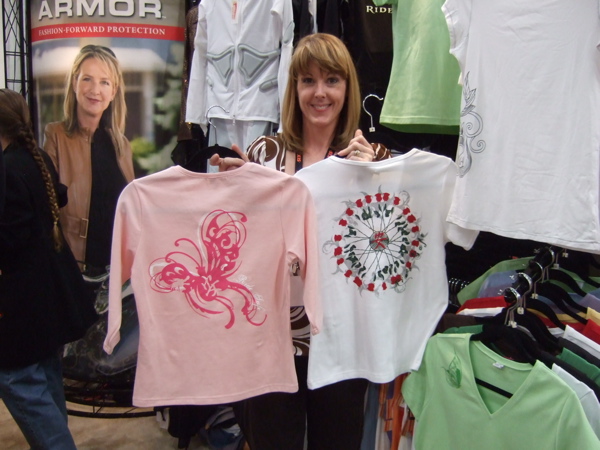 Kristina also expanded her line of tees to include these Ride Safe tees with appliques that illuminate when exposed to light they show up when riding at night! We really like the assortment of zen-inspired designs like the Asian dragon, wisdom and confidence appliques. Vist CameleonApparel.com.