New Site To Share With You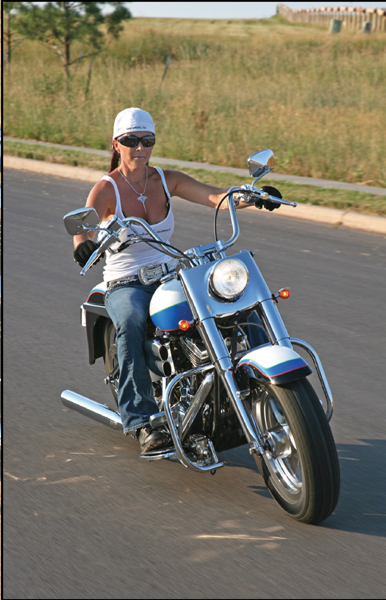 I received a call yesterday from Randy Aron owner of CycleVisions, an aftermarket and custom parts shop in San Diego. He saw a recent press release I sent out about our promotion of the AMA womens conference and wanted to talk women. His wife, Hilary Weiss, is featured in American Cycle magazine on her custom Harley-Davidson shown at right. Way to go Hillary! Randy, like a lot of smart motorcycle businessmen right now, is wondering how to reach the one segment that is still spending money women. I was more than happy to share information about how successful we are in connecting you, our reader with companies like Randys, companies that have products we think you want to know about.
I checked out his products lots of cool accessories like quick-release saddlebag brackets, floorboard extensions, custom lighting, license plate holders a long list of custom accessories that are one-of-a-kind. Have you ever noticed someones motorcycle and said to yourself, "Where did they that piece?" Well, CycleVisions carries those kinds of unique custom accessories as well as practical items for your bike. CycleVisions is going to advertise soon on WRN, but in the meantime, I encourage you to check out CycleVisions.com and all the cool parts there. Hey, during these tight money times, we may not have enough money to think "whole new motorcycle this year" but if youre like me you still need that retail therapy, and a doo-dad here and doo-dad there for my bike will keep me going through the year.
Harley-Davidson Lays It On the Line
The latest press coming out of Harley-Davidson, you may heard by now, is about the companys current economic situation and how it plans to handle the rest of 2009. Its no secret that motorcycle sales are down across the board. Kawasaki pulled all of its online advertising and partnerships this last week for the next quarter (and maybe the rest of the year) because of a 33 percent decline in product sales in the U.S alone. And the day I received this press release about how Harley is going to handle the slow down, I saw the information making national news it was that big of a deal. Harley has weathered storms before; this latest one will be handled through a slow down in production and layoffs. The press release is pretty detailed and very long so if you wish to read it, you can download it by clicking here (H-D Press Release).
Ducatis Celebrating Success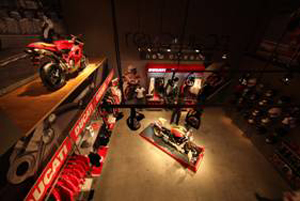 Meantime, Ducati is managing to find a silver lining in all this bad news. Hot on the heels of its most successful year ever in 2008, Ducati North America is carrying its momentum into 2009. The first three weeks of the year have brought on a flurry of activity, including the grand opening of Ducati New Orleans, shown at right. Following months of preparation, Ducatis grand entrance to 2009 began with the unveiling of the third showroom in the Ducati Retail Design program: Ducati New Orleans. The gorgeous new 1,500-foot space opened its doors on January 9th with a distinctive gala, attended by several government dignitaries. After six months of construction, Ducati is ready to put its mark on the Big Easy with Louisiana style. The new showroom can be seen at ttrno.com.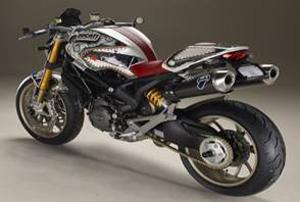 Adding to the excitement of the New Orleans grand opening was the showroom launch of the 2009 Monster 1100 S. Sixty of the new ultimate naked bikes were unveiled with exciting paint schemes and accessories as part of a customization contest for dealers. One of the entrants is shown at right. The award for the best Monster went to Del Amo Motorsports in Redondo Beach, California, for its Los Angeles themed Monster. All of the competing Monster 1100s can be seen at DucatiUSA.com.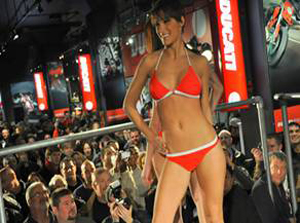 Ducati New York had news of its own, hosting a New Year bash surrounding the Manhattan round of the International Motorcycle Show. Festivities included a live Muay Thai fighting match to launch the new 2009 Ducati Streetfighter S, catering by renowned chef Johnny Iuzzini, the unveiling of the new Ducati line of sunglasses by Oakley, and a showing of the Pegram Racing AMA Superbike. Noteworthy attendees included Ducati CEO Michael Lock, AMA Superbike racer Larry Pegram, and 500 eager Ducatisti. As if that as not interesting enough, hot babes were thrown into the mix shown at right.
New Motorcycles and Music Web Site
A new motorcycle social networking site was launched recently, RockMoto.com, created by Discover Todays Motorcycling, the communications branch of Motorcycle Industry Council (MIC), backed from Honda, Yamaha, Kawasaki and Suzuki, among others. The site includes a music player through Pandora, where users can submit their own playlists and duplicate it on their online profile. The site also has an online matchmaking service called MotoMatch, pairing riders with others who have similar riding interests. Ive not had a chance to peruse it, although at first glance it skews young and male and thats fine. Young males are a nice thing. Why dont you check it out and let me know what you think.
And we at WRN weathered the server-switch storm – no more glitches! (See my last posting below.) Its smooth sailin ahead. Now comes the fun stuff all the improvments and enhancements to WRN.
POSTED 1/26/09
WRN Changing Servers and Glitches Occuring
Women Riders Now is moving to a new server. Why should this matter to you? Because over the next few days you may encounter glitches as you navigate WRN and I ask for your patience as we work through moving WRN from one server to another. Its not always smooth when you transfer mountains of data like whats part of WRN to another place. Plus, Im moving my business to a new Web company that uses newer and different code than what I have in place.
In working with WRN this weekend and with our sister sites, TrikeRidersNow.com and ScooterRidersNow.com, Ive already encountered several glitches like the Conference Connections page is not working like it should and a few other minor things. Im excited about this transition as Im moving all of my Web business to a new company that will help make WRN even better that what you see today. If you encounter any problems, please email me at gschmitt@womenridersnow.com. It may be something Im not aware of.
POSTED 1/19/09
Ashley Fiolek is First Female to Join a Honda Factory Racing Team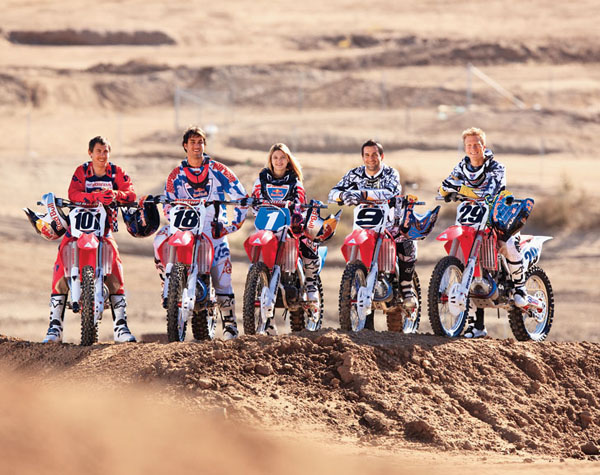 The 2008 WMA Womens Motocross Champion, Ashley Fiolek, has joined the 2009 Honda Red Bull Racing factory team. Way to go Ashley! Eighteen-year-old Ashley Ð- who is deaf by the way is the first female athlete in history to be signed with Hondas winning factory racing team. She joins Honda Red Bull teammates (shown in photo at right) Andrew Short, Ivan Tedesco, Davi Millsaps and Ben Townley, and will defend her WMA title in 2009 on Hondas CRF250R.
After a successful amateur-racing career that saw her win 13 amateur national titles and more than 100 races, Fiolek made her full-season professional racing debut in 2008, winning the AMA/WMA Womens Motocross Championship in her first attempt and garnering unprecedented mainstream and enthusiast media coverage. The inspirational racer will represent the Honda Red Bull Racing team in the 2009 WMA Championship, X-Games 15 competition and other select events.
"Being able to race motocross professionally on a full factory team at Honda is a dream come true for me," said Ashley. "I amexcited beyond belief! I can's thank American Honda enough for providing me this opportunity and I look forward to working with Erik and the whole Honda Red Bull Racing team."WRN produced a short video segment on Ashley. Visit Motorcycle Videos and scroll down to her story. For more information on Ashley, visit Ashleyfiolek.com.
Harley's Mentor Program in Full Swing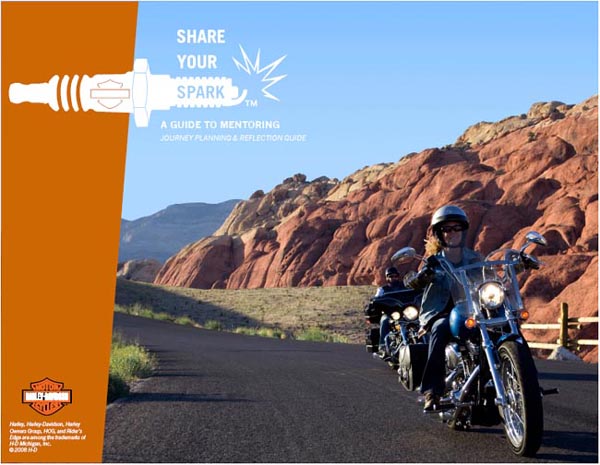 Share Your Spark: A Guide to Mentoring is a tool kit the Motor Company developed for current and aspiring riders featuring information on how to be a resource and support system to others during their motorcycling journey. The mentoring kit includes information for both potential mentors and mentees, including a DVD showcasing tips on how to become or find a mentor, stories from successful mentoring experiences, a special Share Your Spark pin and a planning and reflection guide.
"The mentoring experiences is empowering for both parties involved," said Leslie Prevish, market outreach manager for Harley-Davidson. "For the mentor, they get to share their passion with someone who aspires to live the same dream they do. For the mentee, they learn through the collective experiences of their guide. Of course, the mentoring relationship also leads to many life-lasting friendships." While Share Your Spark is not just for women, the Motor Company's research indicates many women have expressed their desire to be Ð and find Ð a good riding mentor. For more information about Share Your Spark, visit your local Harley-Davidson dealership or visit Harley-davidson.com/womenriders.
Girlz of Graceland Documentary Premieres
If you read our Way To Go Girl! section on a regular basis, then you are aware of the Girlz of Graceland, a group of riders who traveled from California to Tennessee on a mission of goodwill last year. Click here to go to the Way To Go Girl! story.
A documentary was made of their trip entitled "20 Wheels to Memphis," and it's debuting Saturday, January 24th, 1:00 p.m. at the La Paloma Theatre, 471 S. Coast Hwy. in Encinitas, California. Tickets area $10. Motorcycle parking will be available in front of the theatre. To see a clip now, click here.
The goal of the ride was to visit Graceland and Presley Place, a homeless program supported by the Elvis Presley Foundation. The documentary premiere event will be used to raise money for one of the Girlz — K.Lee Kappmeier — as she battles Stage IV cancer. Part of the proceeds of every ticket sold as well as 100 percent of our silent auction items will go directly to K.Lee. If you are unable to attend, but would still like to support the fundraising efforts for K.Lee, please email the organizer, Lilia at liliaworks@yahoo.com she will send you a Paypal link for an easy online payment.
Hot New Honda Chopper Debuts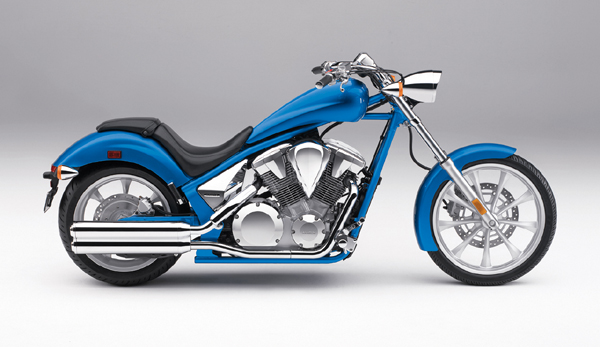 This is a first Big Red, and I'm wondering if it's a little too much too late. Isn't the chopper phase waning? This past Friday, January 16th at the New York International Motorcycle Show, American Honda introduced to the world what many are calling the most radically styled production Honda ever built: the 2010 Fury. The Fury goes head to head with other factory customs like the Harley-Davidson Rocker and the Yamaha Raider.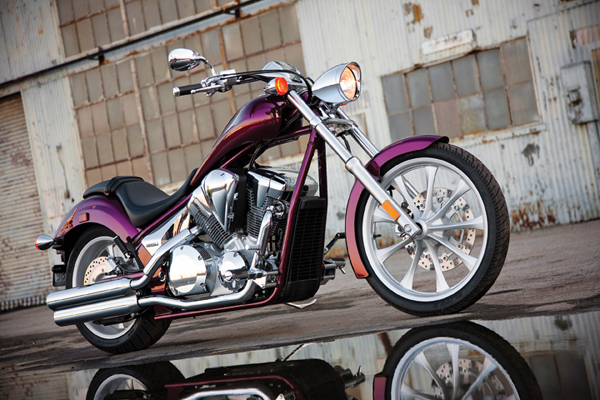 Here's the basic features of the Fury: it's powered by a fuel injected 1312cc liquid cooled 52-degree V-Twin engine; valve train is a SOHC, three valves per cylinder; it has a five speed shaft driven transmission; rear tire is 200mm, with a custom 21-inch in the front. Wheelbase is 71 inches, the longest wheelbase ever in a production Honda motorcycle; rake is 38 inches and trail is 3.5 inches. Seat height is 26.7 inches with the fuel tank holding 3.4 gallons. A hidden single shock rear suspension gives the bike a radical hardtail look. It weighs 663 pounds. For more information, visit FuryIsUnleashed.com. I do like the name.
More Honda News: Production Plant Shuts Down Temporarily
The sluggish economy is forcing one of Honda's production plants to stop production for three months. The Timmonsville, South Carolina, factory will halt production in March, April and May. Fortunately, no one will be laid off. The plant builds engines and key ATV components
POSTED 1/12/09
WRN Launches Conference Connection Rider Page
WRN is making it easy for you to find other motorcyclists to ride with to the AMA Women & Motorcycling Conference. We've created a Conference Connection page where you can post a notice if you're looking for people to ride with to the conference or you need a roommate, or some other conference related request. You can also browse the postings by state to see if something interests you to respond to. Visit Conference Connections. It's in the "It's All About You" section. The photo at right is from the demo ride area taken at the 2006 conference.
Rental Shop Caters to Women Riders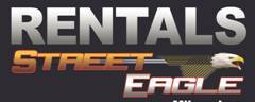 Street Eagle Arizona, part of a national chain of motorcycle rentals, is offering a special program out of its Phoenix and Tucson locations. In 2009, the company will donate 5 percent of every rental by a woman to breast cancer research. We're told the campaign has just started and that WRN is the first to know about it. In addition, Street Eagle Arizona (and Street Eagle Milwaukee) are offering a frequent rider pass called "The Pass," which is fives rentals for $499 and the rentals can be used simultaneously. So if a woman rider and her girlfriend want to do a girls' weekend getaway, they could pitch in and get "The Pass," according to company spokesperson Jill Lintonen. I think renting a motorcycle is a great way to test ride a bike before buying. Sure you have to pay a little to do it, but better to find out if you like the way the bike rides before you buy it. For more info, visit StreetEagle.com.
Did You Hear About This?
Occasionally, I get emails about women related news. I thought this was worth noting: On Friday the Lilly Ledbetter Fair Pay Act and the Paycheck Fairness Act were passed by the House of Representatives. This is a significant step forward to ensure equal pay for equal work. "During this economic crisis, workers are clinging to every dollar in their paycheck. So now, more than ever, it's important that women have the ability to fight against inequality in the workforce," said Lauren Weiner of Americans United for Change
Business and Professional Women/USA (BPW/USA) also applauded the U.S. House of Representatives. "These two pieces of legislation provide a crucial one-two punch in the fight for equal pay for women and the passage is an important step towards closing the persistent and sizable wage gap that remains between men and women," said BPW/USA CEO Deborah L. Frett. According to the U.S. Census Bureau, women who work full time earn, on average, only 78 cents for every dollar men earn. The figures are even worse for women of color with black women only earning 66 cents and Latinas 54 cents on the dollar. The bills now go to the Senate for approval there before they can be made into law. I can't believe it's 2009 and we're still talking about equal rights.
New Harley Trike Featured on Inauguaration Day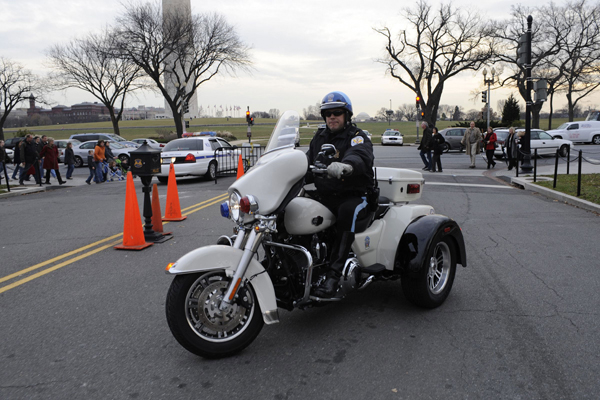 On Jan. 20, 2009, at 12 p.m. President-elect Barack Obama will be sworn into office as the 44th President of the United States. Leading the way will be a police motorcycle escort riding a one-of-a-kind 2009 Harley-Davidson Police concept Tri-Glide Ultra Classic. Lieutenant Scott Fear, Commander of the U.S. Park Police Motorcycle Unit, will lead the parade from the Capitol to the White House. Scott is shown in the photo riding the Tri-Glide.
More Harley News: New Color for CVO Fat Bob
Harley-Davidson is introducing an additional color offering for the 2009 Custom Vehicle Operations FXDFSE Fat Bob. The new CVO Fat Bob color is called Electric Orange and Black Slate, and will contain the same premium-level content and color-matched components CVO motorcycles are renowned for. The frame, swingarm, battery cover, electrical panel cover and coil cover are each color-matched to the main bodywork color of the CVO Fat Bob. The CVO Fat Bob is a limited-production motorcycle created by the Harley-Davidson Custom Vehicle Operations group, based on the Dyna Fat Bob. Approximately 2,450 examples of the 2009 CVO Fat Bob will be produced. The U.S. retail price for the 2009 CVO Fat Bob is $25,299 ($25,499 in California).
Ride For Kids Set New Record in 2008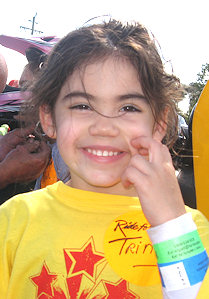 If you've ever participated in a Ride for Kids event, you know what I mean when I say you'll never forget it. I had the opportunity to cover a a ride years ago and will never forget the smiles and generosity of the hundreds of motorcyclists who turned out to ride in the parade of bikes that raises money for Pediatric Brain Tumor Foundation. The 25-year-old organization set a new fundraising record in 2008 with $5.2 million in donations. The Ride for Kids program encourages participants to bring more than the basic $35 registration fee, but not by reaching into their own pockets. Riders who ask family, friends, neighbors and co-workers for contributions, or who use their employer's matching gift program, greatly increase the impact of their participation.
The ride is held in more than 35 cities across the U.S. this year. It's an amazing motorcycle event that may just bring you to tears when you meet some of the children suffering from a brain tumor who are usually on hand at these events like 5-year-old Trinity in the photo at right, a brain tumor survivor, enjoying her third Ride for Kids event in Sarasota. Visit RideForKids.org. to see the list of cities for 2009.
And I couldn't pass this one up…
Like I said above, I often receive female-related press releases. Here's one that's just too much; I've copied the press release because I wouldn't want you to think I would write this. "Move over full lips. Eyelashes are the next beauty must-have for 2009. From the pages of magazines to Hollywood's red carpet, batting full, luxurious lashes is the latest "It" accessory. No matter how many coats of mascara or layers of extensions we apply, it seems like we can never achieve the look without getting the 'Tammy Faye Baker' effect. Mascaras and lash extensions are unforgiving on eyelashes, leaving you with dry, brittle, and damaged lashes. LashFood.com is a new natural conditioning stimulant for thicker, stronger and more beautiful lashes in just 2 to 4 weeks!" You read right. Lashfood. I dare you to try it. What will they think of next?