Want to be notified by email when I post something new in my blog? Then sign up for our weekly WRN e-Newsletter. It gets delivered to your inbox every Monday morning letting you know Ive updated my blog, as well as alerting you to other new articles, reviews, and stories posted on WRN. Click here to be directed to our e-Newsletter sign up page.
I Want One!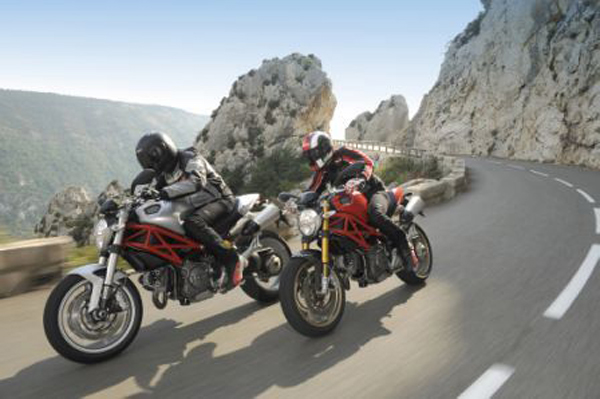 The sportbike Ive been in love with for years is the Ducati Monster and now the Italian manufacturer unveiled this week a new Monster, the 1100 and 1100 S, weighing an amazingly light 371 pounds. That makes it the lightest bike in its category. The S is a sportier version / race inspired version of the bike with lighter carbon fiber components and higher end shocks.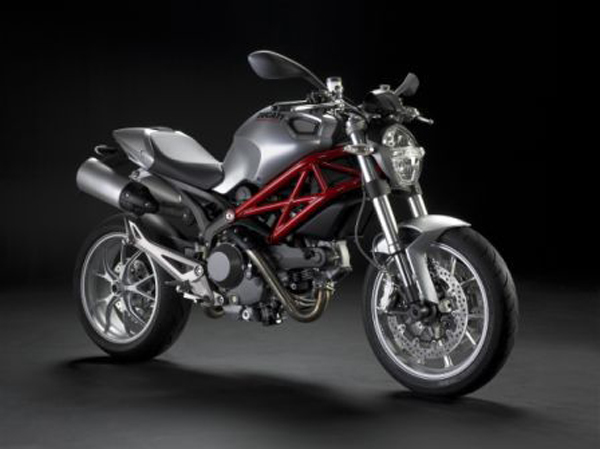 For awhile I kept up with all the models in the Monster family, then Ducati did away with the female friendly 600 and 750 models I could relate to and promote to my readers and replaced them with the racy S2R and S4R. Thats when I started to not pay attention any more. The original Monster line seem to take on a whole different tone. Then a few years ago, the 600 series was revived with the 695 and this year with the 696 which I still dont understand. Two different bikes – one inch more in displacement? And now the 1100 – user friendly, a real rider machine. Hooray! Ive got get on one soon.
Click here to read my blog where I introduced the Monster 696 at a dealership in Denver in May.
New Location for Top Womens MX Race
The Womens Motocross Association announces a new location and date of the WMA Cup the largest womens motocross race in history. The sixth annual WMA Cup will take place at Freestone County Raceway, in Wortham, Texas, over the weekend of January 2 – 4, 2009 and will be run on the "national track" in conjunction with Freestones first ever motocross amateur national event.
The WMA Cup, which has drawn a record of 270 women entries in one year, is considered one of the premier championships on the womens motocross calendar. The unique event offers upwards of 15 separate girls/womens classes for all skill levels, bike sizes and ages and gives females thechance to race more than one womens class. The Cup also draws from a long list of women competitors from all over the globe. For more information on the WMA Cup, visit WMAracing.com or FreestoneMX.com.
HARLEY NEWS: New Harley YouTube Channel Debuts
Harley-Davidson is jumping on the YouTube bandwagon by launching its official channel on YouTube with a collection of short films featuring footage of the 105th Anniversary Celebration, and the 2009 model lineup. Viewers will also be taken behind the scenes at local and national events like Daytona Bike Week. There, theyll hang out in the flat track pits with Harley-Davidsons Wrecking Crew race team, and meet celebrity riders like ultimate fighter Keith Jardine. Through the Rider Story video series, viewers will get to know bikers from all walks of life – a trucker, an executive, a single mom, couples young and old, and more. These are the real people of Harley-Davidson who share a love for the freedom of the open road. To visit go to: http://www.youtube.com/harleydavidson.
Harley-Davidson and Brewers Team Up
Harley riders will be eligible for exclusive deals offered up by the Milwaukee Brewers, another Milwaukee institution, thanks a new partnership between the Motor Company and the Brewers. The agreement includes Harley-Davidson branded all-inclusive seating area, LED signage, ticket deals, various in-game promotions and more. "This is a fully integrated sponsorship and one of the most comprehensive deals in Brewers history," said Brewers Executive Vice President – Business Operations, Rick Schlesinger.
"For Harley-Davidson, this is not only about local support, but also national outreach," said Harley-Davidson Chief Marketing Officer Mark-Hans Richer. "With the Brewers were creating unique reasons for our owners to ride to Milwaukee all summer, and building passion with young adults as well as strongly diverse national audiences through TV broadcast exposure.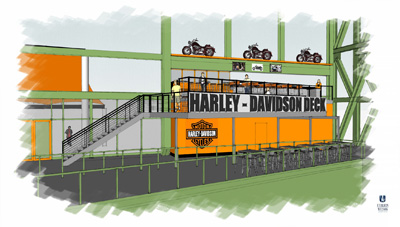 The centerpiece of the partnership will be the new Harley-Davidson Deck (artists rendering at right), which will be constructed in left-centerfield at Miller Park during the winter months. A unique elevated seating area, the Harley-Davidson Deck will seat up to 42 guests and will feature actual Harley-Davidson motorcycles built into the d?cor. In addition, Harley Owners Group (H.O.G.) members will receive discounted tickets to the Harley-Davidson Deck for all games. Admission to the Harley-Davidson Deck will be via an exclusive new entrance to Miller Park called "Gate H-D." The entrance will be not only for those ticketed in the Harley-Davidson Deck, but also for any H.O.G. member who shows a game ticket and membership card. Those seated in the Harley-Davidson Deck will be able to park in an exclusive, motorcycle-only parking lot painted Harley-Davidson Orange, with the price of parking included in the ticket price.
POSTED 9/23/08
Heres What Happened to Biker Alley Mag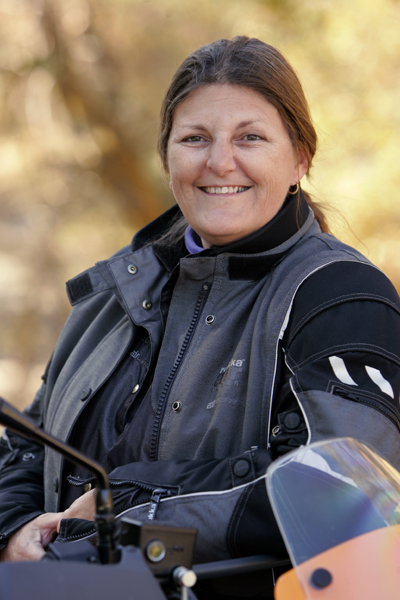 Many of you have been emailing me asking if I know anything about the demise of Biker Alley magazine. Heres what I know. I, like many of the mags subscribers, are concerned that there has been no communication from Rain Nietzhold (photo right), the publisher and editor, on the fact that the magazine is no longer publishing. For those not in the know, Biker Alley has been publishing bi-monthly for the past eight years with content aimed at women motorcyclists. Emails to Rain are not being returned and the phone number has been disconnected. But heres what Ive learned from one of her regular contributors.
In mid-July, she emailed all her writers telling them she was no longer putting out the magazine. She apparently said that subscriptions were down and that her larger advertisers were not going to renew their ads so she just didnt think she could afford to put out another issue.
Considering the very limited amount of ads in the mag, I was surprised she was able to keep it going as long as she did. Whatever the reason is, I think its sad that Rain has not communicated to her subscribers and advertisers why the magazine folded. I applaud her for continuing to put out a bi-monthly publication. She should be proud of what she accomplished all these years. She built up a loyal following that I know is very sad to see the magazine go. She shouldnt hide, but celebrate her accomplishment.
Women In The Industry Update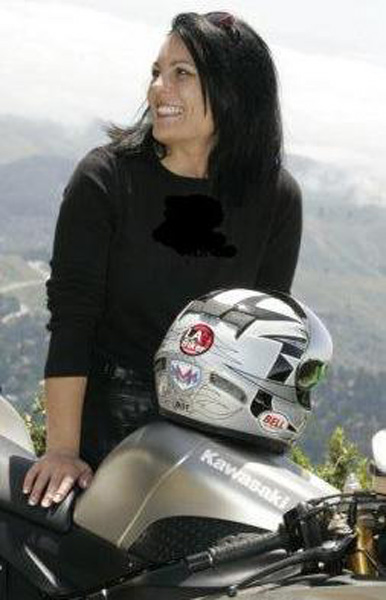 Many of you know who Sarah Schilke is (photo at right). Well, were the first to report that she landed at Advanstar, producer of the International Motorcycle Shows and Dealer Expo. Her title is marketing director of the consumer shows. Way to go Sarah! Her previous job was Global Category Manager for Fairchild Sports giving her a high profile when she helped launch the G Line of motorcycle apparel for women. Well, G Line experienced distributor problems and never really got off the ground on a large scale basis. Too bad for Sarah as she put her heart and soul into the brand. Sarah hasnt been with Fairchild for several months so its great to hear shes putting her MBA and her extensive knowledge of the motorcycle industry to good use again at Advanstar.
Sarah holds other high profile positions in the industry. She currently serves on the board of the directors of the Motorcycle Industry Council, the first woman in history to do that. She's also the U.S. represented elected to serve on the FIM's women and motorcycling commission, a global community board of motorcyclists.
I reconnected with a long-time friend and colleague of mine in the industry today, Donya Carlson, senior managing editor of Rider magazine. Donya is one of a handful of woman working in a top editorial position at a major motorcycle magazine. She was sidelined two months ago when she broke her wrist playing softball. Donya has been unable to do any test rides for the magazine. Too bad. She's an incredibly smart and talented journalist. She's supposed to get her cast removed next week. She was hoping to hop on a bike to ride to Femmoto the next day, but is realizing her hand may need some rehabbing as her muscles have atrophied. Here's hoping for a speedy recovery, Donya.
POSTED 9/20/08
AMA Women's Conference Update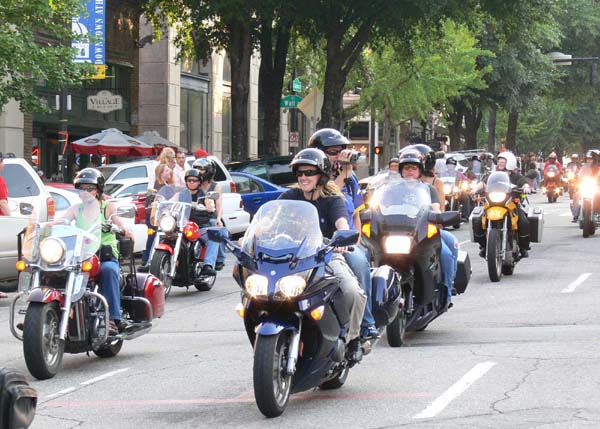 Only on WRN will you get the most up-to-date AMA Women & Motorcycling conference information because I am one of nine women who've been selected to be on the planning committee. The conference is scheduled for August 19-22, 2009 in Keystone, Colorado. We just had our first phone conference last week. Here's the latest information.
The reason you've not seen any updates on registration or scheduling info is because the AMA is waiting on confirmation from the potential presenting sponsor to come on board. That could happen any day now. The AMA doesn't want to publish any official information until it knows if it has a presenting sponsor. However, the conference will go on with or without a presenting sponsor.
I can tell you this: very soon, not sure when, there will be registration information on the conference Web site, WomenAndMotorcycling.com, as well as an 800 number to call for lodging. There will be a conference rate to ask for. As in the past, lodging is not included in the registration price. The registration price is expected to be between $150 to $200. I'm told there are two hotels in the area (one 5 star) and lots of condos (1 to 4 bedrooms). I am heading to Keystone the first week in November for a three-day planning meeting with the AMA and committee members to nail down all the scheduling details. I'll pass along updates as I get them.
Our recent conference call centered around determining the seminars, which are the cornerstone of the event. Those who went to the last conference in 2006 in Athens, Georgia, (image at right of parade during that conference) can look forward to new topics and new speakers. If you want to see what went on at that conference, I produced the officially licensed DVD of the conference and it's for sale by clicking here.
POSTED 9/17/08
Academia Motorcycle Types Take Notice


The Popular Culture Association and American Culture Associations are holding their next annual meeting in the French Quarter of New Orleans, Louisiana. The conference will convene April 8-11, 2009 at the New Orleans Marriott.
The Motorcycling Culture and Myth Area invite you to attend and further the research into the history, myth and impact of the motorcycle on culture, society and the individual. Proposals for individual papers, presentations, and panel discussions are requested. Suggested topics include:
– Riders' narratives or descriptions of the ride
– The motorcycle as art, poetry, or agency
– Rituals, norms, customs, or influences in motorcycle culture
– The biker as subaltern
– Movies, films, or other images of motorcyclists
– Analyses of media, consumer capitalist, corporate, state, or other power structures in relation to motorcycling culture or popular myth
– Biographical analyses of noteworthy motorcyclists and their influence upon myth, culture, or cultural capital
-Racial, ethnic, gendered, class, or demographic aspects of motorcycling culture
– Other literary, anthropological, geographical, historical, sociological, or psychological perspectives of motorcycling culture or myth
Please respond to one of the area co-chairs listed below with a biographical statement and an abstract of 150 words by November 30, 2008. Basic information about the conference can be found at the PCA / ACA Web site at PCAAA.org.
Co-Chairs:
Gary L. Kieffner, Department of History, Universityo f Texas at El Paso, telephone: 915.747.5875, email: kieffner@miners.utep.edu.
Lisa Garber, Psychologist, email: garberwwr@earthlink.net.
Drive-Thru Motorcycle Wash Debuts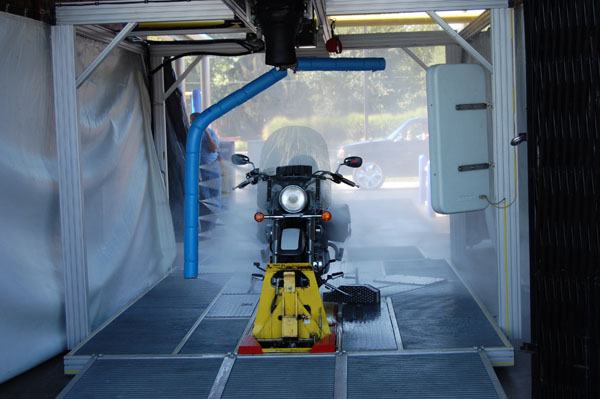 This sounds interesting. If you live in Indianapolis, you can try out the country's first automated, touch-free wash for motorcycles. It recently got a full test run during the inaugural Red Bull Indianapolis GP motorcycle race at Indianapolis Motor Speedway. The prototype wash, Moto Express Wash, was designed and built by Harrell's Car Wash Systems, an Indianapolis-based company that's built and operated car washes for three decades around the Midwest.
Owner Mark Harrell, a long-time motorcycle enthusiast, got the idea several years ago after talking to Paul Teutul Sr. from Orange County Choppers and the cable TV series American Chopper. Harrell was intrigued and went to work developing the country's first automated touch-free motorcycle wash at his shop on the west side of Indianapolis. It has taken three years, but Harrell's team of engineers, computer technicians, welders and other specialists have designed and built the prototype, which is open for business at the Dirt Stripper Car Wash at 4980 Crawfordsville Road, about a block west of the Indianapolis Motor Speedway.
From a distance the Moto Express Wash looks like a normal automated car wash bay. The motorcycle is ridden into the bay, which is the same size as a standard car wash bay. The kickstand is put down, and the rider dismounts. The bike is secured through a computerized system that activates blocks at the kick stand and at the front tire, so whether you're riding a Vespa or a chopper, the bike is held in place in an upright position during the entire wash process.
An arm moves across and over the bike for pre-soak, wash and spot-free rinse — at the same time, the front and rear wheels are being rotated and cleaned, and then it's air-dried. The whole process takes less than five minutes. Until now, motorcycle owners had to rely on hand washing to clean their bikes, a process that could take at least two hours. Harrell plans to make it available to other car wash owners and motorcycle dealers beginning in the spring.
Amazon Launches New Motorcycle/ATV Store


Amazon is launching a Motorcycle & ATV Store (Amazon.com/motorcycle) – a single shopping destination for hundreds of thousands of motorcycle and ATV parts, accessories and protective gear. The store showcases a selection of more than 300,000 products from more than 500 manufacturers, including top brands like Alpine Stars, Yamaha, Fox Racing, Harley Davidson, HJC, Joe Rocket, Kawasaki, Shoei, Suzuki and Tour Master.
""We are excited to offer motorcycle and ATV customers a huge selection, great prices and the convenience of Amazon's unique shopping experience,"" said Steve Frazier, vice president of Automotive for Amazon.com. ""No matter what style of motorcycle they ride, both new riders and enthusiasts can find the tools, parts and accessories they need to upgrade their bikes, prepare for winter riding, venture off-road or perform routine maintenance.""
After launching its Automotive Parts and Accessories Store in 2007, the expansion to include Motorcycle & ATV parts and accessories was a natural one. According to the Motorcycle Industry Council, in 2007, sales of scooters and dual-purpose motorcycles reached their highest levels in 20 years, and data from the same organization shows that the upward trend has continued into 2008. Amazon's Motorcycle & ATV Store provides a valuable source for new and experienced riders to easily find the right helmets, protective gear, bags and accessories.
POSTED 9/14/08
Women Set Records at Bonneville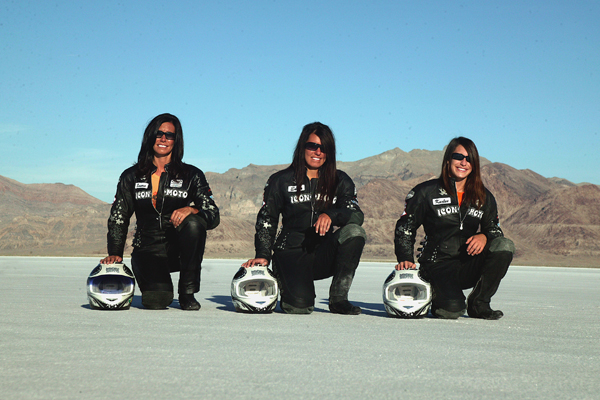 Laura Klock and her daughters are sure to become famous after this gets out. Laura and her two daughters each set a record at Bonneville a week ago. They're pictured at right at the Bonneville salt flats in Utah. Karlee, age 14, set a record on the Buell Blast going 107.391 mph. Erika, age 17, set a new record on 1995 Buell S2 going 130.392 mph. And Laura set a new record on the ""world's faster bagger"" going a 153.592 mph. Another woman set a record there: Michelle Mielke on her 2000 Yamaha V Star 650 set a record going 102.1 mph. This was the first year out for Michelle and Karlee. Congratulations to all! By the way, there is no separation between male and female or by age. Bikes are placed in classes based on their type/frame, fuel and size motor. Speeds are relative to motor size. We'll be posting many more photos and a longer article on the home page soon.
New Racing Series Debuts in U.S.
The Motorcycle Industry Council, the national trade association representing top motorcycle manufacturers and 300-plus other members, will launch a new professional road racing series next year in the United States. The MIC has formally established USSB, Inc., and already is at work creating a national championship for 2009 that will take place at major racing facilities, feature factory superbike teams and rules similar to those now in place – rules encouraging technological development that advances motorcycle engineering.
The USSBSM Championship is being designed to carry on America's tradition, spanning more than two decades, of world-class superbike racing that showcases the nation's best riders on the best motorcycles in the country. The premier class, U.S. Super Bike, will invite teams running the highly developed, factory-backed, fan-favorite racing motorcycles (1,000cc fours and larger-displacement twins) that have long been the basis for superbike racing. The inaugural USSB series will include U.S. Sport Bike, a 600cc category similar to the World Supersport Championship and others.
""This is America, a big country with a big motorcycle market that deserves a world-class championship with full-on factory bikes raced by star riders,"" said Ty van Hooydonk, USSB managing director. ""The USSB Championship is our answer. We want to steer away from engine restrictors, away from mandated power-to-weight ratios, spec tires and spec ECUs. We want to set the stage for racing teams to compete, on the track, in the R&D shops, in the way they develop their bikes and help develop production bikes, in how they develop their engineering staffs and crews, and their riders, too. Let them do what they do best and go racing.""
My thoughts? What will this do the AMA Pro Racing series? The story is just unfolding.
POSTED 9/11/09
Femmoto Just Around the Corner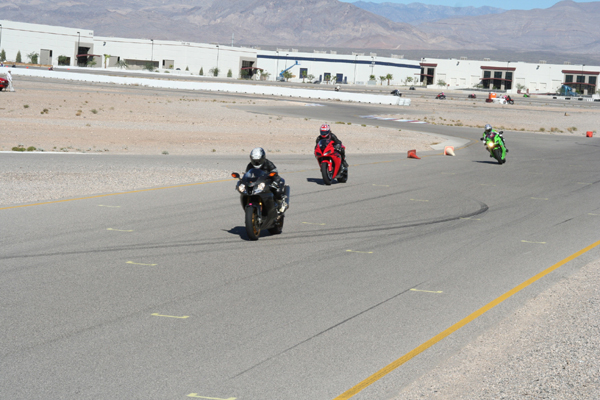 Femmoto is less than a month away being held at the Las Vegas Speedway from October 3-5, 2008. Femmoto is an annual event now in its seventh year where manufacturers bring out their demo fleets for women only to test ride in the controlled environment of a track. Fleets of demo bikes will be available from Kawasaki , Buell, Ducati, KYMCO, Honda, Harley-Davidson, Suzuki, Triumph, and for the first time at Femmoto, Victory, BMW, Yamaha, and Star Motorcycles.
This year Femmoto coincides with another big motorcycle event — The Las Vegas Bike Fest. Thousands of enthusiasts cruise the famous Las Vegas Strip and head out for rides around Lake Meade and the Hoover Dam. No doubt this will make Femmoto it's biggest yet.
Something different this will be a seminar by NHRA drag racer Karen Stoffer of Geico Racing. Also for the first time Femmoto will be filled with the sounds of a screaming stunt demonstration by Jessica Maine of Chick Riders. Visit Femmoto.com.To see WRN's coverage of past Femmotos, visit these links:
Photo Gallery: Femmoto 2007
Photo Gallery: Femmoto 2006
Company Profiles: Femmoto
New Sturgis Museum Web Site
We just got word the Sturgis Motorcycle Museum and Hall of Fame (which I am inducted in by the way) has launched a new and improved Web site. It's fantastic! Executive Director Christine Paige Diers said, ""Visitors to SturgisMuseum.com can see a list of all the motorcycles we have in the museum as well as pictures of many of those vintage bikes. We know how important it is to have interactive elements and up-to-date information in this virtual age. Our goal was to be more appealing and valuable to users, and I think this new Web site will realize that goal."" The museum houses a collection of rare and vintage motorcycles dating back to 1905 as well as a wide variety of motorcycle memorabilia and historical information.
All the Hall of Fame inductees area also listed on the new site. This Hall of Fame is the only motorcycle related one in the country that regular inducts women. You can read about the most recent female inductees in Way To Go Girl!.
POSTED 9/9/08
New V Star Makes Debut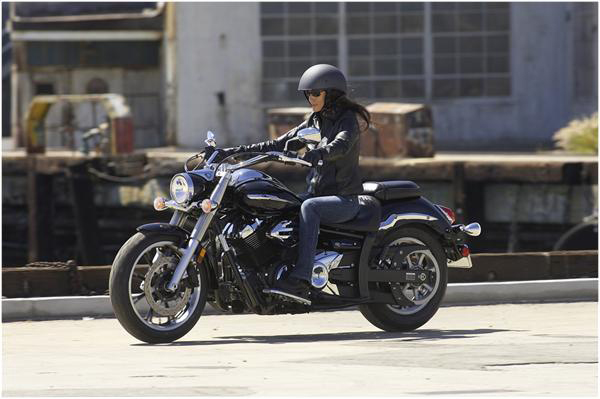 Yamaha announced at its dealer meeting yesterday a new V Star motorcycle that is poised to go head to head with Kawasaki's Vulcan 900. It's the V Star 950. Word is Yamaha took into account the female market when designing this bike — hence the fact that a woman is riding the bike in the company's publicity photos shown here. When I see manufacturers do this, it only means one thing: it's hoping to attract women to buy the bike. The bike sits low to the ground – 26.6 inches (Vulcan 900 is 26.8 inches) and the styling is described as sport classic – yet another new category invented by an OEM. Sport classic, I kind of like it. The word classic skews older; by adding sport, Yamaha is hoping to attract younger buyers, which all manufacturers need to do as the baby boomers age and start buying the large tourers, or moving to trikes, or leaving motorcycling altogether.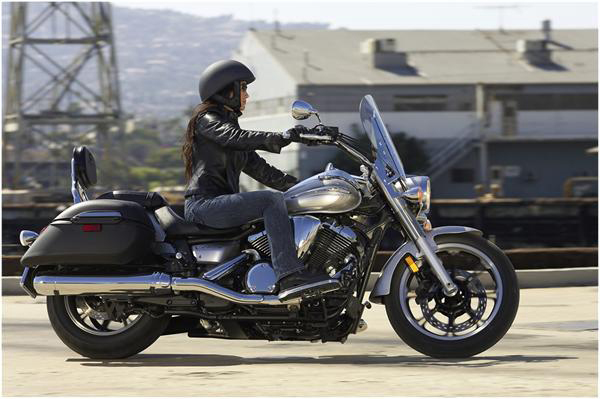 Shown at left is the V Star 950 Tourer which comes with a leather saddlebags, a windshield, and a backrest. Price starts at $8,890, while the plain 950 starts at $7,890 — comparable in price to the 2008 Vulcan priced at $7,299. With a 950 and a 1300 now in the Star Motorcycle lineup, you can bet the 1100 has seen its days. I'm surprised Yamaha kept the 1100 in the lineup for 2009, but I bet it will be discontinued next year. You can see my video review of the 1300 by clicking here. The 950 will be available in dealer showrooms starting in November.
Related Articles
Motorcycle Review: Kawasaki Vulcan 900
Female Motorcycle Reporter at LA Times Reassigned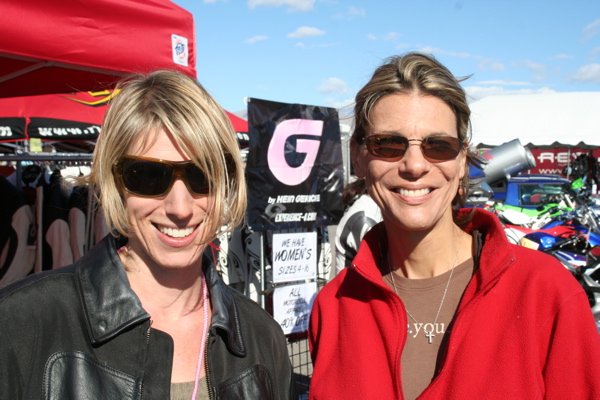 I may be behind the eight ball with this news because I don't live in Los Angeles, but I just found out that Los Angeles Times motorcycle reporter Susan Carpenter, otherwise known as the Throttle Jockey, has been reassigned to other work. (That's her and I in the photo at right – I'm in red.) She no longer will be writing about and reviewing motorcycles for the newspaper as of mid-August. That's too bad because Susan was one the only person working in the mainstream media reporting regularly on motorcycles — and being a woman, that made it even more special for those of us who care about those things. I guess the newspaper didn't see a return on its investment like it expected. Susan was a very good at it. Hopefully, she'll be able to continue reviewing motorcycles somewhere else – maybe for WRN?
POSTED 9/5/08
Ultimate Chick Bike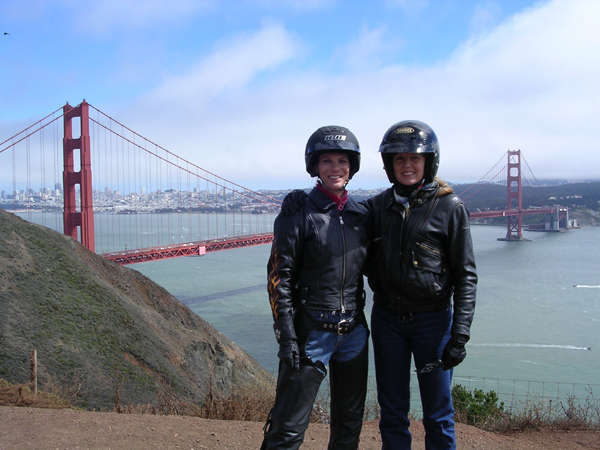 The headline on the email to me read ""the ulimate chick bike."" Writer and motorcycle adventurer Carla King wrote me asking if I wanted a review of the Kawasaki Concours 14, a bike she thinks is perfect for women. ""Of course, I'm interested,"" I shot back. ""Let's talk."" That's Carla and I pictured on a ride we did together in San Francisco. That's the Moto Guzzi Breva. The Concours is not a bike I would think of as the ulitmate chick bike because it's on the taller side and most women like a low bike with a low center of gravity. So, I'm anxious to read Carla's review of this sport touring motorcycle that has already gotten rave reviews in the mainstream motorcycle magazines. It will be posted in about a month.
If you're not familar with Carla, you should be. She's one of the few women out there who spends a lot of time riding and writing about it – mostly in foreign countries. Here are some links to stories we've done on her.
Motorcycle Videos: Carla King
Product News & Reviews: Carla King Book Review
POSTED 9/4/08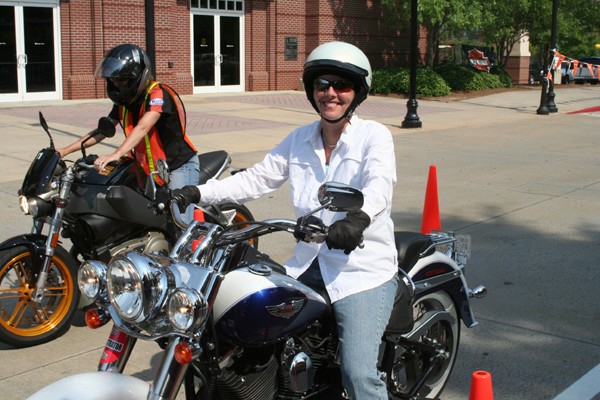 AMA Women's Conference News
The AMA Women's Conference is in full planning stages now. It's scheduled for August 19-22, 2009 in beautiful Keystone, Colorado. I've been invited to be part of the planning committee (one of nine women) which includes identifying seminar topics, speakers, and putting together the event schedule among other things. I'm honored to participate in this capacity. I spoke with Will Stoner today, one of the organizers of this at the AMA, and he said accommodations for this event in Keystone are spectacular. The AMA and participants will have full run of the conference facility, which includes the surrounding condos for accommodations. He said rates are from $99 a night for a one bedroom condo to $269 a night for a four bedroom. There are 19 restaurants in the area. Keep checking this blog for updates. Major news updates will be posted on the home page as we get closer. Here are some links to stories we've done on the previous conference held in 2006.
Feature Articles: Women's Conference Part 1
Feature Articles: Women's Conference Part 2
Women's Conference DVD For Sale
AMA Women's Conference Web Site