Black motorcycle jackets are a dime a dozen, so when I find a leather jacket thats not black, Im all over it. The one that caught my eye this time is a very dark brown, vintage-style, mid-weight leather jacket called the Dame made by River Road. If you like black, though, River Road offers that color as well.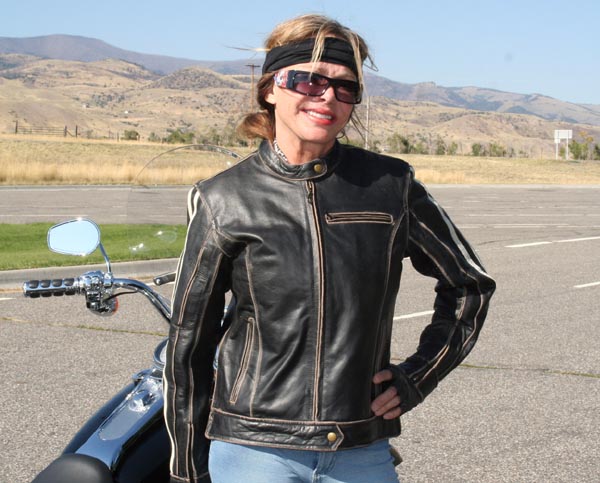 River Road is a motorcycle apparel and accessories house brand of Texas-based powersports distributor Tucker Rocky. The leather clothing doesnt have any brand names or flashy patches splashed all over it. The style of River Roads jackets, chaps, and vests is more classic and tastefully stylish. The Dame, the new style for 2008, is actually the most unpredictable look in the collection.
I chose the Dame jacket as one of the prizes in the "Thank You" contest held on WomenRidersNow.com this time last year. After wearing and testing the Dame this summer, Im pleased to report it held up well and is now a staple in my motorcycle wardrobe. The mid-weight leather starts out slightly stiff when you first get it, but after several times wearing the jacket, the leather breaks in and softens up. The creases in the leather add to the vintage look, which I like. This is one jacket that gets better with age.
There is no armor in the Dame for those who dont prefer the puffy protection pads. Thats fine with me. Sometimes, I like to wear a jacket that doesnt have armor. Armor sometimes restricts movement, rendering the jacket stiff. There is a full-sleeve insulated liner, which gives more versatility to the jacket. I wore the Dame on warm days without the liner, and on cool nights with the liner. And no, the liner is not designed to be worn alone like some liners.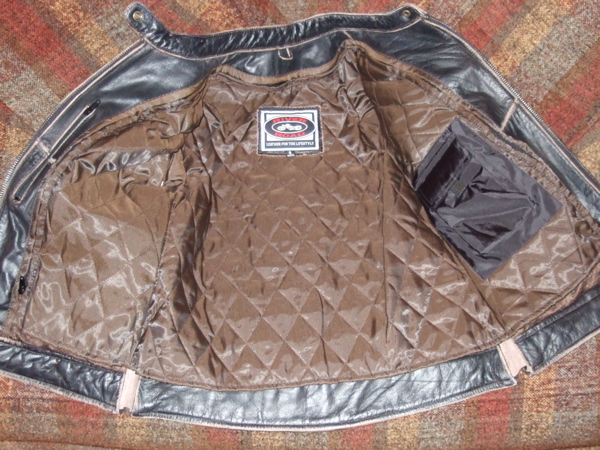 The size small I got was a little baggy in the chest and waist area for me, but I could fit a puffy fleece under if I needed. I usually wear a medium in a motorcycle jacket because arm length on a size small tends to be too short for me. The Dames medium was huge on me, so I went with the small. I would recommend choosing a size smaller than you normally would. There is a zipper on each side to expand the waist area needed.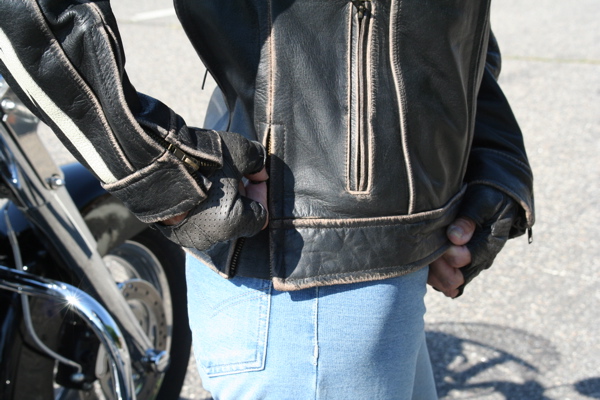 There are adequate vents on the jacket to keep air moving through the leather on hot days. Two zippered vents in the back and one on each part of the upper sleeves open up to increase airflow. And zippers at the wrist open up as well. A small breast pocket doubles as a vent. Its big enough to fit just a pack of gum and a lipstick.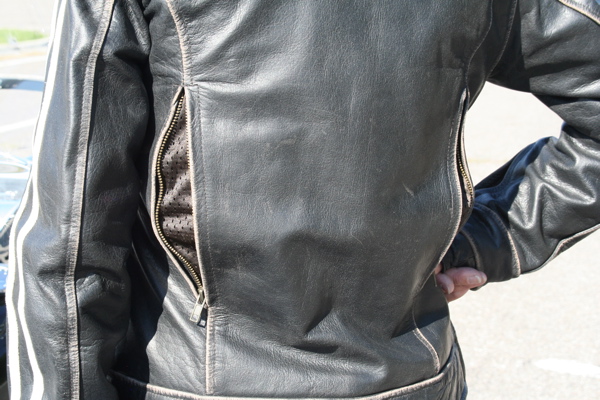 There are two hand warmer pockets, as their called, with a soft fleece lining inside. There is also whats called a placket pocket the thin vertical pocket on the inside of the jacket right behind the zipper that I use to stuff my bandanna when Im not wearing it. Another pocket inside is big enough to fit a Blackberry or other PDA, and when you remove the liner, you dont lose that pocket as one is sewn into the jackets polyester mesh lining, too. The mandarin collar has a snap for a snug fit, but not too snug that it chokes me. Theres also a snap at the waist.
| | |
| --- | --- |
| Here#39;s River Road#39;s catalog shot of a model wearing the jacket not unlike how it looks on Debbie. | This shows a close-up of the mandarin collar and snap, and the location of the other vents on the arm and breast pocket. |
The Dame is a fine all-around motorcycle jacket at a decent price starting at $199.99. I dont have any issues with it. Its a quality, predictable jacket. Every woman should have this kind of basic equipment in her motorcycle wardrobe. Sizes range form small to 2XL.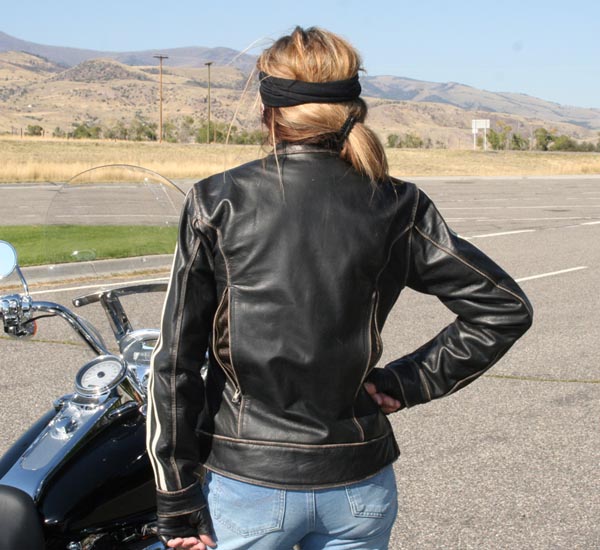 If youre not familiar with River Road, I encourage you to check out the line at RiverRoadGear.com. There are six womens jacket styles, and a basic selection of female sized chaps, vests, gloves, and boots. Youll also find a dealer locator if youre interested in purchasing any of the apparel.