The Progressive International Motorcycle Shows Long Beach stop, scheduled for December 9-11, is typically one of the biggest and most exciting shows on the tour, with a number of well-known motorcycle riders making appearances. This is because much of the motorcycle industry is based in Southern California, so it's easy for industry representatives to be there.
Many of you have asked if I will be there. I will not. I was there last year, but I am not attending this year. Also, many of you are asking if there is a women's area this year. There is not. Advanstar, the show promoter, cut back on expenses and discontinued the women's area for the 2011/2012 series. However, there are still women-oriented seminars and presentations going on at the shows, and Long Beach is no exception. Here's a rundown of who you can see and when in Long Beach this weekend. Many of these events are taking place at the Learning Curve stage, but check the show schedule when you get there to confirm place and time.
Friday, December 9
6:30 p.m.: "Meet the World's Fastest Female Rider": An opportunity to meet record holder Leslie Porterfield
Saturday, December 10
11 a.m.: "Rock the Gear": A presentation by Brittany Morrow, a WRN contributor, about what to wear while riding and how it should fit
1 p.m.: "Fast Females": A panel with Leslie Porterfield and AMA racer Melissa Paris, moderated by Sue Slate and Gin Shear from the Women's Motorcyclist Foundation
3 p.m.: "Meet the World's Fastest Female Rider": A second opportunity to meet Leslie Porterfield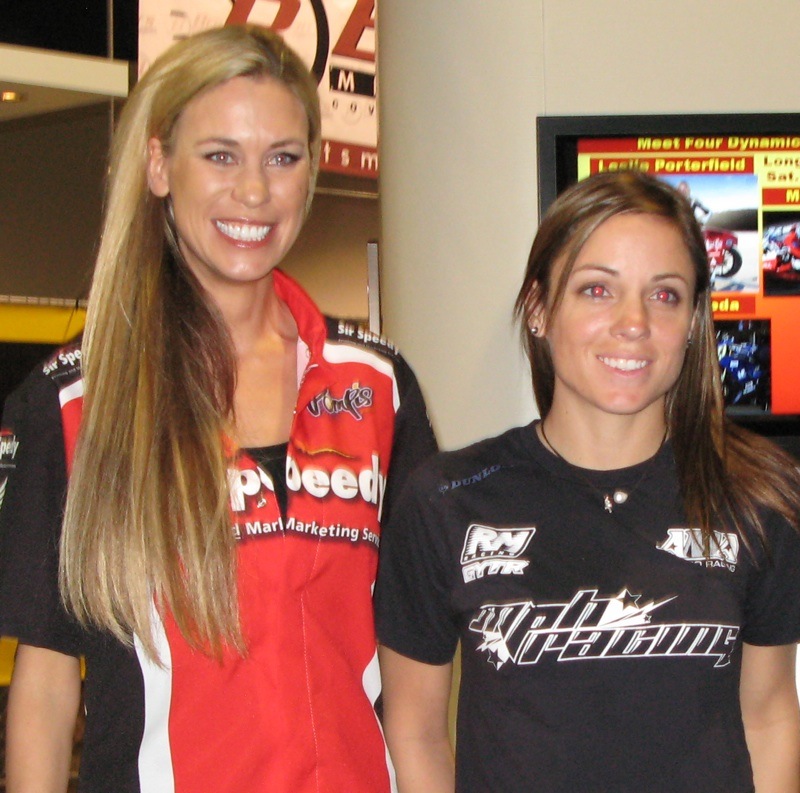 Sunday, December 11
Nothing scheduled that includes women riders, but check with the show's daily event rundown when you get there.
In a related event taking place near the Long Beach Convention Center, AMA racer Melissa Paris will be signing autographs at Yellow Devil Gear Exchange located at 2841 E. Broadway in Long Beach (and owned by WRN friend Jessica Prokup), on Saturday, December 10, from 5 p.m. to 8 p.m.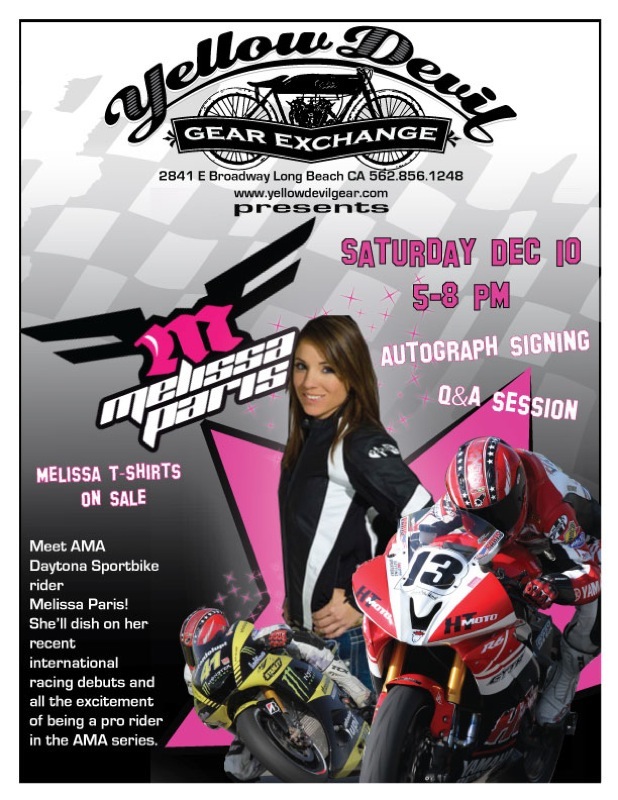 Finally, author Tamela Rich, whose new book "Live Full Throttle" I just reviewed, will be selling books at the show at the Wrapter booth. Thats the ponytail hair protector product that I reviewed recently. Tamela will also be doing a book signing at the Yellow Devil Gear Exchange on Friday, 12/9, from 6 p.m. to 8 p.m. To get in touch with Tamela, visit her Web site at TamelaRich.com or send her a message via Twitter (@TamelaRich) or Facebook.
Lastly, if you're going to this weekend's Long Beach show, you can get a $3 discount off the ticket price by ordering your tickets online at MotorcycleShows.com and using promo code WRN.
Related Articles
Editor's Blog: My 2010 Long Beach International Motorcycle Show Report
Top Female Racers Share Rare Insights