Cancer sucks. Let's face it—there's nothing appealing about living with the disease or being told you have it. Many books have been written about how to live with cancer, some from the medical community and some from survivors. Now, for the first time, comes a book about cancer from a motorcyclist's point of view.
"Live Full Throttle: Life Lessons from Friends Who Faced Cancer" is an enlightening and powerful book written by Tamela Rich, a motorcyclist and professional writer. Tamela gathered material for her book in summer 2011 while on a 17,000-mile cross-country road trip with a pink bra strapped across her motorcycles windshield. Along the way, she met and interviewed women riders who have faced cancer. Through a series of essays, along with photographs by photographer Christina Shook, the reader is taken on a journey of introspection and reflection. Some of the stories will make you tear up, all will make you smile, and each one has a powerful message that we all can learn from, regardless of whether we've faced cancer in our own lives.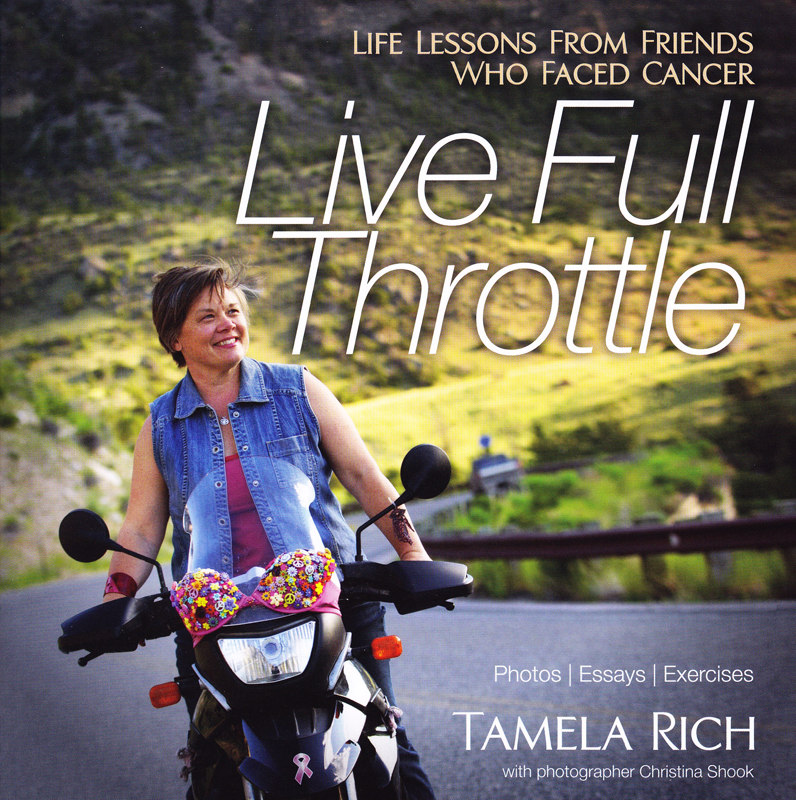 The full-color, 112-page softcover book is divided into the following eight sections, all of which are lessons Tamela learned from her interviews:
The Healing Power of Joy
Gratitude Eases Pain
Laughter Lightens Tragedy
You're Terminal, Too—Embrace It
When to Fight, When to Flow
Art Restores
Relationships Are Fluid
Channel Sorrow Into Service
Each section is followed by several exercises intended to spark introspection in the reader. The book is well written and well organized, using professional photos to advance the messages or build upon them. Photographer Christina Shook is a rider herself and published a women and motorcycling photography book called "Chicks On Bikes" in 2009. Many of the photos in "Live Full Throttle" were taken during the 2011 Conga IV Rally in Shell, Wyo., a gathering of women who rode in from all over the country and raised money for breast cancer research along the way. Many of the photos feature the women against the incredible scenery of the Rocky Mountains.
Tamela told me about her book project back in June, when she was just getting started on her journey, and I helped her get the word out (see Related Articles at the end of this story). It's heartwarming to see her idea come to fruition in such a beautiful book packed with empowering messages. Anyone dealing with cancer in her or his life can benefit from this book. You don't have to be a motorcyclist to get something from this, however, it's nice to see that riding a motorcycle showed up on the bucket lists of some of these women upon hearing they had the disease. The message to "live full throttle" despite obstacles or setbacks, however devastating, applies to any problem people might face in their lives.
"Live Full Throttle" makes an ideal gift for someone dealing with cancer, and it would make an inspiring and worthy addition to your own motorcycling book collection. It's available for $25 from Tamela's Web site at TamelaRich.com. You can also order from Amazon from that link as well. To read about Tamela's most recent road trip, visit her blog at RoadTrip.TamelaRich.com.
Tamela will be promoting her book in January and February on a tour that coincides with the Progressive International Motorcycle Show (IMS) series. Click here for the WRN story on the IMS schedule for 2012, and visit Tamelas Web site to see the cities where you can meet her and get a signed copy of this inspiring book.
Related Articles
Nationwide Womens Ride Gears Up
EXCLUSIVE VIDEO: Conga IV Riders Visit WRN
Book Review: "Women, Motorcycles and the Road to Empowerment"
PRODUCT REVIEW: New Women amp; Motorcycling Photo Book