Cpt. Yaqui Oselen of Atlanta is the proud owner of the 1,000th Ducati 1098 sold after deliveries began in February. This milestone sale caps a record-setting quarter for the iconic brand in North America. Led by the flagship 1098 Superbike family, the first three months of 2007 closed with Ducati retail sales up 15 percent more than last years record first quarter.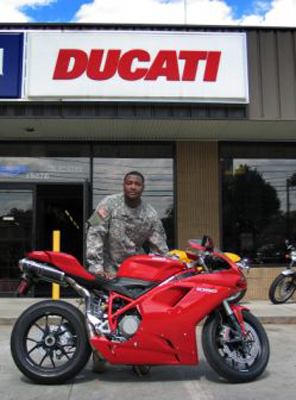 Currently serving the Adjutant General Corps, Cpt. Oselen has 15 years of military service, including time in Iraq when he was a Branched Air Defense Officer. The red 1098 is his fourth Ducati and his second from Atlanta Triumph Ducati. "Riding my Ducati is a lot like flying #8211; I just get total enjoyment from it," said Cpt. Oselen. "It was an exotic toy to have initially. Quickly, I became a sucker for the sound and handling and it became my bike of choice. I owned a Ducati 999, and when I got on the 1098 I immediately noticed the gains in horsepower and speed and the tires seemed to just stick to the road."
Atlanta Triumph Ducati opened in the 1970s in Athens, Georgia, and was known as Cycle Specialties. It moved to Atlanta five years ago, changed its name to Atlanta Triumph Ducati, and has become one of the most successful Ducati dealerships in the nation. Atlanta has become a key market for Ducati in North America with its southern climate and perfect roads in all directions to satisfy every type of rider.
The 1098 Superbike is the most powerful twin-cylinder motorcycle in the world. This incredible machine produces a jaw-dropping 160 hp and 90.4 ft lbs of torque, weighing a mere 381 pounds, giving it the highest torque-to-weight ratio of any sportbike on the market today. The 1098 carries a MSRP of $14,995 and the 1098 S model is priced at $19,995. A limited-edition Ducati 1098 Tricolore, featuring an evocative Italian red, white, and green racing livery and equipped with a special Termignoni performance exhaust sells for $24,995.