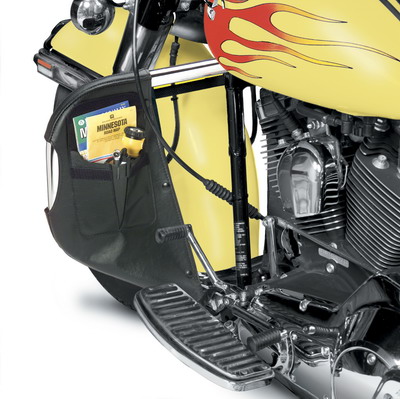 Leader Motorcycle Accessories introduces Desert Dawgs Rain Guards for Yamaha Stratoliner and Roadliner motorcycles. Now you can keep your feet warm and dry without a bulky motorcycle fairing.
These motorcycle engine guard chaps help minimize cold updrafts to keep your feet warm and help protect your chrome and legs from road debris. Desert Dawgs are made with brass and stainless steel snaps so they wont rust.
Installs easily to your motorcycle engine guard bar or highway bar using three snaps, a belt clip and hook-and-loop attachments. Will accommodate standard foot peg settings. Available in vinyl, vinyl with fringe and ultra pockets, and leather with ultra pockets. MSRP: $104.99-174.99.
Desert Dawgs Rain Guards are also available for various Harley-Davidson, Honda, Kawasaki, Suzuki and Yamaha motorcycles. For additional information visit leadermotorcycle.com or call 800.828.0844.