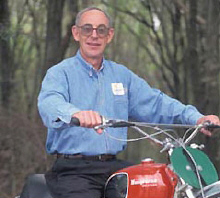 "Malcolm!" is the name of a new exhibit at the Motorcycle Hall of Fame Musuem honoring the legendary career of off-road racing champion, movie star, motorcycling ambassador, tireless fundraiser and mega-dealer Malcolm Smith.
Inducted into the Motorcycle Hall of Fame in 1998, Smith – supported by noted colleagues and friends – will return to help dedicate "Malcolm!" on July 26, 2007 at the Motorcycle Hall of Fame Museum in Pickerington, Ohio. The dedication ceremony will be preceded by a special June 7 exhibit preview and Museum fundraiser at Smiths Riverside, Calif., dealership. "Malcolm!" is presented by Tucker Rocky.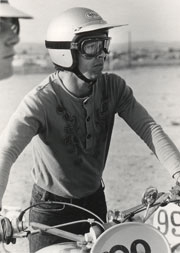 One of the most multi-faceted competitors ever to take to the dirt, Smith wowed fans for more than three decades with numerous trips to the victory podium. His racing career included six Baja 1000 victories, four Baja 500 wins, eight gold medals at the International Six Day Trials (ISDT) and a collection of four-wheel victories. However, it was his co-starring role in the 1971 moto movie epic "On Any Sunday" that garnered him the most recognition. Produced by Bruce Brown and Steve McQueen, the movie helped launch Americas love affair with dirt biking and introduced Malcolm to scores of new fans.
Ever active and passionate about motorcycling, Smith continues his work today as an industry ambassador and successful multi-line motorcycle dealer. He also donates his time to give back to the country where he left such an impression as a racer: Smiths annual charity ride across the Baja Peninsula, Six Days of Baja, has grown to include 75 riders and to date has contributed more than $350,000 to orphanages in Mexico.
"Malcolm!" is the fourth in a series of Legends exhibits at the Motorcycle Hall of Fame Museum. Curated by long-time friend and colleague Tom White of White Brothers Performance, the exhibit will feature machines and memorabilia from Smiths own collection. Significant motorcycles will include Smiths first race bike, a 1950 Matchless, and the Husqvarna 400 Cross he rode in "On Any Sunday." Additional bikes include Smiths first-ever motorcycle, a Lambretta 125DL, and the 1967 Husqvarna ISDE 250 he rode to his first ISDT gold medal. Ephemera such as trophies from Smiths Baja 1000 victories, ISDT gear, personal photographs and previously unseen video will illustrate his illustrious career.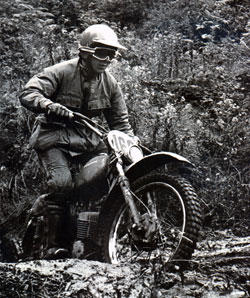 Motorcycle Hall of Fame Museum Executive Director Mark Mederski says Smiths career and continued contributions to the motorcycling industry made him a natural choice for the Museums Hall of Legends. "Smith has won legions of fans over the years. Through racing, business, and charitable work he has raised the stature of the motorcycling industry as a whole and we are proud to feature his story in the Hall of Legends." Smith, accompanied by family and friends, will cut the ribbon at the exhibits dedication, providing a unique opportunity for enthusiasts to visit the Museum and witness motorcycling history.
Two Opportunities for Everyone to Celebrate "Malcolm!"
Malcolm Smiths legions of friends, family and colleagues will gather on June 7 at 7:00 p.m. for an exhibit preview at Malcolm Smith Motorsports in Riverside, Calif. The event is open to the public and, in addition to a first glimpse of several exhibit motorcycles and memorabilia, will feature an exclusive live auction benefiting the Motorcycle Hall of Fame Museum. Items up for bid range from a Jeremy McGrath autographed Bell Moto-8 helmet to autographed "On Any Sunday" movie posters. For more information on the exhibit preview event, visit motorcyclemuseum.org.
The following month, "Malcolm!" opens at the Motorcycle Hall of Fame Museum in Pickerington, Ohio, for a one-year engagement. The dedication ceremony and reception is scheduled for 6:00 p.m. Thursday July 26 and is open to the public. Colleagues such as fellow "On Any Sunday" star and Motorcycle Hall of Famer Mert Lawwill will join Smith at the official ribbon cutting and opening reception. While at the Museum, visitors can also enjoy "Motocross America," the extensive exhibit tracing Americas original action sport, on the Museums main gallery level. Scheduled to precede the July 27 – 29 AMA Vintage Motorcycle Days at Mid-Ohio Sports Car Course in Lexington, Ohio, "Malcolm!" is the perfect beginning to an entire weekend of world-class motorcycle heritage and history.
Collectors Invited to Contribute
Collectors wishing to lend their Smith bikes or ephemera in support of the exhibit are invited to contact Executive Director Mark Mederski at the Motorcycle Hall of Fame Museum. Says Mederski, "With a versatile career like Malcolm Smiths, we expect a treasure trove of additional bikes, photos and ephemera preserved in private collections. While we have already identified a good selection of these, we enthusiastically welcome additions that help us create the ultimate Smith retrospective." Mederski can be reached at 614.856.2222 or mmederski@motorcyclemuseum.org.