Towanda Women Motorcycle Tours Ltd. announces a new 12-day Northwest Adventure bike tour this summer, starting and ending in Seattle, Washington. The company, based in New Zealand, is run by women, for women.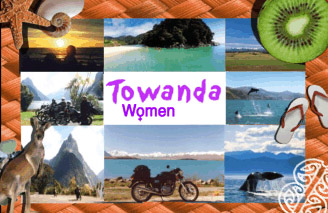 The Northwest Adventure trip begins July 14 and stops are planned at Cascade National Park, Glacier National Park, Banff National Park and the Columbia Icefields. A 3-night stopover at Lake Louise will feature high tea at the grand Chateau overlooking the lake, with the Rocky Mountains as a backdrop. The tour will take you on many secondary roads and mountain passes that offer breathtaking views from scenic overlooks.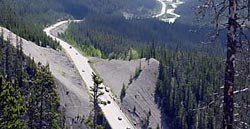 Towanda Tours emphasizes the philosophy of making a difference by protecting the environment, respecting cultural diversity and supporting and encouraging friendship among women motorcyclists worldwide.
The company offers two other tours in the United States (Grand Canyon and Yellowstone National Park) and many tours in New Zealand and Australia. The most popular trip is the 18-day New Zealand highlight tour.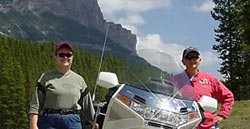 On the Towanda Northwest Adventure tour you can use your own motorcycle or rent one. Many different models are available including a Honda Gold Wing, Valkyrie, ST1100, Shadow or Magna 750; Yamaha FJR1300, BMW R1200CLC, Harley-Davidson Electra Glide or Triumph Trophy 1200. The base price for the tour using your own motorcycle is $1,295. Prices using a rental motorcycle vary by model.
Included in the tour package are airport pick up and shuttle service, motorcycle rental (if you have chosen this option), 2-3 star accommodations in motels or small inns (double-occupancy), tour guides, park passes, high tea at Lake Louise Chateau in Banff National Park and a Columbia Icefields tour in Jasper National Park. Details are available on their Web site Towanda.org