Disclaimer regarding Johnny not wearing a helmet, from the editor: Our editorial guidelines state that when we have control over a photo shoot we always show a rider wearing the proper safety gear including the wearing of a DOT helmet. Well, our new "rebel-wise" contributor Johnny didnt wear a helmet in his photos because this editor forgot to tell him to. Well let him slide this time.

I'm an old soul, no two ways about it; a bit of a rebel, perhaps even a hoodlum. I've always gone against the grain when it comes to "motorcycle fashion." I prefer to stand out by embracing the '50s vibe of a motorcycle-riding-James-Dean rather than current trends in biker regalia. After all, my beloved two-wheeled machine just turned 50 this year so it seems appropriate to share the same classic persona.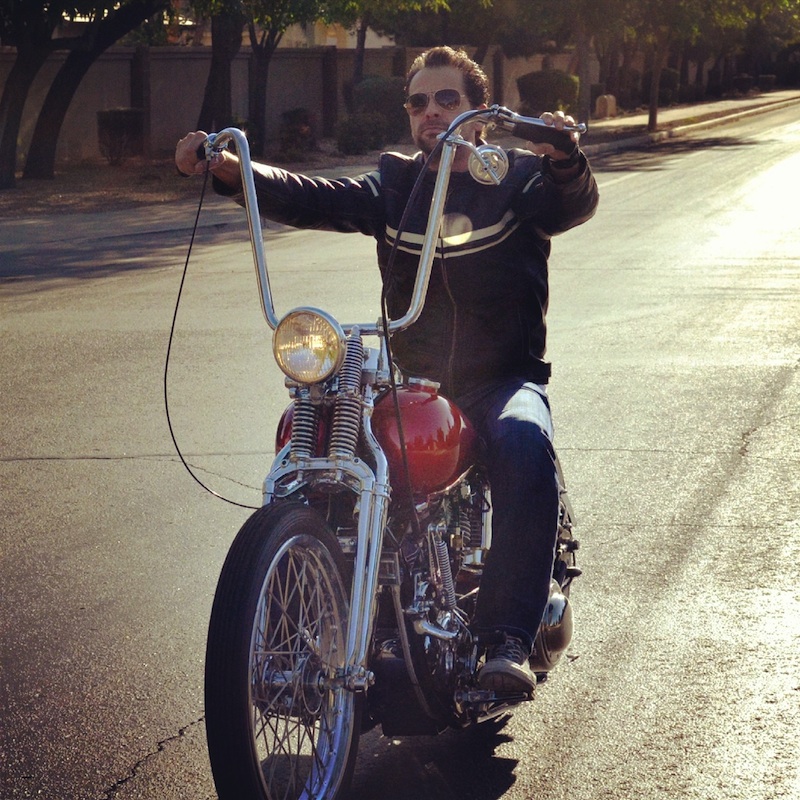 That said, I've struggled to find a functional motorcycle jacket that has the classic style and look I want, barring modern fads. Over the years I've had several jackets (mechanic jackets, denim jackets, etc.) that look great, but either the collar flaps around and slaps painfully against my neck, or they simply just don't keep me warm in my time of need. But did that stop me from wearing them? Heck no! They looked hot! I'd sacrifice function for fashion in a heartbeat! (I know the women readers here can relate!)
My search led me to the River Road Hoodlum Vintage Jacket. No sacrifice required. This jacket has it all: vintage style, stellar functionality and fantastic looks. Made of high quality medium-weight leather, the Hoodlum is extremely comfortable, protects me from road debris and with its intentional worn appearance, looks good doing it. And theres a similar womens version called the Dame, reviewed here on WRN.
| | | |
| --- | --- | --- |
| The jacket is comfortable zipped and is not restraining at all. | Unzipped it falls nicely and comfortably and again, looks great. | The back of the jacket is classic simple with no logos. |
The jacket features a removable, full-sleeved liner with a pocket for your phone, a pair of chest pockets doubling as vents, zippered sleeve vents, a pair of waist level zippered pockets and—an important feature for me—a snap closure collar tab. I can't tell you how nice it is not having my neck constantly whipped by my collar at highway speeds, or having the zipper work its way down. The ample pocket space is a nice feature as well considering that my options are limited when it comes to carrying personal effects on my old school chopper.
| | |
| --- | --- |
| Zippered vents on the each sleeve help keep me cool. Up close here, you can see the "worn" vintage texture of the leather that only gets better with age. | The insulated, full-sleeve padded liner is easily unzipped and unbuttoned for removal. It's not styled to be worn on its own. |
I received the jacket in January and although Arizona is notorious for being ridiculously hot, it does get quite chilly here through the holidays—too chilly to ride with only my denim or mechanic jackets in the early morning and evenings. You can imagine my relief as I rode to and from events all over Arizona (including northern parts where the temperature is considerably lower than the metropolitan area of Gilbert, where I live) without freezing.Wish I had this jacket when I rode to the Shady Dell.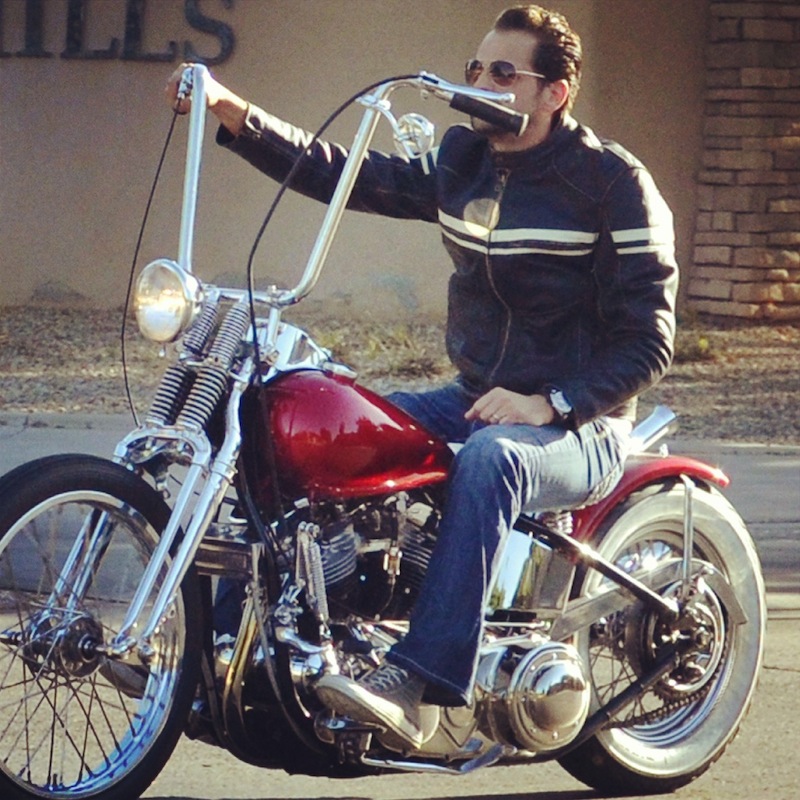 In March as temperatures gradually trended upward, it was time to take out the liner out. The liner is easily removed and the jacket adapts nicely to the weather. April saw the mercury rise a few more notches and I found myself opening the vents in the jacket to let in airflow as I tooled around for Arizona Bike Week.
The only issue I had with the Hoodlum was fit. Let me follow that up by saying it is in no way indicative of a River Road design flaw, but it is an issue I typically have with clothing fit in general. I am 6-feet tall, and slender at 170 pounds. I ordered a size 40 in the Hoodlum and the jacket fits and looks perfect on me standing. The body has excellent lines, the sleeves fall right where they should and the bottom hits right at my waist as expected.
The problem? As soon as I raise my hands, the sleeves slide up my forearms and the bottom comes up exposing my back. This is the case with every jacket I own, and riding a chopper with ape hangers doesn't help. If I go bigger in size, then I am faced with having way too much room in the body. Again, this is not a defect by River Road, but more of a sign of the times. American men have progressively gotten bigger over the years and shirt and jacket sizing has evolved to remain relevant.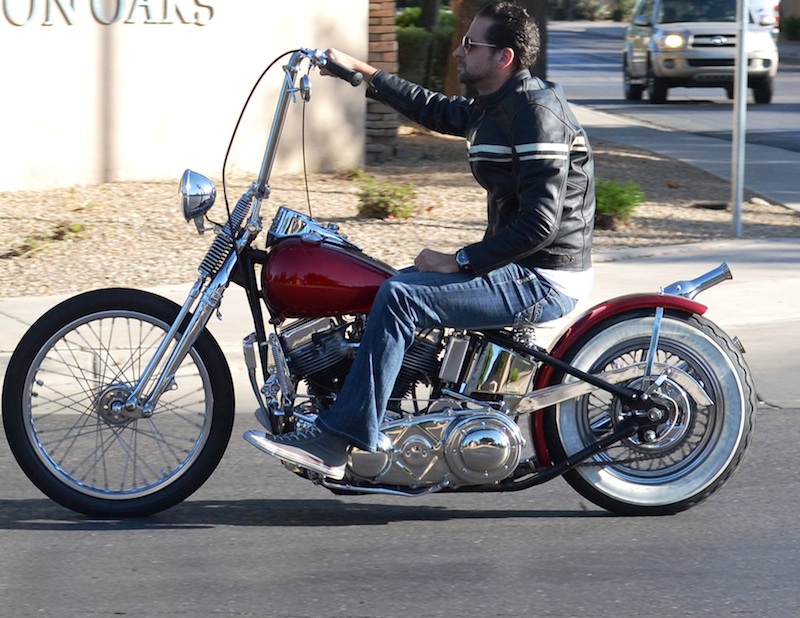 The River Road Men's Hoodlum Vintage jacket is a killer addition to my wardrobe. This is a jacket that can easily double as a coat for a night out sans motorcycle. Its style is both fashionable and symbolic of my personality; its functionality is superb for long road trips, and beginning at $249.95, you'd be hard pressed to find a quality piece like this at a comparable price point. Sizes start at 40 and go up to 54; size 48, 50 and 52 are $269.95 and size 54 is $289.95. For more information and for a dealer locator, visit RiverRoad.com.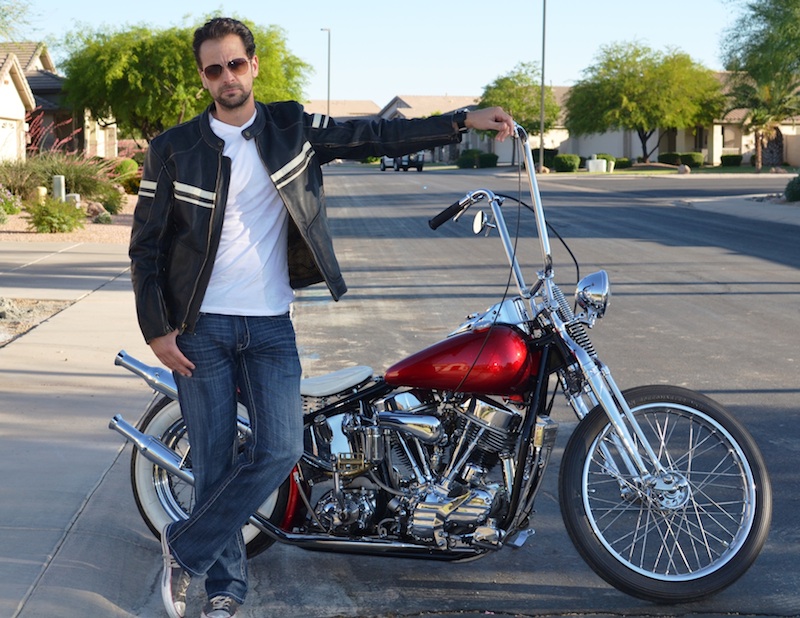 To find out more about Johnny Zapp, visit the WRN Contributors page.
Editors Note: For those who think we used the same shot of Johnny twice here, we didnt. We just think he looks so cool we thought wed run a similar photo to the one at beginning of the article. Can you spot the one difference in the two photos? Tell us in the comments below. And tell us what you think of this jacket.
Related Articles
Review: River Road Dame Jacket Review(similar womens jacket to the Hoodlum)
Men Riding Gear Reviews
All River Road Reviews
Leather Jacket Reviews