Gone are the days when women riders had to forgo safety and protection for their motorcycling gear in favor of simply looking good. While most motorcycle apparel companies now offer a selection of functional and fashionable riding gear patterned for women's bodies, there are limited choices for gals who want an edgy fashionable look inspired by catwalk trends while riding their motorcycle. Enter AlpinestarsVika line.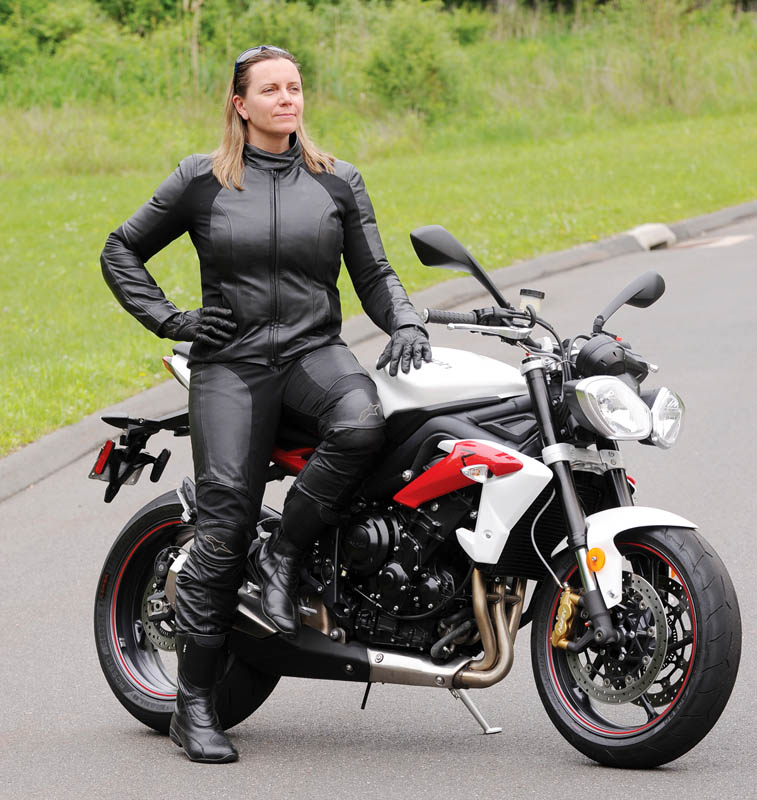 Patterned to lengthen the female form, the Vika jacket, pants, and gloves look like they belong in a fashion magazine as much as they do here on WomenRidersNow.com. The jacket is offered in light blue or the all-black version I tested, while the pants and gloves come in all black.
I normally wear a size 10 pant, but I found I needed the 12 (Euro 48) Vikas for a proper fit. European sizes tend to run smaller than U.S. The jacket was also on the small side as my normal size 12 required a 14 (Euro 50). I was skeptical that the XL gloves would fit, as I often need to wear a men's medium due to my long fingers, but the Vikas just made the cut. And Im glad they did. Be sure to view the sizing chart and take into consideration the smaller cuts of the European sizing.
Across the line, lightweight, buttery-soft, full-grain leather is tougher than it looks, and combines smartly thought-out details to optimize comfort and protection. With the help of generous, breathable polyester stretch panels, the jacket and pants cling to the body in a comfortable hug without restricting movement or extra fabric pinching the skin.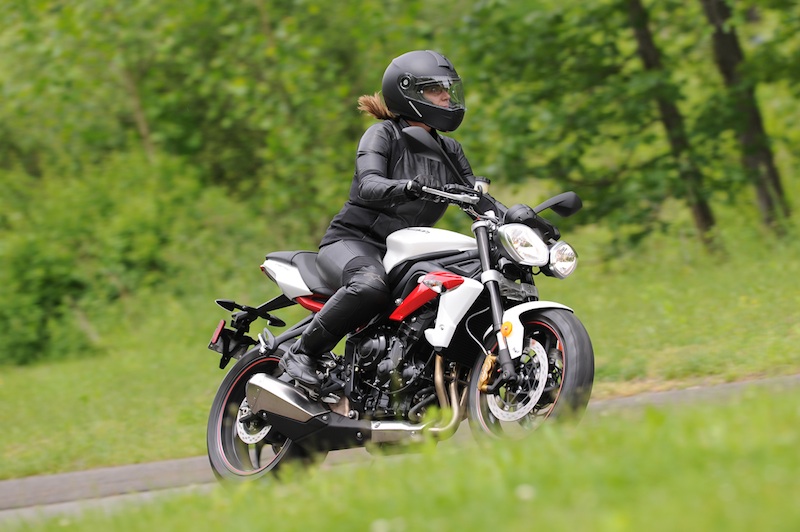 Soft, thin removable CE-certified armor in the shoulders, elbows and knees maintain the body-hugging look and are heat and impact-sensitive, meaning they harden on impact.
| | |
| --- | --- |
| A zipper at the base of back of the jacket back opens to accept an optional back protector. Just be sure to order a jacket size large enough to accommodate it. I'll need to lose some weight if I want to add one to my Vika. | An internal waist zipper connects the jacket with the pants, but the rear of the jacket is low enough to cover the area even in a sporty riding position. |
Pockets include two zippered hand-warmer pockets, an internal zippered pocket and two sewn into the silky, soft interior liner. The pants have no pockets (who wants extra bulk down there anyway), but a removable, sleeveless, quilted jacket liner adds two more interior pockets. Frankly, this outfit is meant to be formfitting, and doesn't leave room for stuff, so I recommend carrying your personal items in a bag.
| | |
| --- | --- |
| The quilted liner is sleeveless. | The back of the Vika jacket is simple and has no logos. |
The interior of the pants are lined with a full-length silky-soft mesh lining making it easy to get them on and off even if youre hot and sweaty. Bottom zippers are located in back of each pant leg, and are just long enough to get boots on under the pants, if you choose. I wore my boots outside of the pants and didn't experience any discomfort that you sometimes get from leather and zippers bunching up under boots.
| | |
| --- | --- |
| The pants fall low on the waist and the Alpinestars logo is emblazoned on each knee. | The elasticized waist closure consists of a zipper and fastener. |
| | |
| --- | --- |
| The back of the Vika pants consist of breathable panels placed behind the knee, one place where heat and sweat accumulate. | Zippers at the calf allow for easy on and off. No fancy zipper pulls though; in fact they are quite small and discreet. Don't plan on pulling any of them with gloves on. |
| | |
| --- | --- |
| The Vika gloves are made of soft leather while the fingers are precurved and perforated, which all adds up to maximum comfort and flexibility. | The extra protection at the knuckles on the back of the hand is the soft and pliable kind (not the hard knuckle armor found on some gloves). The short cuff is cinched at the wrist, and tightens with a zipper. While I like how the tiny zipper pull is hidden under a bit of leather when it's opened, it's hard to grasp. |
Honestly, I've never considered such a form-fitting riding suit before the Vika as I have a few more curves than I'd like. But, stepping out of my comfort zone, I imagined I was the superhero version of Catwoman as I dashed around Connecticut on the Triumph Street Triple I was test riding.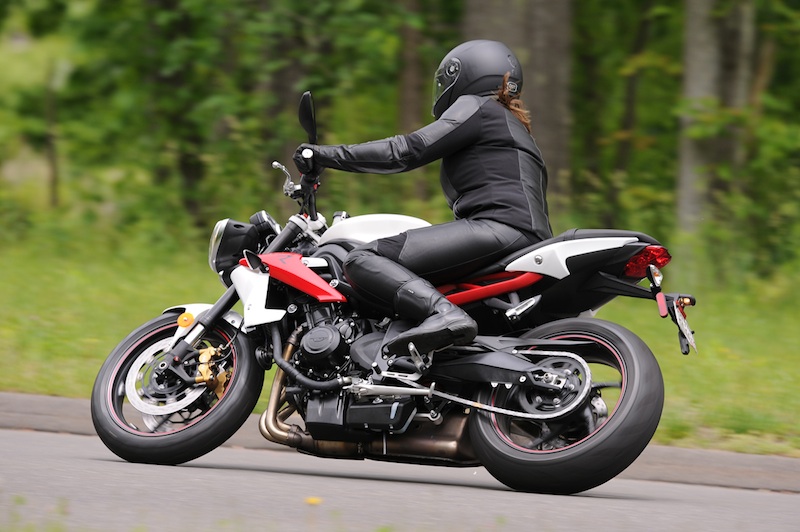 After getting over my self-consciousness of wearing skintight leathers, I discovered that I was actually quite comfortable riding in the Vika gear. There's no pinching, pulling or restricting of movement, and it's fitted with armor. For all of that, the Vika pants, jacket and gloves are well worth their price tags. Visit Alpinestars.com to learn more and to order online.
Stella Vika Jacket, $449.95; size 38 to 50 Euro (2 to 14 US)
Stella Vika Pants, $389.95; size 38 to 50 Euro (2 to 14 US)
Stella Vika Gloves, $89.95; size XS to XL

Related Articles
Review: Roland Sands Design Maven Jacket
Review: Cool Weather Waterproof Riding Gloves
Review: My Favorite Leather Riding Pants
All Alpinestars Reviews on WRN
All Leather Motorcycle Jackets Reviews