When it comes to motorcycling, its not uncommon for riders to set personal milestones. For some, passing the MSF beginner course or making that first ride down a busy highway feels like a huge accomplishment—as it should—but there are a select few riders whove aimed their proverbial headlights in the direction of something bigger.A woman circumnavigating the African continent solo, a teenager traveling from Scotland to North Africa via 15 countries—these are just two of the incredible journeys a handful of women riders have embarked on in the past year. Read these chronicles of five women who are taking life by the horns (or handlebars, we should say!) by setting off on and completing monumental motorcycle journeys.
Around the World on a Motorcycle
Sherri Wilkins has ridden a Harley-Davidson around the United States, acted as an aircraft navigator and copilot, and dodged pirates while sailing a yacht through the islands of the Pacific. So when it came time to embark on a new adventure, an around-the-world solo motorcycle trip seemed like a reasonable choice.
An American who's lived in Australia for nearly a decade, Sherri left her adopted country on June 1, 2010.Now, more than 700 days after commencing what she's termed her "Because I Can World Tour," Sherri is close to being one of the few women who can say they've ridden a motorcycle all the way around the globe. Sheexpects to have put nearly 62,000 miles on her KTM 690 Enduro Ronce the journey is complete.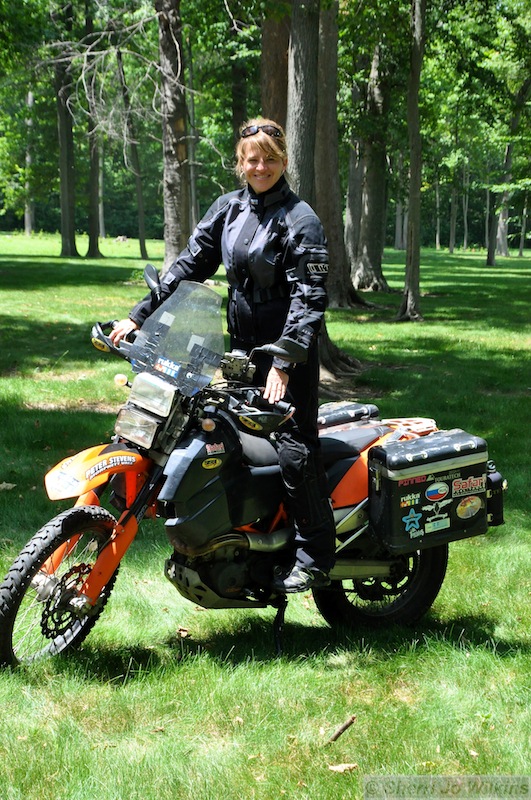 With this motorcycle tour, Sherri is combining two of her passions, riding and documentary film-making. Along the way, she's been capturing on film the stories, the people, and the highs and lows of her travels. And because she's already passed through dozens of countries on several continents, Sherri has quite a few stories to tell. In one such tale, she described to us the scariest part of her trip so far, traveling along the "Road of Bones" in Siberia during the first month of her journey. This was her first off-road experience, and it happened to be in a landscape of rushing rivers, broken bridges, deep sand, slippery ramps and bush fire. She made it through, of course, and having done so, says that the hazards in other parts of the world have seemed easy by comparison.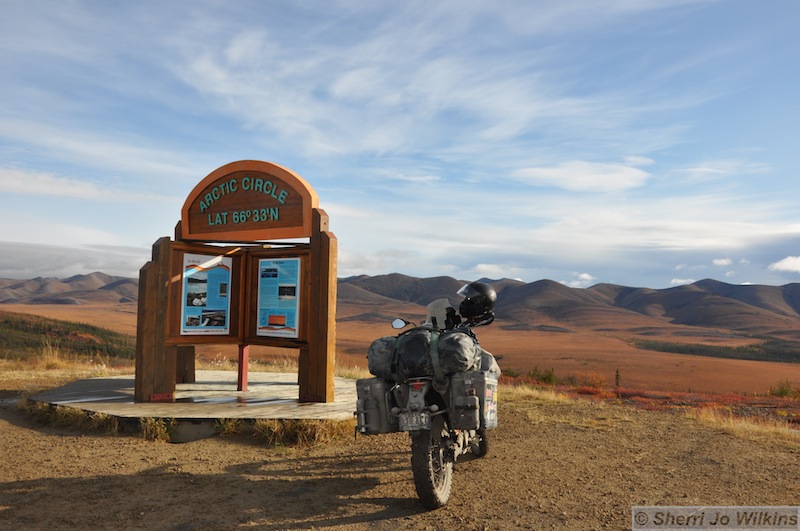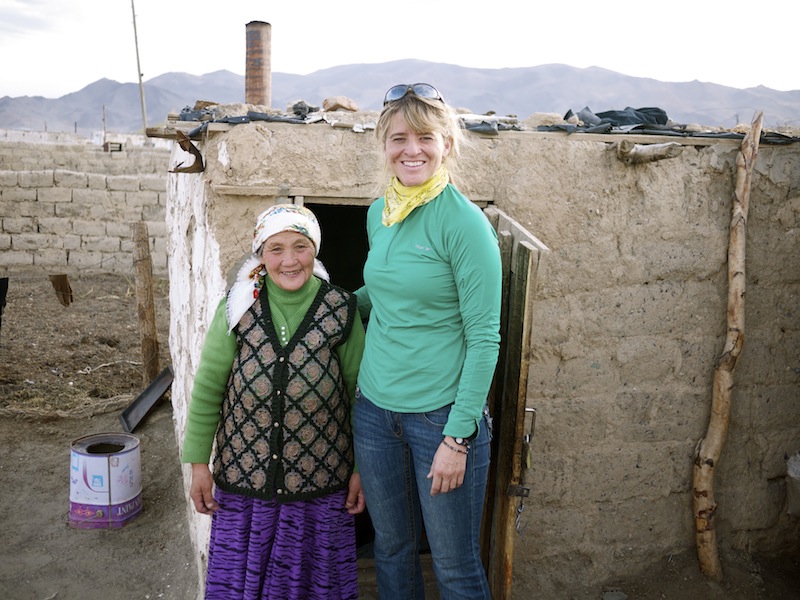 Sherri tells us she initially worried that it sounded arrogant to use the phrase "Because I Can" to describe her tour but that she found that to be the best response when asked why she would embark on such an ambitious venture.
"I have no deep reasons, Im not running to or from something, [I have] no children. I'm literally just free to do this!" she says. "But along the way, Ive come across many things that I say inside, 'I cant do that'—road hazards, weather, even speaking in public—all of which I have now done. And without carrying on with too many examples, I can simply say that what Ive learned most on this journey is that I can do far more—not just a little bit more—but far more than I thought I could."
You can follow Sherri on the last leg of her trip at
SherriJoWilkins.com
and on her
Facebook page
, both of which she updates regularly with photos and information about her location.
One Woman, Two Years, 45,000 Miles!

In October 2011, Danielle Murdoch set out on her Suzuki DR 350 with a long itinerary—covering more than 45,000 miles over approximately two years. Her journey is taking her from Australia to Africa, which shell reach by riding through Southeast Asia, India, the Middle East andoverlandto Egypt, where she'll begin her circumnavigation of the African continent. Did we mention she's only 32 years old?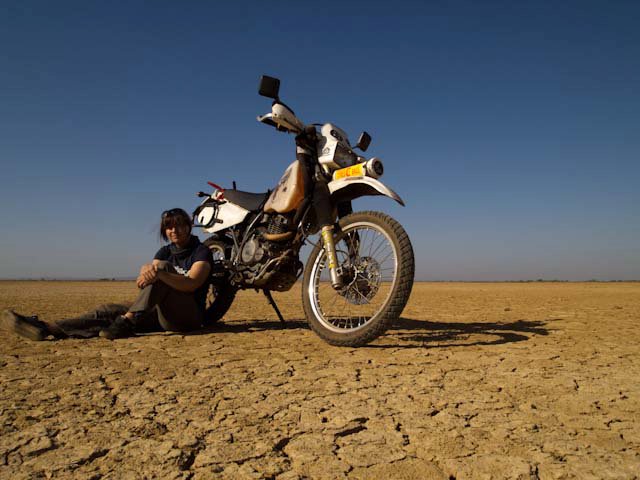 Danielle made her first long-distance motorcycle trip in 2006, traveling through Laos. By October 2008, at 28 years old, she had accomplished her first 10-month solo trip through Asia. In 2010, she was awarded the Nancy Bird Walton Sponsorship for Adventurous Women by the Australian Geographic Society.
Danielle's now eight months into her trip, and she's had unforgettable experiences that range from daunting, as when she crossed an obscure border between Timor-Leste and Indonesia with a near-empty fuel tank, a few dollars in her pocket and several hundred kilometres to the nearest bank, to delightful, like the time she spent hours teaching a group of children how to make sock monkeyson the floor of a Pakistani seamstress shop.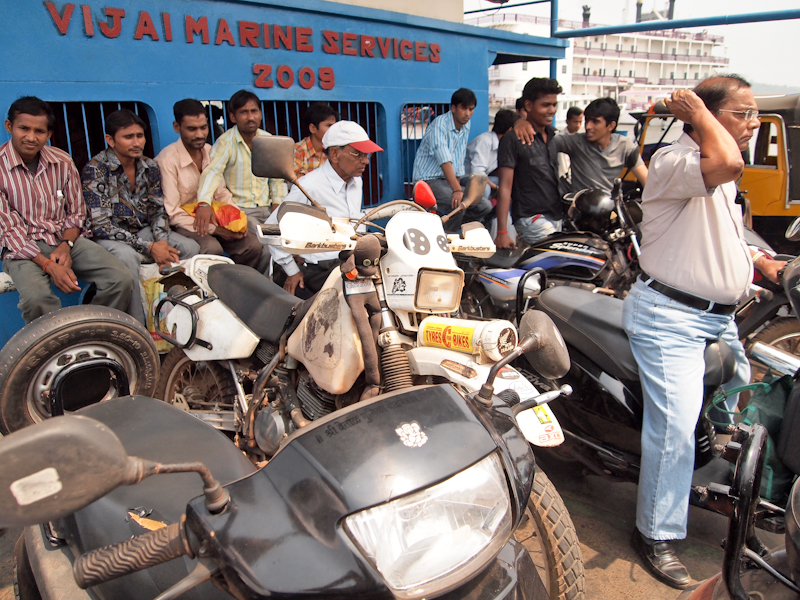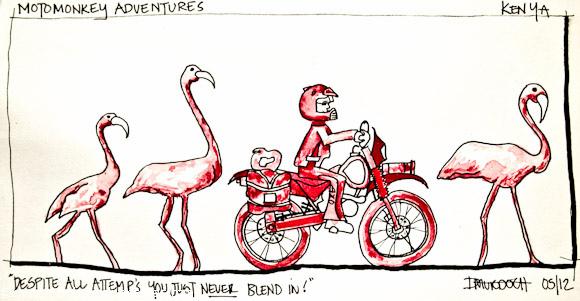 Danielle tells us that Pakistan has been one of her favorite places on the trip so far, describing it as "an amazing and misunderstood place." One of her most memorable experiences: "Standing on the banks of the half-frozen Khalti Lake in Gilgit-Baltistan, Pakistan, knowing I'm so lucky to be here experiencing this remote, beautiful country that so many people are apprehensive about."
| | |
| --- | --- |
| Danielles motorcycle parked roadside for repairs in Pakistan. | Danielle dressed in traditional clothing in Pakistan to celebrate Eid, a Muslim holiday that marks the end of Ramadan, the Islamic holy month of fasting. |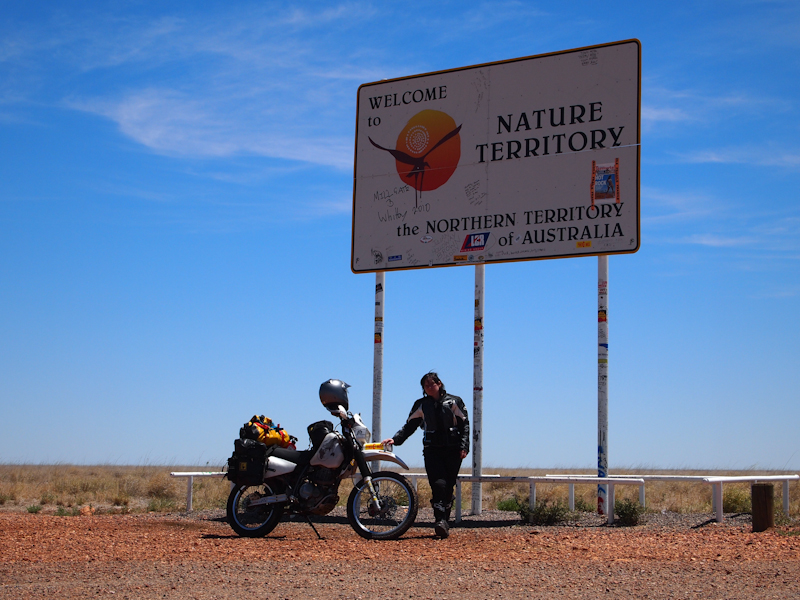 To follow Danielle's trip around Africa, find her at MotomonkeyAdventures.com or on her Facebook page.
Circumnavigating the African Continent Solo
For as long as she could remember, Jo Rust has dreamed of doing something big with her life. In October 2007, she finally decided on her "something big." Her goal? To become the first woman to circumnavigate the African continent alone.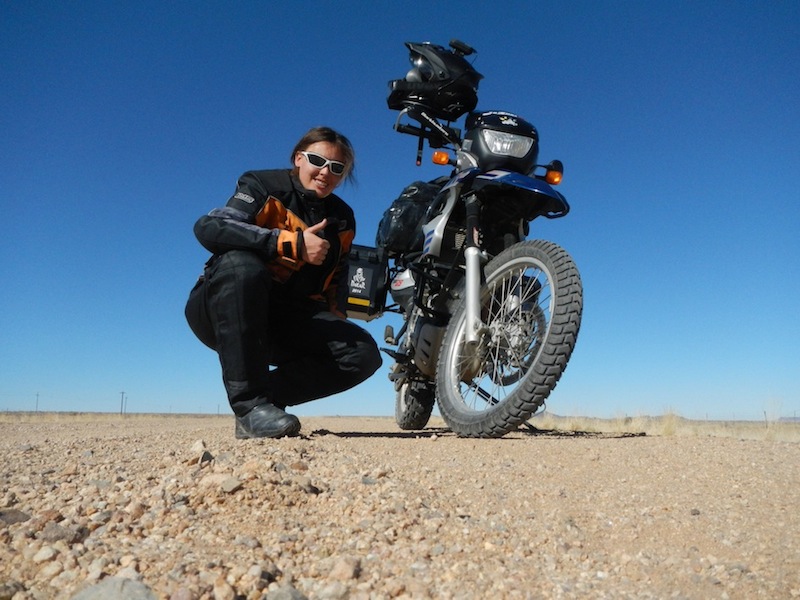 Jo initially planned to make her solo journey by bicycle, and shestarted out with a few "smaller" trips in preparation. In 2008, she rode her bicycle from Johannesburg to Cape Town, South Africa, on her own. On the heels of that success, in 2010 she became the first person to cycle across South Africa solo, covering 3,700 miles in 100 days. In 2011, her first attempt at circumnavigating the continent was cut short by a pack of machete-wielding thieves in Angola, who took off with her bicycle and most of her gear. Not to be deterred, a year later she traded in her bike and embarked for a second time on her ultimate adventure—this time on a motorcycle.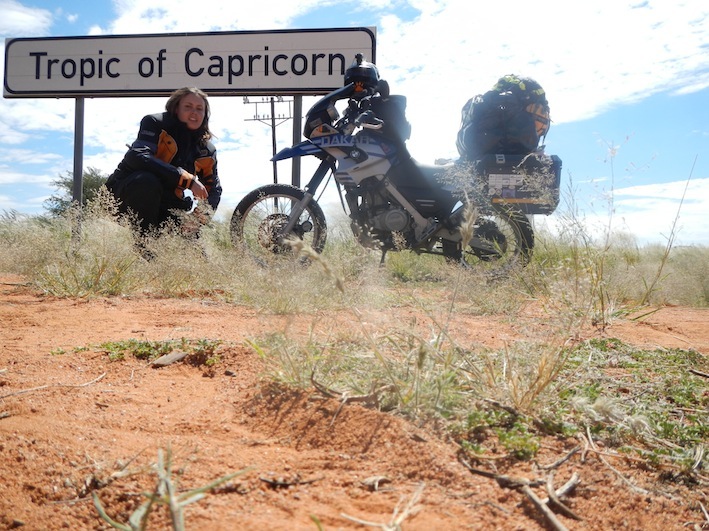 Since she began her journey in mid-April, Jo has passed through Cape Town, Namibia, Angola (which is sponsoring her ride after her first attempt ended there), DR Congo and Gabon. Along the way, she's encountered small setbacks but has also discovered amazing kindness and support from strangers along her route, forming what she calls "the human chain"—people who ride with and escort her for portions of the trip or offer her places to stay along the way.
Though she has many more miles and countries to cover, Jo is well on her way to achieving the feat of a lifetime. Follow Jos journey on her blog at
JoRust.com
or on her
Twitter page
.
Riding Across Europe (and Still in High School)
How many people can say they've made a 4,500-mile motorcycle trip before their 18th birthday? Natasha Moss can. In September 2011, the 17-year-old completed a ride through 15 countries, from Scotland to North Africa, on a motorcycle.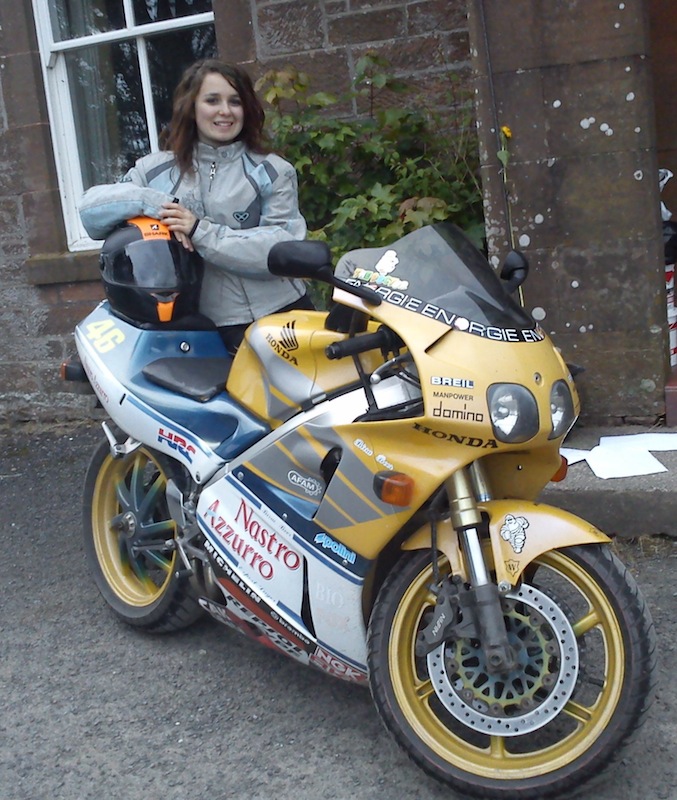 Natasha organized her trip to raise money for a children's hospital in her native Yorkhill, U.K., where doctors had successfully repaired her young brother's cleft lip a few years prior. She says that planning and completing the ride was her way to thank the hospital workers for what they'd done for her brother and to help other children as well. She plans to split the money she raised between Yorkhill Children's Foundation, Cash for Kids and Children in Need.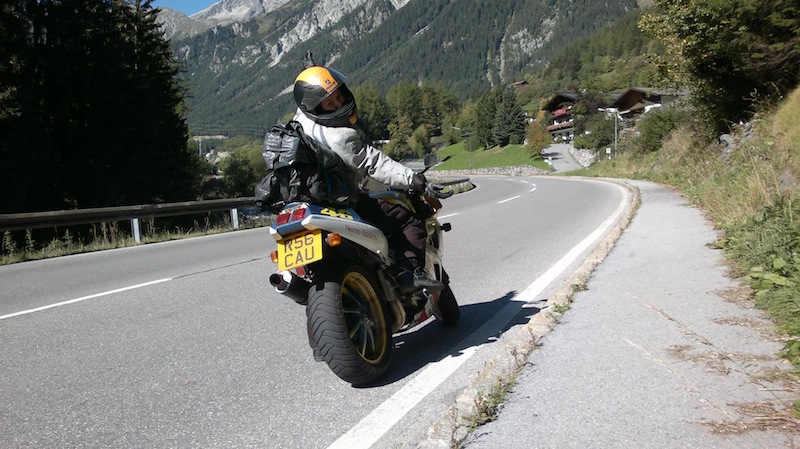 Natasha's ride took her through London, France, Andorra, Spain, Gibraltar, Morocco, Italy, Austria, Switzwerland, Germany, Luxembourg, Belgium and Holland. And though she describes the scorching temperatures during the ride as "exhausting," Natasha says the worst parts of her trip were putting up with her dad's singing and taming her "terrible helmet hair" (we can relate!).
Read more about Natasha's journey at ScotlandToAfrica.magram.net or on her
Facebook page
.
From Massachusetts to Panama
Last year Madeleine Velazquez accomplished a huge goal—riding solo across the United States. The only downside? It turns out that wasn't enough! This summer she'll embark on an even more ambitious ride that will take her from Massachusetts to Panama on her Triumph Bonneville.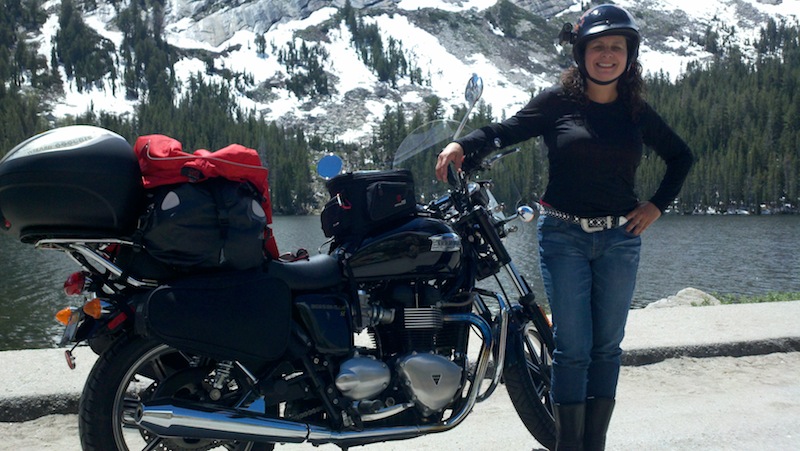 What inspired Madeleine's first voyage was the singular goal of riding from California to Massachusetts alone. So she shipped her motorcycle to the home of a friend in Los Angeles (Arlene Battishill of motorcycle apparel company GoGo Gear) and pointed her Bonneville east. Nearly 6,000 miles later, she was back in Massachusetts with a coast-to-coast ride—and an incredible feeling of accomplishment—under her belt.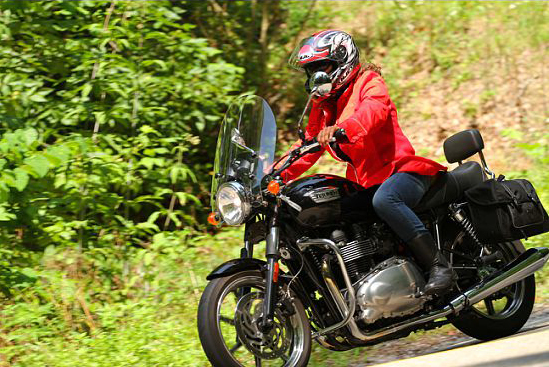 As Madeleine describes it, her 2011 trip was such an amazing personal achievement that it spurred her to ride even longer distances. Her 2012 ride to Panama will not be a solo trip, as the drug wars in Mexico make riding alone through the country inadvisable for any rider. She will, however, ride alone for the 1,000 miles between Boston and Chicago, where she'll meet up with fellow riders from the Latin American Motorcycle Association Harlistas. Together the women will ride to Panama. Madeleine plans to arrive back in Chicago 28 days later to launch another long-distance ride, this one to the Sturgis Motorcycle Rally.
Related Articles