Oh! Say it isn't so! The last Love Ride? You can't cancel Christmas, or Easter, or Thanksgiving! For the past 32 years the Love Ride has been a special holiday on my calendar. It has been a celebration of life and a shared passion of riding, freedom, and the open road. It has been a day to gather with old friends that have become like family, and collectively have been doing something really special for many in need.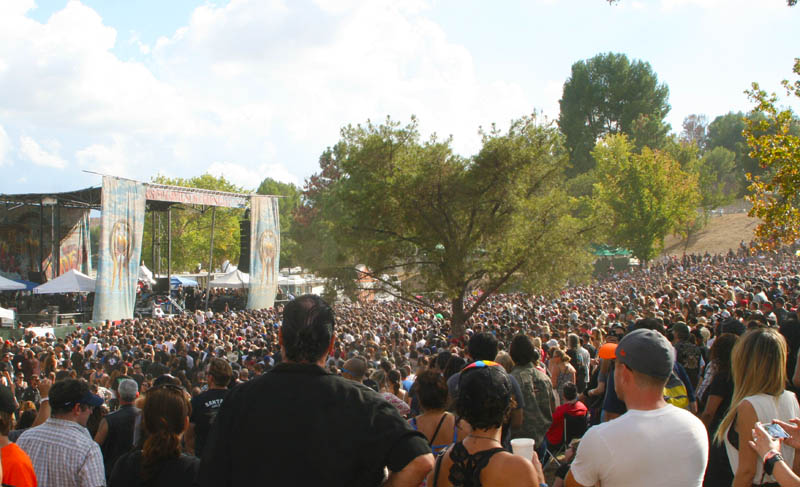 The 32nd and final Love Ride, held October 18 in Glendale, Calif., raised more than $1 million for the Wounded Warrior Project. One of the best aspects of the Love Ride, and the reason the event was started, was to bring awareness to the charities it support. Some of my most memorable Love Ride moments are watching the people representing their charities on stage at the Love Ride share their heartwarming stories with the bikers.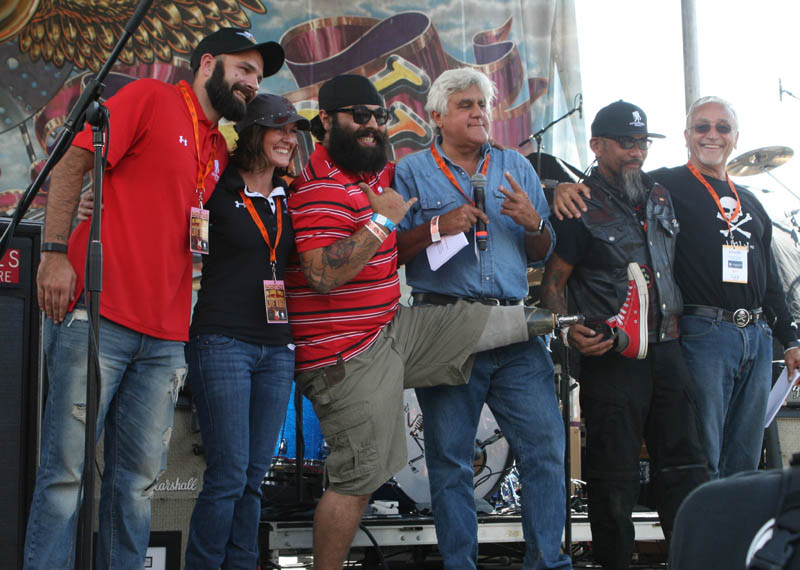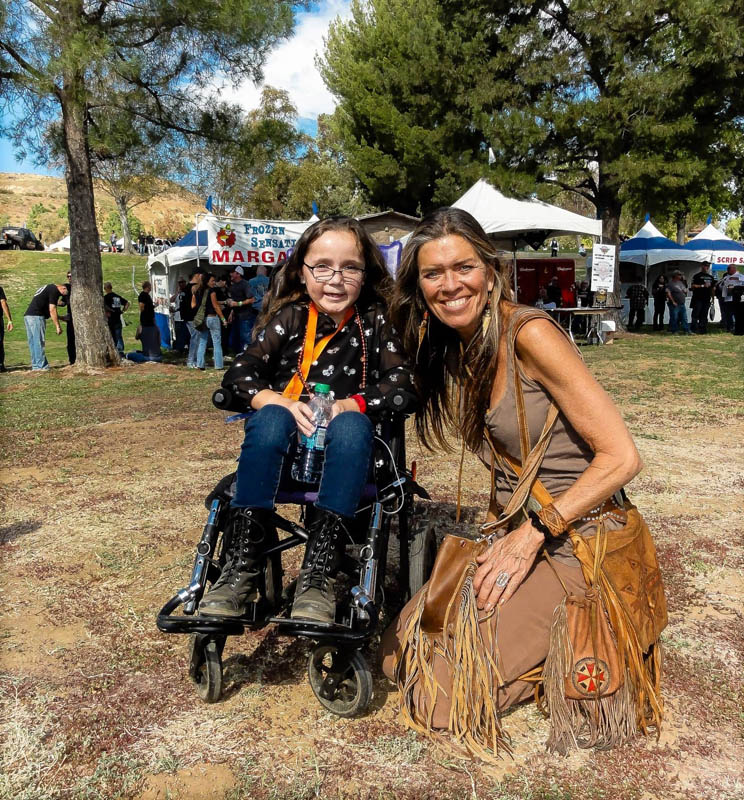 We all know that fighting for our country is one of the greatest sacrifices one can make. But every time I am fortunate enough to meet a soldier, active duty or veteran, I am overwhelmed by that person's sacrifice and bravery.
People often comment on my bravery in the life adventures that I take, but in my lifetime I will never know the kind of bravery a soldier encompasses. When danger is present, they run towards it while the rest of us run away.
For many wounded warriors, their bravery must continue the rest of their lives as they cope with their mental and physical injuries from battle. It was a very fitting cause for the final farewell of the Love Ride, and many military personnel turned out to participate.
Jay Leno, the grand marshal, gave a heartfelt thanks to all of the veterans, but in particular thanked the Vietnam vets who were not given the support they deserved when they returned home four decades ago. In fact they came home to insults and disapproval. So to all soldiers and vets, past and present: a resounding thank you for your service, your sacrifice, and welcome home!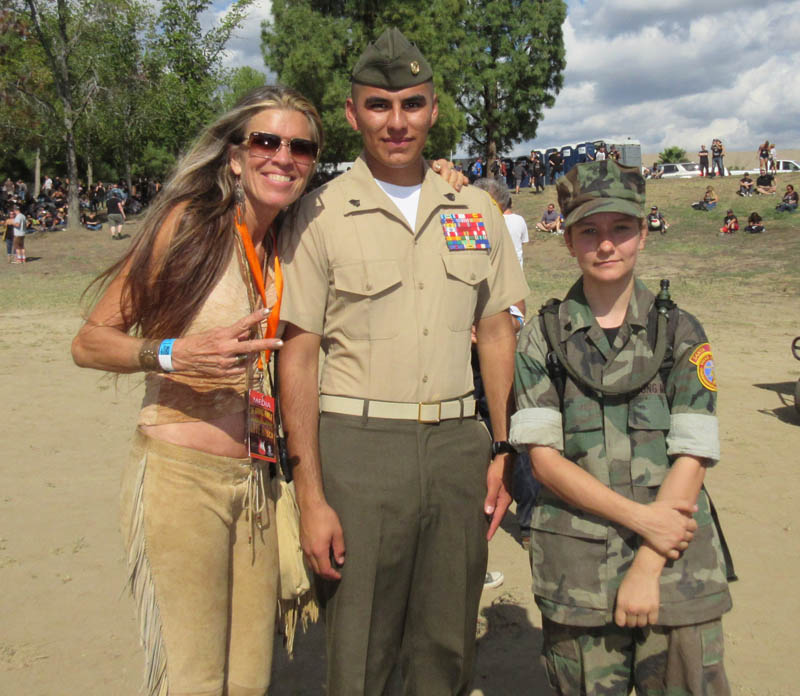 The day began with clouds looming over southern California with light rain sprinkling on the early morning festivities at Harley-Davidson of Glendale, the start point of the ride. But the rain didn't dampen the enthusiasm of the crowd. Celebrities and bikers from all over the world filled the streets of Glendale to celebrate the final hurrah.
Leno was present as he has been since 1985 to perform his grand marshal duties, and, as usual brought his unique brand of humor to the stage. I will miss being seeing and hugging him on his messy-haired, sleepy-eyed early morning arrivals each year. The Love Ride's founder, and owner of Harley-Davidson of Glendale, Oliver Shokouh, took to the stage alongside Jay to welcome and thank those who have helped make the Love Ride the success it has been for all of these years.
"It's been my honor to serve these causes for decades," Oliver declared to the crowd. "And I'm eternally grateful for the outpouring of support that so many gave this year as we ride off into the sunset with more than $1 million raised for Wounded Warrior Project and a total legacy of more than $25 million for charities to date. Lives are changed because of your attendance and participation over these years and I thank you from the bottom of my heart."
After 32 years of charitable giving, the $25 million mark was a nice ending point for the Love Ride. Shokouh said he wants to spend more of his golden years on his motorcycle and with his many grandchildren. The Love Ride Foundation will continue its efforts to help others through other types of events.
| | |
| --- | --- |
| With the blue-eyed teddy bear Jay Leno doing the peace sign salute instead of me this year! | Oliver Shokouh thanks the crowd for their support over the years. |
The Harley-Davidson "royal family" was there, as they have been from the beginning, to share the day. Leno said it best: "What other vehicle can you own where the entire family that made it will come out to meet, greet, and thank you for buying their product?" Seriously, the Davidson family is the most genuine, down to earth royalty on the planet! They always take the time to be kind and to shake the hand of a biker.
"Easy Rider" Peter Fonda is the most notorious motorcycle legend alive in my opinion, and he rode up in the most unusual motorcycle of the day, a custom roadster with three wheels. Lorenzo Lamas, still loved and remembered for his hit motorcycle show, "Renegade," was there, as was Robert Patrick of "Terminator" fame, who has been a main Love Ride attraction along with many of his Boozefighter riding group friends.
Emilio Rivera and Mark Boone Junior from the still popular "Sons of Anarchy" were crowd favorites, and my pal Kristy Swanson, who played "Buffy the Vampire Slayer," represented female riders with her beauty and grace.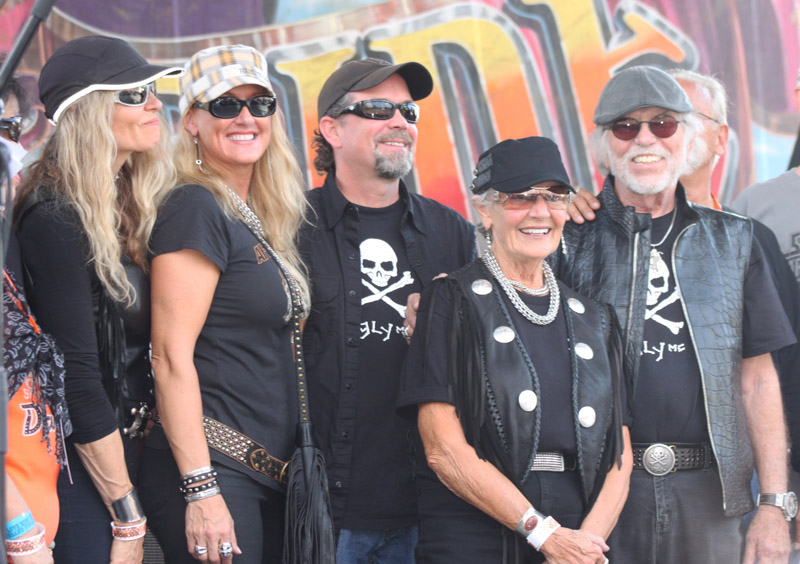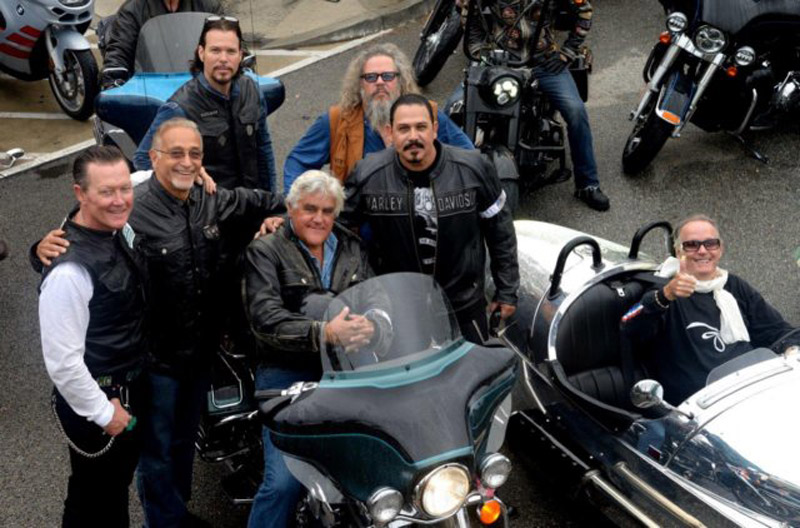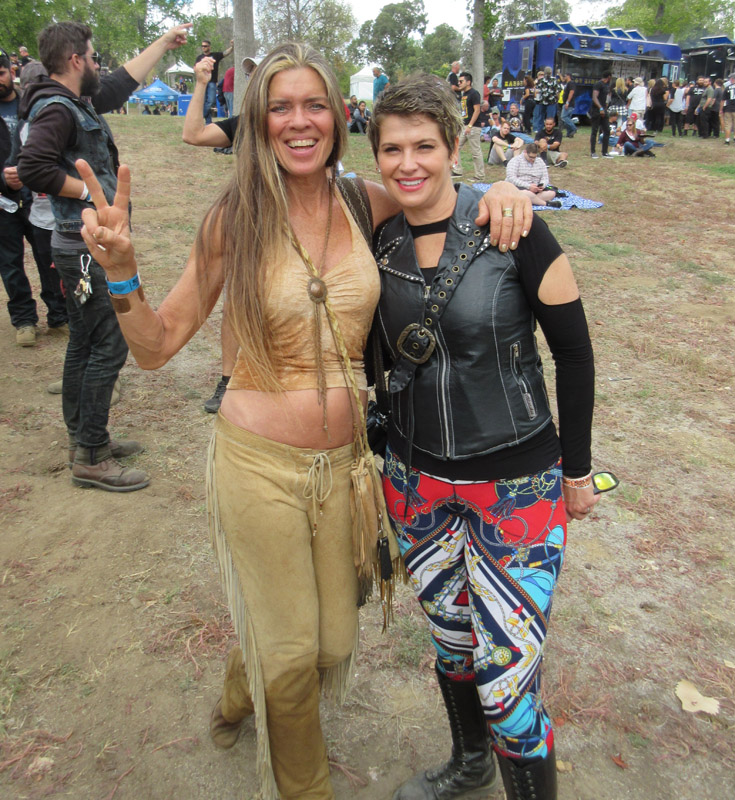 Despite thousands of riders lining the 50-mile route from Harley-Davidson of Glendale to Castaic Lake in the rain, it was a well-organized and safe journey. I kept praying for the clouds to clear and give us riders a break, but the weather continued to challenge the endurance of the crowd by pouring for the duration of the ride.
As we neared the entrance of the Castaic Lake recreational area, the sun did break through the dark clouds and shone throughout the day. The event at Castaic was sold out with approximately 15,000 people attending. With that big of a crowd, one can expect a few minor irritations like long lines and running out of supplies, but those are just details that don't compare to the highlights of the day.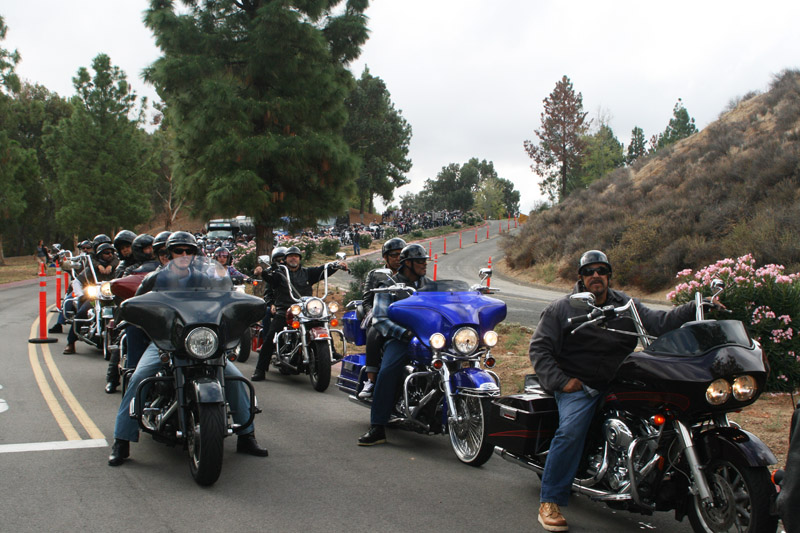 | | |
| --- | --- |
| There were rows of vendors set up at Castaic, including my artist friend David Uhl, who painted a picture of me for the 75th Sturgis commemorative painting entitled "Free Spirit," (behind me at left) of which I am beyond honored. | David Uhl and son, Sterling, pose for a selfie with me. |
There was gourmet food, a bike show, and raffle prizes including a 2015 Harley-Davidson Street Glide, an all-expense paid trip to the Harley-Davidson factory and museum in Milwaukee, Wisconsin, and a tour of Jay Leno's garage. There were motorcycle stunts by the Victor McLaglen Motor Corps, and of course there was awesome rock 'n' roll by Social Distortion and the Foo Fighters.
The festivities started with the national anthem being sung by Lorenzo Lamas, whose voice is as outstanding as his good looks. Rebecca Lopez, a representative from the Navy, was scheduled to sing the anthem but was stuck in traffic, so when she finally arrived, we were graced with yet another national anthem, which was so beautiful she brought tears to more eyes than just mine.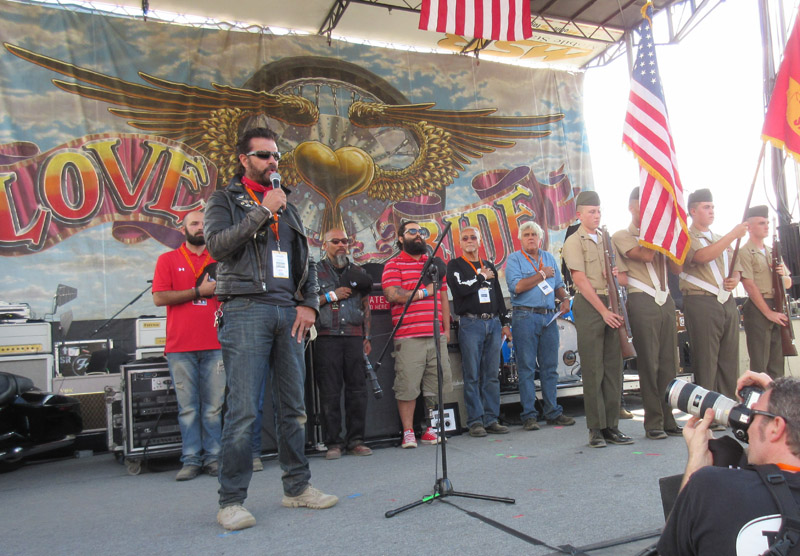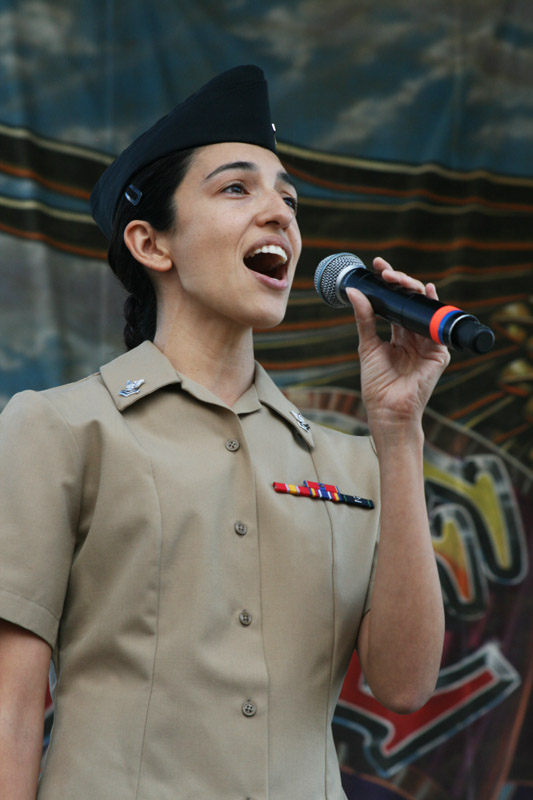 Some of the "wounded warriors" were introduced, including Raymond "Doc" Andalio, who served as a Navy hospital medic for 12 years. In 2003 in Iraq, Doc sustained wartime injuries including brain damage, respiratory disorders, many broken bones, and mental stress. Doc thanked the Wounded Warrior Project for providing the support he needed and will continue to need in the years to come.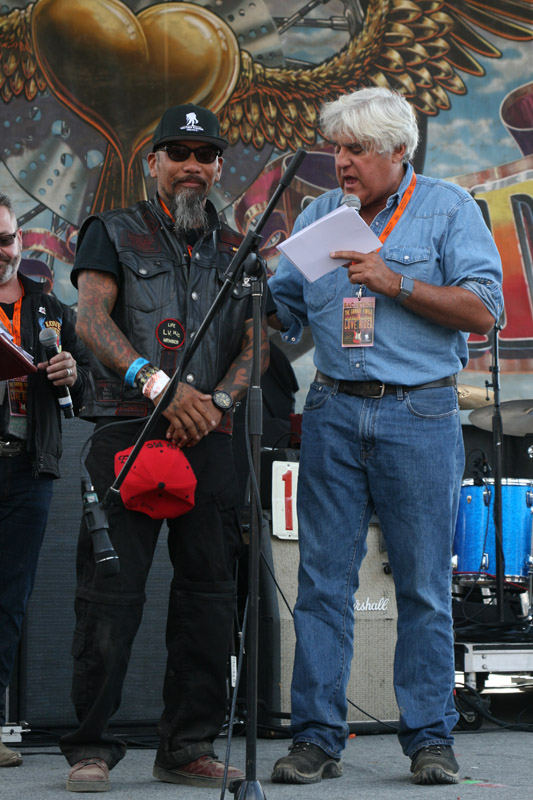 Check out Doc's incredible inspiring story of how riding a motorcycle is his therapy.
All the Love Ride celebrities came out on stage for a final farewell to share in the legacy that has lasted more than three decades. The bittersweet moment turned to jubilation when the Victor McLaglan Motor Corp started up their engines on the field, changing the energy to absolute awe as they began doing what they do best — performing gravity-defying stunts on their motorcycles on the grassy field.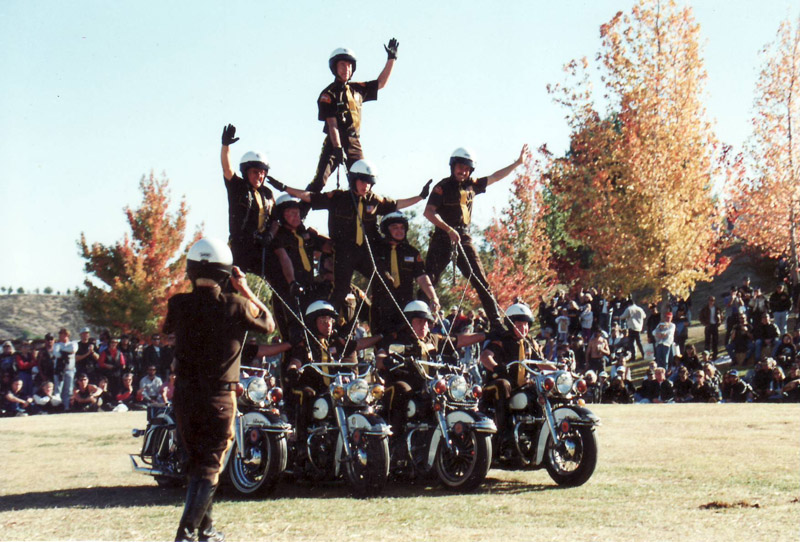 Social Distortion warmed up the crowd and for the next few hours music filled the air while people listened, laughed, ate, drank, shopped, danced, and enjoyed the much-welcomed sunshine. I've always been impressed by the top quality musicians that have graced the stage at the Love Ride. Social Distortion and the Foo Fighters provided an epic concert to complete the fantastic finale.
| | |
| --- | --- |
| Social Distortion's Mike Ness and Jonny Wickersham getting the crowd warmed up. | Social Distortion's bass player, Brent Hardin. |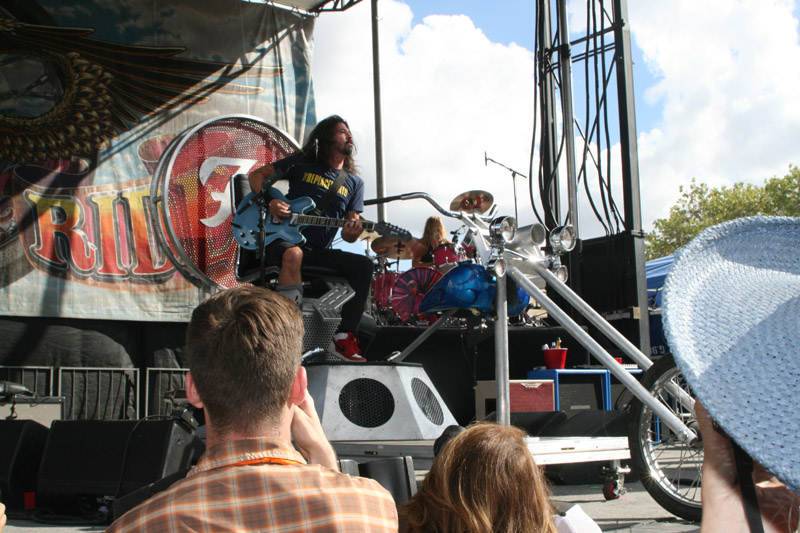 | | |
| --- | --- |
| Taylor Hawkins rocking his badass Andy Gibb drum kit. | Dave Grohl commanding his audience. |
Another truly memorable day to add to the many, many, many good memories we all have of Love Rides gone by. I hope there will be more. I hope it's like when the Rolling Stones keep saying, "OK, one more!"
I would like to personally thank Oliver Shokouh for being a friend, and allowing my friends and me to be a small part of the history of the Love Ride. I started covering the Love Ride decades ago as an assistant to my buddy, Women Riders Now editor Genevieve Schmitt. When Genevieve moved to Montana, I would cover the event for various publications, but mostly for this online magazine, WomenRidersNow.com, as part of my "Backroads With Betsy" column.
I feel truly honored to have been given media access to the event all of these years, and to have been able to include some of my friends as assistants. We will miss the Love Ride, and hope it comes back again someday. Here are some of my favorite photos from Love Rides past.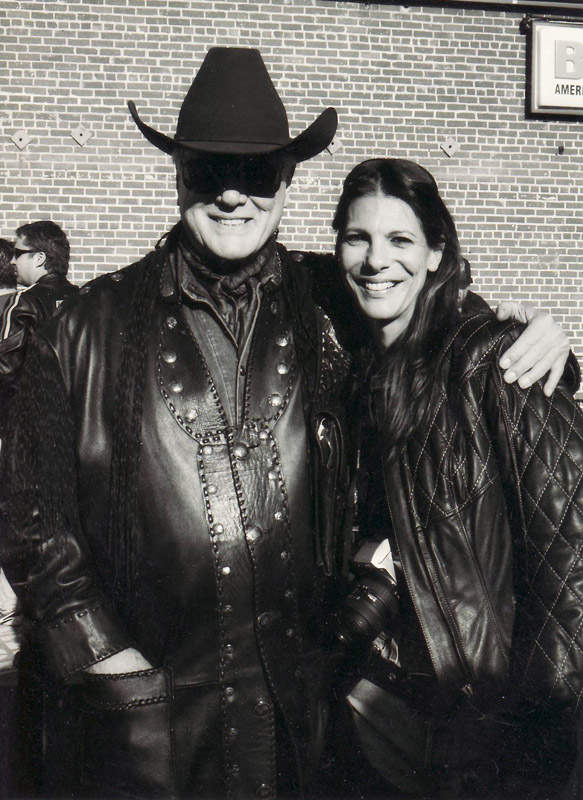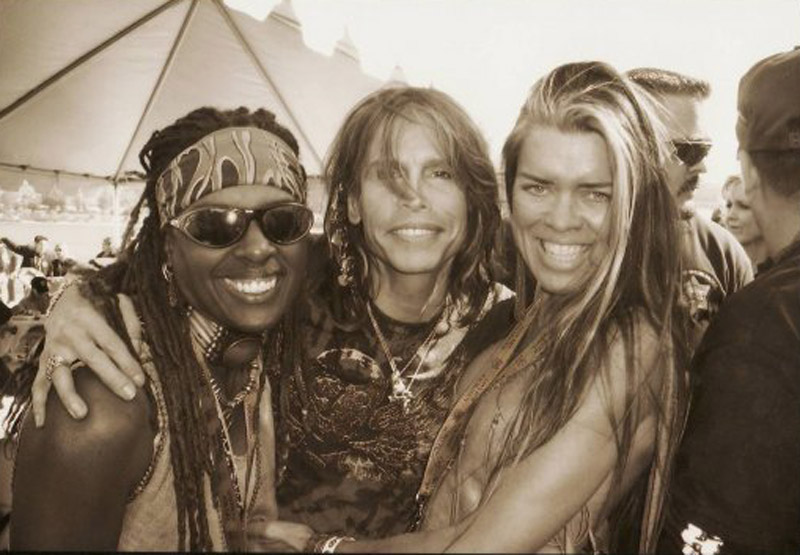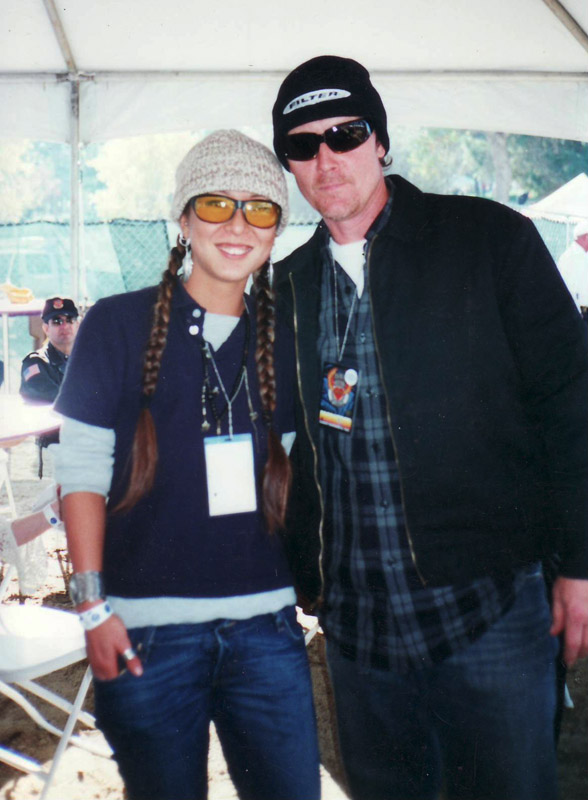 | | |
| --- | --- |
| Posting with the Davidson family, the "Sons of Anarchy" cast, Oliver Shokouh, and motorcycle personalities Miles, and Bean're. | With my riding buddy Colleen Duffner in a sunset-kissed photo. |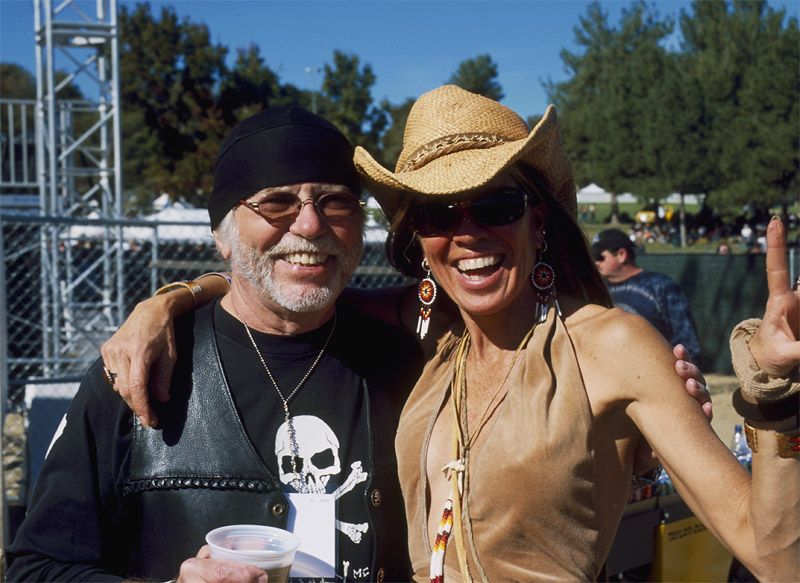 | | |
| --- | --- |
| And equally grateful for the friendship of his family, and daughter Karen Davidson. | A tribute to our friend Miles, who never missed a Love Ride while he was here with us. |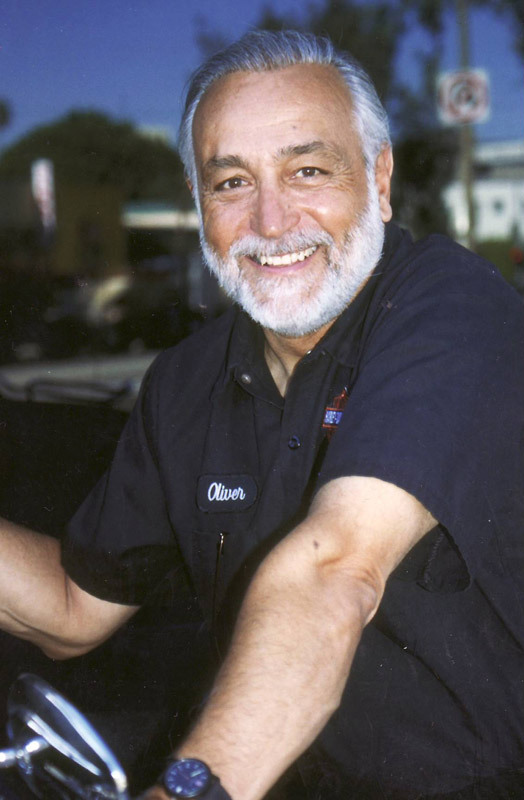 This has been a really great ride! For more information on the Love Ride Foundation, visit LoveRide.org and for other Glendale Harley events go to GlendaleHarley.com.
Related Articles
California Bike Week and Love Ride 25
Love Ride 26 1/2: Going Back to Simpler Times
Love Ride 2012: Iconic Ride Gets Back on Track