If the second annual Athena Ride For Women is anything like the wonderful event the WomenRidersNow.com team enjoyed last year, it will not disappoint! The four day, charity-based rally promises to draw women from all over the country to explore Ohio's Windy 9 and join together in support of My Sisters Place, an organization that assists battered women and those trying to escape abusive relationships.
Year Two Promises Even More Beautiful Riding
Again for 2023, a prominent feature of the event will be organized group rides across Athen's country roads known as Ohio's Windy 9. There are guided and self-guided rides showcased daily, and a Poker Chip Run on Saturday, August 5th. The full Athena Ride for Women schedule can be found here and below we offer some WRN highlighted events to explore. 
Let's Kick Things Off With A Pool Party!
Event registration will begin Wednesday, August 2 and is available from noon daily until 5pm at the Ohio University Inn & Conference Center Ballroom.
As a special new treat this year, the evening starts with a pool party at the Athens City Pool. The venue features lap lane pool, a leisure pool and multiple slides and diving boards. Kiser's BBQ will provide dinner and Kona Ice will be along side offering snow cones to cool off the summer heat.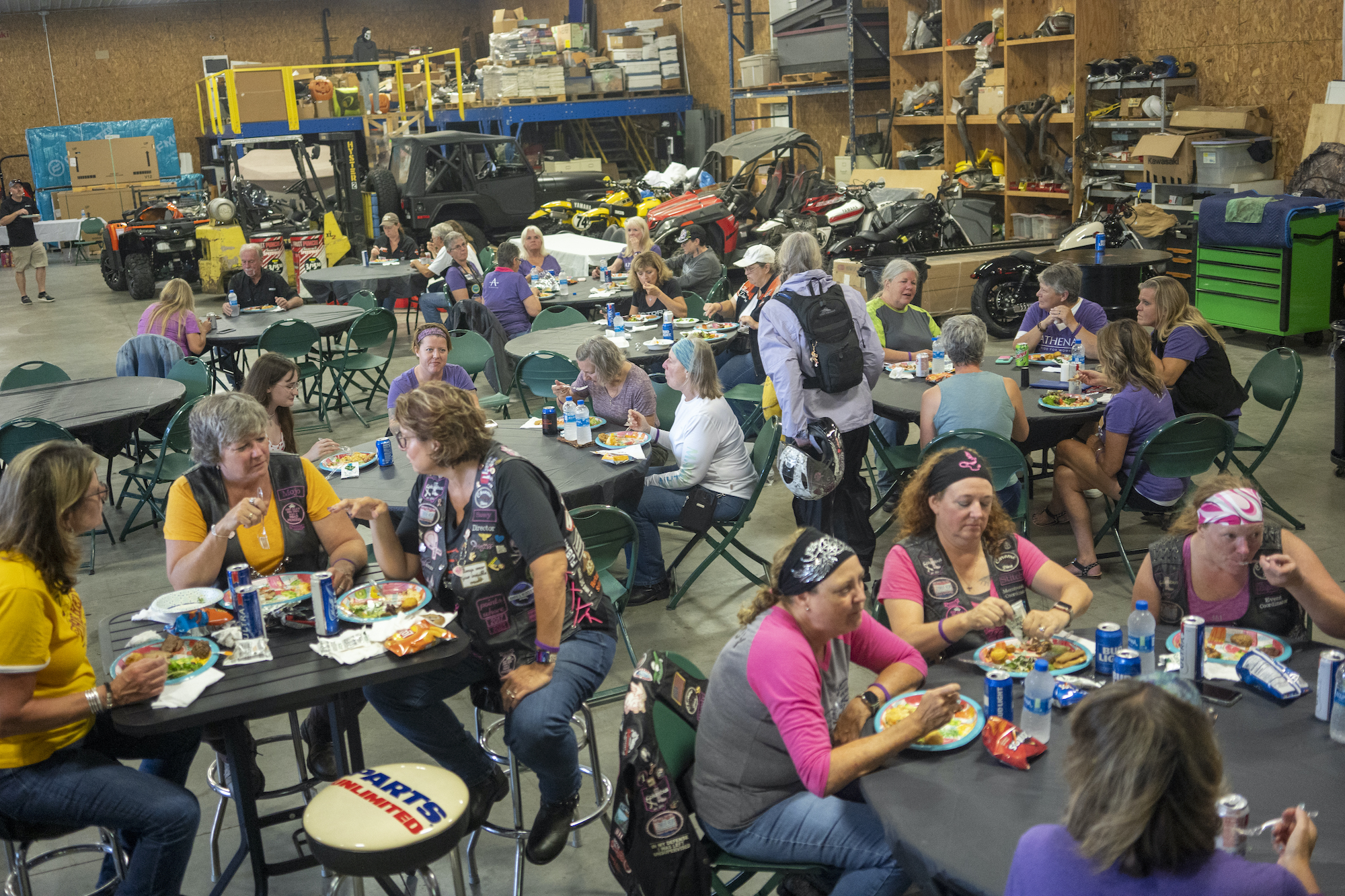 Educational Workshops Remain A Highlight
Workshops occur on Thursday and Friday and will cover a wide range of topics including how to "ride as one" by Andraise Scott of Ride as One. Riding in a group poses its own challenges, and Andraise will give you tips and tricks to ensure you get the most out of your group riding experience.
How about adding self defense to your skillset? One of the more popular sessions returns to provide physical defense tips for all riders.
Join a roundtable discussion focused on engaging women in local motorcycle groups. Women who feel included in mixed gender groups are empowered to take on leadership roles, mentor others, and encourage new riders. The goal of this workshop is for participants to leave with tools and ideas to encourage other ladies and build relationships within their local communities.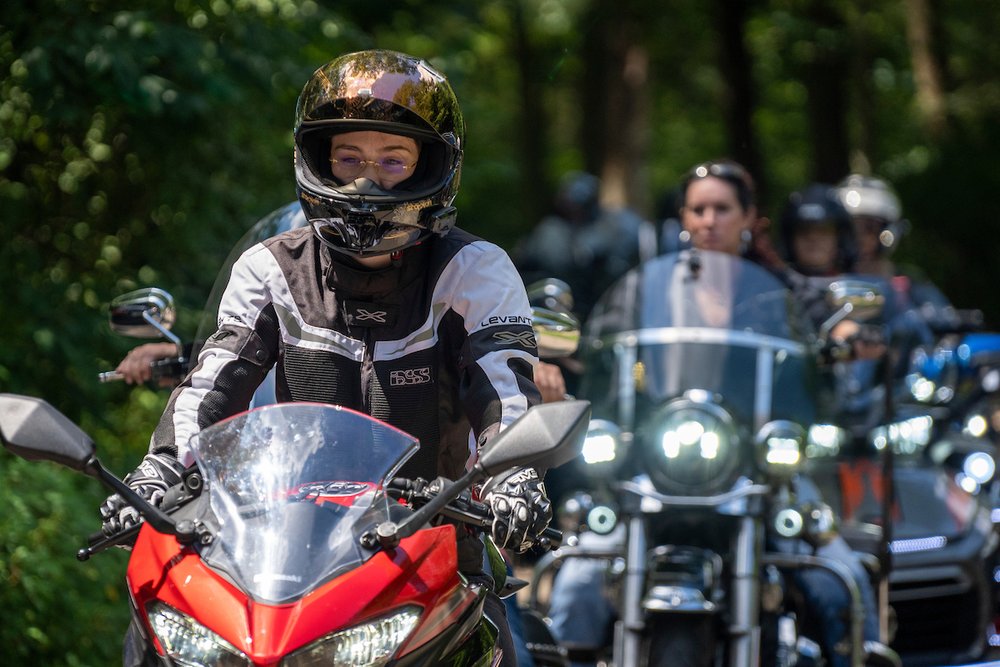 Explore Ohio By Motorcycle
Of course the event remains primarily about riding, so explore the Ohio Windy 9 on your own or join guided rides each day. Six daily rides are described below and have been curated for event attendees. Check the Athena Ride For Women website for more details.
Up, up and away to the top of Ohio's Windy 9. Gaze upon the "Rim of the World" along the famous Route 78. Wayne National Forest, Burr Oak State Park and the Stockport Mill highlight one of Ohio's most popular rides. The pace is casual and distance is approximately 85 miles. Kickstands Up (KSU) at 8:00 a.m.
RIDE 2: ZALESKI ZIPPER
Get a perfect snapshot of the true Ohio riding experience on this short route. Zip though the curvy roads or take it slow. Explore Lake Hope State Park, Zaleski State Forest, or navigate the gravel road to the popular Moonville Tunnel. The pace is casual and distance is approximately 60 miles. KSU 8:30 a.m.
RIDE 3: LAZY RIVERS
Cruise alongside the Hocking River to its confluence with the Ohio. See some great modern engineering as you pass many Ohio River locks and dams. Visit the biker-friendly town of Pomeroy, featuring region's best views of the Ohio River. The pace is moderate and distance is approximately 101 miles. KSU 9:00 a.m.
RIDE 4: PIONEER PASS
Majestic rolling hills are showcased along this challenging trek. You'll get a glimpse of State Route 555, aka The Triple Nickel, as you breeze by ridge top farms and orchards on your way to and from the river town of Marietta, Ohio. The pace is moderate and distance is approximately 104 miles. KSU 9:30 a.m.
RIDE 5: BLACK DIAMOND RUN
Celebrate the Hocking Valley's coal heritage with a tour through the Little Cities of Black Diamonds. Turn-of-the-century upstart mining towns shimmer along this jewel of a ride. Toss in the Wayne National Forest and Nelsonville's Historic Square for a most unforgettable run. The pace is spirited and distance is approximately 104 miles. KSU 10:00 a.m.
RIDE 6: POMEROY DASH 
Old US 33 takes riders back in time by navigating the main historic thoroughfare connecting Athens to the Ohio River. Fill the belly and the bike in Pomeroy, Ohio, before heading north into Appalachian backcountry. The pace is spirited and the distance is approximately 53 miles. KSU 10:00 a.m.
Saturday evening will feature a final celebration dinner sponsored by Ohio's Windy 9 (cash bar) and a keynote presentation by Christa Neuhauser, publisher of RoadRUNNER Motorcycle Touring & Travel magazine.