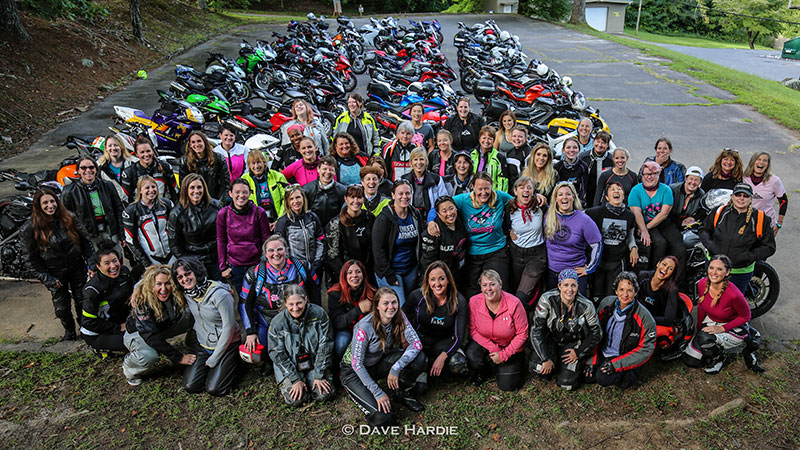 My love affair with the Women's Sportbike Rally began in September 2007, when I was a new rider living in Florida. I met the rally's co-founder, Stephani McIntyre, that March at Daytona Bike Week who encouraged me to join in later that year. Women Riders Now's (WRN) founder, Genevieve Schmitt, asked me if I was interested in attending just one week before the event started, and I answered "yes" on a whim. I loaded my Yamaha R6 into the back of my truck and headed north to the Smoky Mountains.
I arrived in the middle of the night after driving nearly 15 hours through some of the curviest roads I had ever encountered. It was pitch black, and my cell service had disappeared long before reaching the event location. I was exhausted and uneasy about what I had gotten myself into. I left my bike in the back of my truck and checked into the lodge. I had already missed the Friday "bike night" and was uncertain if I'd be able to find my place at the rally at all.
Women Riders Now E-Newsletter
Stay up-to-date on all things motorcycle! Latest gear, bikes, and product reviews. Travel ideas, great product giveaways, and more.
I awoke the next morning in time to join the group breakfast. I was quickly absorbed into a group of four friends from Blountville, Tennessee, who traveled to the rally together. They took me in without a second thought and even convinced me to go on the "expert" guided ride with them later that morning. I hesitated, but they assured me that I would be taken care of, so I accepted the invitation. They even pitched in to help unload my bike in time for the group photo.
My Life as a WSR Newbie
The ride leader and the entire group of about 20 women riders knew that my skills were less than "expert." Instead of leaving me to fend for myself, they guided me. I look back on that weekend and still laugh at the extent to which I was in over my head—but I didn't get hurt. That weekend opened my eyes to the true possibilities involved with riding a motorcycle and building a family of riders, and it made me want to become better, more knowledgeable, and even safer on the street. It changed everything for me; most importantly, my perspective.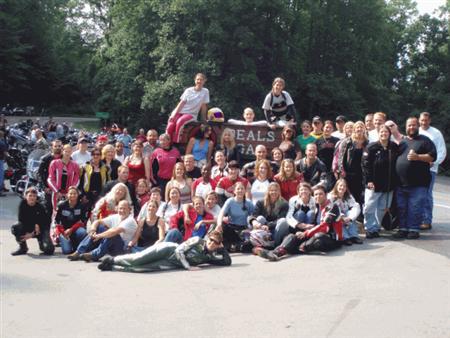 My interest in new apparel brands and my desire to take advanced classes were established over a single weekend. Over the next five years I became an instructor, bought four new motorcycles, and attended the rally every year.
Go West, Sportbiking Women
In 2012, I volunteered as a staff member and in 2015 I brought the rally across the country as the new West Rally coordinator. It started as a one-time celebration of WSR's 10th anniversary as an organization. Adding a second gathering on the opposite side of the country was a huge success, and the West Rally was immediately adopted as a yearly event. I was fortunate enough to be named National Director of the Women's Sportbike Rally on December 18, 2016. I am currently supported by a national staff comprised of the most amazing women: Joanne Donn, Kiona Bell, Jen Eskew, Lyndse Faba, Diana DiBiase, Amy Mulligan, Daniella Malena and Jenna Gordon. Each event also has countless volunteers that come together every year to support the national staff, guarantee smooth operation and lift heavy things. I couldn't do any of this without them.
Chase Your Dreams
For 13 years, the Women's Sportbike Rally has been promoting the joy of riding and celebrates women on sportbikes. It appeals not only to all women who ride performance motorcycles, but also to those who are interested in an activity viewed by society as unconventional, unsafe and unfeminine. It breaks down that stigma and creates a lasting impression on attendees and the community; one that reminds everyone that all women have the power to do anything, even if it seems unattainable.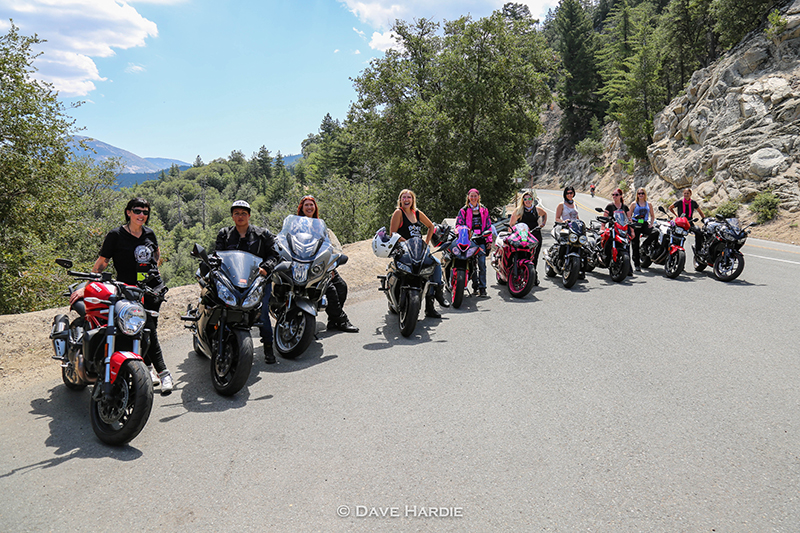 In 2018, the WSR theme is "Chase Your Dreams." I urge you to consider attending the Women's Sportbike Rally, where you will learn and help us teach the community a few vital lessons:
You can be a woman and a motorcyclist and never have to compromise one for the other.
Chasing your dreams means finding products that help you achieve and maintain your goals.
Women are valued members of the riding community and valid customers of the motorcycle industry.
Regardless of which event you attend, you're guaranteed the same experience: winding roads, wide open spaces, and a weekend focused on community and cultivating forever friendships. The WSR welcomes all individuals, groups, and clubs with a passion for (or an interest in) performance motorcycles. Guests of these women are included in the celebration. Yes, that means men are welcome to attend our events, and are required to register at the invitation of a woman attendee.
This year's Women's Sportbike Rally West is in Camarillo, California, July 13–15.The East Rally is in Deal's Gap, North Carolina, September 7–9.
I look forward to seeing you there. Visit WomensSportbikeRally.com to register and get more information about lodging and activities.
Related Articles
Recap of Women's Sportbike Rally West
Sportbike Riders Get Ready to Invade Smoky Mountains
Women Riders Now Calendar of Events