Its always exciting to find a product that serves a dual purpose, especially when it serves both purposes well. Not only can you appreciate the clever engineering involved, but you can really appreciate it serving two needs with only one expense as with Pit-Stop/Trailer-Stop by Condor.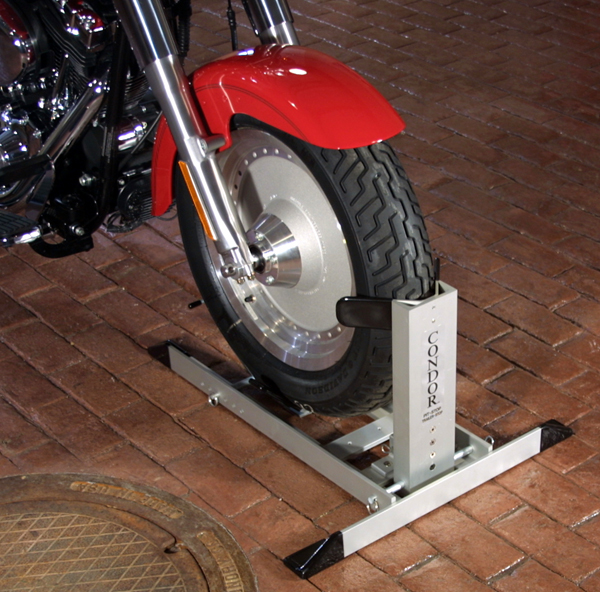 This product is a fully adjustable wheel locking chock system that securely supports your motorcycle in an upright position. It can be placed on almost any surface from your concrete garage floor, asphalt driveway, grass, or even sand and gravel, and it will still keep your bike standing straight up. And youd swear your bike was as laterally stable as if it was secured with four tie-down straps.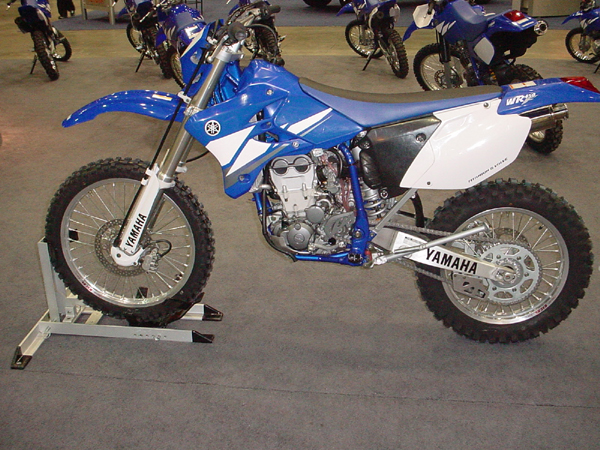 You just roll it onto the locking cradle until the wheel touches the upright, and the bike is locked in place. Getting it in and out is easier than setting it on the bikes center-stand, if you have a bike with a center-stand. It can accommodate either a front or rear wheel in sizes from 15 feet to 22 inches, and in tire widths from 80 to 220 mm, so it works for dirt bikes, sportbikes, and all Harley and metric cruisers. An adapter kit is also available for the really wide monster tires up to 300mm. Condor also make a specially designed "Chopper Chock" for those long, extended-rake forks and with the low "hugger" front fenders that will hold the bike upright and securely whether in your garage or on your trailer.
The Pit Stop serves two of my needs perfectly, as I keep my bike in the center of my garage sandwiched between my two cars. By standing upright rather than on the sidestand, the bike takes up less space, and it is much easier to navigate around it without bumping into a mirror or handlebar on the tilted side. And Id never trust my bike on its own centerstand as any minor inadvertent push would send the bike over on its side, or worse, crashing into the fender of one of the cars. The Pit-Stop is a terrific, secure stand for wrenching on the bike. And on a nice day, it allows me to take my workshop outside the garage, or to wash it, as the unit only weighs 21 pounds.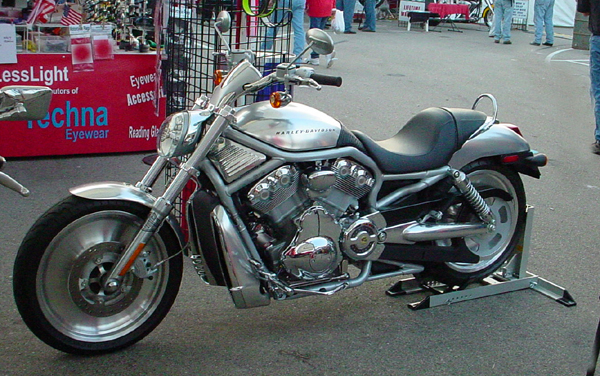 The double-duty part of the Pit-Stop/Trailer-Stop is that it mounts easily to the floor of my new trailer with a well-designed and very small mounting bracket. Its great for hauling my sportbike for track days. It is so much more secure than those cheap U-brackets used in most trailers, and it installs or removes in less than a minute. For transport in a trailer or pick-up, usually you use only two tie-down straps on the middle or rear of the bike for lateral stability, and you only need just a bit of downward pressure on it. Unlike other chock devices, with the Condor, you dont have to crank down hard on the bikes suspension, which can ruin sensitive shock components and front fork seals if left for hours while compressed, so its great for those longer trailering trips to Daytona or Sturgis when the bike is tied down for a day or two at a time. The whole process is quick and easy for one person to load or unload a bike. And since the chock holds the motorcycle so securely, you dont have to worry about it falling over when you install or release the tie-downs on one side.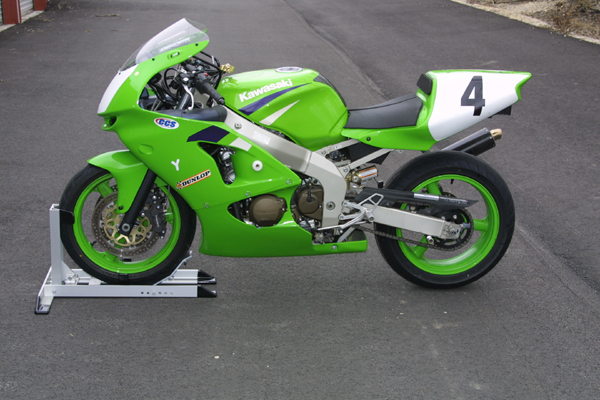 The Pit Stop/Trailer Stop will accommodate any type of dirt bike, sportbike, cruiser or touring bike weighing up to 1200 pounds. (Theres even a special chock designed just for scooters). Condor has been making top quality motorcycle support, transport, and security products for years, and theyre all "Made in America." If you visit the IMS shows around the country, or go to Sturgis, Daytona, Laconia, or any of three dozen other rallies, you may have seen their demonstrations. The Condor Pit-Stop/Trailer-Stop sells for $235 plus shipping and handling. Add $20 for the trailer mounting kit. For more information, and to view their instructional video, visit Condor-Lift.com or call 800.461.1344.