One of my great finds walking among the vendors at Arizona Bike Week in Scottsdale in April was Lycaon Custom Leathers. The high fashion stylish nature of the leather jackets hanging on the rack catches my eye. These are no ordinary riding jackets.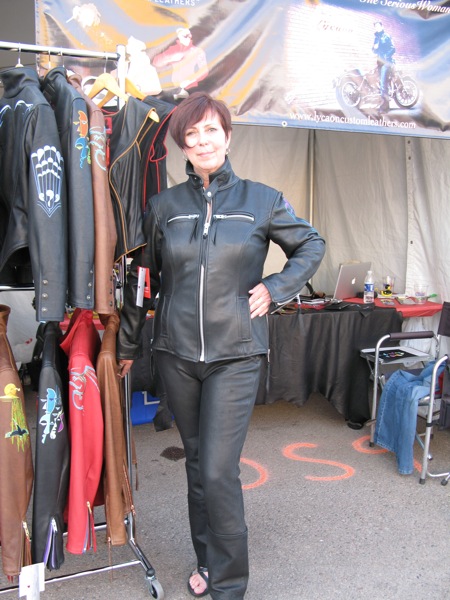 I learned that each jacket is tanned with hydrology tanning technology, which has revolutionized the leather tanning process. This allows the leather to be cleaned by putting it in the washing machine.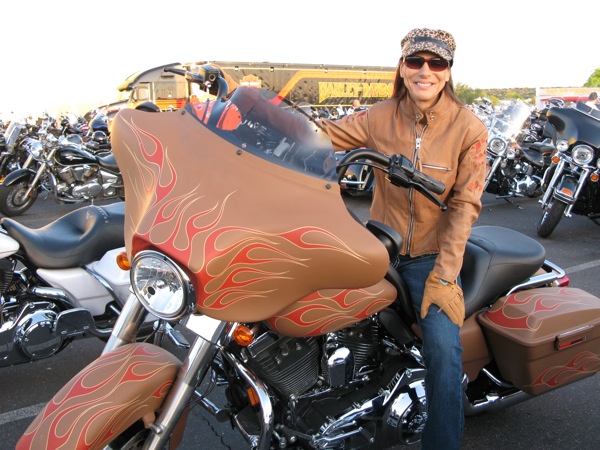 The special tanning process allows the leather to maintain its tough and durable quality, but be soft and supple at the same time. Even after multiple machine washings, the jackets keep their shape, color, suppleness, and scent with their ability to breathe and dry quickly. When your jacket gets muddy or stained from bug juice, just throw it in the wash.
| | |
| --- | --- |
| Shawn pours wine on leather sample to demonstrate its stain resistance. | The wine wipes right off. |
| Shawn puts leather sample in pan of water. | The leather sample is clean, but wet. It air dries without changing shape. |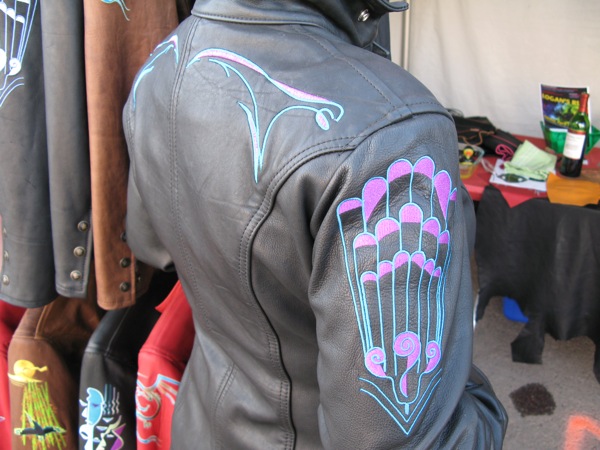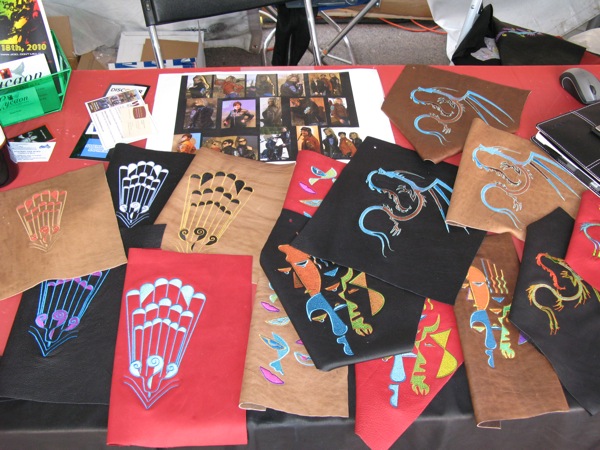 While I actually haven't tested one of these jackets, I can attest that by just looking at them they are well made: generous zipper pulls allow you to grab zippers with gloves on; high quality durable zippers and seams, and a high collar around the neck. Some of the styles have accordion panels at the elbow for flexibility, and low backs so the jacket doesn't ride up.
| | | |
| --- | --- | --- |
| The back of the jacket and pants. | Shawn makes custom leather pants to fit each woman#39;s unique body dimensions | She incorporates leather and stretchy material for a custom fit. |
These leather riding jackets are not for everyone, and Shawn knows that. Some women riders want a more sophisticated look, one that's unique to their own look and style. This is Shawns clientele. Visit her website atLycaonCustomLeathers.com, or call her at 408.715.7123 and tell her you read about her on WRN.
While there are several off-the-rack styles, Shawn prefers to do custom work so each woman gets a jacket that fits her perfectly and will last a lifetime. Since these jackets incorporate such high end leather, they are a little pricier than your average riding jacket, but considering you'll get a custom jacket that will last a long time, I could see where it's worth the investment. Plus, theyre 100 percent made in the USA.