For years, Honda's Shadow line of cruiser motorcycles has offered riders a pleasing combination of comfortable ergonomics, lighter weight, adequate power and lower price point, and its popularity has proved that the bikes are anything but scary to legions of motorcyclists. Now Honda has unveiled a newly styled model whose looks better reflect the dark nature of the Shadow name.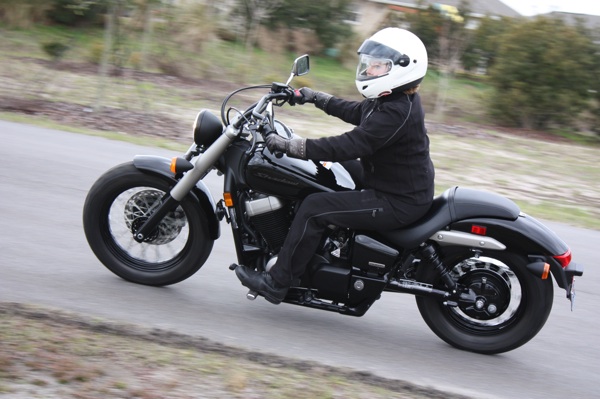 Called the Phantom, this newest Shadow iteration wears the latest fashion in motorcycle couture…black. From handlebars to rear fender the Phantom sheds any bit of shimmer and shine, trading them instead for matte finishes in black, silver and gray. But the Phantom boasts bigger news than mere fashion. It sports new fuel injection the first Shadow in addition to its cool, dark duds.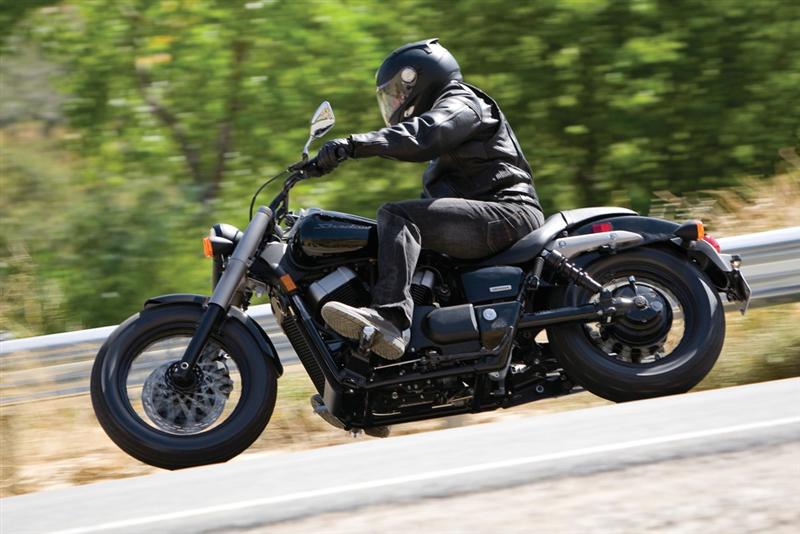 However, for the most part the Phantom remains simply a Shadow of a different color, for the traits riders know and love about the motorcycle haven't changed. The easy attitude and handling, low seat height, and light weight (546 pounds) will still bring grins to plenty of riders' faces.
One endearing characteristic of this bike and its other Shadow family members is the short reach from seat to ground only 25.6 inches- a feature attractive to riders no matter their experience level. The reach to the forward-mounted controls still leaves a bend in the knees, as does the stretch to the handlebars in regards to riders' elbows. All but the tallest of riders should find the Phantom's ergonomics comfortable.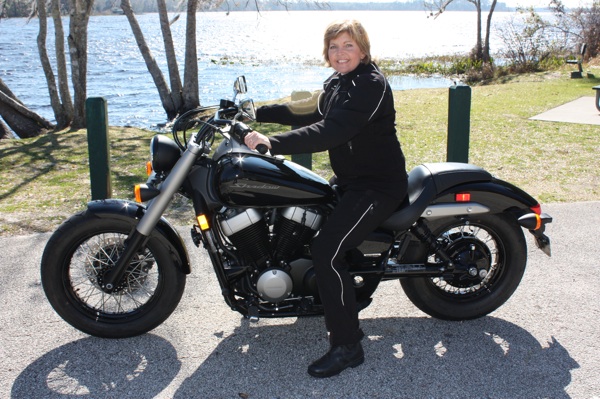 Hit the starter switch and the Phantom fires up immediately thanks to the new fuel injection. In general, fuel injection increases fuel efficiency and improves throttle response. Compared to my excursions on previous Shadows, the Phantom does feel "quicker out the gate," so to speak. Letting out the easy-pull (though non-adjustable) clutch level the bike smoothly, powerfully takes off, settling into an easy-going cadence, courtesy of its liquid-cooled, 745cc V-twin motor. A long-stroke crankshaft helps produce that rumbling feel while also ensuring the bike delivers a lot of low-end torque another feature making the Phantom rider-friendly. A shaft final drive requires only minimal maintenance.
A flick of the boot nudges the 5-speed wide-ratio transmission easily through the gears. The brakes perform their stopping duty adequately a single 296mm disc with twin-piston calipers up front and an old-school styled drum brake in the rear.
Ride quality on the Phantom feels rather ghostly in a good way, almost like floating, because the suspension soaks up bumps and jolts that well. The 41mm front forks with 4.6 inches of travel and 5-position spring preload adjustable dual rear shocks (with 3.5 inches of travel) really smooth out the roadways while giving the Phantom compliant, surefooted and "spirited" handling, whether traveling twisties or straight-aways.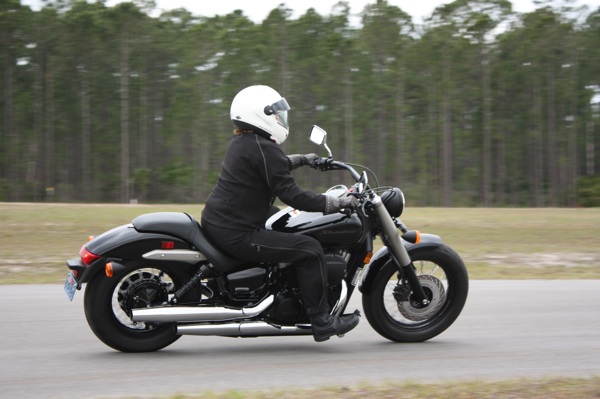 The Phantom is not a scary ghost. Rather, it offers riders a friendly companion for jaunting around town or across the country, living up to the legacy of dependability established by its other Shadow siblings. It never spooks or says "Boo." It performs the way you expect and you want. I enjoyed its winning combination of torquey easiness and comfortable ergos that didn't make my 5-foot 3-inch frame feel like it was trying too hard to hold on. It rides and handles well producing no discernible buzzing or vibration at highway speeds. Never once did I feel the bike to be underpowered, despite its smaller displacement.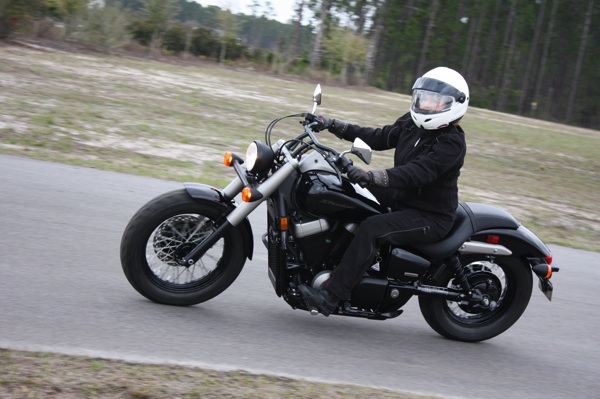 Traveling on the Phantom gives the rider almost a stealthy feel, like you're riding a ghostly mount over the highways and byways. Nothing glints or reflects light like "typical" chromed-to-the-hilt cruisers. Rather, the Phantom looks sleek, dark, and serious, sporting custom touches and finishes found on more customized motorcycles.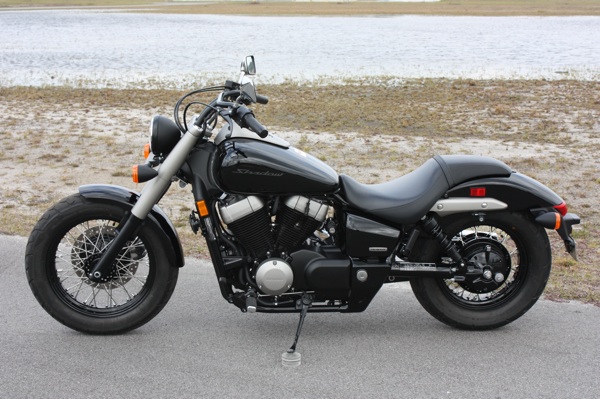 Abbreviated, bobber-styled minimalist metalwork gives the Phantom a ready-to-ride seriousness while the blacked-out and matte finishes give it a bad boy (or girl) rebelliousness. The fat forks, heads, and tank mounted speedo wear a satin silver finish, while the rest of the bike dons either gloss or matte black, including the headlight, air cleaner, engine cases, turn signals, and levers. Even the wheels and hubs are black, with 120mm rubber in front and a wide-ish 160mm tire in the rear.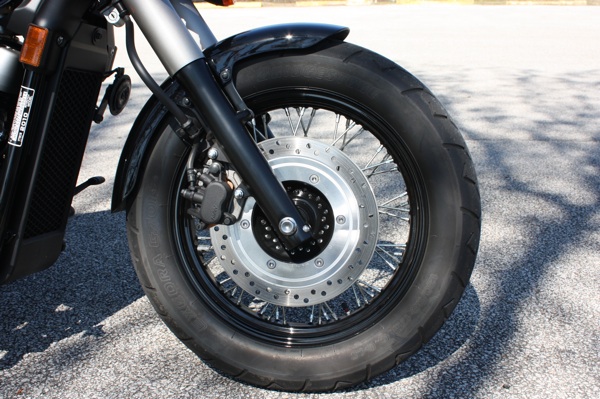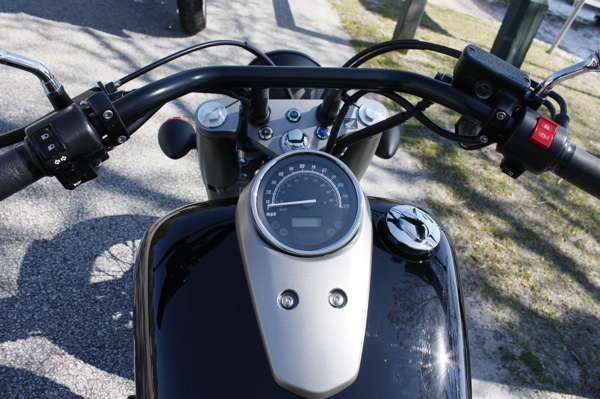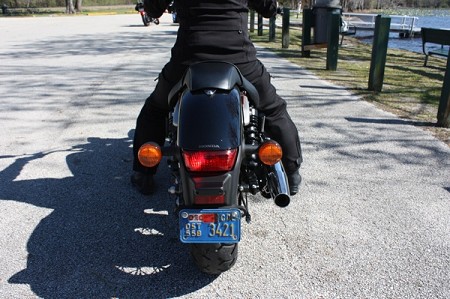 The dual exhausts, mirrors and silver spokes of the wheels make up the bike's only shiny parts. A slim, one-piece gunfighter type seat provides decent comfort. The Phantom holds 3.7 gallons of gas getting an estimated 50mpg. That's pretty decent range. The Phantom retails for $7,999.
Specs At A Glance: 2010 Honda Shadow Phantom
Displacement: 749cc
Seat Height: 25.6 inches
Fuel Capacity: 3.7 gallons
Weight: 546 pounds (running order)
MSRP: $7,999
WRN Recommendation:
Style is subjective, and only you can decide whether matte and black finishes are appealing. However, Honda takes the step of dressing a motorcycle in the latest biker fashions for a price far less than doing it yourself and with far less time involved. The addition of fuel injection has improved an already really good motorcycle platform. Some riders might snit at the smaller displacement or call it a beginner motorcycle, and others might note some competitors offer the similar displacement for less money. But Honda's Shadow Phantom despite its ghostly name provides a friendly, winning combination of motorcycle traits that many riders should find appealing.