If you've ever worn a pair of fashion boots on your motorcycle, you've probably discovered they take a beating on the bike. Boots constructed for motorcyclists are made with riding wear and tear in mind, but off-the-rack motorcycle boots don't always fit the way we want them to. Oh, if we could only find custom boots that fit our feet like a glove—I mean, a sock!
Wesco, a longtime shoe and boot maker, was founded by people destined to make shoes. The Shoemakers—yes, that's their real last name—have been perfecting the custom-boot-making process for four generations, manufacturing tough, sturdy work boots in a variety of styles in their Scappoose, Ore., factory. For years now, Wesco has been marketing their boots to motorcyclists, but until recently, women who wanted a pair had to purchase men's or standard sizes. In 2010, the company entered the women's boot market.

Wescos women's boots are a quarter-inch higher in the heel and slightly narrower than the men's styles, two features women can appreciate. All the women's styles are custom made, so after getting measured for that custom fit and choosing your base model, you can design your boot with the colors you want.
I was measured for a custom pair of Wesco boots at the Sturgis Rally, where a representative traced the shape of my foot and took various measurements. While the sizing is custom, sizes range from 4 to 11 and are available in A, B and C widths. Whether your feet are big or small, Wesco can accommodate you.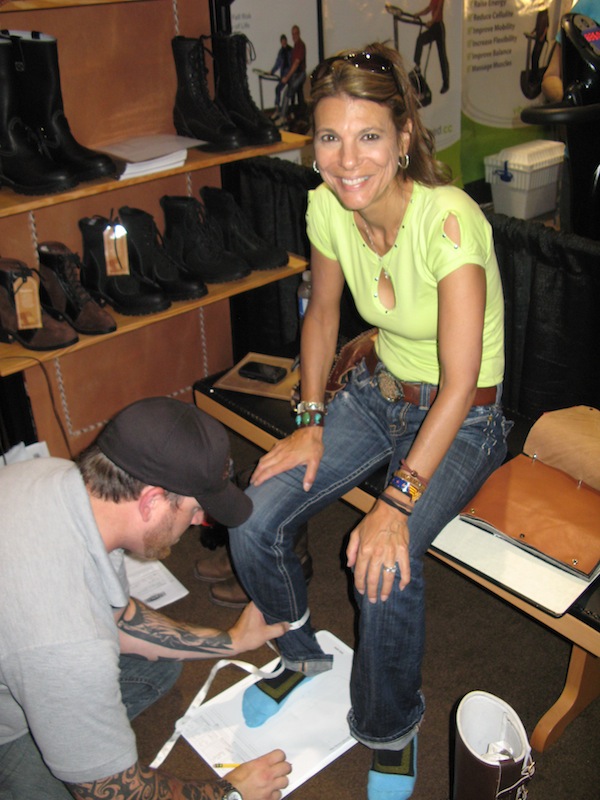 If you're not planning to attend a rally with a Wesco booth and can't visit their store in Oregon, you might try finding a nearby retail outlet that does custom measuring. Otherwise, Wesco will mail you a DVD with instructions on how to measure your foot and calf. It's a pretty simple process, and once you've completed it, you can order your boots online.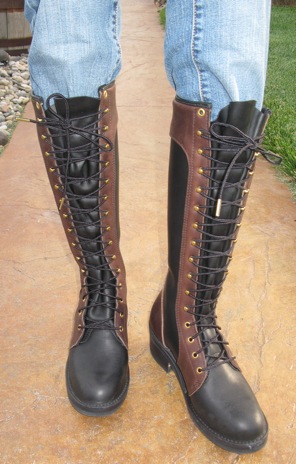 On Wesco's Web site, there are 12 women's styles to choose from. I picked the Shadows, a calf-high lace-up style in black and brown two-tone leather, shown in the above photos. You can pick up to three colors of leather for your boots. The hardware finish is also customizable. I chose brass finish on the eyelets and hooks—black and nickel are the other options.
The standard calf-shaft height for this boot is 16 inches, but my calf measured for a 15-inch height, so the adjustment was made for me—another part of that custom-fit process included at no extra charge. A Wesco associate measured the circumference of my calves on the outside of the jeans I'd be tucking into the boots so that the diameter would fit my calves perfectly. I hear from women riders all the time whose calves don't fit in off-the-rack boots or whose feet are too wide for the boots' narrow width. The beauty of a custom-made boot is that all those areas fit like they should. Take note of that when I mention the price later.
Part of the customization process includes picking the type of sole you want. Wesco uses Vibram, a tough, oil-resistant rubber sole. Most motorcyclists ordering a custom boot choose the medium tread called the 430—that's what I got. There is also a more aggressive tread that picks up gravel, mud and dirt easier.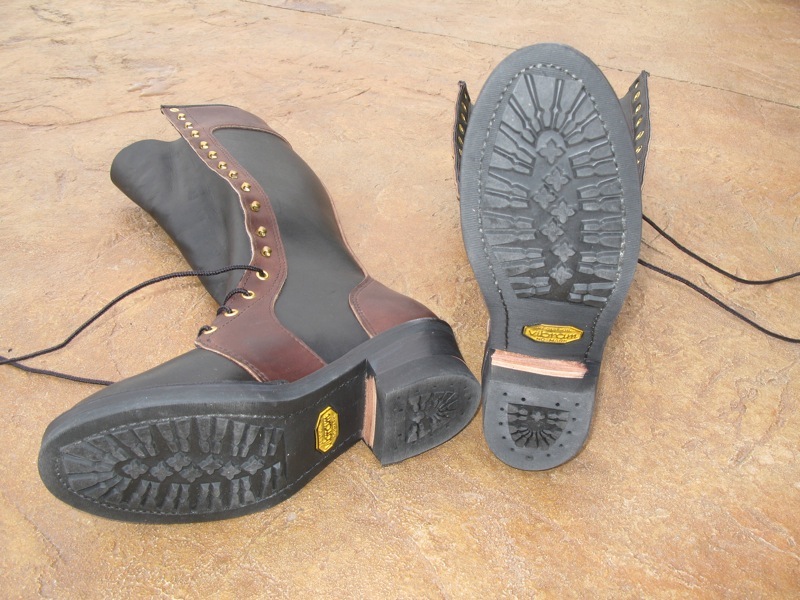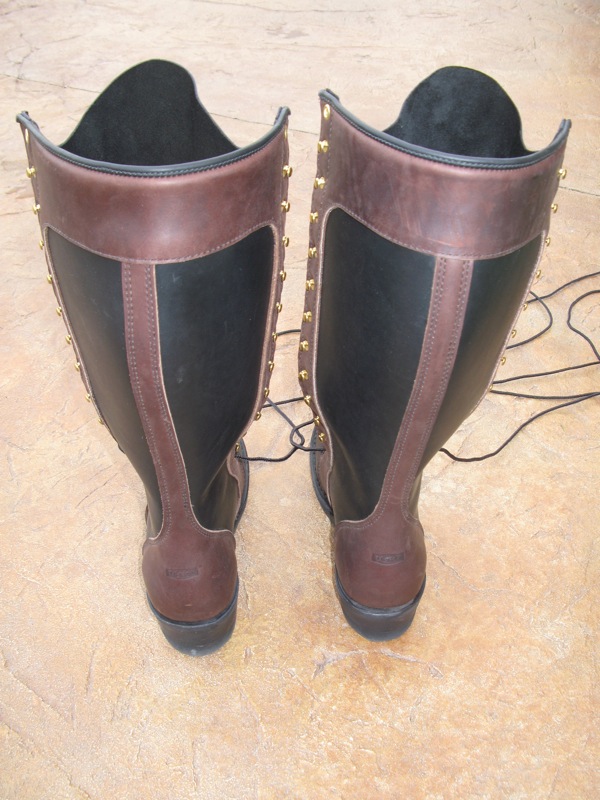 So how did my custom boots feel and wear? At first, they felt stiff, which makes sense because the leather hadn't been broken in yet. The leather the boots are constructed from is high-quality, thick and sturdy. I had to wear these boots a lot before they started loosening up and conforming to my feet. So expect a break-in period.
I got caught in a rainstorm and wondered how these boots would stack up. While they're not made of waterproof leather, I spray all my leathers with a leather protector, which provides a layer of water resistance. These boots kept my feet dry, and afterward, the leather was softer. This was one of those storms that I rode right through, so I wasn't in a downpour for hours.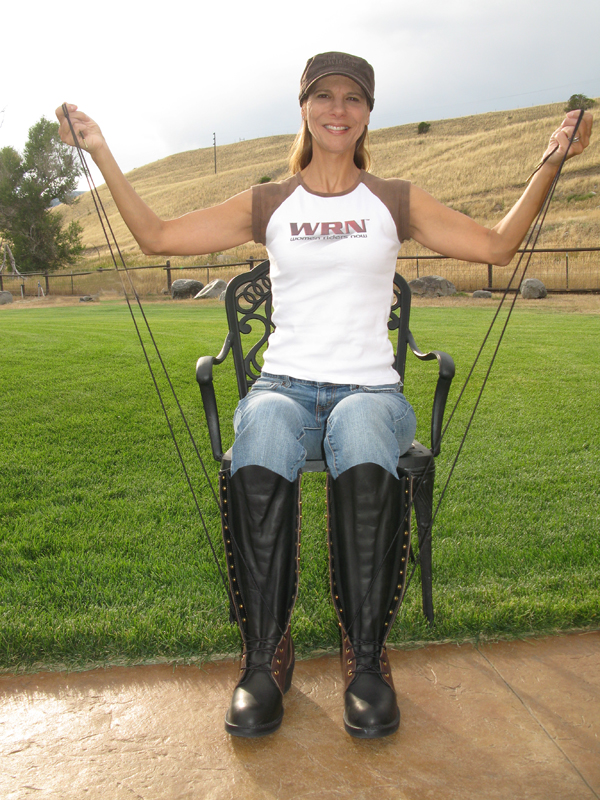 There's no zipper, so you slip your feet in from the top. You can put your hand down in the boots to flatten your jeans around your calves, but the easier way is to put a rubber band around the bottom of each pant leg so it doesn't ride up while slipping your foot in the boot. You can also wear "skinny"-style jeans that conform to your legs and calves.
I noticed the Wesco boots seemed heavier than what I was used to, so I weighed them. The scale registered 5.5 pounds. Then I weighed the Frye cowboy-style boots I normally wear on my bike: 3.5 pounds. I then weighed a pair of Harley mid-calf combat-style boots that I sometimes wear: 3 pounds. So the Wescos are considerably heavier.
The boots wear well, as is to be expected with this high-quality leather. Just be sure to allow for that break-in period.
Depending on the base style of boot you choose, custom prices start as low as $400 for a women's boot, with a $15 flat shipping rate. A custom pair like those described in this article costs $539. That's a flat rate, and you get to customize all the items I described. Turnaround time runs as long as 11 weeks, but it's worth the wait for boots you'll most likely have your whole life! There is a 90-day limited warranty in case any defects in workmanship reveal themselves during the first three months.
Visit WescoBoots.com to learn more.