To build a womens motorcycle, or not to build a womens motorcycle that is the question. With more and more women interesting in riding a motorcycle these days, the question arises should there be motorcycles designed especially for the fairer sex. Golf clubs, ski equipment, and bicycles all come in womens specific models. The question is how different is the female body when it comes to riding a motorcycle that women need a bike designed just for them.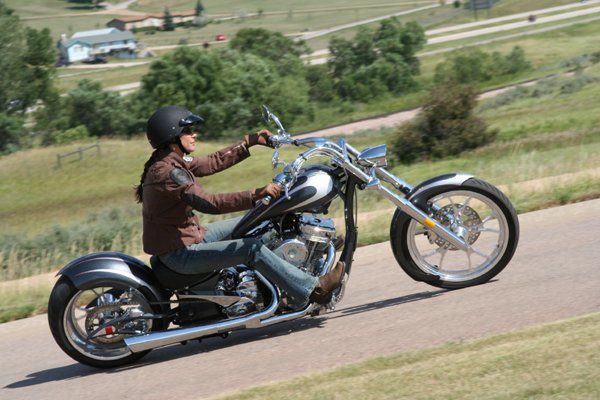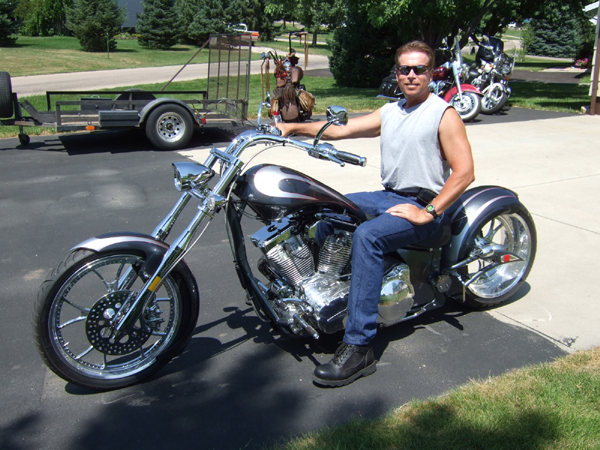 Designers at Big Bear Choppers, the custom motorcycle manufacturer in Big Bear Lake, California, feel theres enough of a difference, as well as demand, among experienced female riders to build a custom chopper aimed at the growing womens market. Their model is called the Miss Behavin, a cute play on words. I spent a week riding it around Sturgis during the rally. At an event where people-watching is an activity, the Miss and me attracted lots of stares as its not often you see a woman riding a raked, radical custom.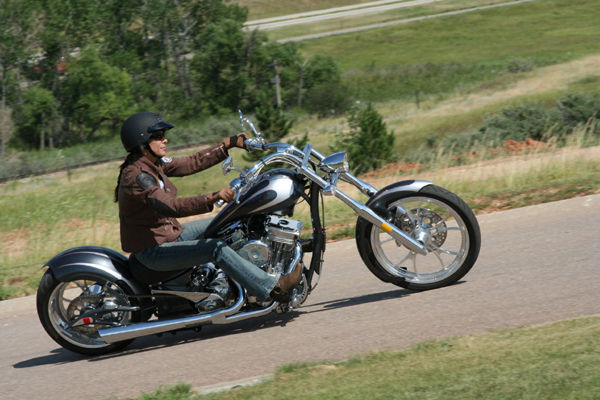 When I first sat on the bike, I noticed immediately how low to the ground it is; seat height is a deep knee-bending 19 inches. It felt like I was sitting on a toddlerÍs scooter, but the massive 700-pound weight reminded me this is an adult toy. I know women like low, generally speaking, but this is ridiculously low. I found myself barely leaning over the bike when I was turning into a parking lot so as not to scrape the transmission case jutting out on the left side.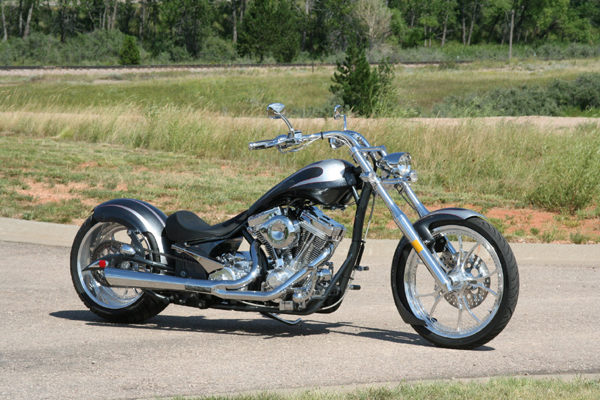 One time I had to pull the bike over to the side of the road because I ran out of gas (the petcock is not marked, at least I couldnt see the markings if it was, so I was riding in reserve without knowing it when I first picked up the bike). There was a rise in the asphalt high enough where I literally bottomed out the bike.
Seat height, sometimes an issue for women, is a non-issue riding Miss Behavin. This low seat is a result of an extra 4-inch stretched into the midsection of the Prostreet style frame manufactured in house by BBC. This stretch positions the oil tank behind the transmission as opposed to on top of it. This creates a pocket for the drop seat giving me the sensation of sitting "into" the bike as opposed to on top of it. To this designs credit, Miss Behavin is unbelievably balanced from the tip of the front tire, no front-end flop, to the end of the rear fender. I never felt like I could drop this bike. In fact, with a fat Avon Venom 250mm rear tire meeting the pavement in the rear, Id have to literally push the side of the bike to tip it over.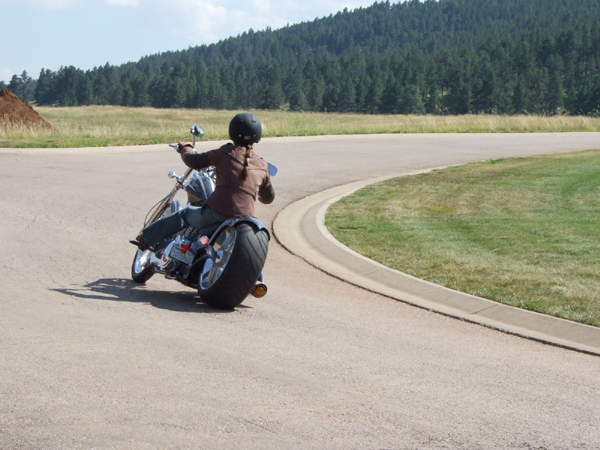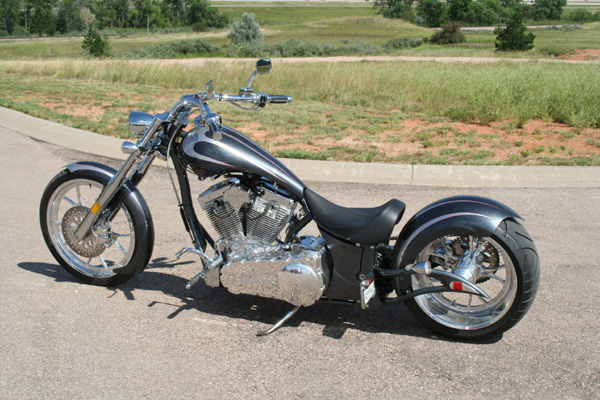 Riding this low to the ground takes some getting used to. Watching the pavement whiz by so closely while traveling 70-plus mph was nerve wracking at first. The marketing materials say the low seat contributes to "the unique sensation of riding low to the ground." Its unique all right. Despite the asphalt-stretching 110-inch length, Miss Behavins forward foot controls, pegs and handlebars are easily within my reach. I sport a 30-inch inseam and stand 5-feet 6.5 inches. The rake on the front end is a manageable 34 inches with the triple trees raked 6 degrees, just enough to give the bike its chopper profile. Miss Behavins ergonomics fit even diminutive riders.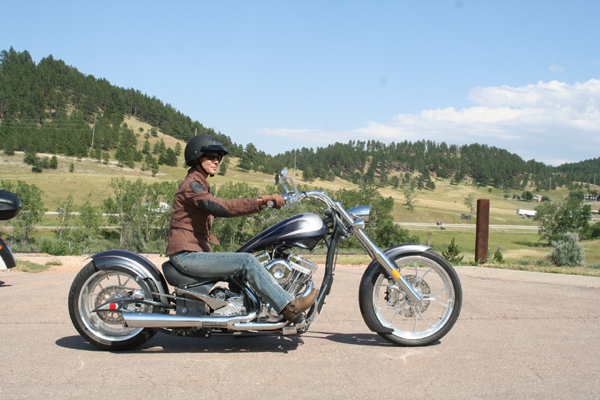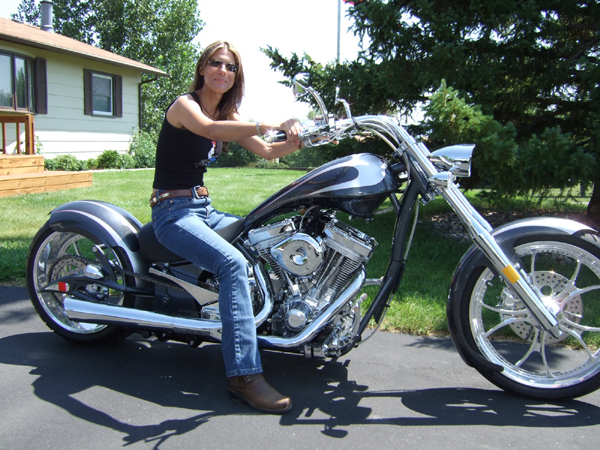 Hitting the Road
Pressing the starter button on the familiar Harley-style hand controls, the thunderous engine springs to life. The transmission has to be in neutral for the engine to start. Fine, but I had a hard time finding neutral while testing Miss B. Even the slightest of toe taps shot me down to first or up to second. I chalked it up to a transmission that needed breaking in. The Big Bear Chopper Samp;S proprietary 100 cubic inch SMOOTH motor produces a low, roaring rhythm thats pleasing to motorcycle loving ears. SMOOTH, all capitals, is the name of this proprietary blend of shared technologies engineered to produce a low vibration motor. A square bore and stroke (4 inch by 4 inch), proprietary compression ratios and cam timing keep engine vibration to a minimum. Counter balancers keep what vibration there is from transferring heavily to the frame. I was pleasantly surprised when my hands, feet and butt were not numb after 75 miles in the saddle from the constant vibration I normally feel riding big bore engine motorcycles. Two versions of the bike are available: one with a carbureted engine outfitted with a Samp;S Super E and the EFI version which ups the price by about $2,000.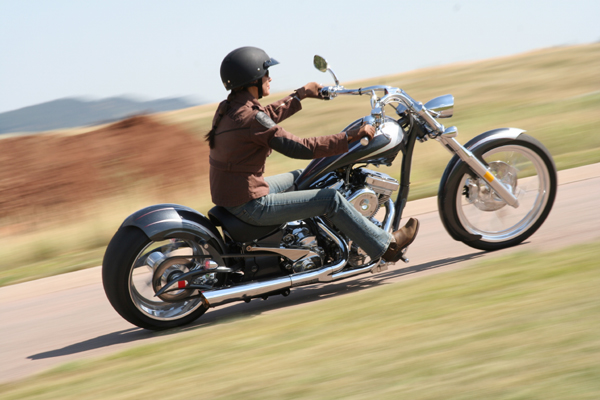 Baker Drivetrain supplies the six-speed overdrive right side transmission. Other than finding neutral, the gearing was relatively smooth and easy to kick through. The sixth gear overdrive is nice to have to lower rpms at highway cruising speeds.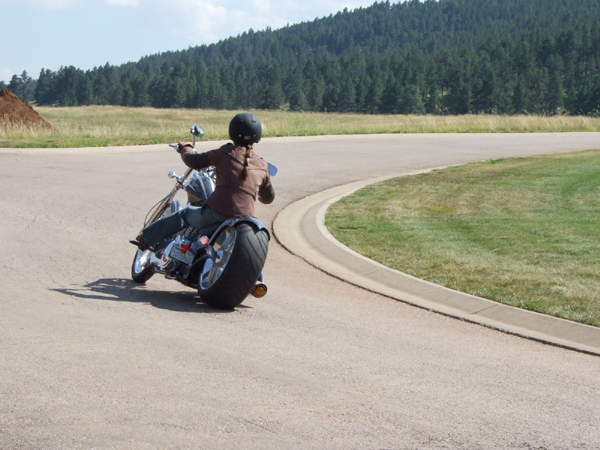 The dual Progressive Suspension shocks hidden in the rear do an adequate job of taking the bumps and not jarring me out of the saddle. The front end, including BBC brand 6-degree triple trees, has a smooth mount design which means you dont see the tube and axle nuts on top. A hidden axle (nutless type axle), produces a smooth finish and the ride right on target. No high-speed front end wobble. The ride is stiff and precise. The bike goes where I point it. Miss Behavin easily flies around corners so long as you watch your clearance.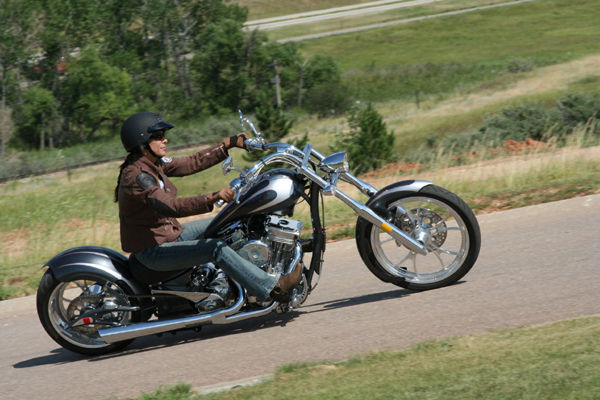 High end Performance Machine 4-piston caliper brakes bring the big Miss to a stop. The rear braking system is cleverly integrated into the rear chain drive to expose more of the wheel design. Instead of a brake rotor and a sprocket wheel on either side of the wheel, the calipers clamp down on the sprocket wheel to slow down the bike.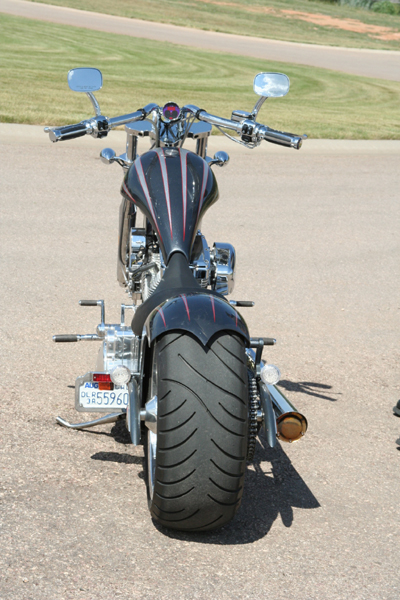 Styling wise, the Misses, like all of BBCs bikes, is loaded with chrome and custom pieces. The lines of the bike swoop from the elongated 3.875-gallon fuel tank to the pointed rear fender. The swingarm also swoops to a point. I was somewhat taken with the big gap between the back of the saddle and the rear fender. A quick glance from the rear reveals electrical wires Im not supposed to see. Reminds me of the same gap found on the Harley-Davidson Rocker, but theres a reason for that gap. There needs to be room for independent rear end to "rock" up and down.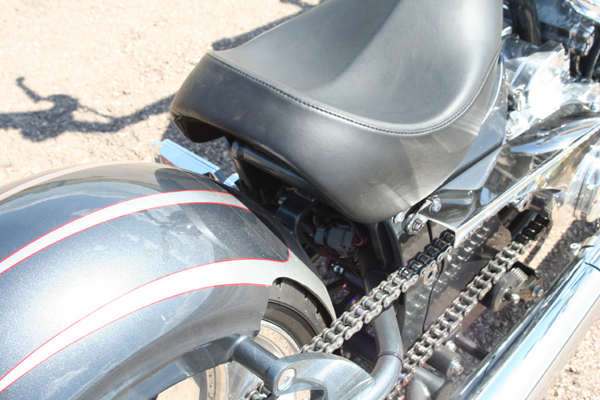 Is this a true womans bike? Well, more than seat height and foot and arm placement there are a few other features women generally complain about, that being a stiff clutch and grips that are too big. The Miss loses points here. I couldnt believe BBC went through all the trouble to design a bike aimed at women and installed grips that are thicker than normal. These were actually convex in the middle, normal diameter on the outside, but fattening at the palms. That left me less finger length to reach the brake and clutch levers, levers found in their standard positions, standard here meaning too far to reach for small or less muscular hands. A more practical design would have brought the levers closer to the grips at least a half an inch. Plus, the clutch was a bear to pull in, something Ive come to expect on a custom bike with a motor of this size. But I thought Miss Behavin is supposed to be female friendly. An easy-pull clutch should be part of any female oriented package. BBC tells me a narrow grip option is now available.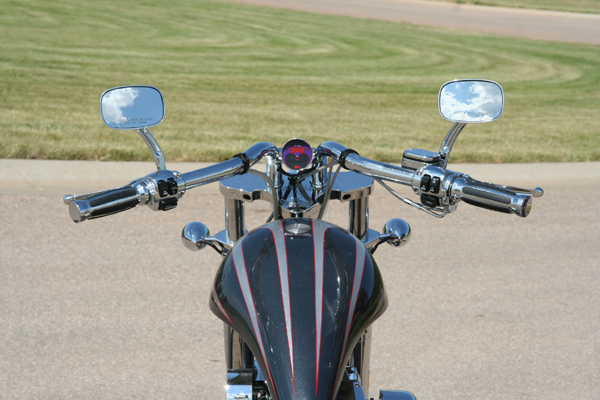 Id say Miss Behavin is half way there to being a true blue bike for women, that is, if there can be such a thing as a bike for women. Its touchy territory. Market a motorcycle just for women and the men probably wonÍt ride it. With Miss Behavin behaving the way she is right now, shorter men may feel very comfortable riding the bike. Guys donÍt usually have hand/grip/clutch issues. If BBC wants to continue branding the Misses for women, then a few more tweaks should help Miss Behavin start behaving like a woman's bike.
The Specs at a Glance: Big Bear Choppers Miss Behavin
Displacement: 100 cubic inches (1628cc)
Seat Height: 19 inches
Fuel Capacity: 3.725 gallons
Weight: 700 pounds
Price: $29,900 (Carbureted); $31,900 (EFI)
WRN Recommendation
This is the first full production chopper made specifically for women and to that end, I think BBC hit the mark. Despite its low seat height, I wouldn't recommend this bike for beginners. Only those with experience handling big bore custom motorcycles should attempt to ride this bike. There's a lot of horsepower, a lot of weight and just plain "a lot of bike." For those who want an around-town show stopper this is it. I definitely can't imagine touring on this bike, even if it had bags and a windshield.