Two Milwaukee Harley-Davidson dealerships are hosting two different all-women bike builds as part of their own celebrations going on during Harleys 105th anniversary celebration.
On August 30 and 31, Hals Harley-Davidson is hosting Gina Woods XX Chromes-All Women Bike Build. Talented builders Sara Liberte, Jody Perewitz and Laura Klock will build a hot rod custom one-off motorcycle in front of a live audience for two days. On Sunday, Gina Woods will host her Open Road Radio show live from the event from 11 a.m. to 12 p.m. Central Time.
Hals Harley-Davidson is turning 30 as well, so the celebration will last five days with events starting on August 27th. Hals is located at 1925 S. Moorland Rd, New Berlin, Wisconsin.
Over at House of Harley-Davidson, the Chopper Chick Crew will be doing a bike build starting on Friday, August 29 as part of the dealerships Reunion Bash 2008.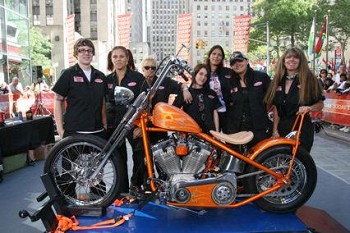 The Chopper Chick Crew is headed by Athena "Chickie" Ransom WRNs Know Your Motorcycle contributor, and includes builders Katie Putnam, Jayme Gray, Vivian "Gypsy" Charros, Ajax Forget, Kate OShea and JoAnn Bortles. The bike will be auctioned off for charity. For more on events happening at House of Harley as well as the womens day bash featuring WRNs founder Genevieve Schmitt, click here.