The Womens Sportbike Rally heads into its second year, returning to Deals Gap, North Carolina, August 24 to 26. All proceeds from the event will be donated to the Tiffany Weirback Melanoma Foundation.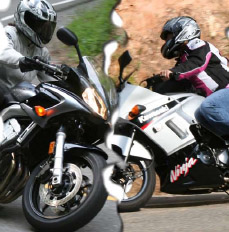 The rally was created to bring women together to meet and ride with others who identify themselves as sportbike enthusiasts. The event starts Friday, August 24 with registration, riding and the rally "Kick-off Meet n Greet." Saturday will consist of a group photo, followed by riding the Dragon, Cherohala Skyway, Foothills Parkway and Hellbender 28. The day will conclude with a party where the object is to eat, drink, win prizes and more. Sunday is reserved for those who want to "slay the Dragon" a few more times before heading home after the jam-packed sportbike weekend.
According to the event coordinators, the most important addition to the rally is the dedication to donate all proceeds to Tiffany Weirbachs "Sportbikegirl" Melanoma Foundation. Tiffany succumbed to malignant melanoma in 2001 at age 24, and is considered the original Sportbikegirl in the motorcycle community. Her parents, Judd and Faye Weirbach, are making plans to attend and bring Tiffanys Honda CBR900RR.
Rally headquarters will be at the Fontana Village Resort in western North Carolina. All registered participants will receive a goodie bag, event t-shirt, raffle ticket for prizes, food and more. Registration and more information is available on their Web site www.WomensSportbikeRally.com