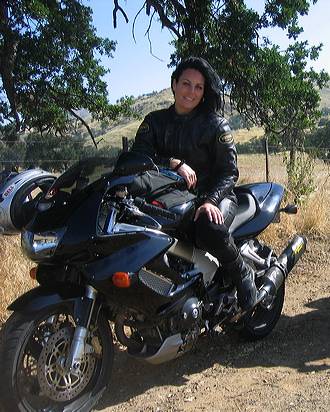 Sarah Schilke, Director of Business Development, Fairchild Sports/Hein Gericke, is the newest member of the Motorcycle Industry Industry Councils (MIC) Board of Directors having recently been elected. She is also the first ever female board member. This is Sarahs first year on the MIC Board, representing the aftermarket/allied trades members. "Im honored and excited to take on such an influential role with the MIC. It is my goal to help grow the industry by contributing a diverse background and knowledge base, particularly as we shift focus toward new emerging markets," Sarah said.
Sarahs 13 year industry experience includes Category Management for Hein Gericke Womens apparel, Western Advertising Manager for AMAs American Motorcyclist Magazine, Marketing Manager for Electric Motorbike, and parts/accessory sales at a motorcycle dealership. She also serves as an Expert on the FIMs Commission on Women in Motorcycling, is an MSF Motorcycle Safety Instructor, and regularly volunteers at Ride for Kids events. Sarah is an avid on and off-highway motorcyclist, including desert and motocross competition.
This marks the first time in the 37 year history of the MIC that a woman has been elected to the Board of Directors. The MIC was incorporated in 1970, but the association has roots extending back to the early days of motorcycling when it existed under other names since 1914.
Reelected to the Board in February were Don Emde, Owner/President of Don Emde Productions and Frank Esposito, Vice Chairman, Global Motorsport Group, Inc., also representing the aftermarket/ allied trades members. Sarah replaces Fred Fox, Chairman of Parts Unlimited/Drag Specialties, who served on the MIC Board for 13 years before deciding to decline the Board nomination. The MIC sincerely thanks Fred again for the leadership he provided to the association, including his dedication to strengthen the MICs aftermarket membership and his contributions to the MICs Discover Todays Motorcycling media relations efforts.
The remaining three elected Directors, Eric Anderson, Vice President, Scorpion Sports, Inc., Larry Little, Vice President and Publisher, Hachette-Filipacchi, Cycle World Magazine, and Allan Hurd, General Manager, Polaris Industries, Inc./Victory Motorcycles will serve one more year of their two-year term that expires in February 2008.
The above join the six directors appointed by the motorcycle manufacturer/distributor members who pay market share dues: Mark Pearlstein, Assistant V.P. Motorcycle Division, American Honda Motor Co., Inc.; Mel Harris, Vice President, Motorcycle amp; Marine Division, American Suzuki Motor Corp.; Roger Hagie, Director, Public Affairs, Kawasaki Motors Corp., USA; Selvaraj Narayana, Vice President, KTM North America, Inc.; Paolo Timoni, President and CEO, Piaggio Group Americas, Inc.; Mike Schmitt, Division Manager, Yamaha Motor Corp., USA.
At the February 2007 Board meeting, the directors reelected the following Board officers; Chairman Larry Little, Vice Chairman, Roger Hagie, and Secretary/Treasurer, Mel Harris. The MIC Board of Directors is responsible for directing the affairs of the association, including review and approval of policies, positions, programs and fiscal operations.
The Motorcycle Industry Council is a not-for-profit, national trade association representing manufacturers and distributors of motorcycles, scooters, motorcycle/ATV parts and accessories and members of allied trades, located in Irvine, Calif.