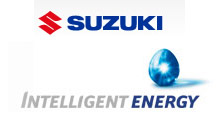 Intelligent Energy and the Suzuki Motor Corporation are working together on the development of motorcycles using hydrogen fuel cell technology. Intelligent Energy will use its proprietary PEM (Proton Exchange Membrane) technology to produce a series of advanced, compact and lightweight fuel cell systems for Suzuki. They are intended to become an integral part of Suzukis future motor products.
"We#8217;re delighted to announce our new partnership with the Suzuki Motor Corporation," said Dr. Henri Winand, Chief Executive of London-based Intelligent Energy. The companys unique and PEM fuel cell designs are based on the use of thin metallic bipolar plates, which make the fuel cell extremely compact and well-suited to mass manufacture.
Suzuki first began fuel cell research with General Motors six years ago with the joint development of four-wheeled FCVs (fuel cell vehicles). So far three Japanese mini-car FCVs have been developed for use on public roads.