The biggest event happening this past summer for women motorcyclists was the AMA International Women amp; Motorcycling Conference presented by Harley-Davidson and Buell, a rally for all brands of motorcycles. Dont be mistaken by the word "conference." The four-day event, taking place August 19–23, 2009, in Keystone, Colo., is more of a rally, convention, and conference wrapped up into one event where women riders are the focus. The vendors, banquet and keynote speakers make it a convention; the demo rides and guided scenic tours make it a rally; and the seminars and educational workshops qualify it as a conference.
This is the fifth time since 1999 that the American Motorcyclist Association (AMA), has organized this hybrid event and the main reason the non-profit motorcycling membership group continues to do so is to show its support for the fastest growing demographic of new motorcyclists – women.
Keystone provided an incredibly scenic alpine backdrop for a motorcycling event that coupled with a high-pressure weather system all weekend created ideal summertime conditions of dry and clear sunny skies with temperatures in the 80s.
Nearly 1000 people registered (about the same as the 2006 conference that took place in Athens, Georgia,) that's not exclusive to women. Men can participate too if they paid the registration fee ($165 – $185 depending on when it was purchased), and about 100 of them did accompanying their female significant other. Most women rode out to Keystone, or flew in to Denver and rented a motorcycle from EagleRider, the Official Motorcycle Rental Sponsor of the event. Heres part one of our four-part photo story coverage. There are many more photos from the event I spread them out among several stories—so visit the links at the bottom of this story for more. Click on the photos to make them larger and view in a slideshow.

| | | |
| --- | --- | --- |
| At the AMA President#39;s Reception for AMA members at a nearby Mexican restaurant, Rob Dingman, President/CEO, AMA, said "The more we can do to shine a bright light on the fact that women ride motorcycles too helps us demonstrate how mainstream motorcycling is." During his speech at the closing banquet, Dingman reiterated the AMA#39;s commitment to serving the women#39;s market through events like the conference, a hint the AMA will hold another one. | I rode out to the conference on my 2008 Harley-Davidson Street Glide from Montana. | The AMA#39;s Sheila Andrews served as emcee for the evening presentations and banquets. There was something organized each night. An interpreter for the hearing impaired was on hand because not only was the keynote speaker, Ashley Fiolek, deaf, but at least two of the female riding participants were deaf or hearing impaired. |
| More than 50 women#39;s riding clubs were represented at the conference. | Many of the clubs rode in together and used the event as a place to hold a club meeting. | We thought this woman#39;s patch was funny. Not the club one, the other one. |
| The view atop Loveland Pass, elevation 11,990. You#39;re looking at where Arapahoe Basin ski resort is located. It usually stays open well into June because of its abundance of snow. | I rode up to Loveland Pass and got a picture with the awesome scenery. About a third of the participants reported feeling the effects of Keystone#39;s 9,172-foot elevation. Shortness of breath, headaches and dizziness were the most common symptoms. I was fine. | I spotted four raccoons one evening scurrying up a tree near one of the condos in Keystone. |
| Harley-Davidson hosted a continental breakfast for attendees at its booth in the vendor area one morning. The purpose was to glean ideas from the women on what they#39;d like to see at Harley#39;s "Celebrate Women Riders" event next year. | Harley-Davidson had several motorcycles in its booth for women to sit on and try out for size. | |
| Here#39;s Amy on her Diva Glide, a Harley Road Glide that she had custom painted, and then accessorized with thousands of Swarovski crystals and rhinestones. Her bike always attracts a crowd. She rode out from Park City, Utah. | At the International Street Party on Friday night at Keystone#39;s River Run Village, a fashion show showcased outfits from some of the event#39;s sponsors. | Carolyn Ficklin of Valley Mills, Texas, won the People#39;s Choice award in the Bike Show with her 2008 Kawasaki KLR 650 that#39;s painted with camo colors. She won a trophy and some Harley swag. |
| Members of the Motor Maids line up wearing their traditional club riding outfits. The Motor Maids is the first and oldest women#39;s riding club in existence having started in 1940. | The closing banquet on Saturday night included a chicken dinner and a speech by motorcycle adventurer Lois Pryce. | Jan Plessner, public relations manager of Kawasaki, spoke at the closing banquet about her earliest memories on a motorcycle and what motorcycling means to her. |
| Most of the attendees rode to the conference. Here I am (left) with three women I met at there who I joined on their ride home to Montana Karen Wood, Linda Van de Perre, and Laura Pool. We#39;re in southern Wyoming here. | We saw a sign for Sacajawea#39;s grave, so we pulled off in search of it at this cemetery in Washakie, Wyoming. | How fitting that we, four female adventurers, would be on a quest to find the grave of the original female adventurer of our time Sacajawea. The Shoshone Indian woman is credited for leading Lewis and Clark through hostile Indian territory and on to the Columbia River and the Pacific Ocean in the early 1800s during their expedition. |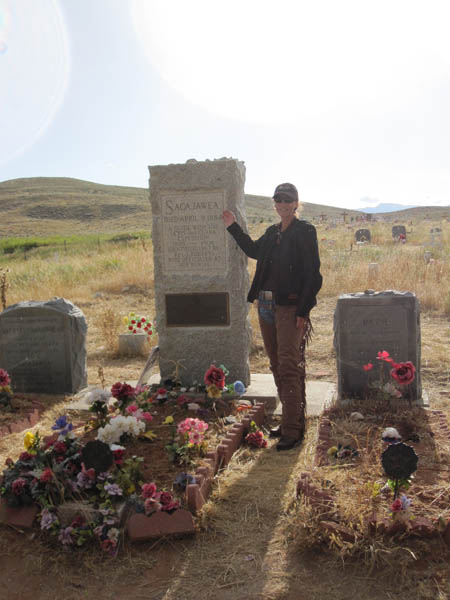 Related Articles
2009 AMA Women amp; Motorcycling Conference, Part 2
2009 AMA Women amp; Motorcycling Conference, Part 3
2009 AMA Women amp; Motorcycling Conference, Part 4
Editors Blog: Initial Thoughts on the Conference
News: Conference Wraps in Keystone
News: Riders Roll in for Conference