We began our boots buyer's guide with an overview of the different styles of boots available to motorcycle riders. You can read that story here. This story spotlights the touring styles Women Riders Now (WRN) leadership board and staff members actually wear and love when riding all kinds of street motorcycles.
Touring boots are the most well-rounded do-it-all motorcycle boot because they combine protective features with comfort qualities making them usable for all day riding and walking—what you do on a long motorcycle tour.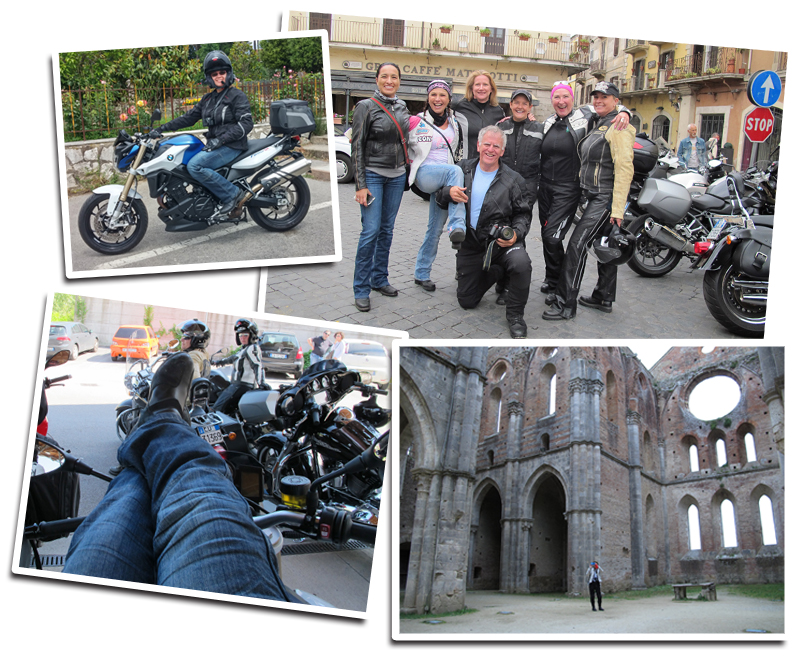 Most touring motorcycle boots have a low or no heel, a shaft that covers the shin, a grippy sole, ankle protection, water resistance, and good flexibility so riders can choose a variety of positions without a lot of resistance from the boot.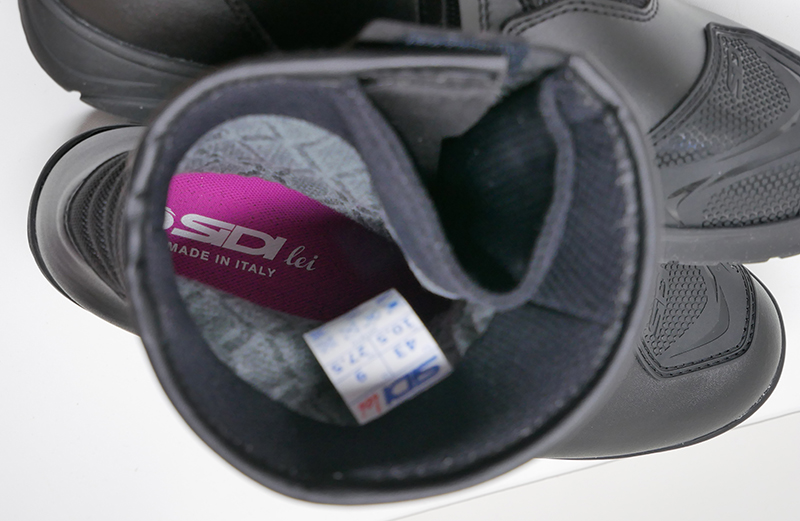 We have designed this article as a guide to point out specific features we love about these particular styles and brands. Often, manufacturers will update their boots each year with new colors, slight change of styling, and technical upgrades. So be sure to look for each company's current selections by using the links at the end of the article.
Like always, we strive to feature boots made specifically for women for the reasons we outlined in the first article, but because some of us have found men's boots that fit better or suit specific needs, youll see one pair included here.
---
Alpinestars Stella Valencia WP, $179.95
Sarah Schilke's "absolute favorite" riding boot is Alpinestars Stella Valencia, a low-cut waterproof touring boot. Her favorite part of the boot is the simple closure system, with two adjustable Velcro flaps. There's no zipper to fuss with, making these boots optimal for commuting because of how quickly and easily you can put them on and take them off. And because of the lower shaft height, the Valencias can accommodate larger calves which can be a struggle for some women trying on higher-rise boots.
She adds that the Valencias are super comfortable for riding and walking around due to the soft sole and inner cushion. And because the sole was formed on a female form, the boots arent big and clunky so they feel almost as easy to walk in as regular shoes.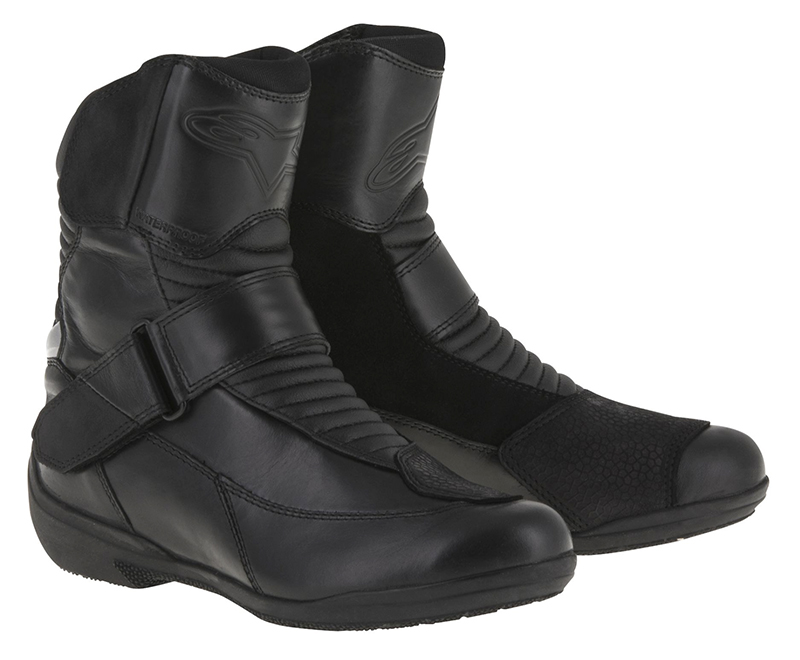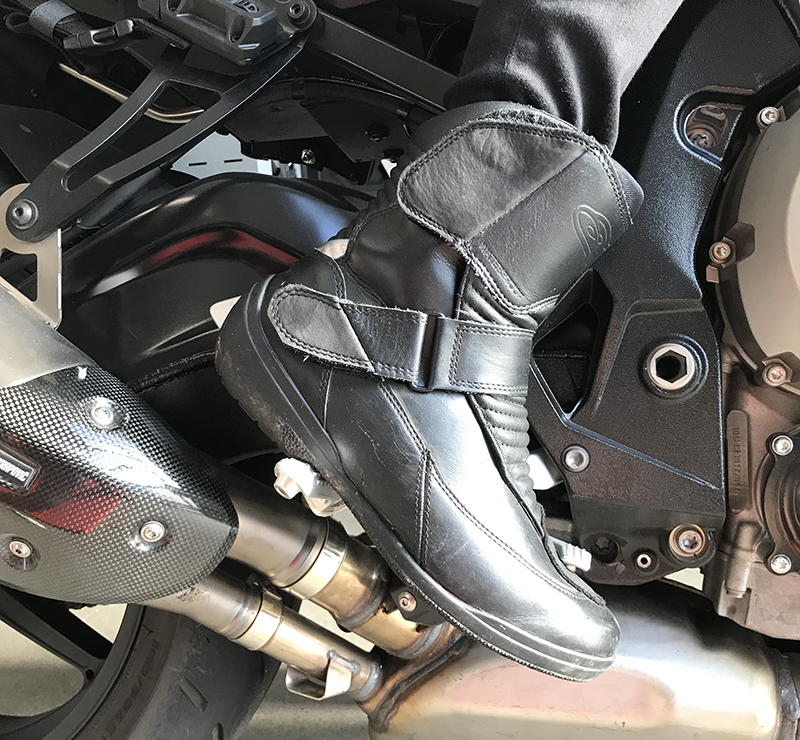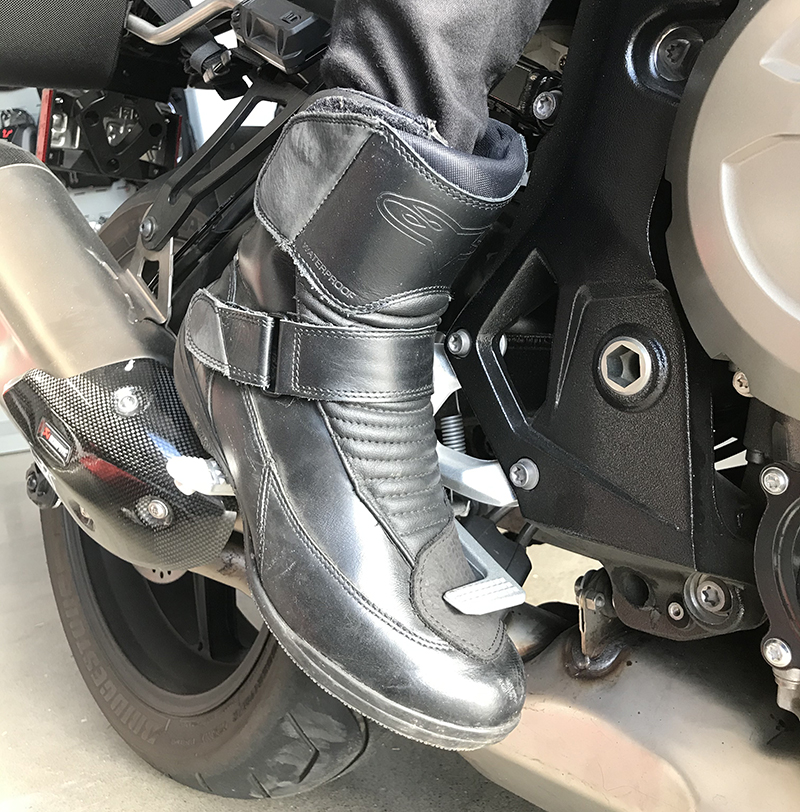 The Valencia's accordion panels in front and rear mean superior flexibility, while an integrated rigid steel shank and double sided ankle protectors keep your feet protected. Other notable features include a lightweight anti-slip rubber sole, removable anatomic EVA footbed with moisture wicking material, and a 1.25-inch heel.
---
Dainese Aurora Lady D-WP, $239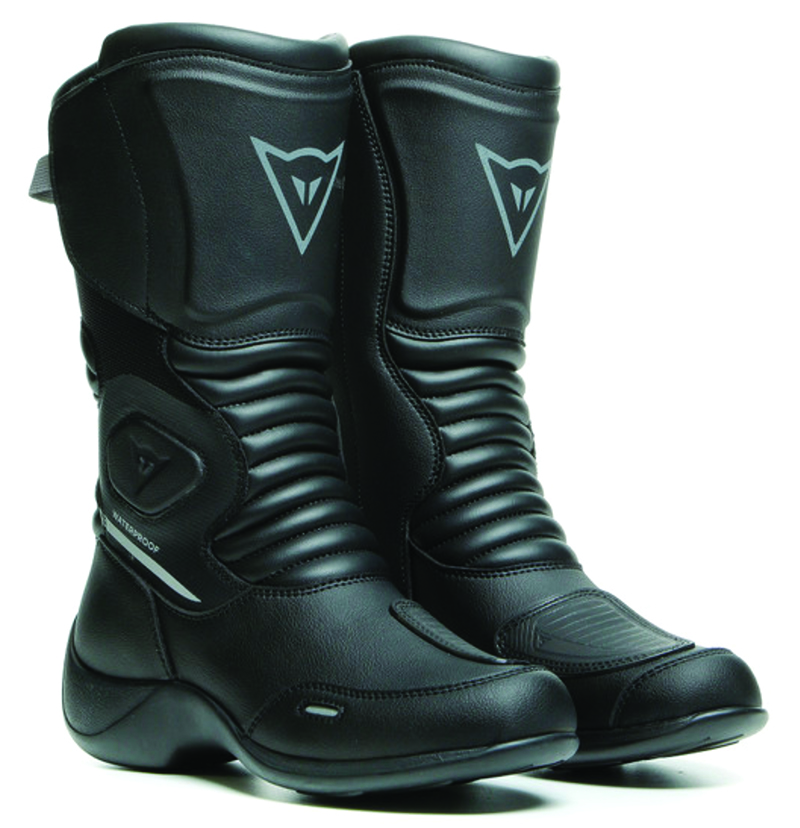 Erin Sills has logged more than 250,000 sport touring miles and has been a longtime fan of Dainese's boot offerings for women. The company commonly has more than one waterproof, breathable, walkable boot option specifically designed using a female foot form.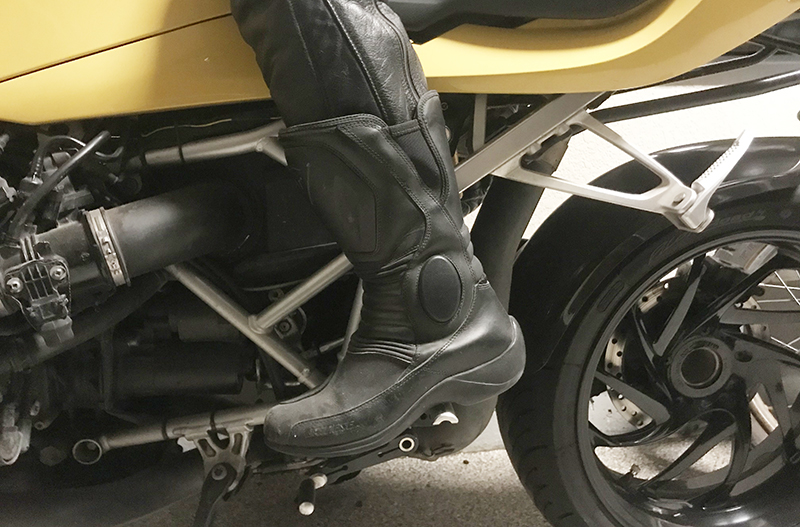 When traveling long distances through a variety of weather conditions, the Dainese Aurora are comfortable through a wide range of temperatures. The no-frills look offers clean lines yet provides protection along the shin and ankle bones where you need it, and if you want a little more bling you can opt for the black/white color combination that adds a flash of white accent on the side. The Velcro over-zip closure allows you to cinch up the shin for a cozy, secure feeling and keeps the water out on those rainy travel days.
---
Daytona Lady Star GTX, $399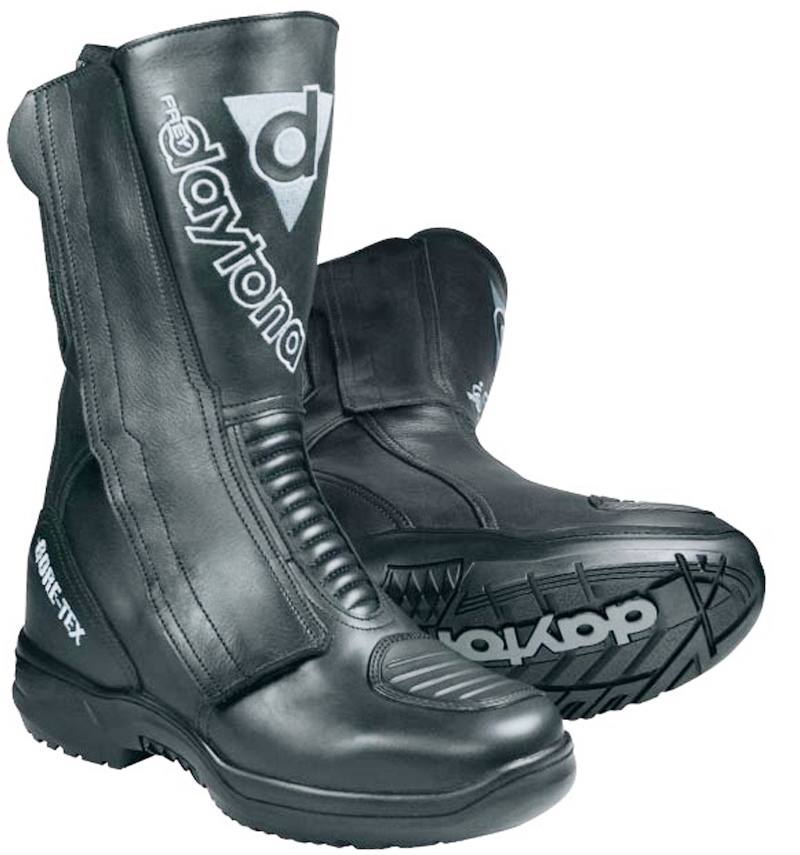 Maggie McNally is just 5 feet 1 inch tall and prefers that "tiny bit more" that the extra 2.36 inches of integrated heel lift of the Daytona Lady Stars offer. Watertight and breathable with a GORE-TEX membrane, the touring boot offers almost 12 inches of shaft height for extra protection. Daytona Lady Star has a generous adjustable calf closure with side zips and Velcro. Elasticated inserts in the ankle area flex to allow for a snug fit and conform to the shape of the leg for excellent comfort. Reinforced gear shift pad, reflective heel insert, non-slip rubber sole, and a plastic reinforced inner sole with a hot-dip galvanized steel inlay round out the boot's safety features.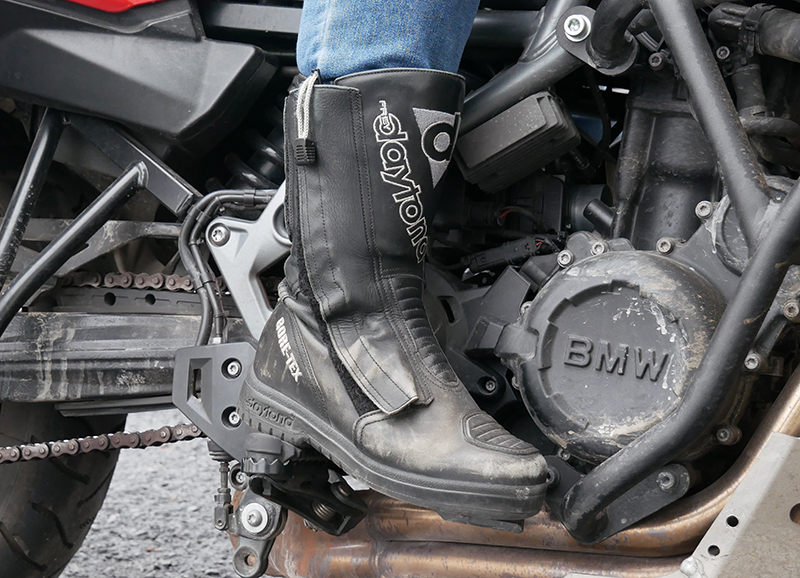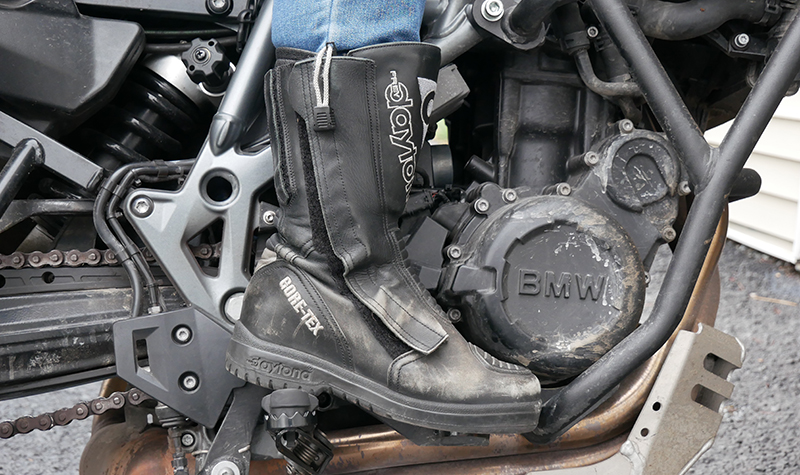 ---
Daytona Road Star GTX, $350–$399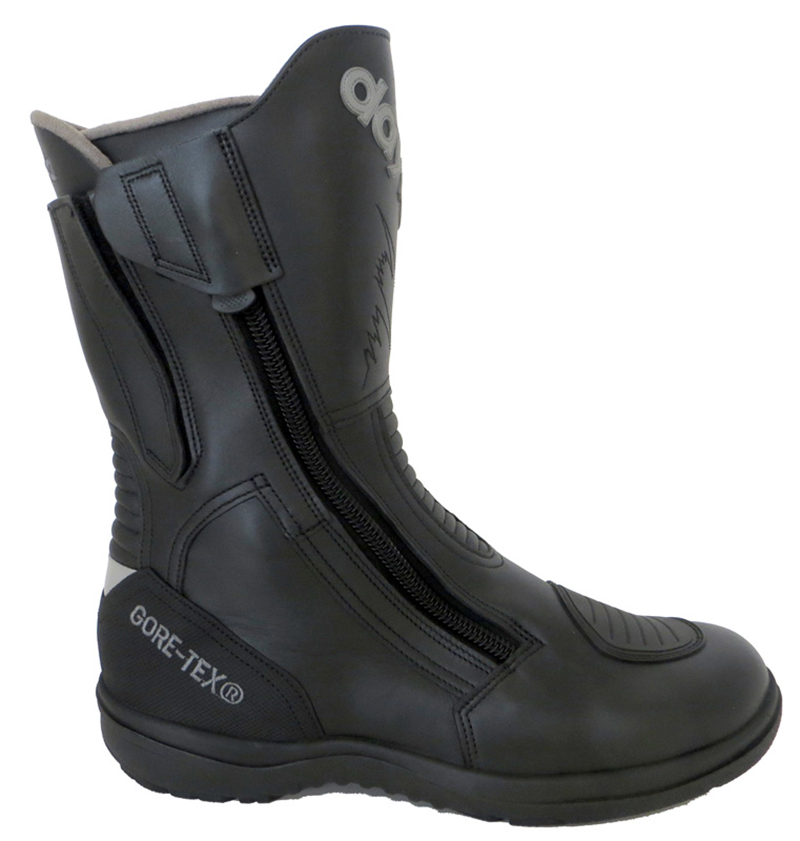 Alisa Clickenger, founder of Women's Motorcycle Tours, also chose the Star boot from Daytona. However, on the opposite end of the height spectrum, finding a women's size 12 is nearly impossible and not available in the Lady Star, so she wears the men's Daytona Road Star GTX. These boots are available in a number of sizes and five widths, so women of all sizes can consider the Road Star a viable footwear option.
Now updated from her early version, the Daytona is the first motorcycle boot Alisa ever owned. She estimates riding 150,000 miles with the first pair, taking her comfortably all the way down to South America and then up to Alaska. She loves the Daytona's comfort, protection, and most of all waterproof qualities. Other features include calf adjustment, dual zippers, ankle and shin protection, reinforced steel inlay, reflective heel inlay, and nonslip rubber sole.
---
SIDI Lady Gavia GORE-TEX, $274.99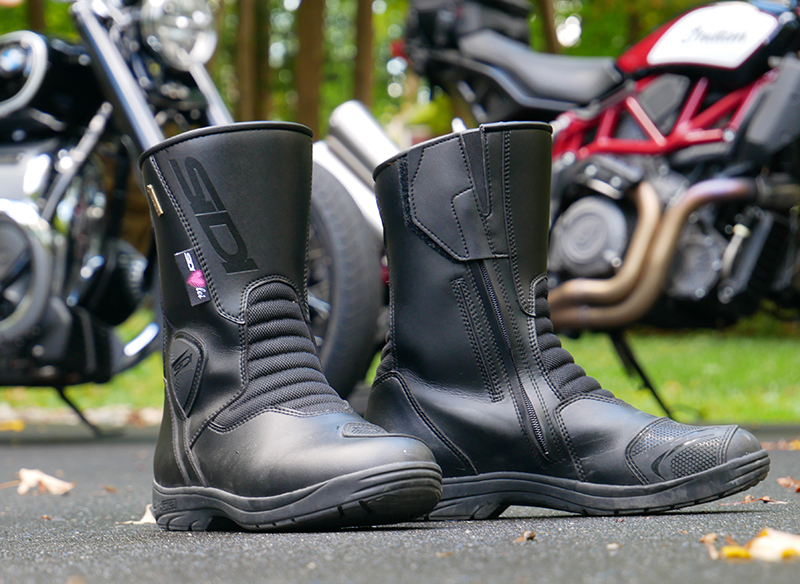 Black Girls Ride editor Porsche Taylor loves the SIDI Gavia boot. The mid-height boot serves as the value priced entry point into SIDI's GORE-TEX line and is one of the few women's boots we found that are offered in a larger size. Made with a GORE-TEX breathable and waterproof membrane, the Gavia keeps riders dry. The hook and loop closure and zipper entry/closure system ensures a good fit. Protective features include internal heel, inner ankle, and toe protection.
Porsche chose to wear these boots during her 19 days on the road while riding with the Women Riders World Relay logging thousands of miles in all seasons and weather, including snow, rain, and 90-degree sunny days. Through it all, the Sidi boot was a solid performer and kept Porsche's feet comfortable and dry even after some brutal 14-hour riding days.
WRN editor Tricia Szulewski also picked the Lady Gavia as her favorite touring boots. She attributes the top-notch comfort to the well curved footbed insert that has a fairly formed arch support and a heel cup that hugs the heel. They are lightweight and flexible which makes walking in them easy and comfortable. She also likes that the Gavia's 10-inch shaft height is high enough to protect most of the shin, but low enough to be able to easily get jeans over the boot. While some touring boots have thick shin padding, the Gavia's are on the thinner side, so they don't stick out oddly from underneath her pant leg.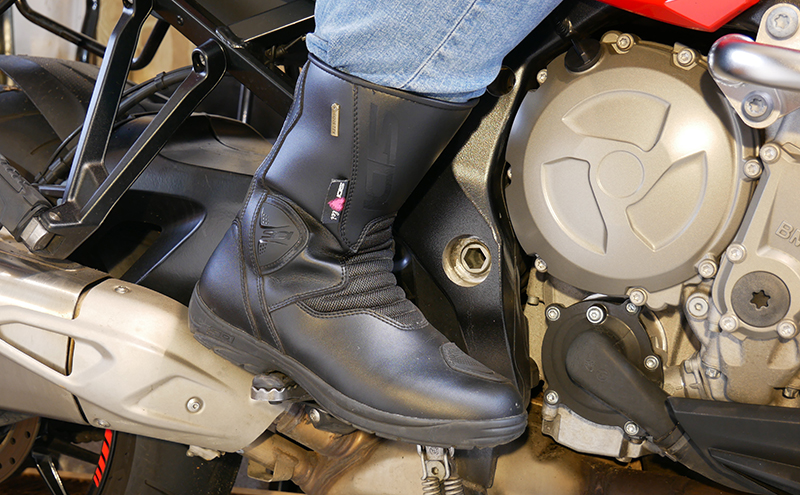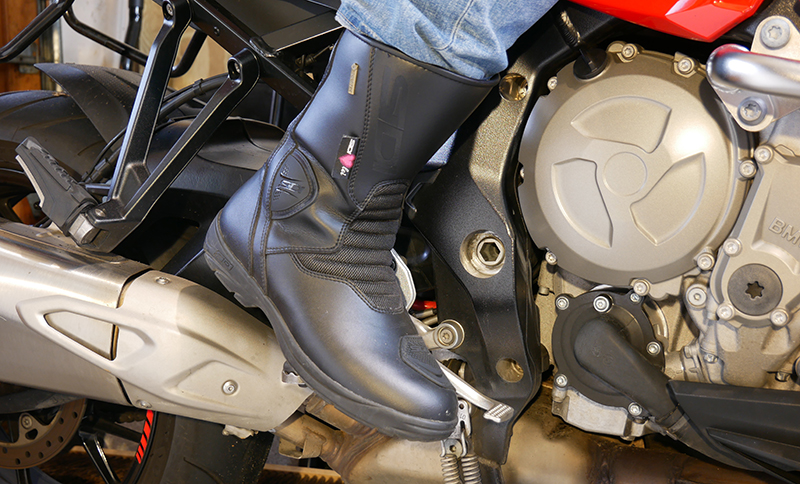 Subsequent articles will focus on our favorite picks for cruising boots, adventure and dirtbike riding boots, sportbike and track riding boots, and our best picks for urban sneaker motorcycle shoes. Be sure to sign up for our free newsletter to be the first to know when these stories are published.
---
To order and see more styles, please visit the following web sites:
Alpinestars
Alpinestars.com
Dainese
Dainese.com
Daytona
Helimot.com
SIDI
Motonation.com
We understand there are a lot more great offerings out there. Please share in the comments below what your go-to riding boots are and why you love them.
Related Articles
How to Shop for Motorcycle Riding Boots
More Boot Reviews
More Gear Reviews