Fun Motorcycle Childrens Book
In the tradition of Rebecca Jamisons Clyde the Glyde series of childrens books that are enjoyed by adults and children alike, Pearl the Motorcycle Girl: Take a Chance and Dance, is a fanciful tale that encourages young females to explore and find value in their own unique identities while strengthening their ability to make healthy lifestyle choices.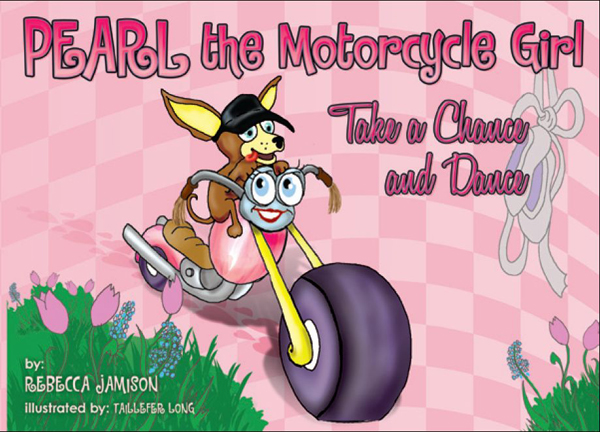 When loveable little motorcycle Pearl discovers the beauty of movement in everything around her, she also finds her own personal style of self-expression dance. The confidence she feels in this self-discovery helps her to connect with others who share her passion. Then, when called upon to conquer the open road with her owner and friend, Mini, Pearl is able to quickly traverse and fulfill her responsibilities as a strong, powerful motorcycle. Pearls can do attitude is refreshing and sends a positive message to young girls as Mini and Pearl lovingly break the stereotype of female motorcyclists by allowing them to be girly girls, and at the same time strong, independent, powerful and confident individuals.
For more information, visit ClydeTheGlyde.com. Pearl the Motorcycle Girl-Take a Chance and Dance is available for sale online at Amazon.com, Borders.com, and through additional wholesale and retail channels worldwide.
Fun Unique Accessories From VaVaVroom
Show your style and love for the open road with this VaVaVroom exclusive "bootlet." Its a bracelet for your boot. Elastic allows you to pull it over your boot. It has letter beads that spell VAVAVROOM with a silver pewter-finish motorcycle charm. You can choose your color of decorative beads: Red (shown), Royal Blue, or Orange. The bootlet retails for $24.99.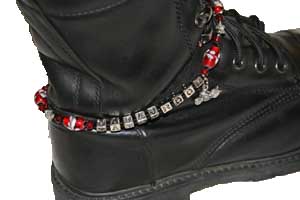 Keep your hair tied back with these Motorcycle Hair Charms. The elastic bands are offered in assorted colors with motorcycle charms that hang from the band showing off your love of riding. Pewter charms with a silver finish. A set of three retails for $9.99. Gosh you cant beat that price.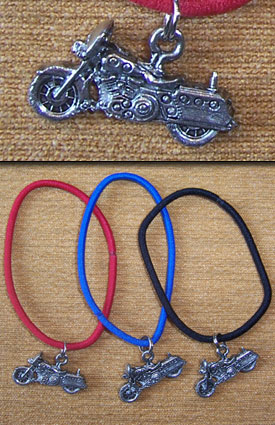 We love these motorcycle bracelets; theyre silver pewter-finish bracelets that come with either a cruiser or bagger image that sits at the wrist. Retail price is $7.99.

For more information visit VaVaVroomOnline.com. Check out VaVaVrooms ad in the WRN Mall for WRN discounts on VaVaVroom products.
Sassy Up Your Ride
Charlene Casey has created a way for women riders to feel stylish on a motorcycle – or as she likes to call it, "getting sassified." SassyBiker was founded earlier this year as a way for female motorcycle riders to show off their love of riding in a more creative, sassy and female way. She finds her inspiration and tools in Swarovski crystals. Charlene has always had a love for jewelry and mosaics, and that love has turned into her passion. She says she became interested in motorcycle gear after learning to ride and discovered that most items were not brightly colored, much less, feminine.
The SassyBiker canvas is in the form of helmets, motorcycles and coming soon, leather. Charlene can pretty much duplicate any idea to complement an already custom design on your motorcycle, or she can take from your inspiration and create beautiful designs that she says youll just love.
In the brief SassyBiker existence, she has also created bike wraps these almost "sticker-like" creations allowing riders to customize a motorcycle at a fraction of the cost of a custom paint job. And the best part is, it can be interchangeable and allow you to have several outfits for your bike,for less than the cost of a single paint job. For the bike wraps, any simple design, spread, photo or image you may have can easily be blown up and "printed" onto an acrylic wrap and then installed over your bike like a sleeve.
For more information, visit SassyBiker.com.
A Harley Holiday
The new Womens Shimmer Hybrid Ultra-Light Skyline Half Helmet from Harley-Davidson shines with style and comfort. Constructed with a hybrid fiberglass and Aramid shell using an exclusive process, the entire helmet weighs just 1 pound 6 ounces, which is 17 percent lighter than traditional fiberglass helmets.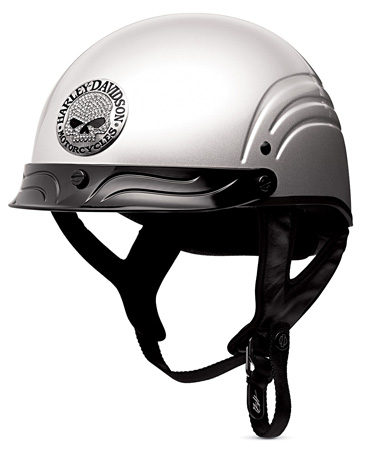 Like all Skyline helmets, its woman-specific design includes a 10-mm deeper cavity for a lower profile fit, a washable anti-static comfort liner that reduces helmet hair, a pony-tail notch and interlocking side and crown liners for a customized fit. Its available in sizes XXS – XXL and meets all DOT requirements. The new Womens Shimmer Hybrid Ultra-Light Skyline Half Helmet (part number: 97310-09VW) retails for $235.
The new womens Wild at Heart Hoodie from the Harley-Davidson MotorClothes line makes a strong statement with its original, large eagle-and-heart art. The latest from the H-D Ink collection of tattoo-inspired casual sportswear, the 100 percent cotton French terry hoodie combines metallic embroidery and shimmering sequins on the back with raw edge details on the seams and around the pockets for a distinct style. Two kangaroo pockets, drawstring hood and ribbed knitting on the cuffs and waist complete the look. Its available in XS-2XL and retails for $135 (Part number: 96577-10VW).
| | |
| --- | --- |
| | |
This new Harley-Davidson Crystal Hog Bank is sculpted ceramic to resemble a hog-shaped fuel tank and embellished on both sides with a rhinestone-laden Bar amp; Shield medallion and decals. It measures 7 x 4 x 3 inches and retails for $40 (part number: 96868-10V). Or you can make it a Harley Christmas with this 2009 Holiday Ball. The three-inch diameter glass ball is emblazoned with biker Santa graphics on the front, and with the Bar amp; Shield and "2009" on the back, retailing for $10 (part number: 96890-10V).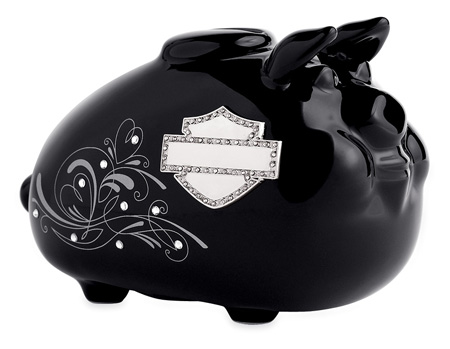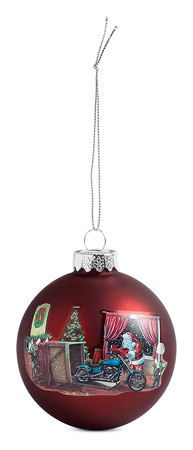 If you purchase $300 or more from Harley-Davidson from November 7 through December 24, 2009, youll will receive a free 2009 Holiday Heritage Collection limited-edition gift set valued at $75. The set includes five pewter finish collectible Legendary Harley-Davidson Racing Machines, each one identified by an engraved plate. For more information on Harley-Davidson MotorClothes, see your local Harley-Davidson dealer or visit Harley-Davidson.com. To find a dealer near you, call 800.LUV.2RIDE in the the U.S. or Canada.