More than 187,000 motorcycle enthusiasts from 120 countries made INTERMOT 2006 in Cologne, Germany, the largest ever motorcycle and scooter trade show. The international event, held October 11- 15, was open to industry representatives as well as the general public. Of the 1,130 exhibitors 70 percent of them traveled from other countries with the largest contingent coming from Italy, Taiwan, Spain, China and France. Part of an exhibition hall was dedicated to exhibitors from the United States.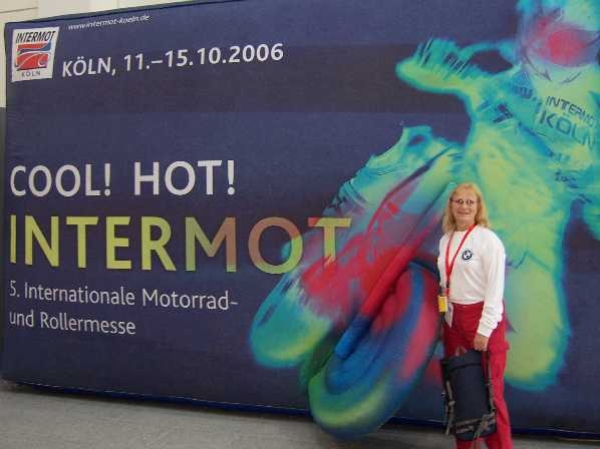 Historically, INTERMOT is the place where manufacturers unveil new and/or groundbreaking models. Harley-Davidson took the covers off the prototype Sportster XR 1200, and Kawasaki showed off its early release 2008 model, the Sport Touring GTR 1400 Concours. Many other manufacturers including BMW introduced several new models for 2007 at Intermot.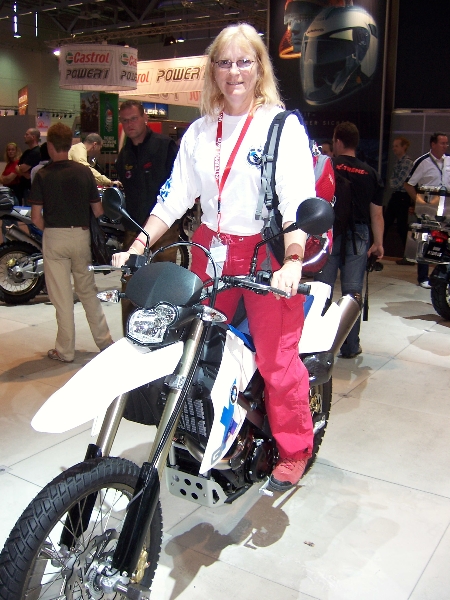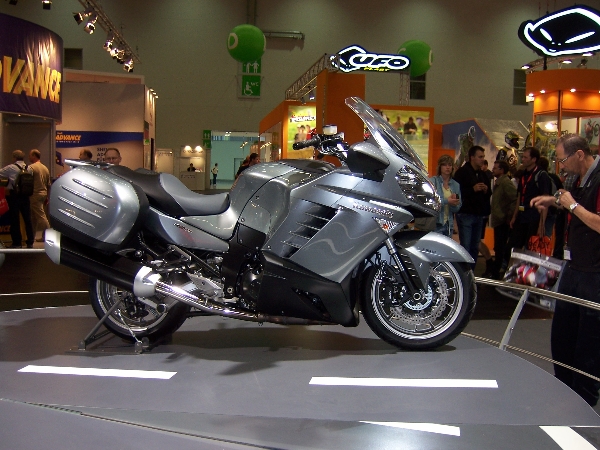 This year more young people attended the show, a good sign for an industry facing a customer base of aging aging baby boomers. Satisfying the appetite of the young expo-goers was RapSoul, a German rap group, and German hip-hop artist SMUDO. BMW held fashion shows throughout the event and singers and dancers kept the enthusiastic crowds entertained.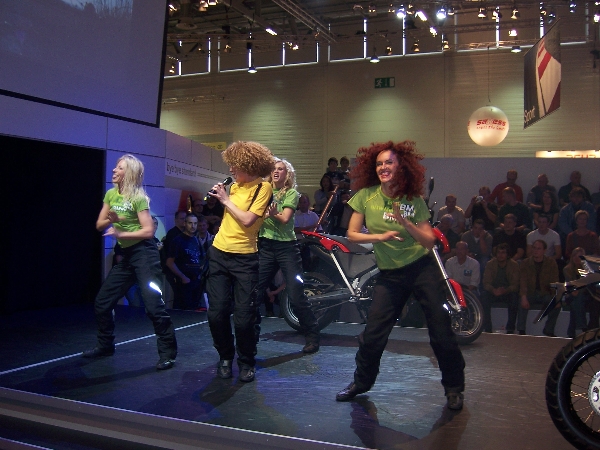 INTERMOT is a trade show unlike what Americans have ever seen stateside. There were plenty of opportunities for licensed riders to try out new motorcycles on simulated off-road and on-road tracks. Introductory training was offered on trials bikes. Racers and stunt riders, including world champion Christian Pfeiffer, kept visitors in awe watching their amazing riding skills. There was also a riding course competition with the overall winner receiving a new motorcycle. For an additional cost, visitors could attend the Night of Jumps, the world championship for motocross freestylers.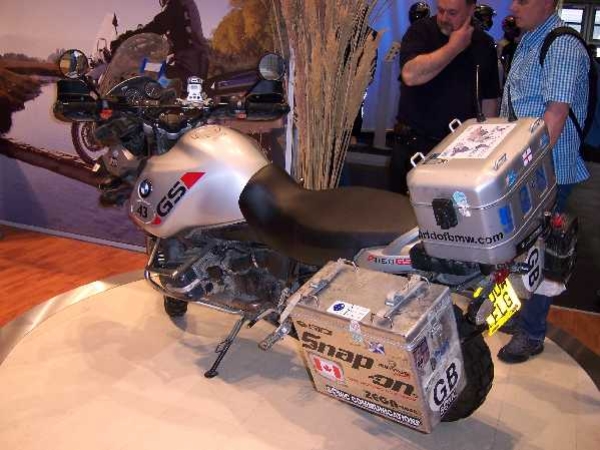 Motorcycling celebrities, including racers from around the world were there to mix with the crowd. So were noted authors like Charlie Boorman "Long Way Round" co-author and Dakar Rally veteran. Author Michael Martin, who has ridden and photographed all of the deserts of the world, held an impressive slide show of his travels. There was even overnight camping for motorcyclists who wanted to pitch a tent on the expo grounds.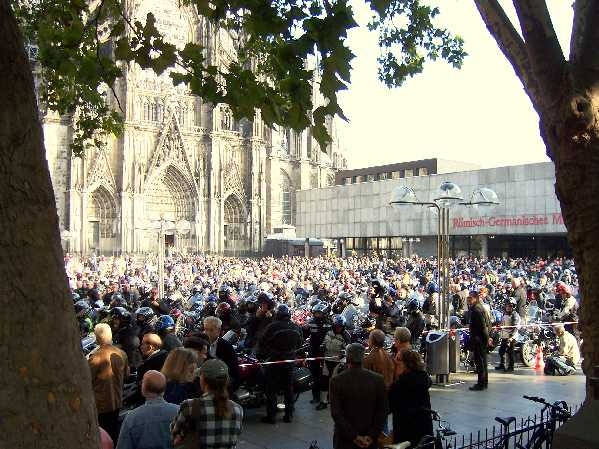 One highlight was a church service believe it or not! The first ecumenical service for bikers ever to be held at the Cologne Cathedral was capped with a parade of more than 3,000 riders to Koelnmesse, the 11-building Cologne Exhibition Center where INTERMOT was held. INTERMOT 2006 more than lived up to its pre-show buzz. Held every two years, plans are already in the works for Intermot 2008. For more information, visit Intermot-cologne.com.
To see more pictures from INTERMOT, visit our Photo Gallery.
Voni Glaves is a freelance writer contributing to BMW Owners News on a regular basis. She has been riding since 1975 covering more than 800,000 miles including 73,000 miles in six months in 1999. She has ridden in 49 states, all of the Canadian provinces and in five countries in southern Africa. An accomplished long-distance rider, Voni completed the Iron Butt Rally in 2003 riding her favorite motorcycle, a 1994 BMW R1100RS, which she has ridden more than 300,000 miles. She is retired from her 31-year teaching career and recently moved from Lawrence, Kansas, with her husband, Paul, to enjoy the winter riding found in Texas Big Bend area and the Chihuahuan Desert.