People always wonder why I choose to ride a sportbike. They ask, "Aren't you afraid of what might happen?" My guess is they assume youth is the reason I'm so willing to drag a knee through a corner at more than 100 mph on a motorcycle I'll probably never master. After all, the Insurance Institute for Highway Safety says the median age of sportbike riders is 29. Had I not seen so many men and women with gray hair doing the same thing alongside me, I'd be forced to agree with this statistic.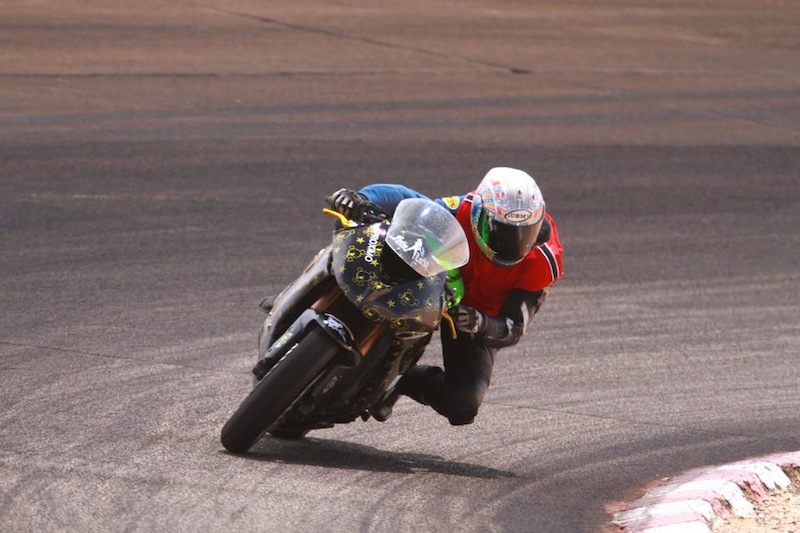 For me, riding a sportbike is where I feel at home. Life is awkward and requires a lot of effort for someone who is quiet and introverted. I'd say that riding a sportbike over the years has brought me out of my shell, giving me confidence and ambition I might not have had otherwise. The more I learned from my peers about riding, the faster I got and the more admired I was by those around me. Because of this, I grew more open, assertive and tenacious.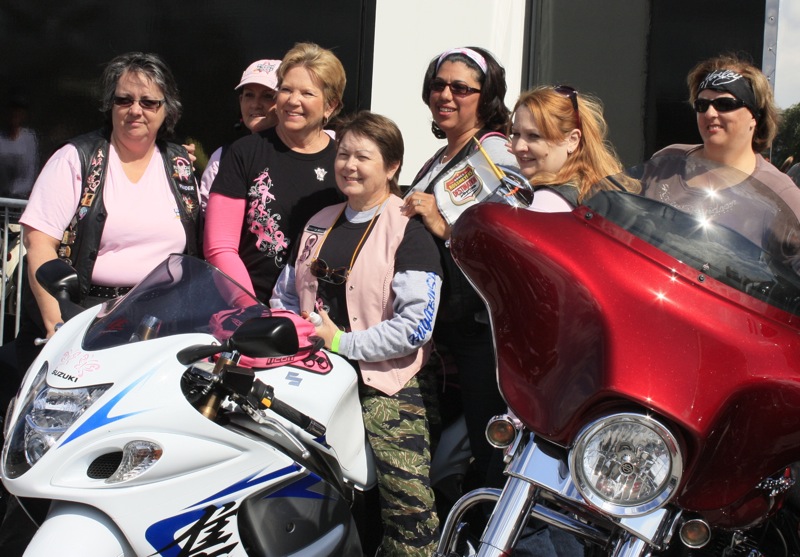 Like women who ride cruisers, women who ride sportbikes thrive on independence and freedom on two wheels. But female sportbike riders choose to ride sportbikes because, to them, sportbikes are sexy and appealing. Hanging with a small, familiar group of guys is fun, and continually experiencing the rush that a sportbike creates can be extremely addictive.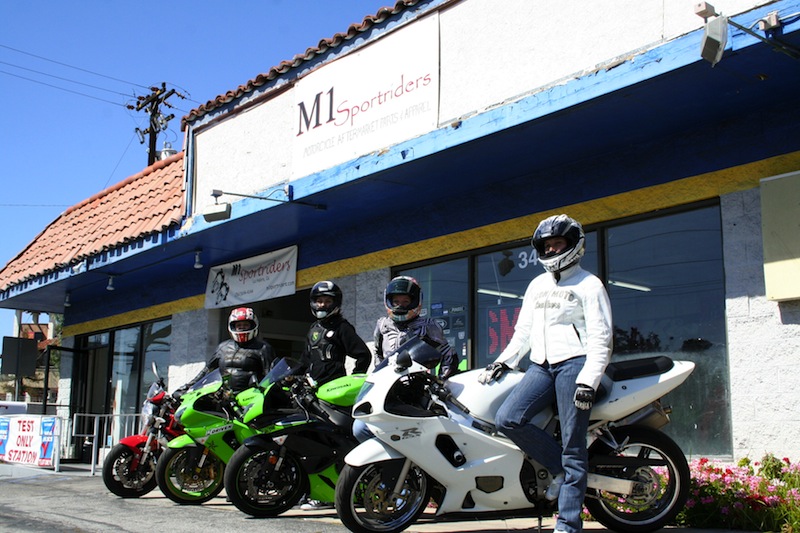 To compare the two types of bikes, a cruiser may sit lower to the ground and have a more comfortable seating position, but it's usually nearly twice as heavy as a sportbike. For example, a Yamaha V Star 950 weighs in at 613 pounds and has a 26.6-inch seat height. It allows for an easy reach to the ground but offers limited cornering clearance. Contrast this with a Yamaha R6, with its 32.3-inch seat height and an approachable weight of 455 pounds.
"Choosing a cruiser is like choosing a beach cruiser bicycle over a mountain bike," says Ivana Ford, 41, who rides a 2009 Triumph Street Triple. "Cruisers are too laid-back. I prefer the ergonomics and style of sportbikes."
| | |
| --- | --- |
| Ivana Ford has attended several riding schools. She is always striving to be a more efficient and safe rider. Photo taken by Mike La Putt at Spring Mountain Motorsports Park in Pahrump, Nev. | Ivana at the Grand Canyon. Ivana's been known to take long rides on her Triumph Speed Triple that would make even the toughest cruiser chick raise an eyebrow. She even rode her sportbike from Los Angeles to Pahrump, Nev., rode the entire track day, then rode home the next day. If you give Ivana a couple of saddlebags, a route and some time off, she can disappear for days at a time. |
Sport-oriented bikes, like the Street Triple, may sit a little tall, but they are easily adjusted to fit women of smaller statures. This adjustability also enables women to push their limits. "I watch other riders with more riding skills than I have, and I feel challenged to improve my riding," says Issey Wiriyahyuttamar, 28, who lowered the suspension of her 2008 Triumph Daytona 675 to feel more confident on her bike. She regularly attends track days at road-race tracks throughout Southern California. "I always want to learn more," she says.
| | |
| --- | --- |
| Issey Wiriyahyuttamar is originally from Thailand, and having the freedom to ride a motorcycle is one of the main reasons she moved stateside. Funny thing is, her brother and sister were close behind her; both moved to the US and purchased a sportbike as well. It's amazing how infectious two wheels can be. | Issey has improved her cornering dramatically this year and recently purchased a van to transport her bike and all her gear to the track. Photo taken by Cali Photography at Streets of Willow in Rosamond, Calif. |
Ladies like Elissa Everett, 25, are attracted to sportbikes because of opposition. "I grew up around guys who made me feel like I couldn't do things like play football or ride because I was a girl," says Elissa, who purchased her 2003 Suzuki GSX-R600 after serving in the Marine Corps and envying the male Marines who talked about riding their sportbikes back home. "Proving them wrong is a feeling I can't get enough of."
| | |
| --- | --- |
| Elissa Everett, who is currently attending nursing school, is pretty hard core when it comes to taking long rides. She attends rides with GirlClutch.com, sometimes riding more than 100 miles just to meet up with other lady riders. | Elissa's white custom-painted GSX-R is one of the cleanest old-school "gixxers" around. She takes good care of her baby. |
For others, the decision to ride a sportbike did not come easily. Lisa Runyan started out in the passenger seat behind her husband, who'd been riding for 26 years. "My husband and I started going to the AMA races at California Speedway, and it was there we began discussing me getting a motorcycle," she says. "I chose my 2009 Ducati Monster 696 for its performance, style and image."
| | |
| --- | --- |
| Lisa Runyan decided on the Ducati Monster after shopping around because it fit like "Cinderella's slipper." | Lisa is a member of OC Moto and considers the online community of motorcyclists to be her family. She regularly attends large group rides and plans events for OC Moto. |
Some women sportbike riders were introduced to the nimble machines at an early age. Thirty-three-year-old Julie Heinz, a mother of two boys and owner of a 2009 Honda CBR600RR, says she used to ride dirt bikes with her family as a child, so making the transition to a sportbike seemed the obvious choice. She enjoys canyon riding with her buddies and attending track days with her boyfriend, Sterling, who is currently serving in Afghanistan.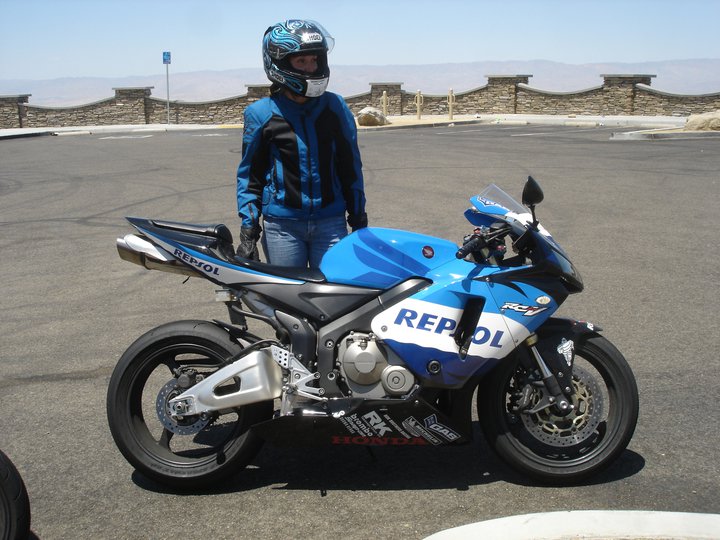 Dena Sodano, a competitive freestyle stunt rider, was a tomboy growing up who took to sportbikes like a fish to water. "The smell of bondo is one of my favorite things," she says of the auto body repair putty her dad used around the body shop he owned while she was growing up. Her father also drag raced, which left an impression on Dena. "There is something about riding on one wheel that puts me at ease," the 25-year-old says of what it's like to do stunts on her 2003 Kawasaki 636. She also enjoys working on her bike and installing accessories that give it a distinct sound and enhance its performance.
| | |
| --- | --- |
| Dena Sodano competes in the freestyle XDL stunt circuit, where she's won two consecutive championship titles in the women's freestyle class. She has many sponsors and is constantly working to fine-tune her wheelie skills. | Dena is rocking the stunt world with tricks that take a lot of body strength and mental discipline to master. She considers her Kawasaki 636 to be the perfect platform for trying new stunts. |
Jen Jaynes, 27, owns M1 Sport Riders, a sportbike aftermarket shop in La Habra, Calif., with her husband, Pete. She rides a Kawasaki 636 that is a "Frankenstein bike" (a motorcycle modified with parts from different motorcycles), with parts installed from 2005 and 2006 models. "I love adding aftermarket parts to increase my motorcycle's horsepower, and I love testing out these accessories at the track," she says.
This is another aspect of owning a motorcycle that female sportbike riders share with cruiser riders—they love cosmetics. "Sportbike fairings have more room for stickers," Jen says. Her motorcycle is covered in graphics, from nose cowling to tail section. Her chain is even pink!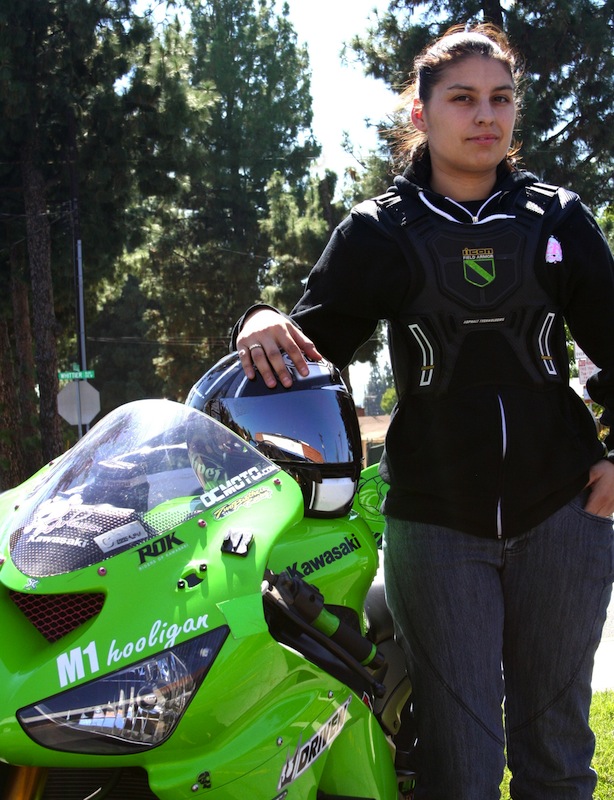 | | |
| --- | --- |
| Before Sofia Amadio sold her 2009 Honda CBR to Julie Heinz, she was using it to commute to work every day, the main reason she began riding sportbikes. But after doing a couple of track days, she decided to start road racing. | Sofia is a member of GirlClutchRacing.com and recently began competing with Chuckwalla Valley Motorcycle Association (CVMARacing.com). |
While a larger percentage of women ride cruisers than sportbikes, both groups are growing as
more women take to riding motorcycles than ever before
. The only difference dividing the two styles is that some women riders prefer miles of open road while others prefer a spirited pace through the twisties or the thrill of wheelie.
Despite the riding style differences, women riders continue to reap the rewards of the camaraderie that only women can offer. "I choose a different creed than a cruiser girl," says Sofia Amadio, 35, who races a 2003 Suzuki SV650. "But our goal is one and the same: self-expression and independence by way of two wheels." Julie agrees, saying, "I am unbiased. Anyone who loves to ride should be riding, whether it be on a cruiser, sportbike, dirt bike—whateva!"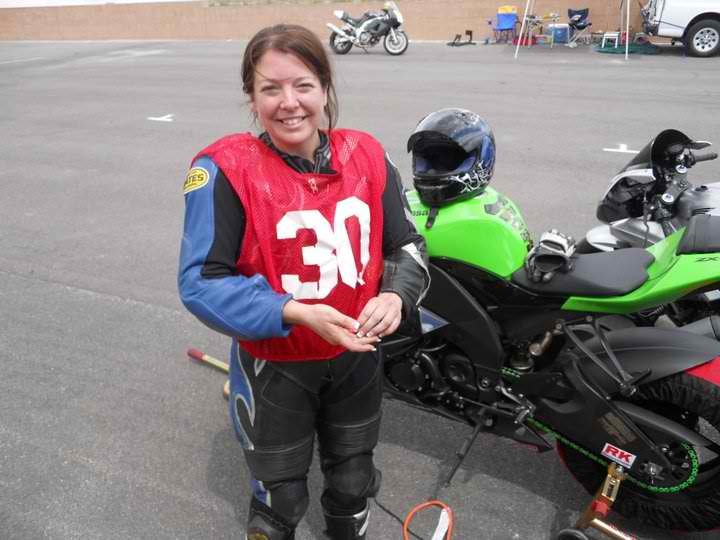 About the Author
Rachael Maltbie is a freelance writer from Lake Forest, Calif. She currently rides a 2008 Kawasaki ZX-10R. She started riding dirt bikes when she was nine years old, then moved to street bikes at 19. In addition to WomenRidersNow.com, she writes for MotorcycleShows.com. She serves as vice president of the US chapter of the Women's International Motorcycle Association (WIMA USA) and is a certified motorcycle technician. She loves riding in the canyons, attending track days and mentoring new riders.

Related Articles
WRN's Sportbike Corner
More Women Riding Motorcycles Than Ever Before