The Biketoberfest tradition continues in Daytona Beach with a heartfelt welcome to all visitors for the 29th rally being held this year from October 14–17. Biketoberfest is Autumn's complement to the very popular Daytona Bike Week held in the Spring. The new tagline for Biketoberfest is "Wash up. Back up. Mask up." To help stop the spread, rally participants are asked to keep a 6-foot distance from others. Restaurants will welcome bikers with indoor and outdoor seating. Similarly, hotels are open and in full swing while taking extra precautions for cleanliness. The usual events are scheduled to continue, and we hope you enjoy this Women Riders Now Guide to Biketoberfest to ensure you make the most of them!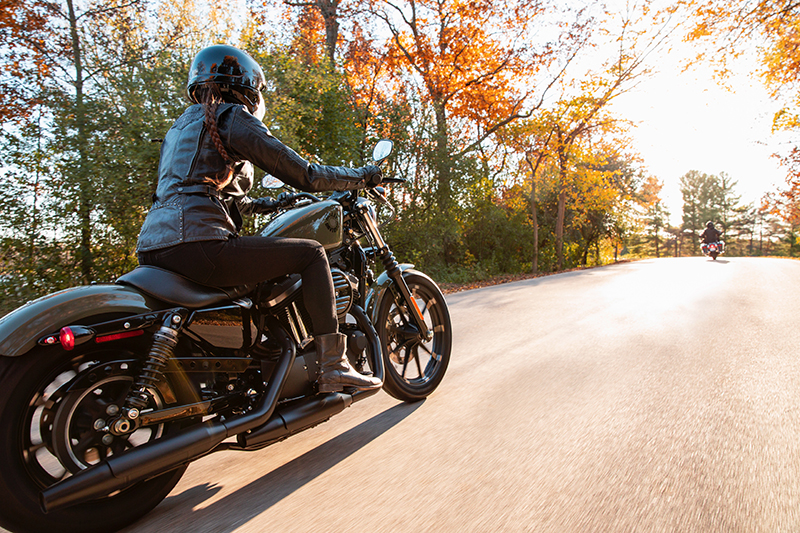 Fun fact! Did you know that Biketoberfest has a birthmother? Biketoberfest is the brainchild of Janet Kersey, the former president and CEO of the Daytona Beach Area Convention and Visitors Bureau. In 1992, Kersey was the Visitor's Director of Tourism Events and Promotions. At the time, she spearheaded the fall festival as a way to provide area businesses with a boost during what was normally a slow time of year for tourism. Kersey's brainchild has grown into the second largest Daytona bike event that draws in more than 100,000 motorcycle enthusiasts from across the country and generates more than $200 million to the local economy. Kersey is no longer with the Visitor's Bureau, but remains in the grateful hearts of all Biketoberfest enthusiasts for her efforts.
The Official Biketoberfest Welcome Center is located at ONE DAYTONA, directly across from Daytona International Speedway. Visit the center to score your pin, poster, and sticker. The Center is a one-stop shop for all Biketoberfest information. Be sure to pick up your map of the area which also features details of the included rides.
There will not be a shortage of events to keep you entertained. Here is our Women Riders Now Guide to Biketoberfest with our picks for events women will enjoy:
Revved Up Ladies Only Bike Show
Thursday, October 14, 12 p.m. – 2 pm
Destination Daytona, 1635 N U.S Hwy 1, Ormond Beach
Head over to Bruce Rossmeyer's Harley-Davidson Destination Daytona Pavilion for the Revved Up Ladies Only Bike Show for breast cancer awareness. This will be the first of an annual event for ladies only. There will be a bike show with 10 classes and live music. Special surprise guests are scheduled as well as with a special MC. There will be a 50/50 drawing and auction with 100% of the proceeds to benefit Advent Health Foundation of New Smyrna. No admission fees. Entry fee for the bike show starts at $30. Register in person.
Jasmine Cain in Concert
Friday, October 15 and 16, 8 p.m. – 10 p.m.
Dirty Harry's Pub, 705 Main Street, Daytona Beach
Favorite female performer Jasmine Cain returns to Dirty Harry's Outback. A native of Sturgis, South Dakota, Jasmine is a multi-award-winning artist who covers multiple genres to include modern rock to metal. Her professional stadium quality high energy performance will no doubt bring you into her fandom. The event is free, but get there early or you might not get in. She is truly a woman's performer.
Stilettos On Steel Meet N Greet
Saturday, October 16, 12 p.m. – 2 p.m.
World-Famous Iron Horse Saloon, 1068 N. US Highway 1, Ormond Beach
The Stilettos On Steel (SOS) female rider's group invites you to its 7th annual Meet N Greet at the World Famous Iron Horse Saloon. Enjoy the female camaraderie of this sisterhood of riders who revel in each mile they ride as a celebration of life. Women riders on any motorcycle and at every skill level are embraced. Come out and meet the SOS sisterhood. There are chapters in most states. Find more women's riding clubs here in our comprehensive listing.
Biketoberfest Rumble Night
Saturday, October 16, 1 p.m. – Midnight
Hard Rock Hotel Daytona Beach, 918 North Atlantic Ave., Daytona Beach
Big Wheel Women, a woman-owned and operated business, presents Biketoberfest Rumble Night at the Hard Rock Hotel. Come out for the classiest spot on the beach for the most anticipated custom bike show and sound off show. There will be cash prizes, crowns, and the very coveted "Big Wheel Women Boxing Gloves." Enjoy the Dj, food, and entertainment. This is a unique, fun time for all. General admission is $20.
The best riding weather in Florida is autumn. It's not too hot, the humidity is a little lower, and the rain chances are slimmer. These rides are delightful and provide glimpses into the off beaten track of the crowds. In addition to cruising Main Street, check out some local rally favorites.
Treat yourself to a ride on America's most famous beach—Daytona Beach! Motorcycles are permitted to ride the beach, but keep your self-restraint in check. The 10 mph speed limit is strictly enforced. The cost to ride on the beach is $3.
Enjoy the natural scenery of northeast Florida on the Ormond Scenic Loop ride and trail. This motorcyclists' delight is over 30 miles with access to the Atlantic Ocean and state parks.
A must-see is the Ponce Inlet Lighthouse. Enjoy the beautiful beach ride down South Atlantic Avenue to the historic lighthouse, the tallest in Florida. You will be rewarded with the world-famous views of Daytona Beach, the Atlantic Ocean, and beyond.
Stay informed of all rally information at Daytonabeach.com/biketoberfest/ or by downloading the Biketoberfest app, available for Apple and Android. Get it at the App Store or Google Play.