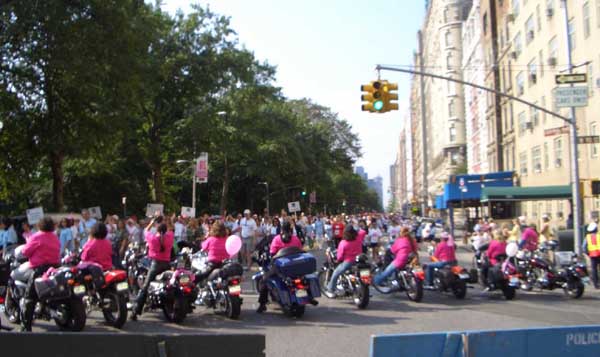 On Sunday, September 10, more than 20,000 walkers and runners lined up for the Susan G. Komen Race for the Cure event in Manhattan and right in front kicking off the race was a group of women riders lead by Diane Ortiz on her 2005 Yamaha FZ6. Diane is a MSF instructor in New York and a contributor to WomenRidersNow.com. "When Stephanie Pena, Special Events Coordinator for the Greater NYC Affiliate of Komen called with the idea of having women motorcyclists lead the walkers for their signature fundraiser, I couldnt refuse. I thought it would be a great opportunity for women motorcyclists to participate," said Diane.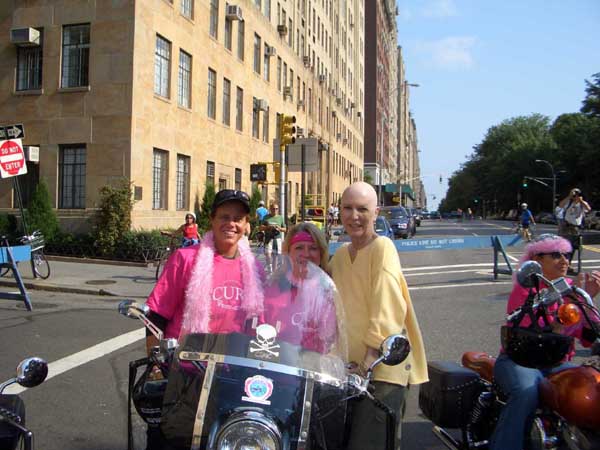 Last year Ortiz organized a women only Motorcycle Safety Foundation Basic Rider Course that benefited the Komen organization. Members from two local groups, the Cycle Sisters Motorcycle Club of Long Island and the Ladies of Harley Lighthouse HOG Chapter of Huntington, New York, volunteered to help and plans quickly took hold.
The morning of the event was sunny and in the mid-70s as the Cycle Sisters, led by Felice Rizzitano, met up with Cathleen Raghunath and her Ladies of Harley group. The women were on many different types of motorcycles including a 1999 Harley-Davidson Softail Wide Glide ridden by Gaye Dobey of Ridge, N.Y., Serine Lewis was on her Honda Rebel 250 and Christine Vultaggia rode her Harley-Davidson Sportster. All the bikes gleamed and some were decorated with pink for the occasion.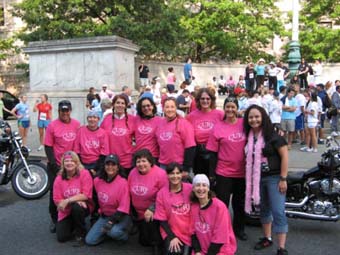 Thousands of people lined the street at the starting point in front of the Museum of Natural History in Manhattan. The women motorcyclists, clad in magenta-pink t-shirts, feather boas and pink scarves waited for the opening ceremonies and the signal to begin.
The air horn let out a blast, and on signal the women started their engines and rode slowly down Central Park West followed by the walkers and runners. At the point where the walkers turned to go into Central Park, the motorcyclists lined up to show them the way. "It was inspiring and very emotional," Felice Rizzitano said. "They shouted way to go and thanked us for being there and supporting them."
"We felt united with the walkers and runners," said Diane, "and were hoping that next year there wont be a Race because they found a cure for breast cancer." Funds raised from the Race will be used toward screening, education and treatment in addition to medical research. Money is still being collected until October 31. If yout like to help, go to KomenNYC.org.