News Flash: Femmoto Selling Out!
Just received an email from the marketing folks of the upcoming Femmoto event (October 5-7 in Las Vegas) announcing that one of the novice groups is already sold out. The event allows women to demo manufacturers motorcycles on a track at the Las Vegas Motor Speedway. Riders are broken down into groups. The novice group seems to be the most popular with limited spaces left. According to Bonnie Strawser, founder of Femmoto, "Were not surprised we sold out one of our novice groups already. With so mamy women coming into the motorcycle world, they want to try the latest machine before they buy." And thats what Femmoto is all about.
Exciting Dealership
I just returned from giving two speeches to a group of riders at Chesters Harley-Davidson open house event in Mesa, Arizona, this past weekend. What a fun dealership! The staff was very friendly, and lots of interesting customers to talk with. I even loved the southwest decor of the place. I must say, with all the dealerships Ive visited over the years Ive never seen one decorated in such a warm, rustic scheme as this. I love rustic. Id live in a barn if I could! Theres something about the feeling that old wood conjures up for me.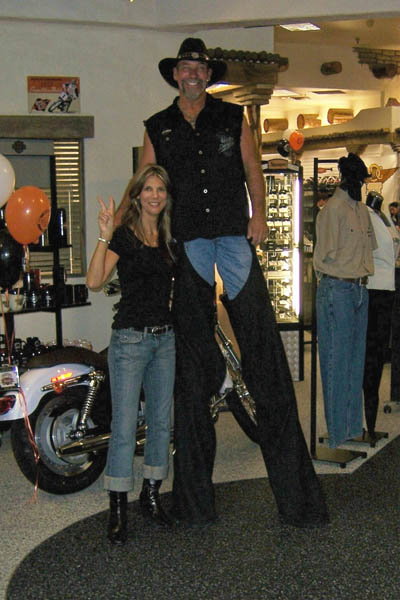 24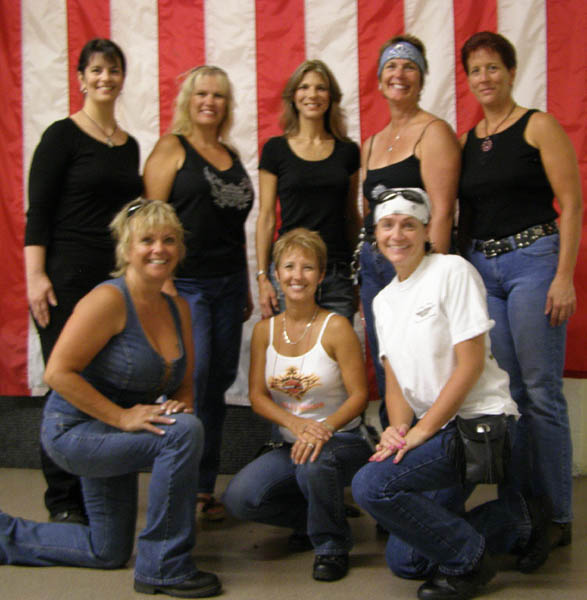 I chatted with the owner, E.B. Chester, for a few minutes. He showed me the blueprints of an expansion project thats in the works there. E.B. purchased the dealersip about two years ago from the Chosa family (you might remember Chosas Harley-Davidson) and, like many new owners of Harley dealerships, E.B. is using the opportunity to turn the place into a destination dealership. He told me, that among other things, hes creating room for a Riders Edge range, as well as a small retail area that will include a restaurant (hes hoping for a Hooters). He also wants to include a nail salon. Thats right! He surveyed his customers and overwhelmingly the women stated theyd like a nail salon be put near the dealership, this way when theyre waiting for their bike to be serviced they can their nails done. I asked him what did the guys say they wanted. He answered, "A tattoo parlor, or a bar." I love an owner who listens to his customers. If E.B. moves forward with putting in a nail salon, I can see it attracting a whole new crop of customers for him. Way to go, E.B.!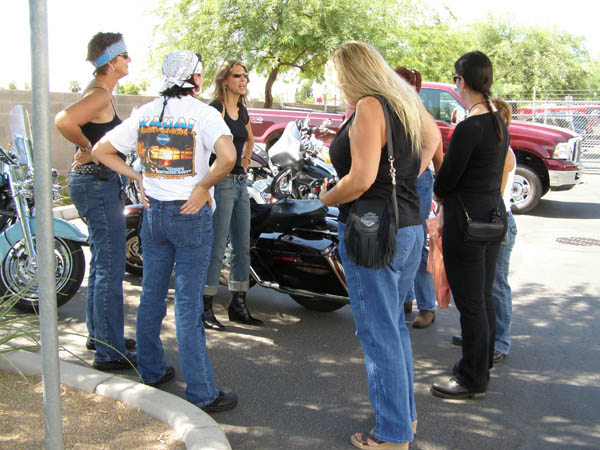 My New Favorite Motorcycle Magazine
On my flight down to Phoenix, I read my copy of Motorcyclist to which I recently subscribed. I get most motorcycle magazines for free as Im on the comp list because I work in motorcycle publishing. There are two I actually pay for Cycle World, and now Motorcyclist. I recently started up my subscription again to Motorcyclist when I learneded Brian Catterson was named editor last year. I quit subscribing a few years ago when Mitch Boehm was the editor. I was unhappy with the "Hey, look at me, were great," attitude the magazine was taking under his leadership.
Brian, a former Cycle World editor, has done a complete 180 with the tone of Motorcyclist. I know Brian from meeting him at several press events over the years. I respect him and his viewpoint on motorcycling. He also "gets" the whole women rider thing, to be explained later. The magazine was also recently redesigned with a more exciting layout. Its fabulous tons of articles, lots of user-friendly info with real world scenarios.
I was pleasantly surprised to read an article in the October 2007 issue by Renee McGinty, Motorcyclists Eastern Advertising Manager, on her experience going through the Riders Edge course. Kudos to Brian for a) running a story aimed at beginners, and b) choosing to have a woman represent that beginner. Women readers can appreciate a story written by another woman, and with women representing the fastest growing segment of new riders, it behooves a magazine to reach out to this new group thats craving motorcycling information aimed at them. Thats one of the goals with WomenRidersNow.com to be all inclusive appealing to new riders hungry for information. Anyway, pick up a copy of Motorcyclist at the newsstand to see all the new stuff.
An Observation
I made an observation recently I want to share with you. The majority of dealerships reaching out to women with ladies nights and Garage Parties are either owned or partially owned by a woman, or a woman heads up the marketing department. Ive spoken at many dealerships over the last seven years and I can think of only one dealership that was owned by a man and run by a man who invited me to speak at their ladies night event. What does that say?
Bikes and More
Ive been test riding a Victory King Pin Tour all summer. A big thank you to Victory for lending it to me for a long term test. The bike is certainly getting a lot of publicity with all the projects Ive been involved with this summer. In addition, Im shooting a video review of it, our first video review of many. Well announce that on the home page when it posts on WRN.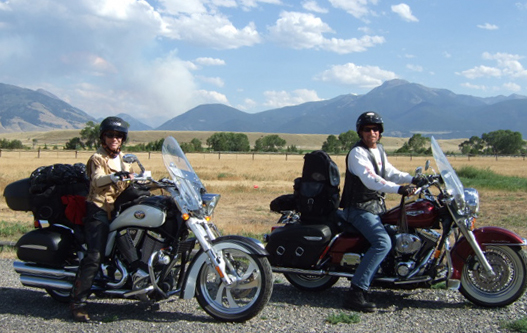 Speaking of Victory, for 2008, Victory lowered its popular Vegas model calling it the Vegas Low. Seat height is only 25.2 inches! Its more narrow and the pegs and handlebars have been brought closer to the rider. The front brake lever is adjustable so those with smaller hands can dial in the right fit. The passenger seats been removed as this bikes designed for solo rides. Sounds like a good fit for a woman wanting a stylish custom ride. Im sure Ill be test riding this one.