Catching Up Again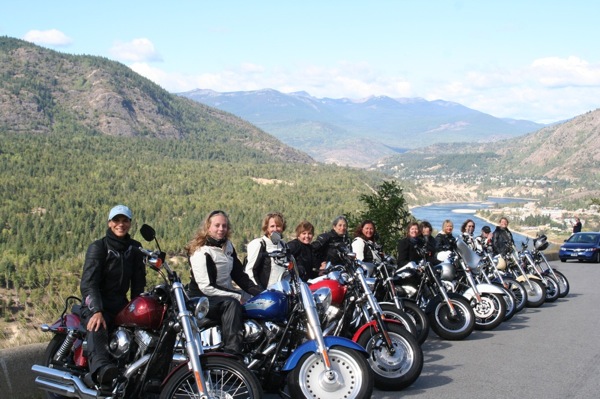 I just returned from a six-day trip to Idaho, Eastern Washington and Canada where Ive been riding the International Selkirk Loopwith seven other female motorcycle journalists and two European tour operators (both female). At right is a photo of us just outside of Nelson, British Columbia. The Idaho Division of Tourism invited us to ride the loop so wed showcase it in an article in our respective magazines. Its a very cool loop ride with amazing things to see and do along the way. Once I get caught up from being away, my article will post on WRN.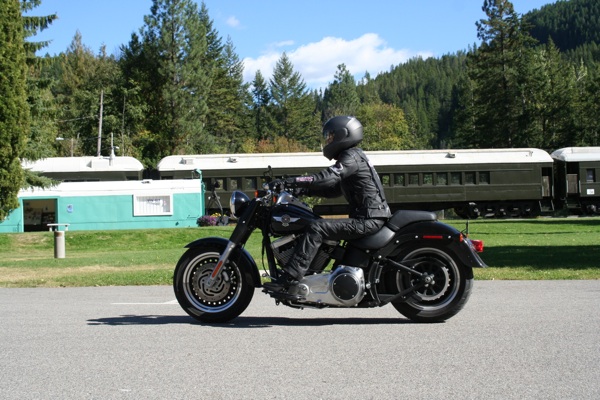 Harley-Davidson supported the ride by shipping 2010 motorcycles to our starting location for us to ride. I used the opportunity to test ride the new Fat Boy Lo, now the lowest motorcycle of any Harley-Davidson with a 24.25-inch seat height. Here I am riding it at right. Many women will like this motorcycle because its so low to the ground, however there are some quirks about it that I will elaborate on in my review on WRN in the coming weeks.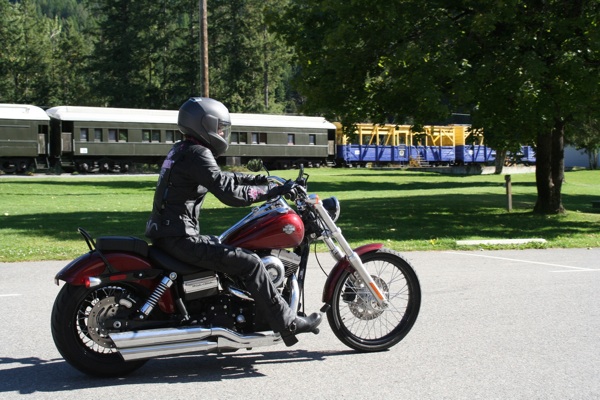 I also test rode the new Dyna Wide Glide (at right), another low motorcycle. Harley-Davidson took the motorcycle out of its line-up last year; now for 2010 the motorcycle was reintroduced as a completely different looking bike. The bike is still built on a Dyna frame with a rubber mounted engine, but ergonomically its different. Ill be curious to hear what you all think about it after I write my review. To read more about the ride that I did, you can read an article in the local newspaper in Colville, Washington, by clicking here.
Posted 9/16/09
Chicks On Bikes Ride in San Francisco
Christina Shook, author of the new book "Chicks On Bikes" is putting together a ride in her hometown of San Francisco on Sunday September 27 called "Chicks on Bikes – 100 Women Ride." It starts at 12:30 at Ocean Beach on the Great Highway where Fulton ends. Be ready to ride. At 3:00 there will be Chicks on Bikes book party at Benders Bar, 806 South Van Ness at 19th; free BBQ, great drinks, two pool tables, hip music and Christina smiling and signing your book. More info can be found by clicking here
Posted 9/15/09
Get Your Ergonomically Friendly Handlebars at an Upcoming Rally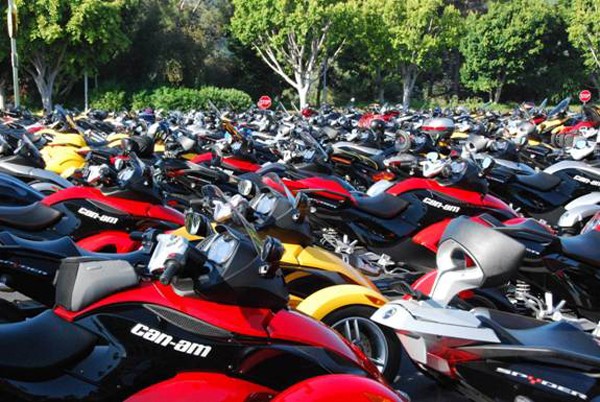 Jennifer of Helibars, one of our advertisers, let us know about the next event Helibars will be at, Spyders in the Smokies. It is being hosted by Mountain Motorsports in Kodak, Tenn. Dates are September 21-25th. Helibars will be there conducting installs of its ergonomically friendly handlebars on the three-wheeled Spyders as well as any two-wheelers that happen to be there.
If youre in the area, its worth stopping by, if nothing else to check out the Spyders all in one place. The funky three-wheeled vehicle is gaining a loyal following so much that gatherings like this one, shown at right, are popping up all over the country. WRN recently posted a story on one such gathering in the WRN Feature Articles section.
Posted 9/12/09
Mike Traynor, co-founder of Pediatric Brain Tumor Foundation and Ride for Kids, passes away at 70
A mover and shaker in motorcycling died today, although he#8217;d have a problem thinking of himself in that way. Mike Traynor#8217;s efforts gave new meaning to the phrase #8220;going on a motorcycle charity ride#8221; with what he founded many years ago. Here#8217;s the press release I received today.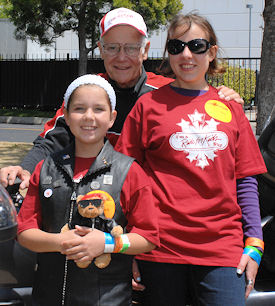 With heavy hearts, we regret to announce that Mike Traynor, President of the Pediatric Brain Tumor Foundation and co-founder of the Ride for Kids, passed away this morning after a brief illness. Mike is pictured at right with brain tumor survivors Marisa (left) and Lisa at the Los Angeles Ride for Kids in May 2009. He was 70. When Mike and Dianne Traynor founded the Ride for Kids more than 25 years ago, their mission was to bring the motorcycle community together to fight childhood brain tumors. Mike was gratified that motorcyclists have helped to raise more than $50 million for the cause to date, and that PBTF-funded research is increasing survival rates and improving treatment options for children around the world.
Mike and Dianne had been planning for their eventual retirement for some time, and had taken steps to build a robust staff of capable people to continue their work. Today the Ride for Kids and PBTF are stronger than ever, thanks to their dedicated volunteers and staff. #8220;For many years the army of volunteers task force members and the motorcycling public have dedicated themselves to beating this devastating disease,#8221; said Brian Traynor, Executive Director of the PBTF. #8220;The best way we can honor Mike#8217;s accomplishments and memory is by continuing the fight to cure the kids.#8221;
Funeral arrangements are pending. The family asks that in lieu of flowers, donations be made to the PBTF in Mikes memory. For more information and to make a donation visit pbtfus.org. Condolences should be sent to the Pediatric Brain Tumor Foundation, 302 Ridgefield Ct., Asheville, NC 28806.
Posted 9/11/09
I Couldnt Resist
I saw this video on YouTube and had to share it with you. Its a motorcycle commercial from New Zealand trying to bring awareness to motorcycles on the road. I cant imagine the photo shoot for this!

And on a more serious note, on the subject of riding gear, RockTheGear.org posted a very interesting new video that makes a case for wearing proper riding gear. Weve been supporting the efforts of rider Brittany Morrow, the brains behind this Web site, that promotes all the gear all the time. The video is compelling and well produced. Check it out at RockTheGear.org.
Posted 9/10/09
Womens Sportbike Rally This Weekend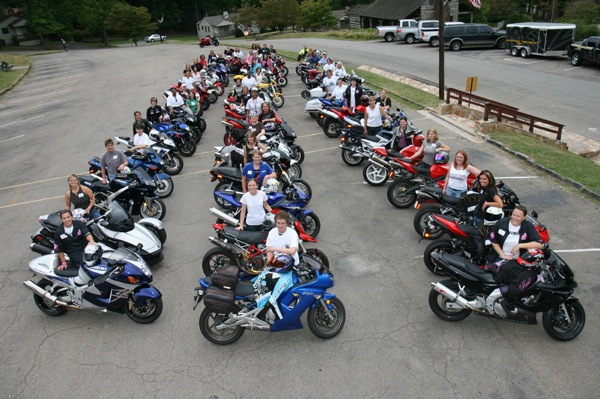 Bet you didnt now there was such a thing as the Womens Sportbike Rally. There is, and this is the fourth year for it taking place in North Carolina near the famous riding road Deals Gap. At right is a group photo from last year. Check out WomensSportbikeRally.com. If you live in the area, its not too late to sign up and participate. The Web site has all the info youll need.
Posted 9/8/09
Fun Labor Day Weekend
I barely recovered (i.e. rested) from my three-week motorcycle trip (see postings below) before good friends of my husband and I visited over Labor Day weekend. Highlights included motorcycle riding through Yellowstone National Park yesterday (the Park was surprisingly slow for the Labor Day holiday), floated the Yellowstone River on our raft, and saw the Doobie Brothers in concert in Big Sky on Friday night. Pat Simmons, lead singer, is the husband of Cris Sommer Simmons, who wrote the book "The American Motorcycle Girls 1900-1950." She was kind enough to get us backstage passes to say hello and chat with Pat before the show. Thanks Cris.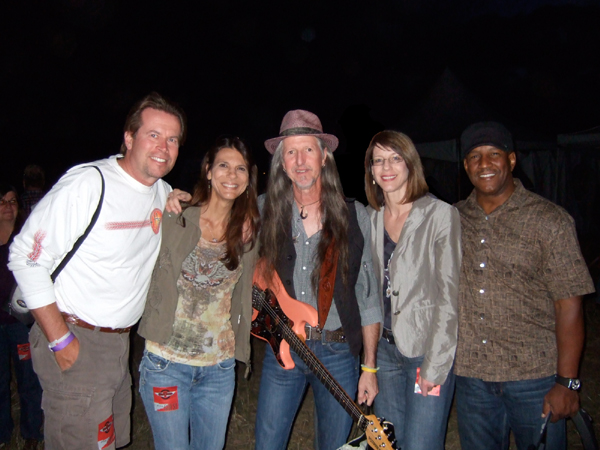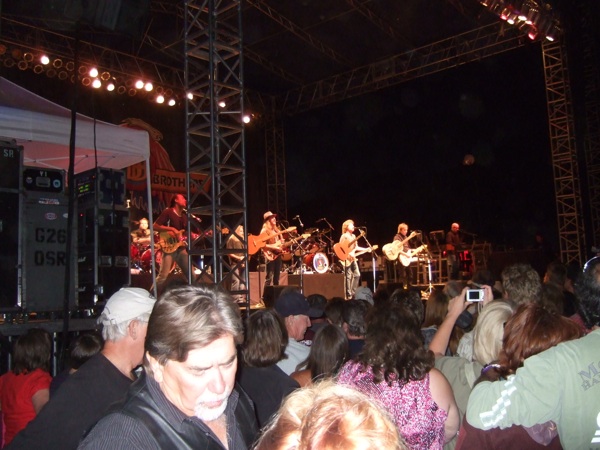 This is my second time seeing The Doobie Brothers and they always rock the house — or should I say field in this case as the concert was outside under a full moon. They played all their classics which kept me on me shakin' and shimmey-en and singing out loud. The band did play one new song from a new CD that's scheduled to come out in early spring. Visit DoobieBrothers.net for more information and see if the Doobies are playing near you anytime soon.
"Whoa-ahhhh, listen to the music…"
Wish I shot more video. That's me singing in the background. It's way too short, I know. Just a little to give you a taste.

Posted 9/1/09
Solo Touring In Europe and Not Knowing the Language
Harley-Davidson's manager of women's outreach, Leslie Prevish, wrote a great article about her solo adventures in Austria and Slovakia riding a Buell Ulysses and shares how she got along despite not knowing any of the native languages. It's a fun quick read that's available in Fuell magazine online, that's the Buell riders magazine. Here's the link: Buell.com.
Harley-Davidson Rider's Edge Registration Goes Online


For almost a decade, Rider's Edge – The Harley-Davidson Academy of Motorcycling – has given people the chance to fulfill their dreams of motorcycle riding by either learning to ride or improve their riding skills. Now, customers have a new streamlined process for searching availability and reserving a seat in a Rider's Edge class.
You can now visit Harley-Davidson.com/ridersedge and click on "search for classes" to see Rider's Edge New Rider Courses and Skilled Rider Courses available in your area. Customers are able to reserve seats in the selected courses directly from the search results on Harley-Davidson.com/ridersedge, and through participating Harley-Davidson dealer Web sites.
Online Rider's Edge class reservations are designed to increase the exposure of motorcycle training opportunities to the public. More than 180 authorized Harley-Davidson dealer locations participate in the Rider's Edge program and through online Rider's Edge class reservations dealers will also be able to increase the exposure of rider training at their local market level via their dealer Web sites. Rider's Edge was launched in 2000 for the purpose of equipping riders with the skills needed for a safer riding experience. Harley-Davidson Rider's Edge rider education courses are offered exclusively through participating Harley-Davidson dealerships and have provided rider training experiences to more than 193,000 customers in 44 states. Harley-Davidson offers three Rider's Edge rider education courses: the Rider's Edge New Rider Course, the Rider's Edge Skilled Rider Course and the Rider's Edge/Motorcycle Safety Foundation Guide to Group Riding.
Posted 8/28/09
News Articles on the Conference
Here is an article in Examiner.com that features the Secrets of Veteran Riders panel that I organized and moderated. The article includes the riding tips that came out of that seminar.
And here's the article that appeared in the local paper, The Summit Daily, featuring my friend Diva Amy on the cover.
Posted 8/26/09
Initial Reflections on the Women's Conference
For me this conference was a culmination of being away from home for three weeks. For those keeping up with me, I left on August 1 to ride to the Sturgis rally, then on Friday August 7, I rode to Denver and stayed with a girlfriend for the night; on Saturday, I rode the 90 miles to Keystone to start the 8-day dual sport ride I've been promoting so much on WRN that I raised $2,000 for breast and gynecological cancer research charities to participate. Upon my return back to Keystone after the dual sport ride, I had two days to gear up for the women's conference that began on Wednesday August 19. I arrived home on Monday night, August 24, after an incredible two-day ride with three other women I met at the conference.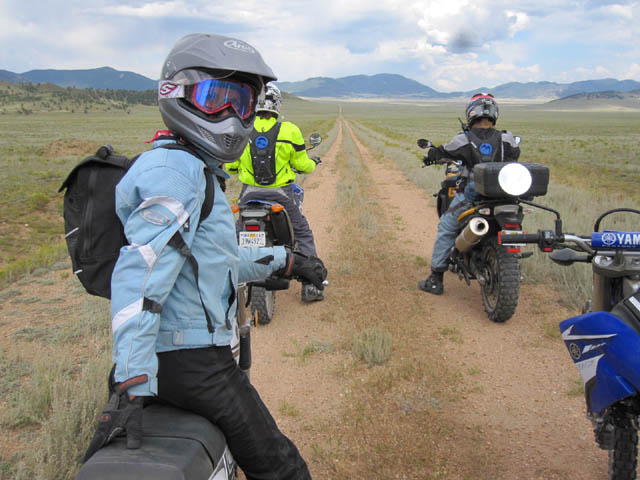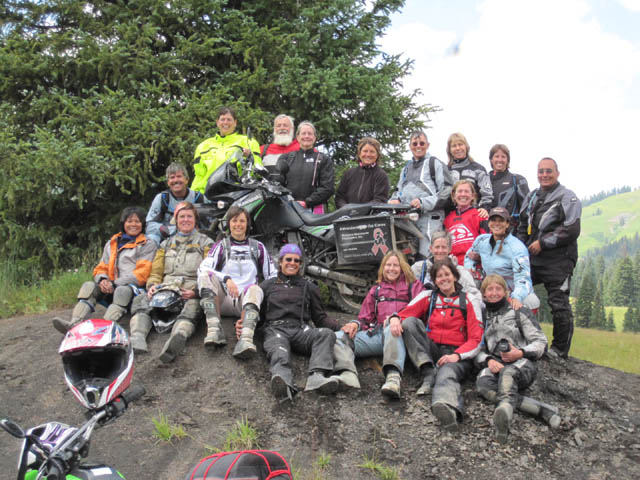 I got my first long and rested night's sleep in more than three weeks last night thanks to my own comfy bed. It feels great not to have put on a bra and underwear and just hang in a loose sundress all day. The dry cracks in my fingers are starting to heal; being at high altitudes for more than two weeks wearing motorcycle gloves nearly every day dried the heck out of my hands. I'm still working my way through unpacking my backrest bag, saddlebags, and seven boxes I shipped to the conference for my vendor booth and the dual sport ride. It will be a week or more before everything is put back into place. I have lots of business cards and photos to sort through to start writing the many stories that evolved from the conference and the dual sport ride. But before I do that I feel the need to share some initial thoughts on the conference that I know those who were there can appreciate, as well as those who weren't.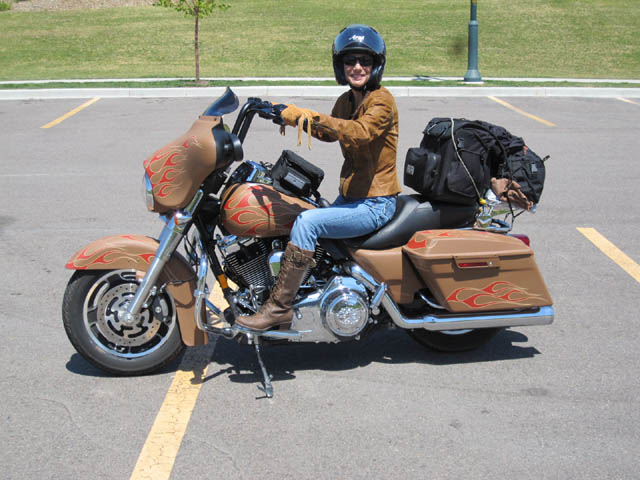 Let me start out with something I shared with a few of you at the conference when asked my thoughts about the dual sport ride and the conference… I am a cynical person. I'm a journalist by trade and so I'm inquisitive by nature with a healthy dose of cynicism and skepticism. You have to be to be a top notch journalist in your trade. If you're not, you wouldn't know how to sniff out a good story. With that said, I was blown away at how incredibly amazing the women's conference turned out to be in terms of energy and enthusiasm shared, and genuine feel-goodedness (yes. goodedness!). I actually teared up a few times during some of the speeches. The first was when Leslie Prevish from Harley-Davidson played an audio clip of pioneering motorcyclist Vivian Bales who gave an interview in her 80s. Vivian rode in the 1920s. Hearing her old granny voice speak of riding when roads were just dirt trails gave me goose bumps. I also got a lump in my throat watching deaf motocross racer 19-year-old Ashley Fiolek sign her speech as her mother interpreted for her. Hearing this pioneer-in-the-making share how she's paving the way for future female motocross racers got me all choked up. Those of us who have a birds-eye view of women and motorcycling can appreciate these "moments" because we know we we're a part of history.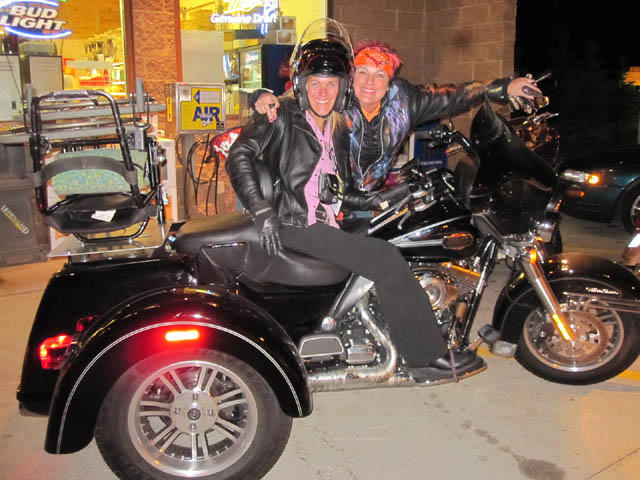 Being a member of the advisory council for the event I was pleased to see all the pieces of the conference fall into place. There is a lot going on behind the scenes, stuff we'll never see, so I enjoyed observing how the AMA put all the elements together from the professionally produced program to each evening's festivities that appeared to come off without a hitch. And hats off to the many sponsors who donated money to support the event, as well as all the AMA member benefit partners who donated thousands of dollars worth of products for several raffles. It is a recession year so I know these donations and sponsorships were well thought out. These companies value the women's market.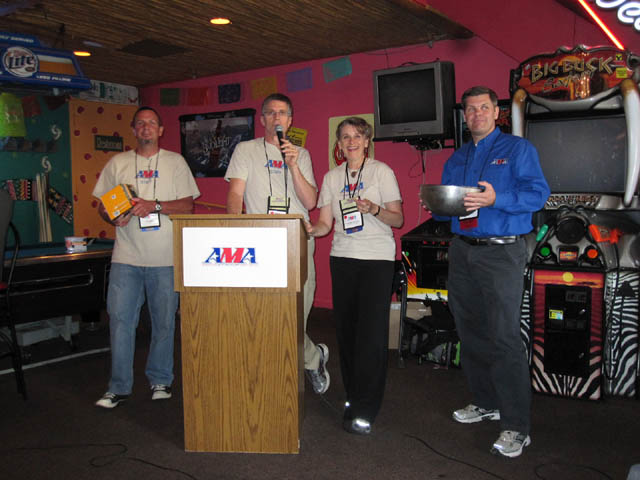 It warmed my heart to watch as friendships were being made among strangers, and groups of women who had just met posed for photos. I have always said that when it comes to women who ride motorcycles, it's not about the brand you ride, it's THAT you ride, and this statement was no more evident than at this conference. 24

As a member of the advisory council, journalist covering the event, speaker moderating a panel, and host of her my booth in the vendor marketplace, I did not have much time to partake in the conference as a participant. I would love to have done a few demo rides, sat in on some seminars, and ride one of the scenic rides organized by the women's motorcycling clubs. While I was on the periphery watching, I did meet many women who came up to meet me at my booth. I extend a gracious thank you to those who came up to say hello and tell me they enjoy my work, and/or get an autographed photo of me. It humbles me to know that what I'm doing with Women Riders Now (and with my column in American Iron magazine) is something you all appreciate. I work very hard… too hard actually, but I'm very passionate about what I do and being an A-type person, it's hard to slow down sometimes. All the hard work is worth it when I hear from someone who says, "I am riding a motorcycle because of you," or "Keep up the good work. I love the articles." That means everything to me. So thank you — you all know who you are.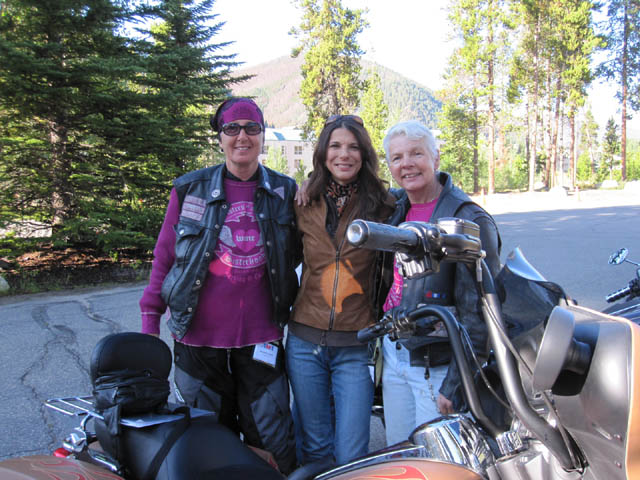 I've been to the last four of the five women's conferences and for some reason this one just feels like it's the best so far. In terms of attendance, no more women attended this one than the last one in Athens, Georgia. But maybe it was the backdrop of the breathtaking Rocky Mountains, the clean crisp air, and the 80-degree temperatures that had everyone in a great mood that created a profound tangible energy. My friend Sarah Schilke who's known me for a long time told me she's never seen me more happy and exuberant. I truly believe it was being around that many women who share the common bond of motorcycling couple with the mountain locale, my favorite type. What I loved most was hearing that the majority of folks there rode a motorcycle to the conference. I'd say more than any other rally, percentage-wise there were more people who rode – or flew in and rented a bike. That says something!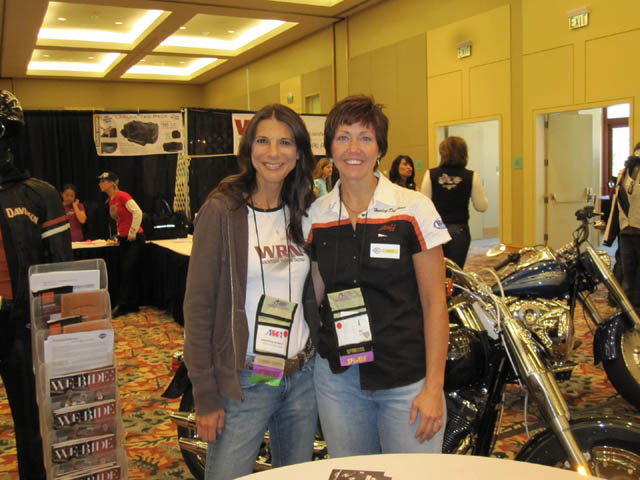 Having been around lots of people for three weeks straight sharing a room or condo most of the time, I had the need to be alone and was anticipating that alone time on my solo ride home to Montana. Early on in the conference, I met two women from Missoula who invited me to ride with them home. I initially declined saying I wanted to be alone and on my own schedule. By the end of the conference I was so "high" from the event that I wanted to prolong that great feeling so I called Karen and Linda and asked if the invitation was still open to join them (but could we change the start time from 8 a.m. to 9 a.m. so I could eek out another hour of sleep). They graciously obliged and the three of us, along with Laura Pool, a rider from Missouri who wanted to see Yellowstone National Park — and whom Linda and Karen met at the closing banquet — headed north and west.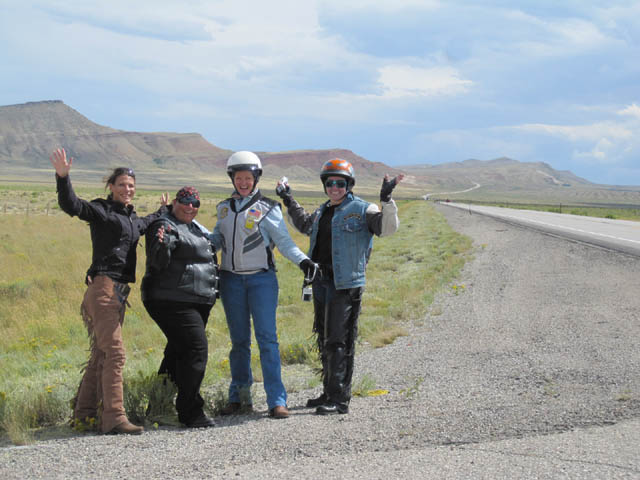 As I was riding with these incredible women, I envisioned all the women riders cruising out from Keystone to their respective homes all across the country. Were they feeling the same way I was reflecting back on an incredible time of camaraderie and fun? While I was anxious to get home, tired of wearing motorcycle boots every day and living out of saddlebags, I was enjoying the moment of just being with these women riders. I tried to keep focused on what an incredible time we had at the conference and what an exciting ride we were having at the moment despite the rain and cooler temps we hit on day two. These precious moments are few and far between in my life – in most of our lives. We need to savor every moment like these and BE in the moment. Easier said than done, but this time I really think I did it.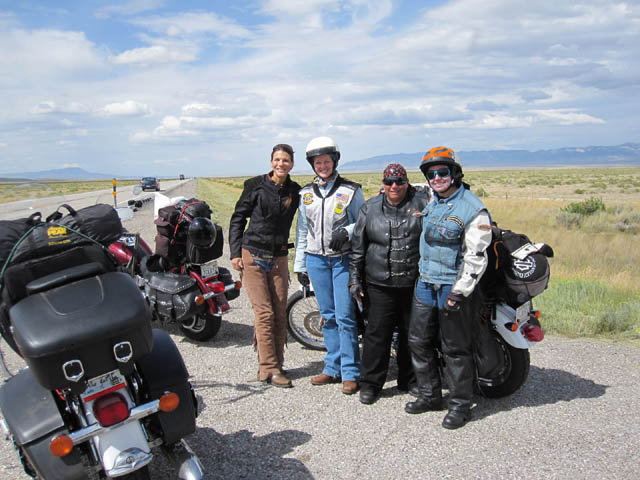 Posted 8/23/09
Riding Home from Women's Conference
It's Sunday night. I just spent the day riding home from the AMA Women & Motorcycling Conference with three new women I met there. We had a great day of riding up through central Colorado into Wyoming. No rain until after we pulled into our hotel. There's rain predicted for the entire day tomorrow where we're going into Yellowstone Park, and we know the way we're headed that there is major road construction for miles that consists of packed dirt which will turn to mud in the rain. We may have to detour in the morning — a 290-mile detour! Ughhh! I have much to report on the AMA Conference, but it will have to wait until I return home, hopefully tomorrow.

Posted 8/17/09
Catching Up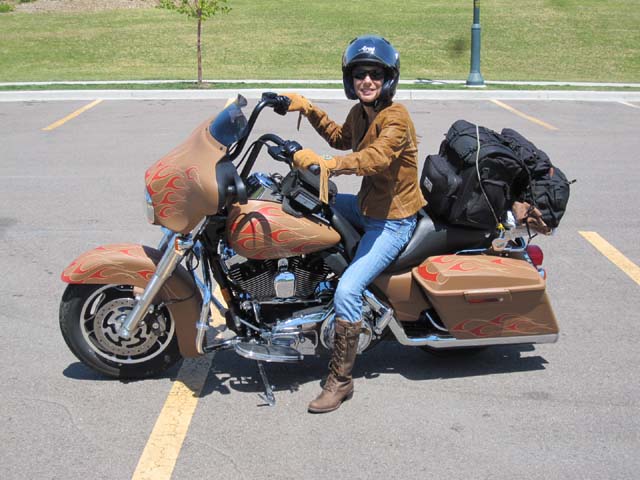 I haven't been blogging much because I'm in the middle of three week trip away from my home and office covering and participating in three back-to-back motorcycle events. My assistant, Laura McCarthy, has been helping me with keeping new stories posted to WRN and laying out our weekly newsletter like she always does. I left on August 1 to ride my motorcycle out to the Sturgis rally. Attended many industry events, hung out with old friends and made some new ones.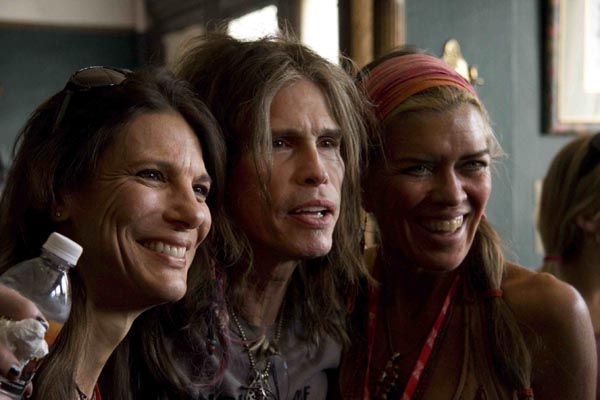 This was also the year to schmooze celebrities like Aerosmith's Steven Tyler (before he fell off the stage during his concert at The Buffalo Chip) shown at right with me and Betsy Huelskamp at right. I've posted lots of photos in the first of several Photo Gallery essays on various aspects of Sturgis. I think photos tell the story better than long blocks of text.

Week two had me on the 8-day dual sport ride I did for charity that I've written about so much on WRN and that many of you have donated money to. I just finished that up yesterday. We rode in and around south central Colorado staying in two different towns for several days — Almont, Colorado, and Lake George, Colorado. The original ride I had posted in my first story on the event that was supposed to go from Rapid City to Keystone changed a few months ago because of logistical reasons, so we ended up starting the ride in Keystone and heading down to Lake George area via off-road trails, and then over to Almont, and then back to Keystone where wrapped up the ride.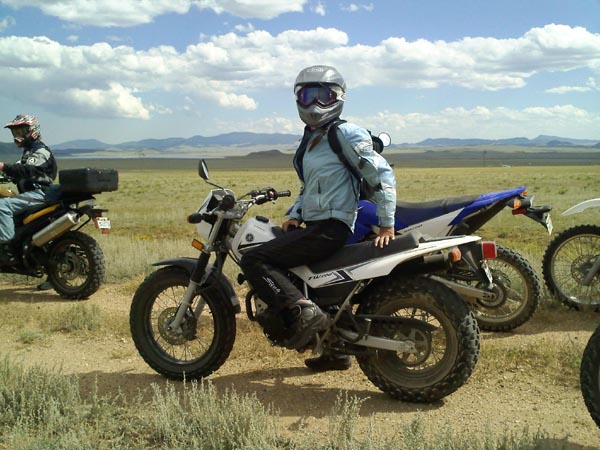 I have much to write about regarding this ride but it will have to wait until I get back to my office as the photos and stories from the ride are incredible – something I can't whip out while on the road. Basically 12 street riders including myself came together (none of us knew each other) to raise a minimum of $2000 for breast and gynecological cancer foundations and to learn the sport of dual sport riding so that we can share that with our own community of riders. We have all been mentally and physically challenged in ways we never thought possible as a result of tackling steep rocky trails, sandy rutted passes and a whole lot more. We've all fallen on our dual sport bikes at least once. I learned quickly the value of wearing all the proper gear including elbow pads when I crashed in a mud puddle and landed on my elbow.

A reporter from Examiner.com came out to cover our story. He wrote a good story that will give you some background on what we're doing. Be sure to also click on the first link in Related Articles at the bottom that tells more about the twelve of us doing this amazing adventure.

Today I'm back in Keystone shifting gears as I get ready the AMA Women & Motorcycling Conference that starts on Wednesday. For the latest on what's going on as well as a schedule of activities going on at the WRN booth — yes we'll have a booth there — check out the WRN Conference Updates page. I'll be back in my office sometime the following week.

ABC TV's "Wife Swap" Looking for Extreme Sports Mom
This item came our way we thought we'd pass on to you. ABC Television's hit prime time reality show, Wife Swap, is currently casting families in which the mom is active in extreme sports. If are unfamiliar with the show, the premise of Wife Swap is to take two different families and have the moms switch place to experience how another family lives. Half of the week, Mom lives the life of the family she is staying with. Then she introduces a "rule change" where she implements rules and activities that her family has. It's a positive experience for people to not only learn but teach about other families and other ways of life. Wife Swap airs on Disney owned ABC television on Fridays at 8 p.m.

Requirements: Wife Swap is now accepting families with at least one child between 7 and 17 and should reside in the continental U.S. (There may be other children living in the home who are older or younger than the required age as long as one child is in the required age range.) According to the casting producer who sent this request, "This is a very unique experience that can be life changing for everyone. Families featured on the show will receive a financial honorarium for lost wages, time and commitment." Email casting producer Greg DeLucia at greg.delucia@castingrdf.com and be sure to tell them you read about it on WomenRidersNow.com. This is very important so we get the referral fee.