Harley-Davidson styling guru and Motorcycle Hall of Fame member William G. Davidson, better known to millions of enthusiasts as Willie G., will share his vision of Harley-Davidsons iconic design heritage at the 19th Annual Motorcycle Hall of Fame Museum Fundraising Breakfast. The event takes place Friday, March 9, 2007 from 8 a.m. to 11 a.m. in Daytona Beach, Florida. Each year, funds raised at the breakfast play an important role in supporting the non-profit Motorcycle Hall of Fame Museums mission of education and preservation, including world-class exhibits and Americas only Hall of Fame dedicated to motorcycling.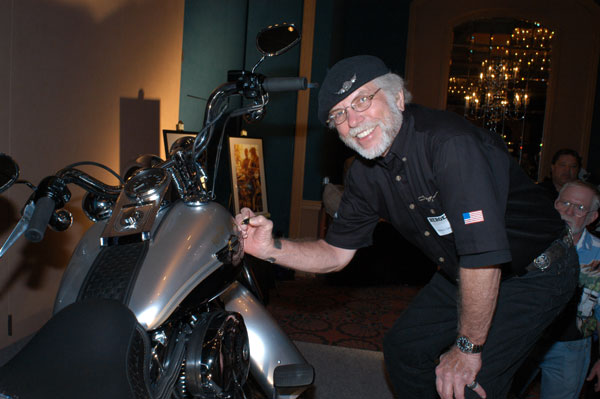 Inducted into the Motorcycle Hall of Fame in 1999, Davidson is synonymous with having ushered in The Motor Companys most successful era. He joined Harley-Davidsons design department in 1963 after a stint at Ford Motor Company and quickly scored a major success with the design and debut of the Harley-Davidson FX Super Glide. A response to the rising popularity of choppers, cruisers, and customs, the original FX laid the groundwork for some of Harley-Davidsons best-selling machines.
Today, Davidson is the Senior Vice President and Chief Styling Officer for Harley-Davidson, and he continues to guide the companys team of innovative designers. In addition to fueling Harley-Davidsons distinctive style for over four decades, Davidson was one of 13 employees to buy the company back from AMF and guide it to financial health during the 1980s. A passionate rider, Davidson continues to be an immensely popular participant in motorcycle rallies and events around the country. He is one of the most widely recognized and admired enthusiasts in the world. For a complete Willie G. biography please visit the Motorcycle Hall of Fame section of motorcyclemuseum.org.
To join Willie G. and friends at the Motorcycle Hall of Fame Museums Breakfast, immediate reservations are recommended. The event will take place at the Hilton Daytona Beach Oceanfront Resort in Daytona Beach. Doors open at 8 a.m. on March 9. Davidson will host an autograph session following the conclusion of the breakfast. Admission is $30 prior to January 31 and $35 thereafter. Additionally, Associate Sponsorships are available for $50 and $100. All proceeds benefit the Motorcycle Hall of Fame Museum. To RSVP or learn about event sponsorship opportunities, contact the Museum at 614.856.2222.