MetricThunder.com announces the Thunder Saddle Tattoo contest sponsored by Saddlemen, running monthly from November 2006 through June of 2007. Its an online tattoo contest where the winner receives a custom Thunder Saddle for his/her motorcycle with the tattoo embossed in the seat of the saddle.
Contestants submit a photograph of their tattoos at the MetricThunder.com Web site. Celebrity judge Keith Ball of Bikernet.com selects the best of the best for that month to be stitched into a custom Thunder Saddle.
"We have seen some really outstanding ink work from Bikers and Im excited to see the finished product on the Thunder Saddles," said Keith.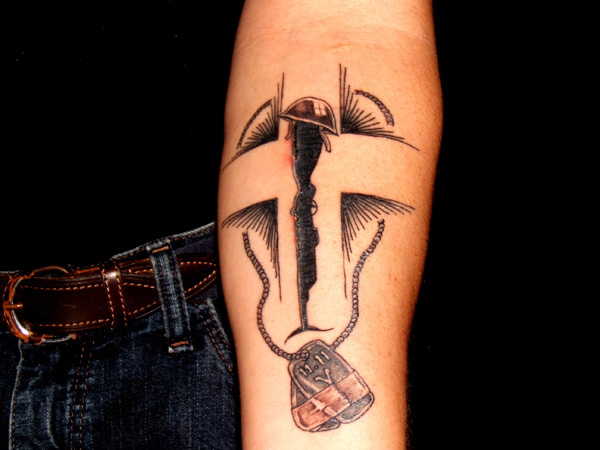 "I think Novembers winning tattoo expresses the ultimate price for freedom," explained Keith. "We had many outstanding tattoos and it was a pleasure to see Bikernet.com and Metricthunder.com enthusiasts getting involved."
The Thunder Saddle is not just an attractive seat, its comfortable too. Each saddle comes equipped with SaddleGel from Saddlemen. SaddleGel evenly distributes weight across the surface of the seat while absorbing and eliminating the extra pressure that is normally experienced at the hip bones and the tail bone. These pressure points or "hot spots" create a loss of blood flow, causing discomfort. SaddleGel increases circulation, which enhances comfort.
"The comfortable motorcycle seat and the custom saddle have been mutually exclusive up till now," explained Bob Osias, owner of MetricThunder.com. "This promotion shows how you can customize your saddle to your own imagination while reducing vibration and eliminating pressure points."
"Saddlemen is excited to be a part of this unique and fun contest," said Tom Monroe, Saddlemens Sales and Marketing Manager. "Were showing the world some of our custom seat capabilities as well as creating some very unique memories for our customers."