Yes, She Built That Bike!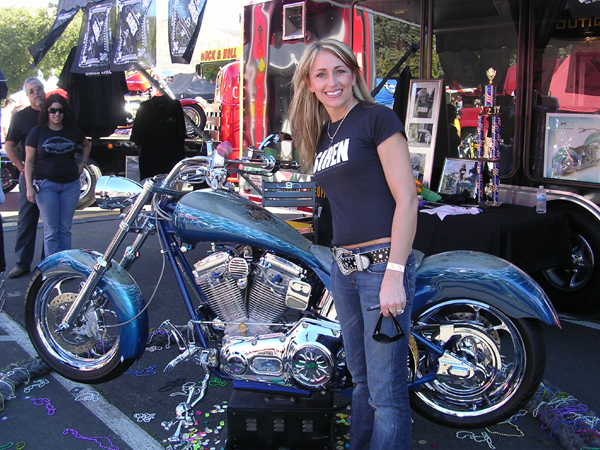 There are a handful of serious woman building bikes these days and Terri Lynn Link is one of them. She was showing off her first custom showstopper, Pirates Booty, at the Love Ride in California recently. She and her husband, Al, created Sirens Custom Cycles to build bikes for women. Terris got a few more ideas up her sleeve. A motorcycle seat made from Louis Vuitton luggage. "Why not," she writes on her Web site. "Shaken Not Stirred" is the name of another idea for a motorcycle she has where you can "Check your sunglasses or lipstick in the pop-up mirror that lifts from within the gas tank," her Web site reads. We love that idea. Check out SirenCustomCycles.com.
On The Fast Track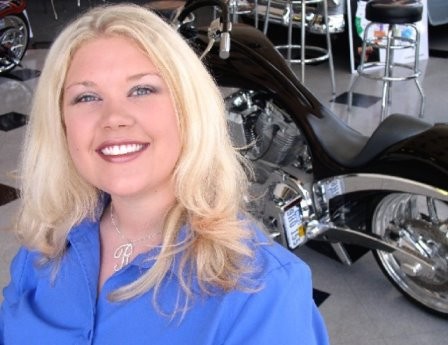 Congrats to Erin Rucker of Rucker Performance for being promoted to Operations Manager. Rucker Performance manufactures custom motorcycles. Erin is in charge of sales, dealer and vendor relations and marketing, ensuring that the daily operations of Rucker Performance run efficiently. Erin is the protege of her father, Bill Rucker, founder and former CEO of American IronHorse Motorcycle Company. She served on the American IronHorse marketing team, participating in special events, dealer relations and apparel sales. In August of 2004, Erin took the reins of Rucker Performance acting as CEO after Bill Ruckers motorcycle accident following a trip to Sturgis. "I am excited about the quality of the riding experience and the form and function of the motorcycles we deliver today," Erin said. "2005 has been a defining year for us and we have laid the foundation to take Rucker Performance to the next level in business development." By the way, our friend Meredith Husak was named Director of Marketing and Public Relations last July. We got to know her when she was Marketing Manager for American IronHorse. Check out RuckerPerformance.com.
50-State Ride, 1 Womans Dream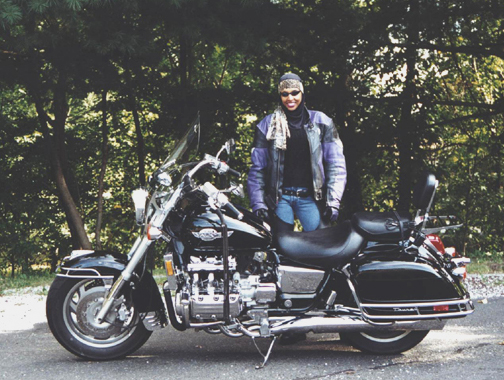 On May 6, 2006, DJ Jones and her Honda Valkyrie she calls Big Bertha will embark on a 50-state, 20,000-mile "Dream Power Ride" to raise money for the Posey Foundation, the the non-profit group she formed to raise awareness of heart disease. Both her parents died from heart disease, and she suffered from signs of it 20 years ago before making drastic health changes in her life. The fundraising ride kicks off in Albuquerque with plans to finish in Honolulu on September 16. DJ says, "Ill be performing "Dream Power" lectures and visiting hospitals throughout this great country of ours." She adds, "Many nights Ill be pitching a tent and of all things camping out. Yes indeed, time spent connecting with Mother earth will keep me mentally sharp and daily yoga will help my arthritis and scoliosis." For more information, visit PoseyFoundation.blogspot.com. Were with you every mile of the way, DJ!
WIMA USA President Gets a New Job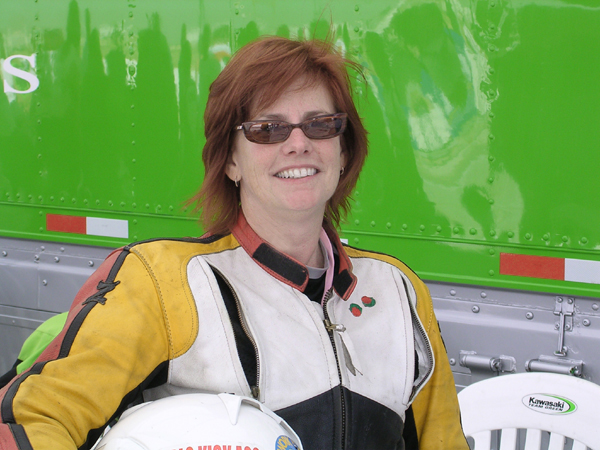 Alice Sexton, the president and driving force behind the United States chapter of the Womens International Motorcycle Association has been named Brand Promotions Director at Advanstar Communications. Advanstar publishes Dealernews, a powersports trade magazine, and puts on Dealer Expo in Indianapolis. In her new position, Alice will be in charge of the entire design department at Advanstar. Just because she has a day job now doesnt mean shes leaving her volunteer WIMA president position. Visit WIMAUSA.org to learn more about this great organization.
VTwin Mama Celebrates Fifth Anniversary!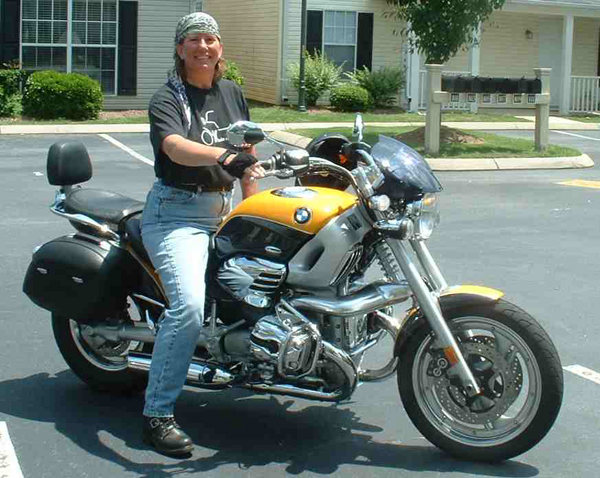 Lets hear it for vtwinmama.com for reaching an important milestone on the Web, its fifth anniversary. Petra Lattmann, the creator of the advice Internet site for women riders, says, "My mission is to give women riders and those thinking about the sport, a caring and sharing forum that lets their voices be heard." The site posts questions, responses and observations from women riders around the globe. It also has a great links section to other important women rider Web sites. Thanks for paving the way in cyberspace, Petra!