Motorcycle Sales Manager Gets Recognition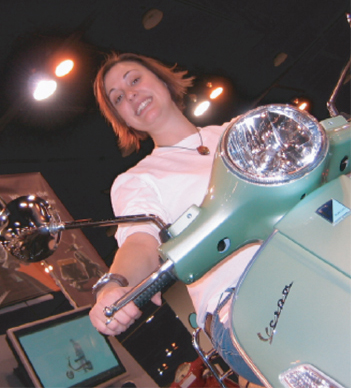 Beth Maxim, sales manager of Erico Motorsports in Denver, is being recognized by the owners of Erico for helping the dealership win the second runner-up prize in Dealernews magazines prestigious Top 100 competition. The Top 100 honors dealers all over the country that excel in a particular area. Grand prize and runner-up spots are awarded to best overall dealerships.
The owners of Erico feel very fortunate to have found Beth because she excels at customer service making her a perfect fit for the business. Before Beth joined Erico, she knew next to nothing about the two-wheeled industry. But after just one year of hard work and extensive LEMCO management training, Beth has become a force to be reckoned with in Denver. Beth handles a team of five salesmen and two Famp;I (finance amp; insurance) writers. She will also be taking on the task of supervising the new sales team at Erico Motorsports West, a second dealership soon to open in Lakewood, Colorado.
Beths goal for unit sales in 2006 is a self-imposed 20 percent increase over 2005. And everyone at the dealership is confident that she will not only meet, but exceed her expectations. Beth says, "Thank the motorcycle gods for Erico Motorsports, because it is a mecca! The staff is awesome, the atmosphere friendly and the product unbelievable. I am eager to come into the spring season ready to sell and ride!" Erico Motorsports is Denvers premier European dealership specializing in Ducati, Triumph, Moto Guzzi motorcycles, as well as the home of Vespa scooters.
Industry Women Celebrate at Indy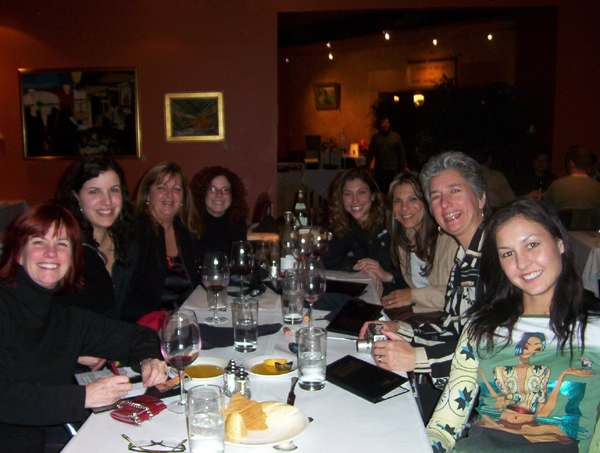 Thanks to Alice Sexton for bringing together eight motorcycle industry women for a dinner during Dealer Expo in Indianapolis on Sunday, Feb. 18. Alice is the new director in charge of creative at Advanstar, the company that puts on the dealer trade show and also publishes Dealernews magazine. Alice put the word out to some women in the industry attending the expo to meet for a dinner. Starting in the lower left of the picture with her fiery red hair is Alice Sexton, also president of WIMA USA; next to her is Jennifer Burns, a service writer at Scooterwerks in Chicago; then Sue Mason of the AMA who works in the sports division; Marjorie Kleiman, editor of American Iron Retailer and eastern bureau chief of Thunder Press; across the table from Marjorie is Jessica Prokup, editor of RoadBike magazine; then Genevieve Schmitt, president of Women Riders Now; Kris "Tigerlady" Slawinski, contributor to Long Riders magazine; and in the lower right is Brienne Thomson, senior marketing coordinator of Cycle World magazine.
"More women are working in the motorcycle industry fulltime. Its always interesting to meet new women involved in this field to get their perspective on things," says Genevieve Schmitt who met Jennifer, Sue and Brienne for the first time. Alice said that several companies approached her about formalizing the dinner and possibly sponsoring it next year. Stay tuned!
Jessica Promotes Jessica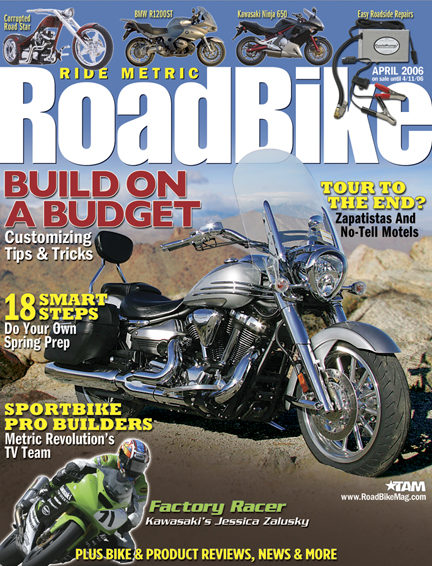 Jessica Prokup, editor of RoadBike magazine is featuring professional road racer Jessica Zalusky in the April issue of the all metric motorcycle magazine. Thats Jessica Z. on the cover in the left corner. The article, written by Neale Bayly, focuses on Jessica and her rise to become the only woman racing against men on the professional circuit. She competed in both AMA Supersport and Formula Extreme classes in 2005. "Jessicas an incredible inspiration to women riders, not just because of what she does, but who she is," says Jessica P. "Heres a woman who puts her life on the line, racing a firebreathing literbike in the company of world-class riders, and yet shes as down-to-earth and real as people come. I admire her dedication to the sport and her generosity of spirit and the way she kicks ass on the track!"
Pick up RoadBike on the newsstand or visit roadbikemag.com to subscribe.
Motorcycles In More Magazine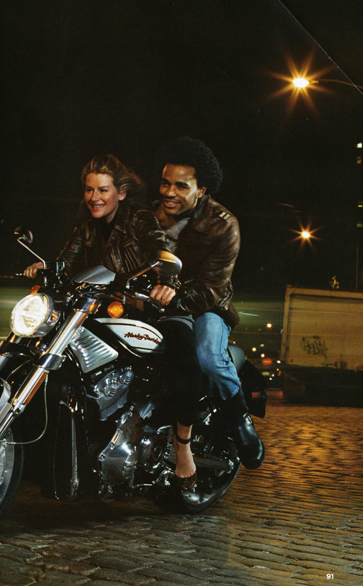 A woman riding a Harley-Davidson V-Rod is featured in a photo spread in the February 2006 issue of More magazine. The fashion layout shows what what to wear on certain dates. The V-Rod layout is titled the Adventurer and shows a woman riding a V-Rod with a guy riding on the back. Theyre smiling looking like theyre having a lot of fun. We love the motorcycling coverage in a mainstream magazine anything to get more women riding motorcycles. But we frown on the fact that the layout does not represent women riders in a proper light because no rider in her right mind would wear high-heeled shoes while riding a motorcycle. We wont even talk about the riders choice of riding clothes, but that wasnt her choice. The fashion editor needs a lesson in motorcycle riding apparel.