Motorcyclists love Strider bikes, the no pedal balance bikes that gets little ones on two wheels, which we introduced to you last year. Strider is now expanding its product line with two larger no-pedal bikes, a 16-inch version for kids 6 to 12 years old, and a 20-inch version for kids 13 years old and up to adult. And now until December 12, 2014 Strider is giving seven of these away each day! Details are at the end of this article.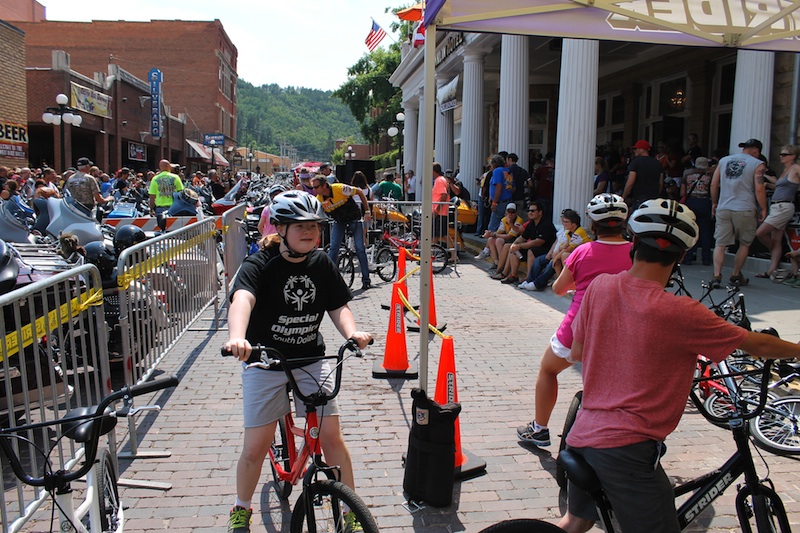 The smaller bikes for toddlers help kids 18 months to 5 years gain a sense of balance at a very young age. Strider's newest offerings are larger no-pedal balance bikes for people of all ages and all abilities, but most helpful for those with balance issues like folks with special needs. The bikes are designed to break down the overwhelming task of learning how to ride into a safe and natural progression.
Strider bikes have turned individuals with Down syndrome, autism, low muscle tone, poor balance, arthrogryposis and cerebral palsy into bike riding enthusiasts!Riding a Strider is as easy as walking. With feet safely on the ground, a rider is easily able to maneuver and ride the lightweight bikes.
Each year Strider holds a World Championship event to bring together Strider owners. During this year's event in September, Strider held a Special Olympics Exhibition Race. Check out this inspiring video with special needs kids shining on the Strider bikes.
Strider in Sturgis!
I visited the Strider office in Rapid City, South Dakota, this past summer when I was in town for the Sturgis rally. I learned more about this fast-growing company, whose goal is to get everyone enjoying the freedom of two wheels, something motorcyclists know well. Click on images to view them larger.
| | |
| --- | --- |
| Marketing manager Kyla Wright showed me around the office and warehouse facility. The smaller Strider bikes are so lightweight at just 7 pounds. Price starts at just $99. | This is Strider's warehouse. Because there is no kickstand, the bikes can be stored upside down or on a rack. |
| | |
| --- | --- |
| Strider offers accessories as well, including jerseys, helmets and more. | I'm here with Strider's founder and inventor Ryan McFarland. Read the story of how this entrepreneur invented the Strider bike when his 2-year-old son struggled with the weight and complexity of a three-wheeled kiddie bike. |
| | |
| --- | --- |
| The smile on the Special Olympians faces at the Legends Ride is priceless as they enjoy themselves on the Strider Bikes. | Kyla and Ryan help a Special Olympian rider get started on a Strider for his first time! |
| | |
| --- | --- |
| I even got in the act, sitting on the larger, 20-inch Strider bike during the Legends Ride at Sturgis. | And Sturgis rally motorcycle personality Bean're (pronounced Beaner) straddled a Strider at the Legends Ride. |
Strider Giveaway Details
Strider Sports is running a holiday campaign called "Strider Gives Back." Between now and December 12, the company is giving away seven balance bikes per day, every day! That's 490 balance bikes in total for the whole campaign.
The application process for a chance to win is simple. Interested families should visit StriderBikes.com/StriderGivesBack and complete three simple steps: submit a photo, write a brief story and name the special needs organization to which the applicant belongs.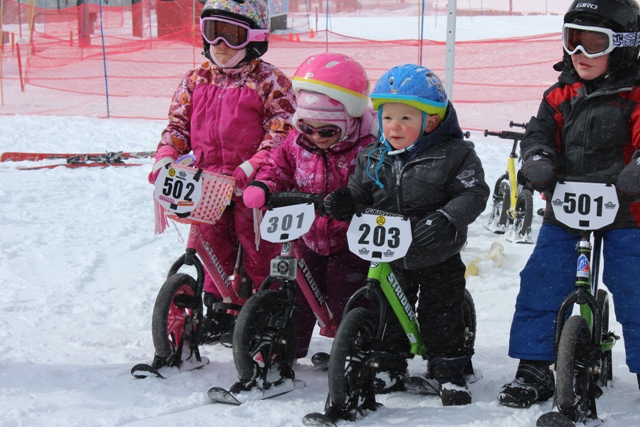 Strider bikes make a great gift for sure! For more information on Strider and to order online, visit StriderBikes.com.
Related Articles
Strider Offers Racing Models for Toddlers
Kids' Gear Reviews