In the morning we hit the road veering off towards Crater Lake. The weather was turning grim. The clouds were looming by the mountains and the desert sky was full of black rain clouds. We laid low by the side of the road watching a groovy wind thing happen in a field. It looked like a small tornado. The weather system didn't seem to be passing us, so after a couple of hours we got back on our bikes. Well, we must have ridden right into the heart of the storm. Suddenly, the day sky turned black and the rain pounded down on us. And the Ents? Even they were asking, "What's going on?"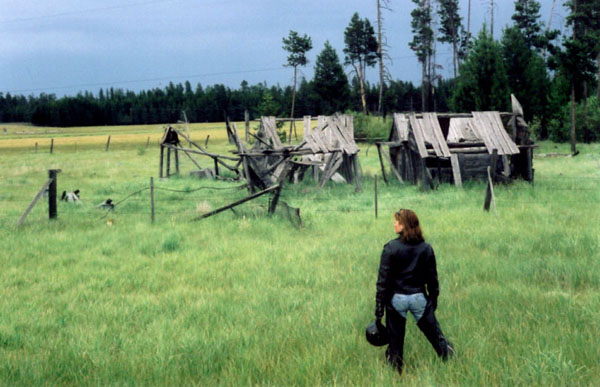 Robin and I slowed right down and rode side by side. People could see us better. We rode through the Crater Lake area and over the mountains into the Rogue River Valley. The lightning and thunder really started to get scary. Every now and again, we would look over at each other and burst into laughter. What else was there to do? This was really ridiculous. The magic was not here and we were definitely pushing our luck. We both knew, without a doubt, that it was time to get off our bikes. Luckily, we were nearing Medford, Oregon, home of my very good riding buddy, Chuck.
By nightfall, two wet bikes and two thrashed, grumpy girls arrived at his doorstep. He took one look at us and laughed out loud. We did too. We looked like drowned rats, we knew it and even better we didn't care. The next day the sun peaked its head between ominous looking clouds. We were heading to the coast along 299 and through some beautiful back roads off of it. This was Chucks turf. His white beard and his big old black Harley led the parade. Unfortunately, along the way, Chucks back brake cable snapped. He decided to head back to Medford and quickly replace the part and meet us in the neighboring town of Cave Junction.
I loved this town, so I was excited to hang out there. Along the way, Robin and I grooved through the windy roads of the southern Oregon mountain range. Pear trees lined the roads and quaint little mountain farms speckled the area. Within 10 minutes of our bliss, the rains hit along with serious thunder and lightning. Not again! Robin and I could see the storm was moving west and we also knew we could outrun it on our bikes. Riding like road demons, we managed to lose the beast. I noticed along the way a golden field tucked along the road. It was perfect. I had been looking for a field like this to photograph Robin in for awhile. One of the things about being a photographer is you always have your dream shot list, but you don't always have all the right factors to make the shot perfect. Well, here I had it. My good friend, her bike and a beautiful golden field. Within 10 minutes of this impromptu shoot, the storm reached us again and pounded down on us with vengeful fury.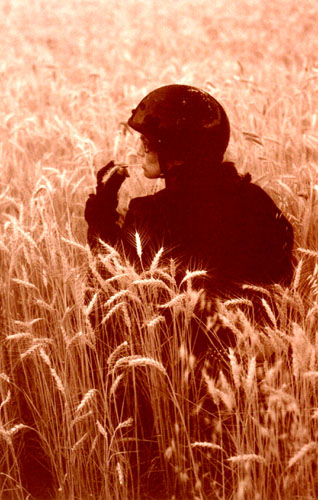 We flew down the mountain road toward Cave Junction, the storm booming above. Suddenly, all hell broke loose. Smash! Crack! Insanely loud cracking. A tree to our right had been hit by lightning. This hundred-foot tree burst into flames and was spreading across the dry field towards a farm! Oh my God! So, what do two girls on metal motorcycles in the middle of an electrical storm do? We stop and take photographs. Yes, sorry Mom. We were both in shock and just jamming with endorphins. It was amazing! Just as we started to dial 911, I noticed the farmer was already on the fire. The ground was really shaking and I figured we were again starting to push our luck.
We arrived in Cave Junction. Two girls, two bikes, too wet with too many endorphins. We stopped at a sweet little bistro called the Sage Beetle Winery and met the hostess. We were buzzing beyond belief and the nearest person fell victim to our non-stop ramble about the days event. The hostess was great and set us up with some wine, cheese and crackers. Yes, we needed to mellow out a bit before Chuck arrived. Within 10 minutes of our mellow, Chuck arrived on his Harley setting off a couple of car alarms in the process. We gushed our story to Chuck and he, in turn, told us how he had rescued a stranded biker by bringing her gas for her bike. It was only noon and already the day was shaping up to be more than eventful.
We continued along the 299 and sneaked on south down a dirt road through the Redwoods and into Northern California. The Redwoods wow! This is where our friends, the Ents, lived. Robin and I, like true B.C. tree huggers, laid a big, fat bear hug on a few of these beauties.
The next leg of our trip would be the Oregon coast and we had less than four days to complete it. That meant we could just wander at a snails pace. Or not! Riding with Chuck was never mellow. He rides hard. So, do Robin and I but with Chuck it was really a race. We stopped often, so the riding day was zoom, zoom, stop, zoom, stop, zoom, zoom, stop and it just continued. Unfortunately, somewhere south of somewhere, I was given a $175 ticket for excessive speeding but because we were in a pack, the rule was we split it three ways. Sigh. This was not in the budget. Robin and I shrugged it off; this was not going to ruin our road trip.
The Oregon Coast is the Oregon Coast. I wont bore you with long, detailed renditions of the misty coast and the magnificent obsidian rock formations emerging from the white sands, the steep orange cliffs dropping into the green ocean water, or the incredible hospitality of the locals, the great wine, the great food and the salty sea airat some point the Oregon Coast is just one of those things we all have to do in our lifetime. Chuck was a fabulous host and before we knew it, we were at the northern tip of Oregon heading East towards Portland and north again to Canada. Sigh.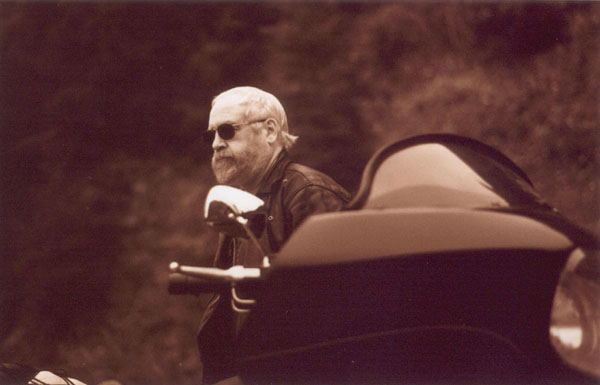 Chuck said his good-byes with a cracking voice. The three of us had really grooved together and we were very sad to part. As we watched Chuck blast down the road, blowing us a kiss with a growl from the engine, I think the reality of the end of our journey was upon us. Big sigh.
I didn't even say good-bye to Robin. She left me first thing in the morning. I was sleeping with my toque over my eyes in my sleeping bag. She just kissed my cheek, packed her bike and was gone before 6 a.m. By now, Robin was a pro at packing her bike. She had it down from one hour to 10 minutes. I was very proud of her.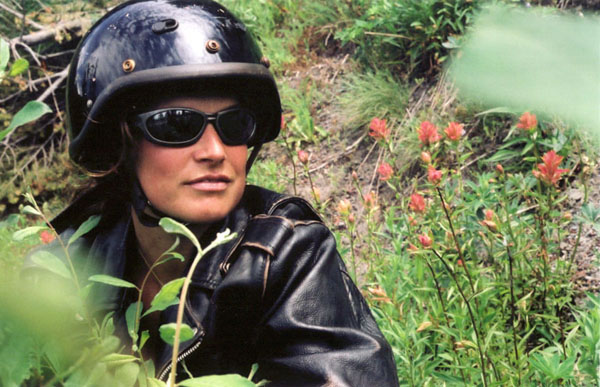 I woke up that morning feeling a bit sick to my stomach. It was time to ride home. Get back to reality. But what was reality? This was about as real as it got. Mother Nature was real. The Ents were real and they watched over us. They showed us their magic. I was glad Robin was having time to herself on the last leg of the journey and thankful she had given this gift to me, as well. We both needed space to carry our magic home.
I touched my cheek, smiled and starting packing my bike. This time I took an hour to pack it.
Lesley Gering is a freelance writer and photographer living in Vancouver, British Columbia.