In my quest to lighten my saddlebag load of its odds and ends of riding gear, I tried a new outfit from Harley-Davidson Motorclothes. The Harley-Davidson FXRG Nylon Riding Suit, new for 2006, meets my fussy criteria for useful multi-purpose, multi-function riding gear.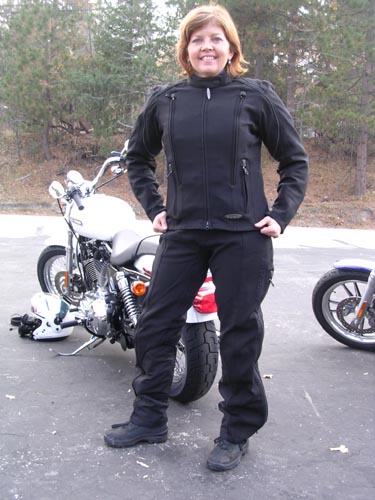 I wore the women's FXRG nylon pants and jacket throughout my California travels, from early morning until evening, through widely varying weather conditions and found it practical, sensible and stylish. My husband, Tim, liked it on me as well, and that says a lot.
Comfort and Looks
First, Ill discuss looks not a prime concern when seeking weather and road protection, but important nonetheless to a fair amount of female riders. This FXRG outfit has it in spades. Unlike other nylon suits which make you feel like the Michelin Mans little sister, the FXRG system offers stylish lines that complement a woman's figure while offering protective features. The jacket is streamlined, not puffy, curving at the waistline. The pants are trim and neat. Both jacket and pants utilize a stretch fabric that allows the suit to move with you. I never once found it to bind, dig or be uncomfortable in any way.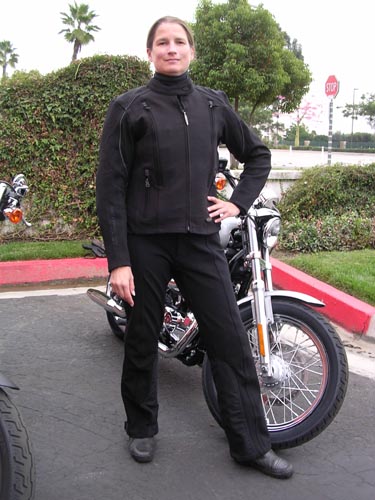 Waterproof and Versatile
Ditch your rainsuit because the waterproof Aquator nylon fabric in the pants and jacket will keep a rider dry. A dual zipper on the jacket ensures no water will leak through a zipper and dampen your ride. The Aquator fabric is also windproof breathable, so from wet to windy to cold to hot you should feel comfortable.
During my trip I avoided rain, but braved temperatures from the low 50s at 8,400-foot elevations to the high 80s in the desert and battled Southern Californias famed Santa Ana winds. None of it bothered me in the FXRG suit. And it felt good knowing that should it rain, I didn't have to pull off the road to don a rainsuit.
No need to carry a sweatshirt or fleece jacket for extra warmth against the elements. The jacket comes with a snap-out liner made with breathable Prima-loft, a substance that provides the warmth of down without the bulk. The liner doubles as a lighter jacket so heading out for dinner you can wear the liner as its own stylish jacket complete with pockets.
When the temperature rises like it did on our desert crossing, snap out the liner (it smooshes to nothing) and unzip the large vents in the jacket and the pants. The jacket has two large vertical vents in the front and a horizontal one in the back. Their zippers have large rubber pull-tabs so they're easy to grasp while wearing gloves. The pant vents were a pleasant surprise and made a big difference in keeping my body cool.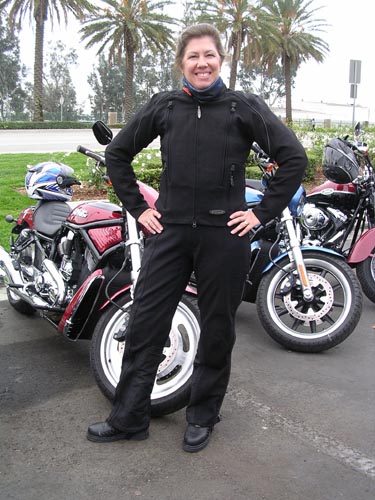 Features We Like
For extra protection during a spill, the outfit has lightweight, flexible CE approved performance armor in the jackets elbows, shoulders and back areas and in the pants knees and hips. All the armor is removeable.
To help drivers see you better, there is reflective piping across the back, down the arms and the sides of the legs. For added comfort during longer rides, a rider can use the integrated (and removable) kidney belt to provide extra back support.
With this outfit a rider will never be short on pockets. The pants feature an inside credit card-sized pocket and a larger pocket at the left hip. The jacket has so many pockets it could be hard to remember where you put something. Inside it features a dedicated cell phone pocket, a pocket for glasses or goggles, and another pocket with an attached microfiber lens cleaning cloth. In addition, two internal zip pockets can hold a myriad of items, as well as the two external zippered pockets. Several smaller pockets can be found on the jacket liner. According to Harley-Davidson, they're perfectly sized for those portable heat packets hunters and skiers use in the winter. Activate them, put them inside the jacket, and a rider can feel pretty toasty.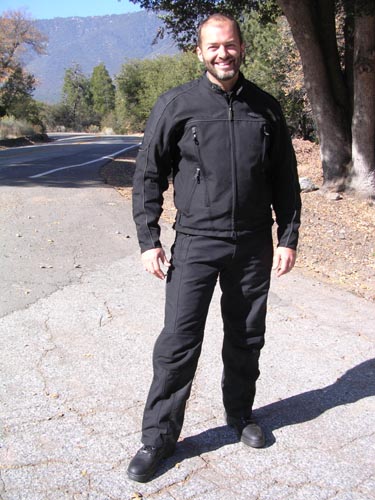 More Great Features
The sleeves have a zipper at the cuff for easy access in and out of the jacket and to snug the sleeves against the wind. The collar is lined with cozy fleece and has a big, easy-to-grasp rubber snap to secure it closed. The jacket and pants zip together for added warmth and waterproofing.
The jacket comes in a full range of women's sizes. The pants do, as well, and offer a choice of 32 inch or 34 inch length. The pants have removable stirrups, and being shorter I found it better to remove the stirrups and tighten the pants legs utilizing the hook and loop closure adjustments at the cuff. The pants are designed to be worn with or without jeans underneath, and feature heat resistant Nomex panels in case a rider gets too friendly with a hot exhaust pipe.
When the suit gets grimey simply remove the armor, hand wash and air dry. Both the jacket and pants feature a five-year limited warranty. The jacket retails for $395, the pants for $255, a fair price considering all the gear this outfit replaces. VisitHarley-Davidson.com for more info.
Editors Note: You don't have to ride a Harley to wear or appreciate this outfit. There are no loud Harley-Davidson emblems on the jacket, just smart, clean lines with tons of functionality any rider can appreciate.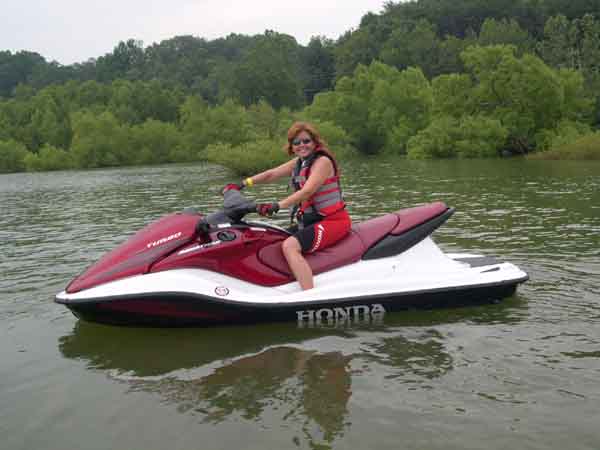 About the Author
Moto-journalist Pam Collins divides her time between Pennsylvania and Florida. She is a regular contributor to Keystone Motorcycle Press, a regional motorcycle magazine based in Pennsylvania. Occasionally, she reports on powersports vehicles other than motorcycles. Pam says, "The thing I love best about riding is every time I see the odometer turn on my bikes, I know those are moments I'm truly living and not just sleepwalking through life. Riding has a way of turning even the most familiar places and roads into special, new adventures." Pam rides a Kawasaki ZZR-600 and Harley-Davidson V-Rod.