For the past five years, Ramona Eichhorn has been traveling the world on a dual-sport motorcycle, a KTM Adventure 640. She was just 24 when she and her male friend Uwe (pronounced Ooo-vay) Krauss, left their homes in Steinach, Germany, a sleepy town of 6,000 people in the mountains of the Thuringer Wald forest in the middle of the country.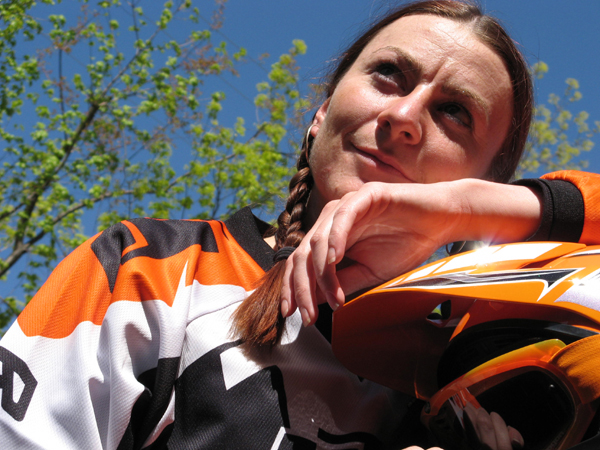 Before Ramona embarked on her life-changing journey, she was working as a translator and interpreter in exports/sales for a local Bavarian glass bottle company. Besides German, she speaks five other languages: Russian, French, English, Spanish and a little Italian. She says she really loved her job, but deep inside she knew there must be more to life than the rat race of working and consuming.
As of June 2006, Ramona has ridden more than 100,000 miles in 41 countries. She is now 30 years old. Shes been to Germany, Austria, Italy, Tunisia, Libya, Greece, Turkey, Syria, Jordan, Egypt, Sudan, Ethiopia, Kenya, Uganda, Rwanda, Tanzania, Zambia, Zimbabwe, Botswana, Namibia, South Africa, Swaziland, Lesotho, Australia, New Zealand, Argentina, Chile, Bolivia, Brazil, Peru, Ecuador, Colombia, Panama, Honduras, Nicaragua, Costa Rica, Guatemala, Mexico, USA, and Canada.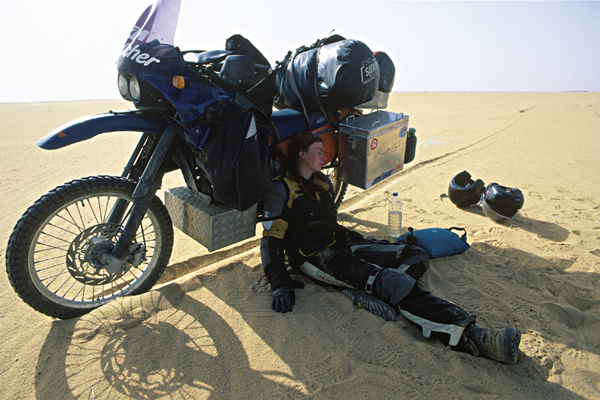 WRN: Why did you decide to do a trip around the world? How did it all come about?
Ramona: Luckily, I am one of those women born with an adventurous spirit. So my undeterminable wanderlust is in my genes. I've always been curious and wanted to know what's beyond the horizon. Being East German I grew up under a socialist dictatorship behind the Berlin Wall. Traveling was highly restricted. My fathers house was close to the "Sperrgebiet" and when I climbed a low mountain behind it, I got a beautiful view of a castle in the west. Although less than 20 miles away as the crow flies it was beyond reach, for there were barbed-wire fences and landmines in between. I was convinced I would never ever be able to get out of East Germany. Since nobody could control my thoughts, I often dreamed about the big world out there. The opening of the borders in 1989 came as a total surprise. It was the best thing that ever happened to me. My life changed dramatically. Suddenly I was free. However, I will never forget how it felt like to live like a bird in a cage. In fact, its one of my rituals to pause for a moment every day and be grateful for my freedom.
After the fall of the wall I lived a "respectable" life for some time, with the conventions of a proper job, a nice home, a car and a dog. But something was missing. Was that all life is about? When my friend Uwe told me about his adventurous plans to ride a motorcycle around the world and asked me if I could imagine coming along, I didn't hesitate one second. I knew this was the chance I had been waiting for. So I got myself a bike, quit my job, sold everything I owned and went off to Africa with him.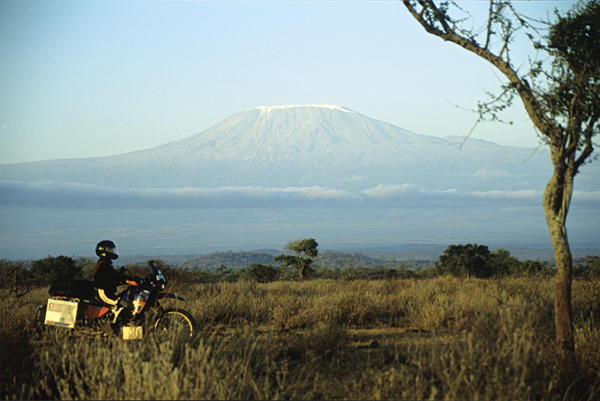 Did you have any fears about heading out on a journey like this? If so, what were they and how do you feel about those fears now that you're well into your journey?
No, I was not afraid at all. On the contrary, I was so hungry for adventure I couldn't wait to go. I believe fear only restricts you and that's why I wont allow it. Now, that I'm well into my journey, I actually have the proof that there is a solution for almost every problem. With a positive outlook on things, an open mind and enough trust in yourself many good things will find you. I've learned to not live up to anyone else's expectations. Only I know whats good for me. This journey made me remember how essential it is to trust my gut feeling. That instinct almost got lost between the intended media-produced fear and the rat race in our modern world. The unknown isn't scary. Its exciting!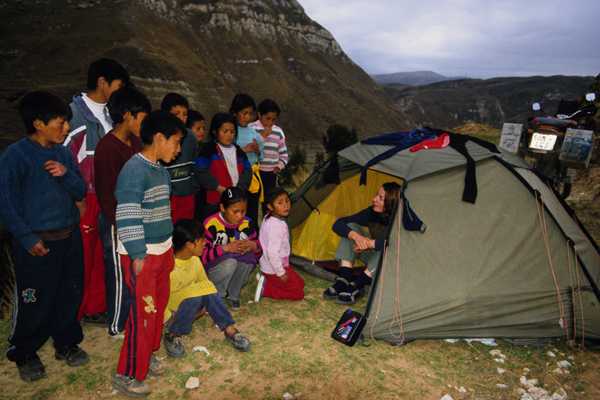 What was your family and friends reaction to your planned trip, and how did that make you feel?
First of all, I didn't tell them I would be gone for five years or more. I only mentioned a one-year journey across Africa. I also didn't want to put myself under any pressure. But that was crazy enough. They thought I was making the biggest mistake of my life. "How can you give up such a good job? You will regret it later," they said. No one believed in me. One friend predicted I would be back to Germany defeated within a month wishing I had never done it. I was a bit sad about their attitude, since as an inexperienced rider I could have done with some encouragement. But what the heck!
Only my stepbrother lit me up: "It doesn't matter whether or not you ride all the way across the Dark Continent. What really counts is that you have the guts to try it." Thank you, Thomas.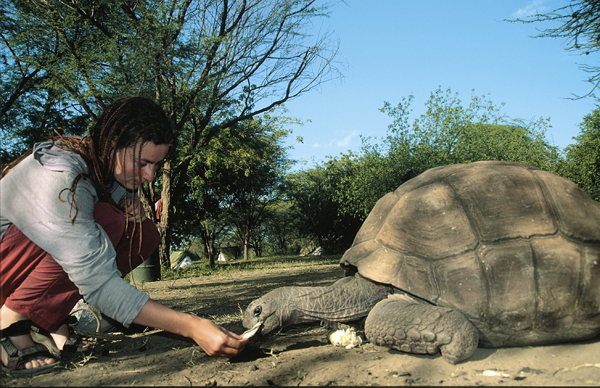 You mention inexperience on a motorcycle. How long had you ridden a motorcycle before embarking on this trip?
This might sound a little crazy, but its the truth. I had legally ridden my 640 Adventure for one day and had 40 miles of practice before I set off to the Sahara with a fully laden bike for the first time. Before embarking on this adventure I had illegally ridden my friends dirt bike in the woods to practice for my riding test. The very day after I had passed it (mid November), heavy snowfalls set in. My only riding experience before heading to the Sahara was therefore limited to a 20-mile ride to my office and back. I learned it the hard way across Africa, during the start of my journey.
What kind of clothing did you pack, and what personal items did you allow yourself to bring?
Honestly, I cant carry too many clothes because I prefer to be on dirt roads in the middle of nowhere where one has to travel as light as possible. This is what I take: three tops, three strings, three socks, one pair of jeans and my running shoes. And you know, I can always stock up on these kind of things somewhere along the road if need be. The more stuff you have, the more restricted you are. I wouldn't like to miss my beloved riding gear from Hein Gericke and from Rukka which both fit me perfectly.
As far as personal items go: I always carry a good book and my iPod, of course. Cosmetics: a 60spf sunscreen, a cleansing lotion, and some mascara for special occasions. When I find myself back in civilization after a couple of months in the bush, I reward myself with a special beauty treatment like a hair cut or color and a facial.
What kind of communication and navigation devices did you bring with you?
Five years ago, I neither had a cell phone nor a computer nor a GPS. One of my principles was to travel with as little as possible on the demanding African off-road trails, because that would make picking up the bike easier. For finding my way around, I prefer a good, detailed map over a GPS. I always ask for local advice. I find you get the best riding tips from local motorcyclists who know the area like the back of their hand. The Internet is a great source of information, too. Check out this cool Web site: HorizonsUnlimited.com. These days, I carry a laptop and two cameras with two different lenses (one wide angle, one telephoto), because I need all this for my job. Being out of reach in the middle of nowhere for some time can be quite a relief. I love it.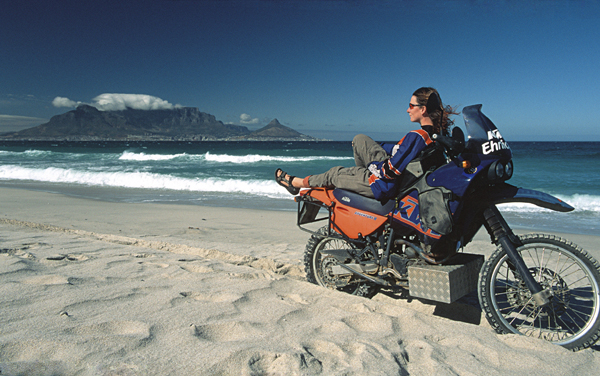 How much money did you initially take with you and what were your plans for earning money along the way?
We had saved $10,000 each, which lasted for about 18 months. With our bank account dwindling we had to think of a way to earn money. We wanted to do something interesting and challenging, not just wash dishes. Uwe's hobby is photography. I like to write. So why not become travel writers?
We are working for 14 different international publications, mainly motorcycle magazines. In the U.S., we are writing exclusively for Road Runner magazine (click on "world travelers"). We also sell our art — high quality prints of exotic locations where we have been. We also give slide presentations about our trip. We were at Americade and the Honda Hoot recently. It's good fun, for we love what we're doing. For me, there's nothing more rewarding than to inspire another person with my pictures and stories. The world is a beautiful place. Go out there and explore it. Don't be afraid.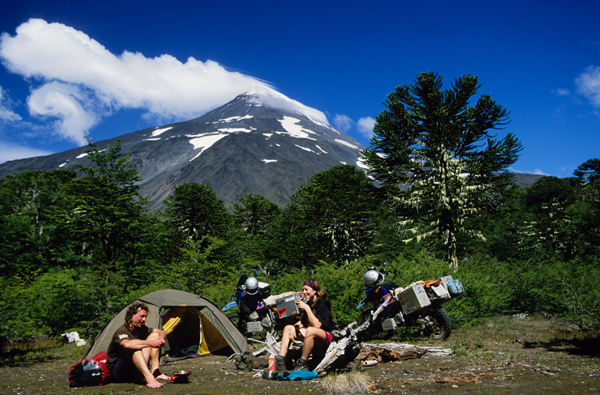 Read Part 2 of our interview with Ramona.