The MSHD1 MiniSet Compact Tool Kit from CruzTOOLS is designed for Harley-Davidsons and other American V-twin motorcycles.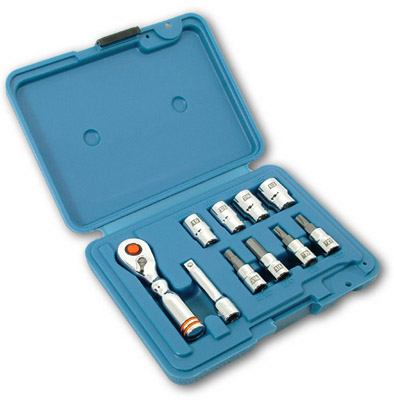 Unlike general tool sets, the MiniSet provides only those sizes required by American V-twins. Central to the kit is a precision 1/4 inch drive mini ratchet with 48-tooth gearing that allows fine increments of rotation. The eight-piece socket set is comprised of four six-point sockets (3/8″, 7/16″, 1/2″, and 10mm), two hex bits (3/16″ and 1/4″), and two Torx bits (T25 and T27). A two-inch extension is also provided to assist in fastener access. Tools are professional mechanic-grade with a gleaming polished chrome finish and lifetime guarantee.
Tools are housed in a molded double-wall case constructed of impact-resistant high density polyethylene. When closed, the tool set measures approximately 6″ x 4.5″ x 1.5″, and weighs less than two pounds. Price: $39.95. An alternate version, the MSM1, is also available for metric motorcycles Visit www.cruztools.com.