A full-face helmet is the ultimate in head protection when riding a motorcycle, but when you slip on a pair of sunglasses under the helmet, things get complicated. First, theres the question of whether the temples of the sunglasses will fit comfortably over your ears. If they do fit, the inevitable pressure from the helmet pressing the temples against your head can cause a headache. Then, if conditions turn cloudy, youll have to pull over to slip off the sunglasses. Of course, you can always start out with a tinted visor on your helmet when riding on sunny days, but if the sky gets cloudy, that tint can make things dark.
E-Tint eliminates all these issues with technology that was developed for US Air Force pilots. The term "e-Tint" stands for "electronic tint," a clear visor that tints electronically to adjust to varying light conditions.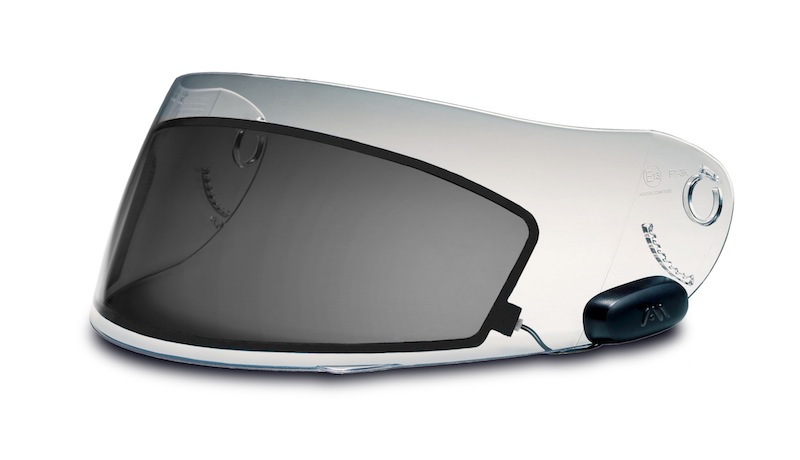 "Riders often face crucial challenges with varying light conditions: cloud coverage changes, bright sun blazing at the end of a tunnel, gaps of sunlight piercing through buildings," says Bahman Taheri, CEO of e-Tint's parent company, AlphaMicron. "For years, the motorcycle market has tried a host of mechanical solutions to reduce these hassles and safety risks. Finally, the world has been given an innovative, electronic solution: instantaneous tint on demand."
The e-Tint MX-8 motorcycle visor insert mounts with adhesive to nearly all standard faceshields. The tint uses liquid crystal technology to turn from clear to tinted. Its not a tinted film. The rider simply presses a button thats mounted to the side of the helmet to change the tint
No tools or special pins are required to install the visor insert, shown here in the on (left) and off positions.

To install the visor, remove the liner from the adhesive gasket on the back. Then center and align the insert on the faceshield and press it firmly into place. The adhesive-backed button connects to the insert and mounts easily to the outside of the faceshield. With a quick touch of that button, the faceshield's tint changes in the blink of an eye.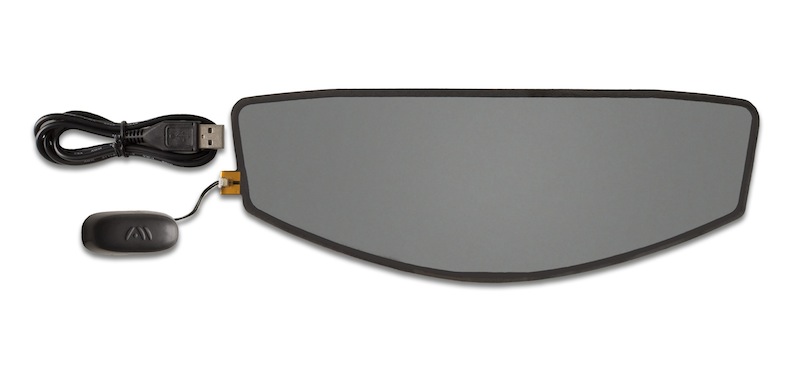 Additional features include a permanent anti-fog coating that eliminates the need for reapplication and a double lens system that prevents fogging caused by air and moisture trapped between the insert and the polycarbonate faceshield. The MX-8 is powered by a Lithium Polymer Ion battery. There is also an automatic version of e-Tint called the AX-10 that uses a sensor to change the tint. When the sun passes over the sensor, the tint automatically changes to smoke. When there is no sun, the tint stays in the "clear" tint, which is actually a 15-percent clear tint.
Retail price for the e-Tint MX-8 motorcycle visor insert is $129.99. The AX-10 is $149.99. Learn more at
e-TintProducts.com
.